* From the union-backed Illinois Freedom PAC…
Less than 2 in 10 senior level positions at Rauner's firm are held by women. Someone who can't see talent among women and minorities is a poor choice to the run a state as well as a business

GTCR Is 70% Male: There Are Only 25 Female Employees At GTCR Out Of The 82 Total Employees. [gtcr.com]

Almost 90% Of GTRC Male Employees Are Mid-Level Or Senior Level But Only 36% Of Female Employees At GTCR Are Mid-Level Or Senior Level. [gtcr.com]

Only 14% Of Senior Level Positions At GTCR Are Held By Women. [gtcr.com]

Only 15% Of The Combined Senior And Mid-Level Positions At GTCR Are Held By Women. [gtcr.com]

Women Hold 73% Of The Entry-Level/Administrative Positions At GTCR. [gtcr.com]
Ah, the ole war on women thing. There is a problem, though. From a March, 2014 report by Preqin…
The average proportion of senior positions held by women in North America- and Europe-based private equity firms is 11.0% and 9.7% respectively. North America saw a rise from 2013 when women held 10.3% of senior roles
So, Rauner's firm employs women in senior level capacities at a higher than average rate.
* The campaign dispatched running mate Evelyn Sanguinetti…
"Unfortunately, females have long been underrepresented in private equity and Bruce certainly would have liked to see GTCR hire more females, but GTCR does exceed national averages for the industry."
* Meanwhile, from the Windy City Times…
Equality Illinois and other LGBT organizations announced Aug. 4 that during Market Days they would be continuing their effort to call attention to what they call GOP gubernatorial candidate Bruce Rauner's anti-gay activities and social conservative agenda.

Among the efforts planned for the two-day festival, which takes place on Halsted Street Aug. 9-10, are flyers, voter registration booths and a new social media campaign, according to a statement.

Equality organizations and activists say that Rauner, who has claimed not to be running on a socially conservative agenda, has contributed to anti-gay candidates, as his wife, Diana. The Market Days flyers, made up to look like voided marriage certificates, point to $95,400 in contributions the Rauners gave to anti-LGBT candidates. Among those candidates the organizations named are John D. Anthony, Sheri Jesiel, Liz Doody Gorman, Jim Durkin, Christine Radogno, Joe Sosnowski, Mark Batinick, Keith Wheeler, Heidi Holan, Neil Anderson and Margo McDermed.

Street teams will also be calling attention to Rauner's running mate Evelyn Sanguenitti and his association with the DeVos family, who have been major funders of anti-marriage equality activities and donated $13,000 to his campaign, the statement said.
* The voided marriage certificate…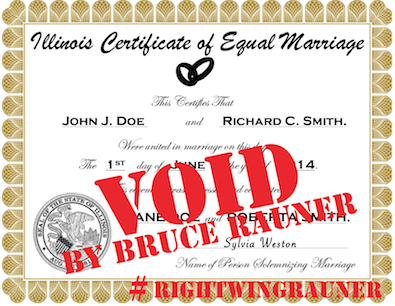 The rest of the flier…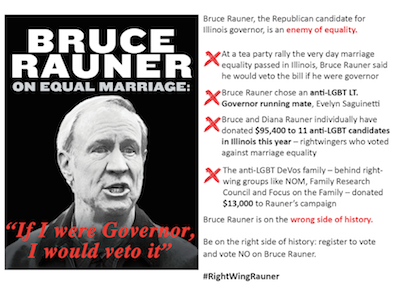 Everyone who truly thinks that Bruce Rauner will actually void gay marriage licenses, please raise you hand.
But, hey, it's politics and Rauner won't come out and actually say he'd protect gay marriage rights, so he probably deserves the hit.
34 Comments





































































































Sorry, comments for this post are now closed.