* Uber is running a new radio ad today calling on Gov. Pat Quinn to veto the ridesharing bill. Rate it…
* And the company sent out a press release responding to the Citizens Action release from yesterday…
As the calls for a veto of HB 4075 rise, the taxi industry reaches new lows

The front groups for the taxi monopoly have been spending a lot of time throwing mud. It started with lies about insurance and background checks that insult the hard working men and women who are our uberX partners, and now it's a lie about our CEO.

Yesterday, taxi front groups reached new lows by falsely claiming Uber's CEO Travis Kalanick was visiting Illinois to lobby on the anti-ridesharing bill.

No, Travis was not in Illinois, but here's who was: more than 70,000 residents who have asked Governor Quinn to veto HB 4075 and and preserve ridesharing in the state.

A proud member of the taxi cartel's league of front groups, the Citizen Action Network followed our innovation (surprise!) by launching a cute, little petition to try and counter the more than 70,000 loud and proud Uber supporters who have asked Governor Quinn to save uberX.

Not surprising to see a stale and tired playbook from an industry that has failed to compete for decades. You can't track their signatures but you can check out all the support rolling in on for ridesharing here.

While Illinois residents count the days until the Governor makes his decision, and we all get a thankful reprieve from the onslaught of taxi company lies, let's review the facts about HB 4075 - a bill that was handcrafted by the taxi industry to put their competition out of business.

HB 4075 bill would devastate uberX and ridesharing across the state of Illinois by:

·

Restricting the number of drivers who could become rideshare partners. That means fewer rides when Illinois residents need them, higher DUI rates, and residents who happen to live in neighborhoods that taxi companies refuse to provide service to will be left without any transportation.

· Adding red tape to the process of becoming a rideshare driver. uberX driver partners make a steady income on a flexible schedule by driving a few hours a week. This bill would eliminate the ability to do that by asking part time drivers to get a professional chauffeurs license – a process that costs money and does nothing to improve the quality or safety of rideshare service.

· Applying archaic insurance standards that do not benefit public safety. uberX driver partners have 3X more insurance coverage than Chicago taxi drivers. HB 4075 fails to recognize the industry-leading insurance that protect rideshare drivers and riders on thousands of trips every day in Illinois.
* And an infographic…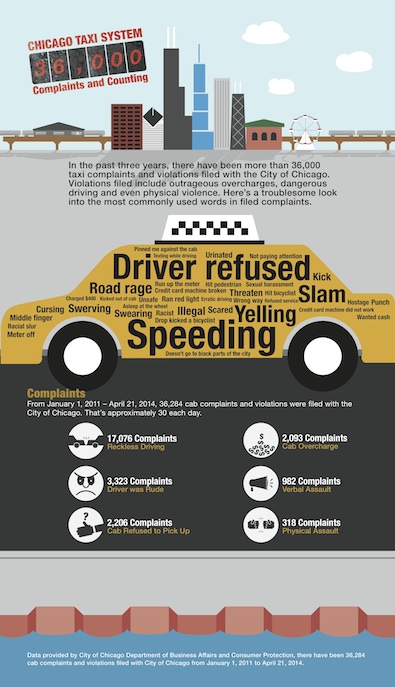 16 Comments















































Sorry, comments for this post are now closed.