* 3:16 pm - The Illinois Supreme Court has just denied Bruce Rauner's appeal of the appellate court's ruling that his term limits amendment is unconstitutional. The Court also ruled that his motion to stay today's ballot certification is moot.
Basically, what the Supremes just said was, we already killed that term limits thing in 1994. Go away, kid, you bother me.
The ruling…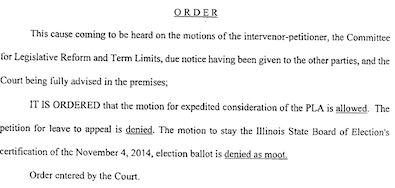 *** UPDATE *** Rauner response…
"Pat Quinn, Mike Madigan and the Springfield career politicians won today, and the people of Illinois lost. But the people will have the final say. A pro-term limits General Assembly pushed by a pro-term limits Governor can put this critical reform in place any day they want. Illinoisans should have that in mind when they vote this November."
23 Comments




































































Sorry, comments for this post are now closed.