* Illinois isn't alone by any means. From the Washington Post…
In a midterm election season when control of the United States Senate hangs in the balance, Democrats are increasingly turning to ballot measures to get otherwise reluctant voters to the polls.

Big Business is, too: Some of the most expensive races in the country this year will be ballot measures written by, and for, major corporations. Some the hardest-fought ballot battles of 2014 won't involve candidates at all. They'll be questions that come with big implications for corporate bottom lines — or promise big benefits to political strategists, especially Democrats, looking to drive turnout for other races.

For the first time in history, spending on the approximately 125 ballot questions facing voters in 41 states is likely to top $1 billion in campaign spending this year — and perhaps much more: Oil and gas companies in Alaska spent more than $170 for every vote they won in a successful campaign to reject higher taxes earlier this month.
* Spending this year is expected to vastly exceed 2012's billion dollars…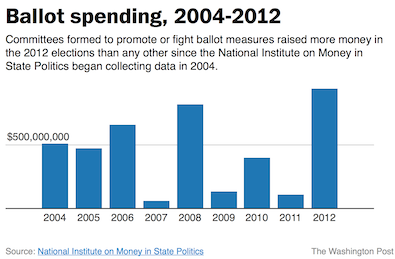 WaPo also has a great interactive map. Go check it out.
7 Comments




















Sorry, comments for this post are now closed.