* Let's return to Chris Kaergard's interview of Gov. Rauner…
We're doing big things and good things. For example, we've already transformed much of state government, but people don't know it. We've cut more than $800 million out of wasteful spending inside state government already. Huge transformation.
* I asked for a list of that $800 million in "wasteful spending" and here's what the governor's office sent. Click the pic if you need a larger image…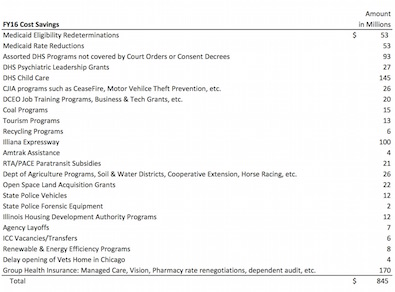 DHS programs, child care, job training, transit assistance for people with disabilities, cop cars and cop equipment, and a delayed opening of a residence for veterans (construction of which, by the way, has started again, so is that wasteful?).
The Psychiatric Leadership Capacity Grant provides funding to community mental health centers in Illinois to help cover the cost of employing a psychiatrist. The money goes to most of the roughly 140 mental health centers in the state. Often, mental health centers do not have a full-time psychiatrist on staff but bring one in for a few days each week or month to meet with patients and prescribe medication. […]

"There was no explanation or notice from DHS and certainly no suggestion about how community mental health folks should proceed without that funding," says David Cole, director of the Moultrie County Counseling Center in Sullivan. He says his center gets about $37,000 annually for psychiatric service. "It's a big cut. The entire line was just crossed out."
Man, this guy is really something.
*** UPDATE ***  Press release…
In an interview with reporter Chris Kaergard yesterday, Gov. Bruce Rauner said, "We've cut more than $800 million out of wasteful spending inside state government already." When asked by The Capitol Fax's Rich Miller to provide evidence of these cuts, the Rauner Administration responded with this document that details cuts to child care, healthcare, recycling programs, veterans housing, transportation funding for the disabled, state police funding, and other critical services provided by the state.

Illinois Working Together Campaign Director Jake Lewis released the following statement regarding Governor Rauner's "wasteful spending" cuts:

"It is absolutely shameful that Governor Rauner would label child care, healthcare, recycling, transportation for the disabled, veterans housing and state police programs as 'wasteful'. The very idea that Rauner could think of these programs as 'wasteful' clearly demonstrates his utter heartlessness when it comes to Illinois' neediest. Not only does the governor not care about the most vulnerable in Illinois, he views programs to support them as 'wasteful'.

"Unfortunately, these callous comments are also completely unsurprising. In addition to his harmful cuts to children, veterans, and public safety, Governor Rauner created a devastating budget impasse that has caused untold damage to Illinois' families, seniors, and economy. But in Governor Rauner's world, a million Illinoisans losing access to critical services is just cutting 'waste'. Meanwhile, the state racks up hundreds of millions of dollars in interest fees on its late bills due to the Rauner impasse. It may take years for the state to recover from the damage Rauner has caused."
111 Comments












































































































































































































































































































































Sorry, comments for this post are now closed.