* Press release…
Public service workers in Illinois state government are featured in a new statewide TV and digital spot that calls out Governor Bruce Rauner for refusing to negotiate with the largest union of state employees, AFSCME Council 31.

The Rauner administration broke off negotiations in January and has refused to meet with the union ever since. Recently a hearing officer of the Illinois Labor Relations Board rejected Rauner's contention that the parties are at impasse on wages, health care and other key issues, and said the administration should be required to resume negotiations with AFSCME.

Called "Negotiate", the spot features three Illinois public service workers describing in their own words their important work, how Rauner walked away, and their determination not to let the governor take away their voice on the job.

"Public service workers in state government protect kids, care for veterans, keep us safe and more," AFSCME Council 31 Executive Director Roberta Lynch said. "State workers have always been willing to do their part. We're prepared to compromise. But we can only do that if Governor Rauner puts the public good ahead of his personal demands and returns to bargaining ready to negotiate."

In a recent statewide poll that showed strong public approval for Illinois state employees and their union coupled with a sharp decline in Bruce Rauner's public support, likely voters sided with public service workers in their dispute with Rauner by a margin of nearly 2 to 1.
* The ad…
* Script…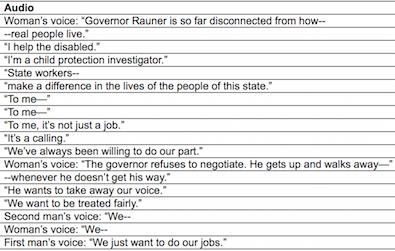 Thoughts?
138 Comments





























































































































































































































































































































































































































Sorry, comments for this post are now closed.