[Comments are now open on this post.]
* Press release…
Governor Bruce Rauner released his 2015 federal and state 1040's, reflecting income and tax rates, while detailing the Rauner family's charitable and community giving last year.

In 2015, the Rauners paid more than $50 million in federal and state taxes on federal taxable income of $176.7 million and state taxable income of $188.2 million for a total effective tax rate on income of more than 26%. Their federal effective tax rate on income was 24.5%.

In addition, the Rauners and their family foundation made charitable contributions totaling more than $11.6 million.

Rauner 2015 Tax Summary:

Income on Federal Return: $188.2 million

Adjusted Gross Income on Federal Return: $187.6 million

Taxable Income on Federal Return: $176.7 million

Federal Income Taxes Paid: $43.3 million

Federal Effective Tax Rate on Taxable Income: 24.5%

Federal Effective Tax Rate on Adjusted Gross Income: 23.1%

Illinois Taxable Income on State Return: $188.2 million

Illinois Income Taxes Paid: $6.9 million
The personal tax return is here. The Rauner Family Foundation tax filing is here.
That 2015 income is more than triple his 2014 income disclosure of $58.3 million. So, now we know how he could so easily afford those big contributions the past year.
If this sets a new pattern, then he'll have more than enough money to fund his own campaign and legislative campaigns (and anything else) in two years.
…Adding… The governor has said to me more than once and has said it in public elsewhere (including, I think, today in Champaign) that his kids aren't getting much of an inheritance…
"He may have a limit to how much he's willing to put into Illinois politics before it starts to effect his own condition and his kids' inheritance," Redfield said, noting that Rauner also has the support of fellow conservative millionaires, including the state's richest man, Ken Griffin.

"His friend Ken Griffin really doesn't have any limits to what he can spend, but I don't think [Rauner] really wants to sustain what he's been putting in for the last four years," Redfield said. "If it was just his wallet, I don't think the Democrats would be as worried about him putting up his money. But his friends have plenty more."
I've thought from the get-go that he low-balled his net worth. He's obviously got plenty of dough and he'll be spending it the way he wants. And we all know what he wants to spend his money on.
…Adding More… Raw audio from the governor's Q&A with reporters today. He talked about his taxes, the election, Monday's leaders meeting (he hasn't yet heard back from Speaker Madigan) and etc…
- Posted by Rich Miller 40 Comments


* Sigh…
Controversial legislation to subsidize unprofitable nuclear plants in Illinois may see a vote after the election as lawmakers return to Springfield for the fall veto session.

Characterized as a "bailout" by opponents, the bill may undergo last-minute changes, including a new way of charging customers for electricity and a roundabout subsidy for coal plants.

Power giant Exelon wants Illinois lawmakers to pass Senate Bill 1585, a proposal designating nuclear power as a "low-carbon resource." The measure is aimed at keeping two of Exelon's unprofitable nuclear plants at Clinton and the Quad Cities from closing.

Under Exelon's proposed Low Carbon Portfolio Standard, 70 percent of the state's electricity would have to come from low-carbon sources, and companies producing that power would be able to charge more for it through a system of "low-carbon credits." Exelon says its plan would also help Illinois meet future requirements to reduce carbon dioxide emissions.

Opposition from environmental groups and coal plant operators has kept the bill from passing, but Exelon is reportedly in negotiations with Texas-based coal power company Dynegy. A potential bargain between the two companies could yield a proposal in which the state takes over what are known as "capacity payments" – agreements in which power grid operators pay power producers in exchange for a promise to provide electricity during peak demand. If state regulators take over that task, it would likely mean higher payments to power producers, ensuring income for Dynegy's downstate coal plants which face possible closure as environmental regulations tighten.
- Posted by Rich Miller 6 Comments


* Some folks made fun of Ron Sandack for claiming that he was being targeted because he was a "high-profile" person. Turns out, he was right…
The Philippines sextortion scheme that toppled Downers Grove state representative Ron Sandack cost him $3,000, the ABC 7 I-Team has learned, and was part of a much larger criminal web.

Police records newly obtained by the I-Team reveal that overseas scammers snared Sandack and more than a dozen other "victims" in 10 states, including "higher profile individuals primarily in the medical field (such) as doctors or real estate agents and includes political figures." Sandack and the others from New York to Seattle made at least 18 payments to scammers according to police, totaling more than $14,000.

The scandal that snared Sandack and prompted his sudden resignation from the General Assembly occurred in July. However, investigative records we received under the Freedom of Information Act show that similar sextortion cases occurred between September 2015 and July 2016. Typically, such blackmail schemes involve women encouraging men to disrobe on camera, followed by explicit sex talk and activity.

"This past July, I was the target of an international crime ring focusing on high-profile individuals luring them to engage in inappropriate online conversations with the intent of extortion," Sandack said in a statement released at the time. "I took their bait and fell for it hook, line and sinker."
It's still pretty darned stupid and reckless behavior, but it's also kinda scary that there's a ring of people out there who do this.
- Posted by Rich Miller 13 Comments


* AP…
Aaron Schock, who resigned from his Illinois congressional seat last year amid scrutiny of his spending, expects to be indicted by a federal grand jury, his defense team said Thursday.

Schock's attorney, George Terwilliger, called the expected charges a "misuse" of prosecutorial power by the Justice Department.

"This indictment will look bad, but underneath it is just made-up allegations of criminal activity arising from unintentional administrative errors," Terwilliger said in a statement. "These charges are the culmination of an effort to find something, anything, to take down Aaron Schock."
Expect charges to be announced later today.
*** UPDATE ***  And here we go…
Former U.S. Representative Aaron Schock Indicted for Fraud, Theft
of Government Funds, False Statements and Filing False Income Tax Returns

SPRINGFIELD, Ill. – A federal grand jury returned an indictment today charging former U.S. Representative Aaron Schock with allegedly defrauding the federal government and his campaign committees and covering it up with false and fraudulent statements, claims and invoices.

"I appreciate the time and attention that the grand juries have given this matter, to thoroughly review the facts and the evidence and to reach this decision," said U.S. Attorney Jim Lewis, Central District of Illinois. "These charges allege that Mr. Schock deliberately and repeatedly violated federal law, to his personal and financial advantage. Mr. Schock held public office at the time of the alleged offenses, but public office does not exempt him or anyone else from accountability for alleged intentional misuse of public funds and campaign funds."

According to allegations in the 24-count indictment, from as early as 2008, and continuing to at least October 2015, Schock, 35, of Peoria, engaged in a scheme to defraud the government, his campaign committees, and others for his direct personal benefit and for the benefit of others. Schock allegedly repeatedly submitted and caused false and fraudulent claims, invoices, and vouchers to be submitted to the U.S. House of Representatives (House) for payment from his Member's Representational Allowance and from funds of his campaign committees: Schock for Congress (SFC); Schock Victory Committee (SVC); and GOP Generation Y Fund (Gen Y).

Schock allegedly generated income to himself, which resulted in a loss of more than $100,000 to the government, Schock's campaign committees, and others. In addition, Schock is charged with filing false federal income tax returns for tax years 2010 through 2015, for failure to report additional income he received.

Several of the alleged instances of fraud from the indictment are summarized below:

Ø From as early as 2008 and continuing to about October 2014, Schock received total mileage payments from the House and his campaign committees of approximately $138,663, for official and campaign-related travel. Assuming all of the miles driven on Schock's vehicles were official and campaign-related, and no personal miles were driven during this time period, Schock allegedly caused the House and his campaign committees to reimburse him for approximately 150,000 miles more than the vehicles were actually driven.

Ø In July 2014, Schock caused Schock for Congress to purchase a new 2015 Chevrolet Tahoe for him at a total cost of $73,896. Schock then caused the Tahoe to be titled in his name. To accomplish the purchase, Schock caused SFC to purchase his used 2010 Tahoe from him for $31,621. He then caused SFC to trade in the 2010 Tahoe with a $26,000 used car or trade-in allowance, and wrote a SFC check to the dealership for $73,896, thus causing a loss to SFC. As part of the scheme, and to conceal and cover it up, Schock allegedly caused SFC to file a false report with the Federal Election Commission (FEC) that the entire $73,896 payment was for a transportation expense of SFC rather than the purchase of a vehicle for Schock's exclusive use. Schock allegedly made no effort to reimburse SFC for his personal use of the 2015 Tahoe.

Ø Schock allegedly caused the House to fraudulently reimburse him $29,021 for his September 2014 purchase of camera equipment. The equipment was for his use and the use of a congressional and campaign staff member who was also his personal photographer and videographer. In November 2014, Schock allegedly instructed the staff member to create and submit a false invoice for 'multimedia services' to Schock's congressional office. After various changes to the invoice, it was submitted to the House, which authorized payment of $29,021 to the staff member. The funds were deposited in the staff member's bank account and were later used by the staff member to make direct payments to Schock's personal credit card account for the camera equipment purchase.

Ø In late 2013, Schock allegedly accused a former staffer of inappropriately accessing a friend's social media account and falsely advised the former staffer that the FBI and Capitol Police were investigating the matter. As a result of Schock's accusation and false representation, the former staffer retained a lawyer and incurred legal fees of more than $10,000, which were paid by the former staffer's father. Schock later acknowledged that his allegation of a law enforcement investigation of the matter was false and after being confronted by the former staffer's father, agreed to reimburse the former staffer's father for $7,500 of the legal fees. In February 2014, Schock allegedly wrote a check for $7,500 payable to the former staffer's father. In April 2014, Schock had his political director issue a check from Gen Y to him in the amount of $7,500, which was falsely reported to the FEC as payment to a Washington D.C. attorney for legal fees incurred by Gen Y. In addition, Schock allegedly caused Gen Y to pay legal expenses that he personally incurred, and to file additional false reports with the FEC that the payment was for Gen Y's legal fees.

Ø In November 2014, Schock hired an Illinois decorator, who in 2010 had decorated Schock's Peoria apartment and Cannon congressional office, to redecorate and provide furnishings for his Rayburn congressional office at a cost of approximately $40,000, including a $5,000 chandelier. Schock allegedly caused vouchers and claims to be submitted to the House totaling $25,000 to be paid to the decorator. In the submission of the vouchers and claims, Schock allegedly made false representations that the claims were, "for services to assist the member in setting up our district and DC offices" and, "includes using materials from our district and rearranging/designing/structuring the space to best suit the member and staff's needs." In addition, Schock caused his three campaign committees to pay a total of approximately $8,263 in additional costs for carpentry, paint, and travel and lodging expenses for the decorator/designer, who provided no product or service to these committees.

A summons will be issued to Schock by the U.S. Clerk of the Court for a date when Schock is to appear in federal court in Springfield for initial appearance and arraignment.

Assistant U.S. Attorney Timothy A. Bass and First Assistant U.S. Attorney Patrick D. Hansen are prosecuting the case on behalf of the U.S. Attorney's Office for the Central District of Illinois. The charges are being investigated by the FBI, Springfield Division; IRS Criminal Investigations; U.S. Postal Inspection Service, Chicago Division; FDIC Office of Inspector General; and the Illinois State Police. These agencies participate in the Central District of Illinois' U.S. Attorney's Office's Public Corruption Task Force.

U.S. Attorney Lewis thanked the investigative agencies and commended their respective agents who he said, "have worked long, hard and well to present this matter fairly."

Members of the public are reminded that an indictment is merely an accusation; the defendant is presumed innocent unless proven guilty.

If convicted, the maximum statutory penalty for each offense charged is prescribed by Congress and is provided here for informational purposes, as sentencing is determined by the court based on the advisory Sentencing Guidelines and other statutory factors. The table below lists the counts charged in the indictment and the maximum statutory penalty for each respective charge.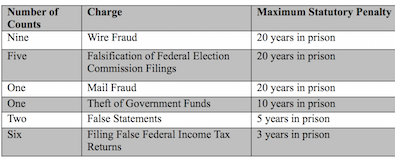 The full indictment is here.
- Posted by Rich Miller 42 Comments


* Remember not too long ago when Democratic activists were dismissing the GOP as a "regional party" confined mainly to the American South? There were also predictions galore just a few short weeks ago that Donald Trump's candidacy would destroy the Republican Party in a wipeout the likes of which hadn't been seen since Barry Goldwater.
Instead, Tuesday's Democratic presidential wins were confined mainly to the West Coast and the Northeast, with a handful of "flyover" states tossed in for good measure. The Democratic Party is now the "regional party."
* The Republican Party won the presidency, while holding onto control of the US Senate and the US House. The party also picked up at least two more governors, so they're now at 33 out of 50, with one independent and North Carolina still up in the air. The party also maintained its huge lead in state legislatures…
Republicans, who have dominated control of legislatures since the 2010 mid-term election, held the majority in 67 of the country's 98 partisan legislative chambers, while Democrats had 31 going into the election. Nebraska's single chamber is nonpartisan. […]

In Kentucky, Republicans took over the House of Representatives for the first time since 1921, while defeating longtime Democratic House Speaker Greg Stumbo, according to the Republican Legislative Campaign Committee.

That result leaves Republicans in control of all 30 legislative chambers in the U.S. South for the first time in history, Storey said.

Republicans also wrested control of the Iowa Senate and the Minnesota Senate from Democrats, according to NCSL.
Both chambers in "liberal" Minnesota are now GOP.
The Democrats came back after 1994 and, to a lesser extent, 2010 partly because they controlled the White House. That isn't the case now.
* From a commenter…
Illinois Democrats need to rethink everything IMO.

We're safely blue for now thanks to labor. But what if labor is killed as a political force through a SCOTUS ruling banning public employee unions or a federal right to work law passed by a GOP Congress that ends the filibuster or picks up a ton of Trump state Dem U.S. Senate seats in 2018? How does the Democratic Party function as a political force? Where does its money come from? How do they organize and GOTV?

It happened in Wisconsin in the blink of an eye once Republicans got total control. Look around us, folks. We're bordered on all sides by red. It can happen here and I don't think the old guard of Dem leadership in this state is ready for it one bit.

Dems need to rethink everything. Including the handling of the standoff with Rauner. My theory is that 2014 Rauner voters won't penalize Rauner one bit for his obstruction because Republicans don't care that government is dysfunctional. They like govt to not do things or be as inactive as possible. Meanwhile Dems and independents want govt to function and will punish Dem politicians who fail to achieve govt progress.

Meanwhile, the fire Madigan campaign in 2018 will not be muffled by the noise of the presidential campaign by the noise of 2016 and Dems will not be boosted by Trump's name at the top of the ticket motivating Dems to the voting booth to oppose him.

I hope I am wrong and the Illinois Dems weirdly cheering President Trump are right. I don't think I am though.
* The Question: What should the Democratic Party do going forward? Try to confine your answer to Illinois as much as possible. Thanks.
- Posted by Rich Miller 87 Comments


* Yes, the Republicans spent more than ever before on legislative races, but the Democrats kept up and even outspent the GOP in some battles. In the Senate, the Democrats outspent the Republicans in every hotly contested race. The House Dems were outspent in some, but a couple of those races were recognized internally as losers for a while now (Smiddy, for one). From ICPR, click the pics for larger images…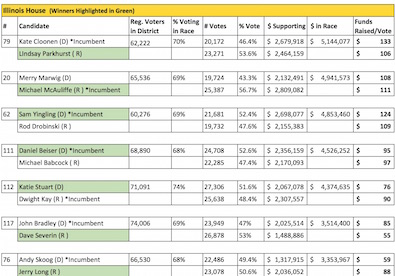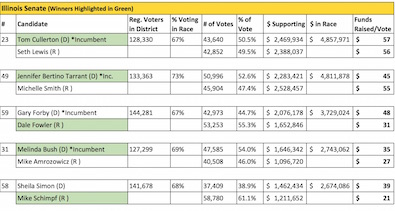 The Democrats have always relied on outspending and outworking the Republicans. The playing field was much more level this year than ever before, and the Republicans had a unified statewide "Because… Madigan!" message.
The Democrats, particularly in the House, need a rethink.
* Related…
* GOP, Dems spend $60 million, shift six legislative seats
- Posted by Rich Miller 25 Comments


* Sun-Times…
Gov. Bruce Rauner has invited the four top legislative leaders to a leaders meeting on Monday ahead of the first veto session on Tuesday.

The governor's office confirmed Rauner sent out the request on Thursday, asking the leaders to a meeting at their convenience, either in Chicago or Springfield.
Discuss.
…Adding… Press release…
Kim Clarke Maisch, state director of the National Federation of Independent Business, released the following statement this morning in response to Governor Rauner's call for a meeting with legislative leaders:

"Today, Gov. Bruce Rauner formally asked to sit down with the four legislative leaders to continue negotiations on a balanced budget and key economic reforms. NFIB would like to say that small-business owners, the key job creators in our state, are desperate for reforms that will provide a path to greater economic certainty and success.

"Small-business owners have been stifled by an acrimonious election, a burdensome regulatory climate and the constant threat of higher wages and workplace mandates. The election is over. It is time for a bipartisan, balanced budget agreement and workplace reforms that will benefit all the taxpayers in Illinois."
NFIB is a pretty Republican-leaning group, so I doubt this will have much impact on MJM.
*** UPDATE ***  Senate President John Cullerton told me a few minutes ago that he'd be happy to attend the leaders' meeting on Monday, but only if Speaker Madigan shows up as well. "I'm not willing to be the entertainment," he explained. Cullerton said he didn't yet know if Madigan would show up.
A call to Madigan's spokesman Steve Brown has not yet been returned.
* Meanwhile…
Senate Republican Leader Christine Radogno, on the call for a Legislative Leaders' meeting with Governor Rauner prior to the fall veto session:

"A meeting of the minds with the four legislative leaders and the Governor is the prime opportunity to jumpstart our collaborative process. The time is now to come together to address the serious issues facing Illinois with comprehensive solutions. I look forward to joining the Governor and my colleagues on Monday."
And…
"With the election behind us, it is time we get back to work fixing Illinois. I am absolutely ready and willing to meet on Monday to restart negotiations on a balanced budget solution and reforms. The voters of Illinois sent us to Springfield to solve problems, they demand cooperation and compromise. We can get the job done if both parties agree to keep an open mind, and return to the table."

- Jim Durkin, House Republican Leader
…Adding… IMA…
With the election now over, it's time for our elected officials to shift their utmost focus to balancing the state's budget and enacting job creation reforms that will spur economic growth and investment in Illinois. Illinois businesses and families cannot afford to wait any longer. Since January, Illinois has lost 9,800 good, high-paying manufacturing jobs causing further erosion of our middle class. Recent headlines have announced Illinois manufacturing companies moving operations across state lines due to a more secure business environment. The latest Worker Adjustment and Retraining Notification report for October announced just this week that more than 800 workers will be laid off in coming months with the majority of those being manufacturing jobs.

The voters spoke on Tuesday and are demanding results. It's time to make Illinois work again and we stand ready to work with policymakers to make that happen.
- Posted by Rich Miller 55 Comments


* Pearson…
The impending arrival of Donald Trump in the White House is creating a strange political landscape for Bruce Rauner to navigate at the governor's mansion.

The Republican governor spent the better part of a year refusing to discuss the eventual GOP presidential nominee and wouldn't even speak Trump's name. At the time, Rauner was trying to walk the tightrope of not providing Democrats with fodder to attack him during their budget battle while also not invoking Trump's wrath by directly criticizing him.

Now not only will Rauner continue to be asked to weigh in on Trump and every controversial move the future president makes, but he'll be doing so with his own 2018 re-election bid at stake.

Rauner remains the undisputed leader of the Illinois Republican Party, and Trump enjoyed widespread support Downstate in Tuesday's election, even if he lost badly to Democrat Hillary Clinton in Chicago and the suburbs. Trump won 92 of 102 Illinois counties and racked up 50- and 60-percentage point margins in far southern Illinois. Disagreeing with Trump carries great political risk for Rauner among a key voting bloc two years from now.

The great irony of Tuesday's election for the governor is that as much as he and other top Illinois Republicans avoided or ran away from their party's presidential nominee, Trump and his strong showing Downstate is a big reason Rauner was able to cut into Democratic nemesis Michael Madigan's supermajority.
He's in a bit of a trick box. Team Rauner, like most everyone else, was not expecting this at all.
* Monique…
Democrats downplayed the losses, contending strong support for Trump in those [Downstate] districts helped boost Republicans.

GOP operatives say they did benefit from Trump's popularity in some areas of the state, but said they were also able to fend off challenges in the suburbs where Trump did not do well. Republicans did lose one House seat near St. Louis, with Rep. Dwight Kay falling to Democrat Katie Stuart. But they chalked that up to Kay's controversial comments about women.

Regardless, Republicans believe they've crafted a playbook that will prove valuable for 2018.

"We think there are two things to take away from this campaign: Bruce can protect you if you take the tough votes, and Madigan, for the first time in a long time, showed vulnerability when it came to protecting his members," one GOP operative said.
That operative is right.
Trump did help the Republicans Downstate, no doubt about it. But don't kid yourself. That ubiquitous anti-Madigan message was effective Downstate, plus it kept Madigan from picking up any suburban seats in a presidential year when Hillary Clinton pounded Trump in that region.
* I've also heard from plenty of Democrats that the Trump win will help them in 2018. Maybe, maybe not. But here's a text I got Wednesday afternoon from a liberal friend of mine…
I'm sad, sickened and [angry] at every person who told me last night that this means good things for Illinois Democrats in 2018. If you need Trump as president to make you look good, it's time to do some deep thinking about what you stand for.
Food for thought.
- Posted by Rich Miller 25 Comments


* Sun-Times…
Thousands of people marched and protested through downtown Chicago on Wednesday night, voicing their disdain — in no uncertain terms — with Tuesday's election of Donald Trump to be the 45th president.

The protest began shortly before 5 p.m. outside the Trump Tower at 401 N. Wabash.

What began as a group of a few dozen soon grew to a crowd of about 1,800 to 2,000 people after three groups combined into one, said Chicago Police spokesman Anthony Guglielmi

"Despite traffic disruptions, roadway obstructions and at times, individuals climbing onto vehicles, there were no major incidents," he said in a statement, adding that a Chicago Police mounted unit, bike teams, patrol cars and tactical, saturation and gang teams all responded to the protest. […]

About 11:30 p.m., the group again took to Lake Shore Drive, heading south from Chestnut.
No offense to the protesters, because it's their right to voice their opinions, but all the people I know who worked or volunteered on campaigns were too exhausted to participate in a 7-hour protest march last night.
For instance, a campaign official who promised to call me last night apologized to me this morning for not doing so. She said she went to bed at 3 in the afternoon and slept until 4 this morning.
So, if each one of those protesters (in Chicago and in another two dozen around the country) had spent a few evenings phone banking swing-state voters, they may not have needed to be on the streets last night.
Just sayin…
- Posted by Rich Miller 73 Comments


* Reboot interviews Rep. Elaine Nekritz (D-Northbrook)…
Q: You're in leadership and have worked with Speaker Madigan for a long time now. What do you think his approach will be? What's Madigan's frame of mind now?

A: I'll stand by my statements I made all fall that I didn't think the outcome of this election would change the dynamic between Rauner and Madigan and there's nothing that happened yesterday that made me rethink that position.

Q: We're going to limp along through the 2018 election?

A: So, what I say to people who ask me that question is if you'd asked me a year ago if we could get through a whole year without a budget I'd have said, 'Oh my god, there's no way!' But here we are. I don't want to do that. I didn't think we could get this far without a budget.

Q: What will it take to change that?

A: If I knew the answer to that question I would get about the business of doing it. I have no idea.
* Rep. Lou Lang (D-Skokie) in the Tribune…
"Our view is that his agenda is not related to the budget. There is not an item in that agenda that makes a nickel's worth of difference to the state of Illinois," Lang said. "Say what you will about Mike Madigan, but we had a budget for all of the 38 years of Mike Madigan… It would not surprise me if we went the full four years of the Rauner term without a full budget in place."
Ugh.
- Posted by Rich Miller 46 Comments


* SJ-R…
Mendoza's victory Tuesday gave Madigan bragging rights in that contest, but opinions vary about how much Mendoza's election will actually change the political atmosphere in Illinois. […]

Senate Minority Leader Christine Radogno, R-Lemont, downplayed the idea that Democrats will now control the comptroller's office along with the offices of attorney general, secretary of state and treasurer.

"I don't see that as being a big issue," she said. "Those offices are more custodial than anything and have limitations based in law on what they can and cannot do. I don't see that as a big factor." […]

The comptroller's office pays the state's bills, which for years now has been a juggling act because there isn't enough revenue to cover all of the expenses. A great deal of state spending is dictated by court orders, consent decrees or existing state laws that dictate which bills must be paid. However, the comptroller still has latitude. One of Munger's most popular decisions was to announced that state lawmakers would have to wait in line to get paid as many businesses and agencies already must wait.

"I don't think the actual behavior is going to be that much different than Munger because of how constraining the fiscal situation is," Redfield said. "But I think she can be much more vocal and be shining the light about the problems the lack of a budget is causing and shine the light more in the governor's direction. She can have an impact on public opinion and perception."
Sorry, but one Republican saying something doesn't make it true.
And, for crying out loud, didn't anybody pay attention to the campaign? Mendoza clearly positioned herself as a bulwark against Raunerism.
As we've discussed before, the comptroller's office is not just "custodial." The office has an enormous amount of leverage because it can decide who gets paid when. Gov. Rauner's partnership with Munger has allowed him to put out numerous potentially embarrassing fiscal fires for almost two years. Those partnership days are over.
And Redfield is right that the office also has a significant, credible public megaphone. Mendoza can highlight issues in a way that puts pressure on Rauner. Munger has reserved most of her harshest comments for the Democratic-controlled General Assembly.
* Also, by the way, this is from the statute which created this year's special comptroller's election…
In the case of a special election pursuant to this Section, the appointed officer shall serve until the election results are certified and the person elected at the special election is qualified.
The State Board of Elections plans to meet on December 5th at 9 o'clock in the morning to certify the election and issue its proclamation. So, Mendoza will take over when that work is completed.
* Related…
* Emanuel hints he's inclined to pick Latino to replace Mendoza as city clerk
- Posted by Rich Miller 25 Comments


* Senate Republican Leader Christine Radogno's post-election reaction…
The election is over and the people have spoken; they want change. From the top down, voters are not satisfied with the status quo, which they demonstrated from the federal level down to the state legislature. It is incumbent upon us to come together to address the serious issues facing our state. I sincerely hope the Democrat majority will now choose to join us to move Illinois forward. We look forward to working with them in the coming weeks.
- Posted by Rich Miller 64 Comments


* Press release…
On p. 6 of its special Election Edition for the Weekly Credit Outlook for Public Finance released today, Moody's notes voters in the State of Illinois (rated Baa2/negative outlook) decision to amend their state constitution and restrict use of transportation revenues to highway, mass-transit and related projects is credit negative because it cuts off the state's ability to draw on about $3 billion of annual transportation revenue that could otherwise help address fiscal pressure from pension contribution demands and reduced income taxes. The so-called "Lockbox Amendment" stipulates that revenue collected from the use of motor vehicles (such as fuel taxes or registration fees), or from transportation infrastructure (such as highway tolls), can be applied only to transportation purposes. The amendment means the state will lose its ability to tap transportation funds to ease budgetary pressures. Illinois' annual income tax revenue has declined almost $5 billion since January 2015, when rate cuts took effect, while pension contribution requirements have risen by almost $1 billion.

The $3.2 billion of Illinois fuel taxes and transportation fees combined accounted for about 6% of the state's own-source revenue. In addition, the state had $1.1 billion in highway tolls, bringing total transportation revenues subject to the new provision to $4.3 billion. While the state does not anticipate that the lockbox amendment will have a material impact on its finances, the vast majority of Illinois' $4.3 billion in transportation-derived revenue already is allocated to transportation purposes by statute. The Illinois State Toll Highway Authority (Aa3/stable) collects tolls. After the authority covers principal and interest on its debt, it can only spend residual toll revenues on its highway operating and maintenance purposes. Even before the lockbox amendment, these revenues were not available to the state government for general purposes.

Illinois has reallocated funds dedicated to transportation on several occasions in recent years. The lockbox amendment would preclude such practices, in hopes of controlling a tendency to defer maintenance of transportation infrastructure. At the same time, the amendment removes the option of drawing on transportation revenue for general operating needs, which has been useful for Illinois, a state that faces an approximately $9 billion backlog in unpaid bills. The amendment also means that, as the state contemplates how to raise general operating revenue in the future, it will not be able to consider using new transportation-related taxes.

Moody's declaration of "credit positive" or "credit negative" does not connote a rating or outlook change. It is indicative of the impact of a distinct event or development as one of many credit factors affecting the issuer.
Emphasis added because I don't think anyone ever really focused on that point.
- Posted by Rich Miller 24 Comments


* Jim Nowlan quotes economist Geoff Hewings, head of the Regional Economics Applications Laboratory at the University of Illinois, "who has been tracking the economies of Midwestern states for decades"…
"My sense is that without a fundamental change in the fiscal conditions in Illinois (that is, a strategic plan to address the budget deficits), Illinois will continue to underperform surrounding states and lag, as before, in employment growth.

"We need a governor who knows how to negotiate, and we need a new Illinois House speaker with a vision for the state rather than an objective function of maintaining his powerful position.

"Firms have enormous flexibility as to where they can locate or expand their businesses. The one thing they need is confidence that they will not be hit with an unexpected tax increase. If there is a plan and it is followed (even with stabilizing tax increases), then businesses know the operating environment, and they can make decisions accordingly.

"We have incredible assets in the state — especially embodied in human capital and in infrastructure — but without some long-term, transparent strategy, we will just limp along."
Headline explained here.
- Posted by Rich Miller 11 Comments


[The following is a paid advertisement.]
The Exelon bailout bill is back from the dead and bigger than ever. Crain's is warning everyone to hold onto their wallets.
In 2015, Illinois generated 41 percent more electricity than we need, even as power demand shrunk 3.8 percent since 2011
Sierra Club and NRDC have joined forces with coal-plant operator Dynegy and nuke-plant and ComEd owner Exelon for a monster bill to bailout both unneeded nukes and unneeded coal plants
The energy bill would subsidize unnecessary nukes, meaning Illinois ratepayers will effectively be paying more so ratepayers in other states who use our surplus power will pay less
"…that's just another incentive for commercial and industrial consumers – and employers – to jump the border"
Social services have been devastated, the state is now two years without a budget, but Exelon would have you believe our top legislative priority is passing a $16 BILLION RATE HIKE for a company that just announced quarterly PROFITS of $841 MILLION to prop up power plants that cannot compete in the Illinois energy market.
JUST SAY NO TO THE EXELON BAILOUT
BEST Coalition is a 501C4 nonprofit group of dozens of business, consumer and government groups, as well as large and small businesses. Visit www.noexelonbailout.com.
- Posted by Advertising Department Comments Off


* Yvette Shields at the Bond Buyer…
The picture for Illinois' state employee pensions has become bleaker, with a $12 billion increase in unfunded liabilities that already top the $100 billion mark and a $1 billion increase in the state's scheduled contributions next year.

The updated data comes from fiscal 2016 draft actuarial reports released by the state's five retirement funds and its preliminary contribution requests for fiscal 2018, which were approved by the system's boards at recent meetings.

The cash-strapped state tentatively will owe $8.8 billion to the state's five funds in fiscal 2018. That's up 12.7% from the $7.8 billion the state is paying in fiscal 2017, which began July 1.

The state's unfunded liabilities, meanwhile, rose to $126.5 billion in fiscal 2016 from $112.9 billion a year earlier and the funded ratio deteriorated to 39.2% from 40.9%.

The funds must submit a preliminary contribution amount by a Nov. 1 state deadline.
Emphasis added because… wow.
…Adding… Lots more here.
- Posted by Rich Miller 38 Comments


[The following is a paid advertisement.]
As the head of the Illinois AFL-CIO, I know that this is true.
I also know that the Future Energy Jobs Bill – soon headed to lawmakers in Springfield – delivers.
This bill is the product of extensive negotiations between consumer advocates, environmental groups, energy providers, and labor unions and is critical to the working men and women of Illinois.
The bill protects 4,200 good-paying Illinois jobs, creates tens of thousands more clean energy jobs, and also provides job training for Illinois workers. This is all achieved with while maintaining Illinois' competitive energy prices.
There isn't a moment to lose. Illinois lawmakers who support good-paying Illinois jobs need to SUPPORT the Future Energy Jobs Bill today.
Michael T. Carrigan
To learn more, visit: www.FutureEnergyJobsBill.com
- Posted by Advertising Department Comments Off


* The transportation funding lockbox amendment overwhelmingly prevailed in every Illinois county, despite lots and lots of harsh editorials and columnists who regularly rail on the General Assembly for an inability to do its job. Well, the lockbox amendment does the job for legislators and that seemed abundantly clear to fed-up voters.
And now we're stuck with it.
* Meanwhile, Donald Trump won McHenry County by 8 points. Mark Kirk won it by 10. Democratic state Rep. Jack Franks won the county board chairman's race by 15 points. Franks represents only about a third of that county in the House. Say what you want about him, but the man knows how to win.
* This was a waste of a million dollars by asbestos trial lawyers…
Despite efforts to derail the Republican Fifth District Appellate Court candidates' campaigns with lawyer-funded attack ads, the Republican candidates are leading by roughly 10 percent margins with 99 percent of the precincts reporting.

For the vacancy created through the retirement of Bruce Stewart, Madison County Circuit Judge John Barberis is leading with a margin of 55 percent to 45 percent. Barberis has received 305,727 votes, while Williamson County Circuit Judge Brad Bleyer has received 238,255 votes.
I don't know who did their TV ad, but this was just silly from the get-go…
If they'd just given me that money I would've absolutely guaranteed them the same end results. /s
* Speaking of that part of the world…
Republican Ron Duebbert has been elected circuit judge in the Twentieth Judicial Circuit, defeating Democrat incumbent, Chief Judge John Baricevic.
That's a huge GOP win. The Baricevic family had a very bad night.
* And while we're in the formerly Democratic-dominated Metro East…
In a squeaker of a race, Republican Kurt Prenzler beat Democrat Alan Dunstan for chairmanship of Madison County government.
Prenzler is a tea party favorite, won the county treasurer's office four years ago and ran on a platform of lowering taxes.
* What else is out there?
- Posted by Rich Miller 25 Comments


* Press release…
Governor Bruce Rauner today released the following statement:

"This has been a long, grueling campaign cycle, both nationally and locally. For the good of the people of Illinois, let's put the election behind us. Let's come together and focus on the future and improving the quality of life for every family in our state.

"The people of Illinois deserve prompt, bi-partisan action to solve problems and get good things done – to make Illinois more competitive so we can be more compassionate – to enact truly balanced budgets along with reforms that grow more jobs and protect taxpayers.

"Now is the time to move forward together."
A starkly different tone than Speaker Madigan's statement last night.
* A metric ton of issues has been put on the back burner. Not nearly enough revenue is coming in the doors and a newly passed transportation funding lockbox constitutional amendment will block another "easy" fix. Chicago desperately needs action on education funding. Unions want help with power plant and alt energy jobs and assurances that state workers won't be forced out on strike. Businesses are screaming for relief. Property taxes are too darned high. Criminal justice reform is now on the precipice because the country just elected a strong "law and order" president. The punditry is enraged about the lack of political reforms.
You name the problem, we pretty much got it.
* There's room for a deal and more than enough lame ducks to get it done. The question will become how much Rauner wants and if the Democrats even engage.
Your thoughts?
- Posted by Rich Miller 70 Comments


* Says the member of a prominent newspaper editorial board which strongly urged support for a third party presidential candidate…
If Leslie Munger had gotten votes cast for Lib and Green comptroller candidates, she would have beaten Susana Mendoza.

— Kristen McQueary (@StatehouseChick) November 9, 2016
Also, too, if the sky was green, the grass might be blue.
Sheesh.
* But enough snark. This is from my October 1st Crain's Chicago Business column on the importance of the comptroller's race..
Most people don't always have the money to pay bills as they arrive. If you write a big check before the next paycheck comes in, bad things can happen.

The same thing applies to the comptroller. Even in flush times, if she pays the state's bills (or even a few large state bills) as they come in the door, she can easily crash the state's finances. But without a proper state budget, and amid a severe revenue shortage caused by the partial expiration last year of the income tax hike, these are far from flush times.

So a hostile comptroller would be a bad thing for the governor. Democrat Mendoza could use the power of the checkbook to force the Republican governor into a more compliant position, even without actually crashing state finances.

Munger has used her position to highlight the state's massive $8 billion-plus bill backlog in a way that puts pressure on the General Assembly. She's mainly done this by refusing to pay state legislators when their checks are due, putting them in the same payment line with social services agencies.

And she's also often taken heat off the governor (or put heat on his detractors) by quickly paying (or not so quickly paying) invoices at his request. The governor's office has been running a triage operation for well over a year to keep vital government services from crashing due to lack of revenue while simultaneously battling a belligerent Legislature. A friendly comptroller has been a great help to him.

This impasse could continue throughout Rauner's entire first term, so an antagonistic comptroller could refuse to honor his requests, which would put him in an awful spot.

Mendoza is a pleasant person who can also be a sharp-elbowed street fighter. "I will be an independent, truth-telling fiscal watchdog," she pledged during the Democratic National Convention in July, "not a lapdog to Rauner."

So unlike Munger, who has used her media conferences about unpaid bills to blast the General Assembly, Mendoza could use her position to constantly harangue Rauner, perhaps also doing what Topinka did to undermine the credibility of the Quinn administration by showing how it used gimmicks to mask the size of the deficit.

In other words, a lot is at stake here.
* SEIU Healthcare is strongly urging that battle…
Following is the statement of SEIU Healthcare Illinois Executive Vice President Greg Kelley in response to Susana Mendoza's victory as comptroller:

"By electing Susana Mendoza tonight, Illinois voters are demanding accountability of Bruce Rauner. He spent millions for his hand-picked 'wing man' Leslie Munger. Susana will be anything BUT a wing man, and instead will be positioned to bring true scrutiny to this administration's misplaced priorities.

"As a REAL watchdog of public resources, we are hopeful Susana will ensure that those Illinoisans who need it the most, including people with disabilities, seniors and children, are not put in line behind corporate special interests or Wall Street billionaires.

"But for the budget crisis manufactured entirely by Bruce Rauner, the comptroller's race would have been a sleepy affair. But in this troubling period, Illinois now has an independent fighter who we are confident will hold the powerful to account."
* Mendoza appears ready for the challenge ahead…
Mendoza struck back by attempting to turn the focus in the race to Rauner. "I'm running against (Rauner), and when this election is over and I beat him on Nov. 8, he's not going to be able to hide behind some story that he got beat by the big powerful Irishman named Mike Madigan from the South Side," Mendoza told the Tribune last month. "I'm going to make sure he owns the fact that he lost to a little 5-foot-3 Mexican woman called Susana Mendoza from the city of Chicago. So he'll know my name then."

During her victory speech Tuesday night, Mendoza promised to fight the good fight.

"Win, lose or draw I stay true to my cause," she said. "And I know how to stand up to big bullies."
* Daily Herald…
"We were outspent by millions of dollars by just three billionaires who think they can buy our political system," Mendoza said during her victory speech Tuesday night. "They think they can buy our democracy. Well they're wrong and we sent a clear message today: The state of Illinois is not for sale."
* And…
"I believe that the comptroller's office has a much bigger role to play in terms of being an advocate for fiscal sanity in Springfield," Mendoza told the Sun-Times.
* But I'm not so sure about this…
Mendoza also invoked the memory of Topinka, who she called her friend and a "bridge building" who brought people together.

"I really truly do miss her, but I think that she would be proud of what Illinoisans did by sending me to the comptroller's office today," Mendoza said.
Yeah, Judy probably wouldn't be a huge Rauner fan (to say the least), but she was, after all, a Republican.
- Posted by Rich Miller 58 Comments


* Ty Fahner at LOL Illinois…
"Illinois has not seen a more divisive or visceral series of campaigns than we just witnessed. Remarkably, hardly any of these candidates focused on the most important issue – Illinois' deplorable financial situation. Illinois is now the laughingstock of the nation. But there is nothing laughable about our small and large businesses packing up and moving across state borders, our students being priced out of college, or our most vulnerable citizens being denied critical social services. The people of Illinois deserve better. We deserve elected officials who will do their jobs and pass a responsible, balanced budget. Anything short of that is unacceptable."
Thoughts?
- Posted by Rich Miller 24 Comments


[Gov. Bruce Rauner] spent more than $30 million dollars bankrolling legislative races.

It's part of his attempt to break the Democratic grip on the legislature — a grip that thus far has stifled Rauner's agenda. That, in turn, has led to a partisan stalemate that's left Illinois without a real budget, and with an all-too-real deficit.

Rauner has frequently put the onus on Democrats to break the stalemate, with comments like this one from last year: "If the Speaker and the General Assembly doesn't want to take up reforms, doesn't want to pass any real structural reforms, then they should go ahead and pass a tax hike," he said. "They have a supermajority. They're fully capable of increasing the taxes."
Those days are over now, governor.
- Posted by Rich Miller 32 Comments


* Sun-Times…
• In the 71st District, Republican Tony McCombie defeated incumbent Mike Smiddy, D-Port Byron, 63 percent to 37 percent with 92 percent of precincts counted.

• In the 79th House district, in what's thought to be the most expensive legislative campaign in the state at $4.5 million, Rep. Kate Cloonen, D-Kankakee, fell to her GOP challenger, attorney Lindsay Parkhurst, 46 percent to 54 percent.

• In the 117th District, Republican Dave Severin ousted Rep. John Bradley, D-Marion, 53 percent to 47 percent.

And challenger Jerry Long was leading Rep. Andy Skoog, D-Peru, 49 percent to 51 percent, with 56 percent of precincts reporting.

One Republican incumbents also fell: Dwight Kay of Edwardsville, who lost to Democratic challenger Katie Stuart in the 117th District.

On the Senate side, incumbent Gary Forby, D-Benton, was defeated by Republican Dale Fowler in the 59th District.
That Smiddy loss was huuuuge, man. Wow. Cloonen won by about a hundred votes each of the last two cycles, but got creamed this time around. Bradley is a member of Madigan's leadership team, so that had to sting.
Almost all the votes have since been counted in Rep. Skoog's district and the incumbent appears to be going down. But at least he stayed classy…
Andy Skoog barred media from entering his event. He said they could only come if he won.

— David Giuliani (@tt_dgiuliani) November 9, 2016
Anyway, that's five losses for Madigan's House Democrats (including Rep. Jack Franks' seat) and one net gain with the Dwight Kay loss…
Attempts to reach Kay for comment on Tuesday night were not successful.
* The Senate Democrats lost two seats (they didn't run anyone in retiring Sen. John Sullivan's district) and picked up none.
- Posted by Rich Miller 59 Comments


* What one word, and only one word, would you use to describe yesterday's election results?
Try to be creative. Thanks.
- Posted by Rich Miller 194 Comments


[Bumped up for visibility.]
* Press release…
Statement from Speaker Madigan on Tuesday's Election Results

"Voters stated clearly that they wish to maintain a wide Democratic majority in the Illinois House of Representatives and maintain a strong check on Bruce Rauner and his anti-middle class agenda. Voters said they support the vision of the Democratic Party with the victories of Tammy Duckworth and Susana Mendoza.

"Democrats value the voters' trust and we will continue to protect the middle class and those who don't have access to billionaires and lobbyists.

"Republicans' millions spent, coupled with the Trump headwind in downstate Illinois, created a difficult environment for many Democratic candidates. Rauner and his billionaire allies spent unprecedented millions – outspending Democratic candidates by wide margins – to push their agenda of increasing profits for big corporations at the expense of middle-class families.

"Illinois residents want strong schools, funding for domestic violence shelters and veterans' homes, and a strong middle class with good wages. I hope Republicans will finally join us to protect these priorities and help deliver the services families are counting on."
At the moment, Madigan is down a net three or four, depending on how the race goes in Rep. Andy Skoog's LaSalle County-area district.
*** UPDATE *** House Republican Leader Jim Durkin…
"By handily breaking the supermajority, Illinois voters sent a strong message that it is time for Democrats to join Governor Rauner and legislative Republicans in enacting reforms to lower property taxes, create more jobs, address the pension crisis and place term limits on the career politicians alongside a balanced budget."
- Posted by Rich Miller 82 Comments