* Here's a new twist. Check out the fourth paragraph…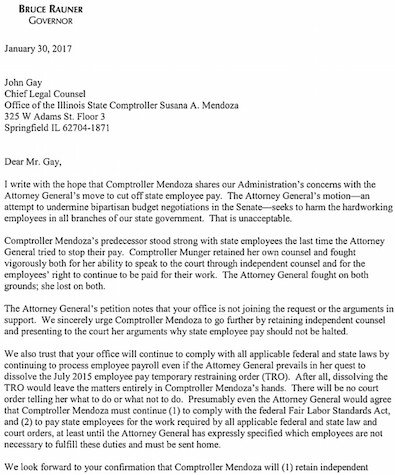 I heard this could be happening earlier today. The AG filed two motions the other day, one was to dissolve the preliminary injunction, but the other was a petition to intervene. The original defendant was Comptroller Munger, who retained her own counsel over the AG's objections.
So, the governor's position is that Comptroller Mendoza should retain her own lawyer, keep AG Madigan out of the case, and even if the judge decides to obey the Constitution and lifts the order that forces the comptroller to pay employees without an appropriation, Mendoza should just keep on paying them until Madigan convinces a judge to tell her to stop doing so. You gotta figure that they'll then demand that Mendoza appeal it.
In other words, they want to delay doomsday as long as they possibly can while making AG Madigan pay the political price every step of the way. And if the comptroller doesn't go along with the governor, they'll make her pay the price, too.
I've asked the comptroller's office and the AG's office for a response.
*** UPDATE 1 ***  From Abdon Pallasch at the comptroller's office…
As the Comptroller said Thursday, the Governor could very easily end this court action by fulfilling his constitutional duty to propose a balanced budget, and then work with the General Assembly to get it passed into law.
*** UPDATE 2 *** Asked for a comment, AG Madigan's spokesperson responded: "No thanks."
Heh.
*** UPDATE 3 *** From the governor's office…
Once again, Comptroller Mendoza was given an opportunity to stand with state employees and fight for their paychecks. Once again, she declined.
Like I said, they want her to pay an ongoing political price.
* I forgot to point this out in an earlier post, so here it is now…
The Koch network plans to spend between $300 million to $400 million on policy and political campaigns during the 2018 election cycle.

Officials revealed the target budget at the start of a three-day donor summit at a resort here, indicating that they intend to continue expanding their reach at a time when Republicans control Congress and the White House. By comparison, the network spent about $250 million during the 2016 cycle on policy and political efforts.

The funds will be spread across a constellation of groups, including Americans for Prosperity and Freedom Partners Action Fund, along with Concerned Veterans for America, the Libre Initiative and Generation Opportunity, which now operate under the AFP banner.

Leaders from the groups said that they plan to focus on building up the capabilities of their grass-roots organization, which has boots on the ground in 36 states, and that the precise amount will depend on opportunities.
Whew, that's a lot of dough. AFP in Illinois, perhaps the Illinois Policy Institute and who knows what other groups could make out like bandits with this push.
* The Democratic Governors' Association had an interesting bit of spin…
"While people in Illinois were being detained, Gov. Bruce Rauner was relaxing with fellow millionaires in Palm Springs," said DGA Communications Director Jared Leopold. "The millions that Rauner is raising for the Koch brothers won't do much to protect the people of Illinois from Donald Trump. Illinois voters deserve a governor who will stand up and fight for their values, not run off to Palm Springs in the middle of a crisis."
* OK, first of all, not to defend the Koch brothers or anything, but they're opposed to the travel ban…
The leaders of the conservative network aligned with billionaires Charles Koch and David Koch on Sunday said they opposed President Trump's controversial ban on immigrants from predominantly Muslim countries.

"We believe it is possible to keep Americans safe without excluding people who wish to come here to contribute and pursue a better life for their families," Brian Hooks, a co-chairman of the Kochs' seminar network, said in a statement.

"The travel ban is the wrong approach and will likely be counterproductive," Hooks added, saying it hinders a Koch goal of promoting a free and open society.

The statement marks the first public criticism of the Trump administration from the Kochs, who oversee one of the most influential outside operations in conservative politics with a staff, budget and voter-turnout operation that rivals the Republican Party.
* Secondly, most folks would presume that Rauner went out there to raise money from the Koch network, not to raise money for it. Not quite sure what to make of that yet. Any ideas?
* From the twitters…
.@IDPH- cervical cancer awareness month is almost over. No budget means no funding for screening. Maybe by next January? #ILBudgetNow

— Emily Miller (@EJMill) January 30, 2017
* From JT to state employees…
Dear Colleagues,

Today marks the first day of AFSCME leadership's campaign for strike authorization. The decision to vote in favor of a strike is a very serious choice and should not be done with incomplete (or worse, inaccurate) information. At CMS Labor Relations, we always strive to provide complete information to bargaining unit employees on all topics. You can visit team.illinois.gov to find answers to your many questions and to submit new ones. Our team stands ready to help in these challenging times.

We also prepared the attached one-page document that briefly summarizes why, in our view, a strike is not warranted. Although others may disagree, we believe a strike against the taxpayers is reckless.

We firmly believe that our last, best, and final proposal is one that is both reasonable and necessary given the State's current fiscal condition. Twenty other unions have accepted substantially similar proposals. A lengthy strike will result in significant disruptions to striking workers' pay, health insurance, and pension benefits, and risk disrupting the services to some of the taxpayers we have pledged to serve.

Of course, the decision to strike is yours and yours alone. We will respect whatever decision you make and hope the Union does likewise. We remain available to answer questions or provide information to ensure you are fully informed.

Sincerely,

JT
John Terranova
Deputy Director
CMS Office of Labor Relations​​
* From the attachment…
The State's Proposal Is Reasonable and Necessary

· Employees continue to be among the best-paid in the nation: average total annual compensation, with benefits, is over $100,000

· Health insurance options allow employees to select what is best for them and their families

· Depending on the choice of health insurance plan, monthly premiums can be as low as zero (AFSCME falsely claims everyone's premiums will double)

· Temporary pay freeze (not permanent, as AFSCME claims when it falsely says the State is permanently eliminating step increases)

· A merit incentive program that extends to all employees a plan similar to one successfully implemented for AFSCME-represented Lottery Sales Reps four years ago

· Additional safeguards against privatization, along the lines of what AFSCME has negotiated in its CBAs with employees in other States

· Retention of bumping rights during layoff

· Modest changes to overtime provisions without changing the work week you've always had

Potential Costs of a Strike Are Significant

· No pay during the strike

· No health insurance subsidy during the strike

· No credit towards pension benefits during the strike

· Average monthly cost to a striking employee is over $8,000

· No one knows how long a strike may be; whether employees strike or not, the State simply cannot afford AFSCME leadership's demands of billions of dollars in additional pay and benefits during the four-year contract at issue

· Replacement workers can be hired to maintain services during a strike, and in some cases, those replacement workers may be permanent.

· In contrast, employees who cross the picket line continue to receive their pay and benefits and retain their same job protections—contrary to AFSCME's claim, they do not become "at will"
Thoughts?
* Kerry Lester…
A suburban lawmaker is pushing to make failing to yield to pedestrians in a crosswalk a felony if it results in death or injury. The move was inspired by the death of a Mount Prospect mother of five.

State Rep. David Harris, an Arlington Heights Republican, tells me he attended meetings after the June 9 death of 55-year-old Joni Beaudry, who was struck and killed as she rode her bike through a Central Road crosswalk near Melas Park.

"One of the things that troubled me so much is that over the years we've emphasized the right of the pedestrian in the crosswalk," Harris said. "But that's just one side of it. … We've got to tell drivers, if you don't do it, there's a penalty."

Currently, there are no penalties on the books for striking a pedestrian in a crosswalk, though drivers are penalized for reckless driving. Hanna Burzynska, 56, of Elk Grove Village, pleaded guilty to three different traffic violations for hitting Beaudry. Burzynska lost her license for a period of time and had to pay $364 in fines and court costs.
Learn something new every day. I had no idea there weren't any specific penalties for hitting people in a crosswalk.
* Bernie interviewed Democratic state Treasurer Michael Frerichs…
For a time, Frerichs was among Democrats being talked about as a possible candidate for governor, though that talk has waned as he hasn't aggressively promoted himself.

He said he knows it sounds like a cliche, but he is focusing on his office.

"I like my job," the Champaign resident said. "I'm looking at keeping that job." And he added that speculation about who's running for 2018 offices "does nothing to advance the ball" and "stories right now should be exclusively on the fact that the state doesn't have a budget in place."

He said he was hopeful that after the November election there could be real movement toward a budget.

"But I think what we've seen is people immediately start putting millions of dollars in campaign funds, creating websites and attacking people they're supposed to be negotiating with," Frerichs said, without specifically naming Gov. BRUCE RAUNER, who put $50 million in his own campaign fund after the election, and the state GOP, which during the veto session launched BossMadigan.com, designed to criticize House Speaker MICHAEL MADIGAN, D-Chicago, and people associated with him.

"You can guess who I'm talking about," Frerichs said. "And I just don't think that moves our state forward."
Unlike our new comptroller, who has been bashing the governor for months, the treasurer has been almost mute about the governor for the past two years, avoiding direct conflict.
* Indeed, after the election, which was super-tight, Frerich's campaign spokesman said this…
"What we saw emerge [Tuesday] in the suburbs exceeded our expectations. This race is being decided by tens of thousands of Rauner-Frerichs voters: independents in suburbs from Winnetka to Orland Park, from Waukegan to Joliet in the collar counties, and from Rock Island to deep Southern Illinois."
* Today…
#immigrationban. @ILTreasurer slams @POTUS order. "There's no place for discrimination." Wouldn't bash @GovRauner. pic.twitter.com/6FtcC79Z7l

— Edward Marshall (@edmarshallcbs2) January 30, 2017
* The Question: Should Treasurer Frerichs amp up his rhetoric about Gov. Rauner? Take the poll and then explain your answer in comments, please.
survey hosting
* Tribune…
The state has a record stack of unpaid bills that's expected to hit $15 billion by July if nothing is done, and it must fork over interest when it's late paying them. Putting a hard dollar figure on those interest costs is difficult, however.

A bipartisan budget-forecasting group says the state owes at least $370 million alone in interest on bills for state employee health care during the 18-month stalemate. The Democratic comptroller's office estimates the state will have to pay $700 million on interest based on what it's spending in the current budget year, a number more than twice the state's previous high water mark. The Republican governor's budget office declined to provide any estimate, saying it "cannot speculate" on future costs. […]

Rauner's office has declined to put a figure on what the state will owe in interest due to the impasse. And until early December, Rauner was able to make that stick because the comptroller, Leslie Geissler Munger, would not provide an estimate either. Rauner appointed Munger to the job, but she lost to Democrat Susana Mendoza in the November election.

Mendoza's office puts the state's interest costs from this year's budget at $700 million, acknowledging the ultimate figure is a "moving target" depending on how much more the state spends in the coming months.

The estimate is based in part on last year's spending, when state government operated without a full budget but continued to spend money based on court orders, laws and spending agreements. Illinois is in a similar position this year, as a temporary six-month budget expired with the new year, once again leaving universities, social service providers and prisons without funding.
Not that I'm all that confident about this particular comptroller's projections, but the governor's budget office does cost projections all the time, so it's kinda weird that they won't do projections on this topic.
Every year, for instance, it has done a five-year cost and revenue projection. It also projects costs in every budget it puts together. And it only recently projected next fiscal year's cost for the Senate's grand bargain.
The 2016 court ruling puts the attorney general in a position to force the state to stop paying workers, since lawmakers haven't passed a bill funding state-worker salaries. If the attorney general gets her way, state workers will go without pay until the General Assembly passes an appropriations bill. This could put pressure on state lawmakers to pass another unsustainable state budget like the proposal gaining traction in the Senate, which would subject Illinoisans to massive tax hikes with no real reform, long the priority of Lisa Madigan's father, House Speaker Mike Madigan.

But the push to force through the Senate's budget plan is based on a false choice: Lawmakers don't have to pass this proposal to ensure state workers get paid.

Instead, the General Assembly could pass a clean appropriations bill for state-worker pay, rather than a deal as part of an increasingly complex and unwieldy budget package now taking form in the Illinois Senate.
The governor, however, has said he would demand a permanent property tax freeze and term limits in exchange for his signature on another stopgap budget.
What's inexcusably wrong is the timing. Madigan said with a new legislative session underway, it was the appropriate time to ask the court to reconsider. She's asked the court to terminate the injunction on Feb. 28, giving a firm deadline and restoring urgency to get the almost 19-month-old budget impasse resolved.

That argument could hold water - if there had been no substantive recent action on a budget. And while legislators have appeared blind to it, urgency has been a part of this impasse since day one. Just ask any of the vendors waiting for the 141,225 unpaid bills, worth a collective $10.7 billion, to be processed by the state. Or talk to one of the nearly 1 million people throughout Illinois who didn't get help they needed during the fiscal year where there wasn't a budget, according to United Way estimates.

Those vendors and clients had reason for hope recently because there were honest efforts at compromise in the Senate, where President John Cullerton, D-Chicago, and Minority Leader Christine Radogno, R-Lemont, have diligently worked together for the past month on a bipartisan budget package. Gov. Bruce Rauner gave his sincere thanks during his State of the State address Wednesday, and implored them to keep working on an agreement.

Lawmakers were finally putting people before politics. The tone of the conversation was slowly changing as politicians together sought solutions. The budget package lit a flame under lawmakers that was intensifying on its own as senators debated and amended the proposal in attempts to improve the plan. Madigan's actions Thursday added unneeded fuel to that fire: A glance at the statements from the usual political players shows the tentative bridges that had started being built could now come tumbling down. […]

Madigan's action was the antithesis of the collaboration the state had started to see. If this lone-wolf action slows the momentum that had started and reverts the Capitol to shouting over who is most to blame instead of reaching a budget compromise, Illinois residents will continue to be the ones who suffer.
If this were a board game, you would have quit long ago because there was no way to win at "Illinopoly."

"At a meeting I attended just this morning, a comment was made that, 'as soon as deals in Illinois are close to done, someone always tries to blow it up,'" said state Rep. Avery Bourne, a Republican from the Litchfield area.

The Illinois Senate seems on the verge of hammering out a budget deal with some of the reforms insisted on by a governor who refuses to continue monkey business as usual. Here comes Illinois Attorney General Lisa Madigan, daughter of the game master, who wakes up after 18 months to decide, "Hey. We shouldn't be paying state workers without a budget. I'll sue."
If anything, I question why the attorney general didn't push this issue sooner, which, by the way, is totally consistent with her legal defense of Rauner's failure to pay social service providers.

At this point, it doesn't matter. This is the right move.

I don't want to see state workers go unpaid. I want the state to come up with a budget.

Amid the howls in reaction to the attorney general's move were complaints the added pressure could disrupt ongoing talks by Illinois Senate leaders, who have provided the first glimmer of hope in a while that a resolution is possible.

Sorry, everyone needs to feel that pressure.

When Senate President John Cullerton and Republican Leader Christine Radogno visited our offices a week ago to tout their proposed deal, they both made it clear a budget needs to be approved now, not months from now. […]

In that light, I don't see anything unreasonable about Madigan asking a judge to set a Feb. 28 date for wrapping up a budget before stopping state workers pay. The judge could also set a later date.

The important point is that we don't let this continue indefinitely.
On Thursday, Attorney General Lisa Madigan set the wheels in motion for tens of thousands of state workers to stop being paid if a state budget is not approved by Feb. 28. Effectively, that would mean a government shutdown. Madigan did so, she explained, to create overwhelming pressure on the state Legislature and Gov. Bruce Rauner to finally cut a deal.

Here's our problem with that: Working people once again are being treated like pawns in a game of power by politicians who will never have to worry about living paycheck to paycheck. If Madigan's gambit does not work, they will pay the price. And we can't be sure of her motives. Maybe she's the most honest of brokers, just trying to force an end to the budget impasse. Or maybe she's working an angle with the Speaker of the Illinois House, Michael J. Madigan, who happens to be her father.

Lisa Madigan will object to that charge. She has worked hard over the years to show she runs her office independent of her father, and there is no evidence she's doing his bidding now. But there also is no escaping the bad optics. Given that the Speaker and attorney general are father and daughter, skeptics will always suspect a tag team. And Lisa Madigan's latest legal maneuver is giving her father's number-one foe, Rauner, fits. A government shutdown threatens much of Rauner's leverage to force pro-business reforms as part of a budget package.

Nonetheless, Attorney General Madigan appears to be on firm legal ground — and that means the clock is ticking. If a budget agreement is not reached, state workers may not get paid beginning in March.
Now, Team Rauner is of the opinion that Madigan acted now because her father doesn't like the grand budget deal the heads of the Senate, President John Cullerton and Republican Leader Christine Radogno, are trying to push through against tough odds. Speaker Madigan wants to do as little as possible until 2018, hoping to unseat Rauner in that year's election, they suggest.

That may be true. On the other hand, some top Democrats believe Rauner is trying to sandbag the deal.

And some folks believe Lisa Madigan's move could boost pressure on lawmakers to finally act. "It's a gentle nudge to get something done," says one well-connected business lobbyist.

I don't know. What I do know is that, as a matter of good public policy, Lisa Madigan's action is appropriate. Tardy, but appropriate.

If lawmakers continue to squabble and paychecks are halted, voters will be furious and take it out on somebody. Good. They should.

And maybe the fear of that finally will get us a budget.
* From the governor's office…
Hi, Rich:

Governor Rauner has always said we need to balance our tradition as a nation welcoming of immigrants and refugees with legitimate national security concerns to keep Americans safe from terrorism.

The governor has been supportive of tightening the vetting process for Syrian refugees because of ISIS attempts to infiltrate refugee flows — but he's opposed to immigration bans that target any specific religion.

Serious concerns about the [presidential] executive order have been raised. We urge swift resolution of these concerns through the courts to ensure we are a nation that is both secure and welcoming of immigrants and refugees.​

Best,
ck
* That was a pretty measured response, so in comparison this is way over the top, but he is who he is…
. @GovRauner is a coward–a real failure in leadership. #WeWillResist https://t.co/rk0GUobuus

— (((Ameya Pawar))) (@Alderman_Pawar) January 30, 2017
* More on local GOP response…
(A)s of Sunday evening, four of our six GOP members of Congress representing Illinois remained completely silent as to where they stood on Trump's order. Republican U.S. Reps. Peter Roskam and Randy Hultgren did not respond to requests for comment from POLITICO, while others did not respond to requests from other media. […]

U.S. Rep. Adam Kinzinger, (R-Ill.), posted a response on Medium saying Trump's executive order "has caused confusion among those asked to enforce it."

"I urge the Administration to clarify the specifics on what should and should not be done to best protect our homeland, our people, and our communities," Kinzinger wrote. "I support a comprehensive look at our vetting process, and I believe it's something every new administration would be expected to do. However, reports of green card holders and those who assisted us in the war on terror being denied or delayed entry is deeply concerning. Such detention is unacceptable and must be remedied immediately."

U.S. Rep. John Shimkus, (R-Ill.), embraced the temporary ban, saying it would allow "time to evaluate and improve the vetting process," of refugees.
* AG Madigan…
Attorney General Lisa Madigan joined with 15 other attorneys general today to condemn the unconstitutional Executive Order on immigration. 
 
Madigan and the attorneys general issued the following statement:
 

"As the chief legal officers for over 130 million Americans and foreign residents of our states, we condemn President Trump's unconstitutional, unAmerican and unlawful Executive Order and will work together to ensure the federal government obeys the Constitution, respects our history as a nation of immigrants, and does not unlawfully target anyone because of their national origin or faith.
 
Religious liberty has been, and always will be, a bedrock principle of our country and no president can change that truth.
 
Yesterday, multiple federal courts ordered a stay of the Administration's dangerous Executive Order. We applaud those decisions and will use all of the tools of our offices to fight this unconstitutional order and preserve our nation's national security and core values.
 
We are confident that the Executive Order will ultimately be struck down by the courts. In the meantime, we are committed to working to ensure that as few people as possible suffer from the chaotic situation that it has created."

 
Joining Madigan in issuing the statement were attorneys general from: California, Connecticut, the District of Columbia, Hawaii, Iowa, Maine, Maryland, Massachusetts, New Mexico, New York, Oregon, Pennsylvania, Vermont, Virginia and Washington.
* U of I…
Dear students, faculty and staff,

The University of Illinois System is a leader in teaching, discovery and outreach in our state, the nation and the world. Our doors are open and welcoming to talented individuals from around the globe and we pledge to ensure that this openness continues into the future. It is at the heart of our commitment to global access and extraordinary impact and is reflected in our Nondiscrimination Statement.

We are greatly concerned about the negative consequences for members of our community and their families arising from President Trump's recent Executive Order instituting changes in immigration policy.

We want to assure you that we are monitoring events closely and we are working with other universities, national organizations, legal counsel and government officials to support and protect all of our international faculty, visiting scholars and students.

Because of the entry restrictions cited in the new Executive Order, we strongly recommend that students and scholars who might be affected defer travel outside the U.S. until there is fuller assessment of the Executive Order and its implementation, including resolution of several newly mounted legal challenges.

We are working with colleagues at other universities and with national higher education advocacy organizations, such as the Association of Public & Land-Grant Universities, Association of American Universities and American Association of State Colleges and Universities to assess the effects of the immigration directives and to urge that the Executive Order be reconsidered as quickly as possible. We are also engaging with members of the Illinois congressional delegation to share specific concerns.

All three of our universities are communicating with affected members of our communities and are providing information and support. For specific resources, please contact:

University of Illinois at Chicago: Office of International Services, (312) 996-3121 (ois@uic.edu)
University of Illinois at Springfield: Office of International Programs, (217) 206-8319, (intprog@uis.edu)
University of Illinois at Urbana-Champaign: Supporting Our International Community, (217) 333-1303 ext. 1

We stress that our international community is a vital part of our excellence and reflects our steadfast commitment to diversity, inclusion, global engagement and impact in today's society.

Sincerely,

Tim Killeen
President
* Mayor Emanuel…
"One hundred years ago, the people of Chicago opened their hearts and their homes to my grandfather when he immigrated to this great city, fleeing the pogroms of Eastern Europe in search of freedom and opportunity. In that spirit, in the coming days my family and I will host DREAMers attending Chicago Public Schools and Chicago City Colleges for a meal, a conversation, and a recognition and celebration of all that unites us, rather than what divides us. I am asking every interested resident of the City of Chicago to join us by hosting a similar meal in your own homes and at restaurants in your own neighborhoods, or by sharing welcoming words through a phone call or email. At a moment of unease and vulnerability for so many, let's come together as a city and put action behind our words and the values we hold dear as a welcoming city. Lets show the world that the City of Big Shoulders is also a city of big hearts."
* Comptroller…
In response to President Trump's Muslim ban, Illinois Comptroller Susana Mendoza issued the following statement:

"President Trump's attack on Muslims is an attack on every American and it strikes at the heart of our dearest American values of democracy.

We saw clear and troubling warning signs from Trump the candidate, but this goes beyond hyperbolic fear-mongering. To use the Presidential authority granted to him by the American people to isolate, marginalize and discriminate against any group of people based on their nationality or religion, those are the actions of a tyrant.

I denounce President Trump's despicable and decidedly un-American campaign against immigrants and refugees and I call on my fellow Illinoisans to rise up in a vocal and peaceful opposition until his executive action is revoked.

As an elected official, as the daughter of immigrant parents and as a patriotic American, I will not tolerate bigotry or xenophobia in any form, and most certainly not when it is made legal and institutionalized through the abuse of our democratic republic."
* Sen. Duckworth…
"I wish the President had realized that governing in a fair and just manner is harder than rallying crowds with catchphrases before human lives were affected, as they were by today's needless and dehumanizing detentions at O'Hare and airports around the country. Stopping legal permanent residents and babies simply because of where they're from is not the American way and it doesn't make us safer. This Muslim ban must end."
* Sen. Durbin…
"History will judge where America's leaders stood today, said Durbin. "Faced with the humanitarian crisis of our time, the United States cannot turn its back on children fleeing persecution, genocide, and terror. During the Holocaust we failed to fulfill to our duty to humanity. We cannot allow mindless fear to lead us into another regretful chapter in our history."
* JB Pritzker…
Among protesters at O'Hare last night, an attorney w @RefugeeAssist helping detainees. Proud to learn she is a fellow @NorthwesternLaw alum!

— J.B. Pritzker (@JBPritzker) January 29, 2017
My grt grandfather Nicholas came to IL a refugee escaping pogroms. If US had not allowed entry, he + our family's future would have died…

— J.B. Pritzker (@JBPritzker) January 29, 2017
…Nicholas became an attorney fighting for legal rights. So last night at O'Hare protest I stood up for him, and I won't give up. #NoBan

— J.B. Pritzker (@JBPritzker) January 29, 2017
* Related…
* Last week, Decatur Herald & Review Chris Coates sent an e-mail to employees…
As some of you may have heard, we've made the very difficult decision to close the Springfield bureau. This was not an easy choice. I hope we work something out to re-open our Statehouse operation at some point. But for now, we'll be filling the gaps and localizing content whenever possible.
The H&R, the Bloomington Pantagraph, the Southern Illinoisan, the Mattoon/Charleston Journal Gazette & Times-Courier and the St. Louis Post-Dispatch are all under the Lee Enterprises umbrella. It wasn't that long ago when most of those papers had their own Statehouse reporter, plus one for Lee itself.
Dan Petrella recently announced that he was leaving Lee. They're not replacing him. None of the other papers in that company have a Statehouse reporter.
* I followed up with Coates and here's what he sent me today…
We've decided to no longer have a full-time reporter at the Illinois Statehouse. We'll continue covering these issues with reporters from our newsrooms. Illinois politics and Statehouse decisions are important to us, and we're committed to reporting on these critical areas.
*Sigh*
* Notice the use of the royal "we" in this constituent e-mail from Rep. Scott Drury…
Friends:

We are pleased to announce that Attorney General Lisa Madigan has embraced our long-held belief that the best way to end the budget impasse is from the pressure created by a true government shutdown. Specifically, in an effort to bring the impasse to an end, she is seeking a court order to stop further state payments to government workers

History
Since fall 2015, we have contended that the General Assembly and the Governor have prolonged the budget impasse by implementing a series of partial budgets and making sure government continues many of its day-to-day functions. In an email in November 2015, we stated: "Through a series of various maneuvers, Illinois leaders have helped prolong the budget impasse by relieving pressure points before they boil."

The Rational Voice
Our belief that the best way to break the impasse is a true government shutdown has often required us to be the rational - but lone - voice against misguided partial budgets. Notably, those budgets: (a) only provided our universities with 30% of their funding - causing damage for years to come; and (b) picked winners and losers, with social service providers repeatedly being the biggest losers.

Madigan's Actions
Consistent with our view since 2015, in a filing last week, AG Madigan stated that by halting employee pay, she is trying to raise the pressure to get a budget in place. We will keep you posted on the progress of her legal action.

Closing
Success for us is a long-term project. Getting buy-in for our pressure theory has taken over a year and, at times, subjected us to ridicule by Springfield insiders. But we are fueled by the knowledge that the only way to make progress in Illinois, is to continuously push against the status quo. So push we will.

As always, thank you for the privilege of allowing me to represent you.

–Scott
He's a true visionary, that one.
* From the twitterverse…
Better Q: Why didn't @LisaMadigan act at all on the unconstitutional budgets all the years she's been in office?https://t.co/fDOPpdXpHf

— Rep. Grant Wehrli (@GrantWehrli) January 28, 2017
* The simple answer is in the second sentence of this excerpt from the state Constitution…
The General Assembly by law shall make appropriations for all expenditures of public funds by the State. Appropriations for a fiscal year shall not exceed funds estimated by the General Assembly to be available during that year.
As long as the General Assembly is allowed to estimate available funds, then legislators can play with the numbers all they want and there's really nothing anybody can do about it except change the Constitution.
The GA did give some power to the Auditor General to check to see if the numbers were valid and then to recommend actions, but that authority expired with most of the income tax hike.
* Sun-Times…
Gov. Bruce Rauner is among three Republican governors attending an annual summit in California hosted by billionaire conservatives Charles and David Koch — a trip that's drawn criticism from unions and some Democratic lawmakers over its timing.

The Koch brothers, the nation's top conservative donors, have hosted gatherings of donors and politicians over the years, but usually in private. This year's attendees include five Republican senators, three governors and two congressmen.

The governor's office confirmed Rauner is attending the summit in Palm Springs, California, but said he's there to discuss policy and the state's achievements with criminal justice reform, not politics or fundraising. An administration aide added that Rauner is also meeting with people on the West Coast to recruit tech companies to come to Illinois.

But the Illinois Federation of Teachers, which is in a longstanding war with the governor amid the state's budget impasse, on Sunday harshly criticized Rauner for what they called "huddling" with the Koch brothers as refugees are stranded and Illinois is in "crisis."

"Actions speak louder than words. He's not compassionate. He's not willing to work together," IFT President Dan Montgomery said in a statement. "In one of our darkest hours, he's plotting with billionaires on how to make the rich richer."
* More from the IFT…
"The head of @iftaft @danjmontgomery wondered where Rauner, who owns 9 homes, has spent the past 2 years." https://t.co/qZDWWL2zJk

— Aviva Bowen (@avivabowen) January 27, 2017
If JB Pritzker is the D frontrunner, will IFT also play class warfare? "Priveleged Pritzker" to go with "Billionaire Bruce?" https://t.co/J6PvgTplrh

— Kristen McQueary (@StatehouseChick) January 27, 2017
* McQueary turned that exchange into a column…
Class warfare, preached and evangelized by liberals, is frustratingly nefarious and frustratingly effective. From the presidential campaigns of Bernie Sanders and Hillary Clinton to the state and local levels in Illinois, caricaturing Republican candidates as out-of-touch elitists is akin to linking them to thuggery.

The disgust. The furor. The loathing.

That's why it will be fascinating to watch the 2018 gubernatorial election to see how the Democrats, who seethed over Gov. Bruce Rauner's wealth, will handle J.B. Pritzker as one of their candidates and a potential gubernatorial front-runner or nominee. What a pretzel they'll be in trying to repeat the themes of 2014. This time, one of their own candidates could be labeled as a self-funded billionaire, philanthropist and entrepreneur.

Then, will the Democrats be forced to drop the nauseating references to "Billionaire Bruce?" Will they have to stifle their hysteria over self-funded campaigns? Will they cast aside Pritzker because of his wealth?

Because at this point, Pritzker's pockets are the primary reason he's being taken seriously in Democratic circles. He can self-fund, pitting his money against Rauner's and relieving a pressure valve on Democratic donors who can instead put their money into other races, perhaps legislative. Pritzker is seen as perhaps the only chance to take out Rauner.
Valid points all. But the one she missed is that the "Billionaire Bruce" attack didn't work in 2014, and the "Billionaire Trump" attack didn't work in 2016. Maybe it'll work in 2018, but there's a decent chance that the Democrats will also nominate a billionaire here.
Perhaps Montgomery is sending a message to Pritzker, or perhaps he's just reaching for the nearest stick to use. If it's the former, then fine. It's a free country. If it's the latter, then think it through a bit before doing so again.
Also, we'll take up the local angle on the travel ban in another post, so let's stick to this topic in comments, please. Thanks.
* John Kass interviews Rep. Scott Drury…
"I only needed eight votes to tie up the speakership vote and send it to a runoff, and they weren't there," Drury said. "To give you an example of how hard it was to find votes, I reached out to my state senator [Julie Morrison]. … I said to her, 'Will you send out a message saying that you support or encourage my run for speaker of the house?' I got a text back: 'I don't feel comfortable getting involved.'" […]

"I told him it was not my role to get involved in House politics," Morrison told me. "I try to stay on my side of the rotunda. I said I would give it some thought, and I texted back, and said, 'No.'"

Yet wasn't her silence a tacit endorsement of Boss Madigan rule?

"Absolutely not," she said. "I've worked cooperatively with Scott. I'm not going to get involved with Madigan and House politics."
Throwing his own Senator under the bus like that gives you a pretty good insight into how he operates. The dude apparently couldn't convince a single House Democrat to stand with him, so he casts blame on Sen. Morrison.
* Meanwhile, some folks have tried to use the fact that Drury didn't receive a clock from Speaker Madigan to raise some money online…
Now I know you are thinking, this seems a little out of proportion with everything going on in the State right now, and you would be right, but we must take a stand.

So please donate generously so that we can buy Rep. Drury a desk clock in hopes that he can stop releasing press releases and return to passing a budget.

No doubt the clocks handed out to Democratic legislators were priceless- and due to gift limits we likely can't buy a priceless clock - so please know any money raised over the price of a dollar store clock will be donated to one of the nonprofits in Rep. Drury' district that hasn't been paid on time.
It would probably help if they actually named the not-for-profit group because they've only raised $30 so far.
* From the Illinois Democratic County Chairmen's Association…
Today the Illinois Democratic County Chairmen's Association (IDCCA) announced the results of their online straw poll conducted from Monday January 23rd to midnight on Sunday January 29th. The poll asked respondents to select their preferred Democrat candidate to run for Governor and Lt. Governor in 2018. The result was comprised of its existing members and Democrats who joined the organization via online submission of name, email, and zip code. More than 5,352 ballots were cast online.
* Results…
The straw poll results are as follows. These results were tabulated from 5,352 responses and examined for duplicates and interference by IDCCA team members. This poll is not a scientific representation of the Democratic Primary electorate.

State Senator Daniel Biss, 25%, 1339 votes
Alderman Ameya Pawar, 15%, 806 votes
Chris Kennedy, 12%, 617 votes
Congresswoman Cheri Bustos, 11%, 602 votes
J.B. Pritzker, 10%, 550 votes
State Senator Andy Manar, 7%, 356 votes
Congresswoman Robin Kelly, 4%, 238 votes
State Senator Kwame Raoul, 2%, 113 votes
City Treasurer Kurt Summers, 1%, 80 votes

* 13% (651 votes) of responses were for write in candidates.

Write in Candidates:

Attorney General Lisa Madigan, 87 votes
Governor Pat Quinn, 45 votes
US Senator Dick Durbin, 41 votes
Alex Paterakis, 39 votes
State Treasurer Mike Frerichs, 24 votes

Lt. Governor votes are currently being tallied and will be posted as soon as they are available.
Alex Paterakis is running a campaign of sorts on social media.
* My weekly syndicated newspaper column…
Question the timing all you want, but last week's legal filing by Attorney General Lisa Madigan to stop paying state employee wages without an official appropriation is long overdue and is completely consistent with a 2016 Illinois Supreme Court ruling and with her (and the governor's) opposition to a similar lawsuit brought by social service providers.

Back in 2015, after the General Assembly and the governor couldn't come to terms on a budget deal, AFSCME and other unions went to court and asked a judge to force the state to pay state workers even though there was no official appropriation for the salaries. That ruling remains in place today.

But this passage in the Illinois Constitution pretty much says it all: "The General Assembly by law shall make appropriations for all expenditures of public funds by the State."

So the Illinois Supreme Court ruled in March of 2016 on a different case that the portion of AFSCME's contract with the state requiring payment of back wages could not be honored without a proper legislative appropriation. In other words, no appropriation, no payment, even with a contract.

It was a completely reasonable decision. The governor shouldn't be able to sign contracts and then force state payment without an actual appropriation. The potential for abuse is mind blowing. Just imagine if Rod Blagojevich could've paid whomever he wanted, how much he wanted without any legislative permission.

Gov. Bruce Rauner's position against a lawsuit brought by human service providers is also completely in line with that 2016 Supreme Court decision. The service providers say their signed state contracts mean they should be paid in full even though the General Assembly hasn't approved the appropriations to do so. Never once has Gov. Rauner said those providers ought to be paid without a formal budget in place.

But there he was last week saying that Attorney General Madigan's motion would "directly harm" state workers while urging her to drop her legal motion. He's been fighting the state employee unions since Day One and has said he wants to help social service groups, yet he wants state workers paid without an appropriation but doesn't want social service providers paid the same way?

C'mon, man. I was born at night, but not last night. What's he really up to? Give me a minute and I'll get to it.

House Republican Leader Jim Durkin's reaction to AG Madigan's move appeared to fly in the face of common sense: "This decision clearly undermines the legislature's duty to negotiate a bipartisan solution."

I was in Decatur to give a speech last week about the prospects for the Senate's much-touted "grand bargain" when I found out about AG Madigan's motion. My speech, as initially written, gave that bipartisan effort no better than a 50-50 chance to spur a final deal.

If the attorney general had filed her motion last year after the Supreme Court ruling, we wouldn't be in this mess today, and Leader Durkin most certainly knows it. Nothing focuses the General Assembly's bipartisan attention quite so much as a massive crisis.

So, why didn't she file it last year? I'm told she wanted to give the General Assembly and the governor some time to work things out. They eventually agreed to a stop gap budget, so she laid low. But that stop gap budget expired at the end of December and the General Assembly left town last week without making significant progress.

There will naturally be widespread suspicions that AG Madigan acted on behalf of her father. The Illinois Republican Party explicitly made that very point when it claimed the attorney general "decided to put Speaker Madigan's power politics ahead of hard-working families in an effort to shut down state government."

That last sentence is the key here. The governor has done all he could to avoid a shutdown because a shutdown means all the emphasis would then be on quickly passing a real budget and the tax hikes which go along with it to reopen the government's shuttered doors.

And that means the governor will lose much (or most, or possibly even all) of his beloved "leverage" to force through his various anti-union/pro-business economic reforms. And that leverage, whether he admits it or not, is the extreme pressure that's been put on social service providers and the people they serve since this impasse began 18 long months ago.

The attorney general has asked the judge to allow the governor and the General Assembly to delay any order until February 28th to give them time to work out a deal.

Get on it, folks.