* KHQA…
Thursday, Illinois Governor Bruce Rauner hosted a live event on his Facebook page to connect with Illinois students.

Additionally, third graders from Riverton Elementary School joined Governor Rauner at the State Capitol as part of the Facebook Live. […]

Gov. Rauner took questions from students and teachers from across the state.

He also spoke about what it's like to work every day for the people of Illinois and how he's working to ensure every child in Illinois receives a high-quality education.
If you missed it, you can watch by clicking here.
The governor also told the children about his favorite foods (ice cream, hamburgers and pie), the time that his pet snake got out and scared his mom and how he loved multiplication tables when he was in third grade.
* And some of those little kids were either really tired, or bored or both today…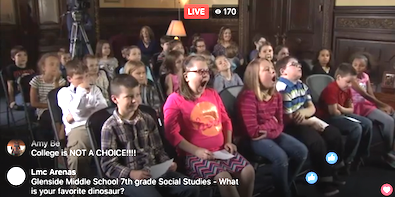 23 Comments




































































Sorry, comments for this post are now closed.