* One of the big objections the governor and some Republicans have to the new House Democratic property tax freeze proposal is how the HDems exempt pension payments from their four-year freeze.
The Illinois chapter of Americans For Prosperity use Springfield as an example for why this exemption could blow a big hole in a freeze…
Exempting pensions from a property tax freeze would fail to address a substantial contributing factor to our highest-in-the-nation property taxes. Take Springfield, for example. Here in our fair capital city pension payments consume 80% of all property taxes paid to the city.

The first image is from Springfield's FY2016 CAFR [Comprehensive Annual Financial Report] (pg. 10) showing property tax revenue of $27.9M. The second image is a Sangamon County Clerk's Office 2016 Levy and Rate Report showing the city's property tax extensions for pensions totaled $22M, or 80% of all property taxes paid by Springfield residents to the city. Clearly exempting pensions from a freeze will have little effect on ever-increasing property taxes.
* You can click on the images for the original documents…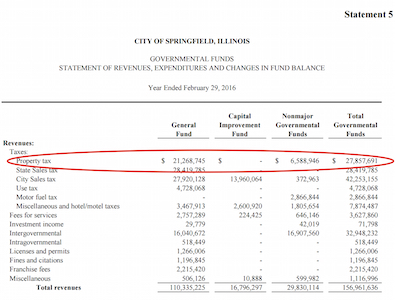 * So, what does this mean? Well, in Springfield, at least, including pension payments in a freeze could create a serious squeeze at the local level. While polls shows that people hate their property taxes, they're probably not gonna love reduced services, either.
And there is a real problem with the unfunded liability levels for police and fire pensions. Those funds weren't subjected to the same requirements as other municipal pension funds, so lots of local governments skimmed and skipped payments. Taxes will have to rise to pay for that and/or governments will have to cut.
* Meanwhile, here's an AFP press release on the HDem proposal…
"This legislation is a step backwards if we are to deliver true property tax relief to Illinois homeowners and small businesses. Exemptions for debt service and unpaid pensions render meaningless any promises of taxpayer relief," said AFP-IL Director Andrew Nelms. "Our property tax burden is driving families and jobs from our state. Illinoisans acknowledge that their sky-high property taxes are a problem and legislation to implement a meaningful freeze would be a welcome sign that our lawmakers understand the gravity of the problem. Illinois lawmakers should instead pass a long-term property tax freeze with no exceptions. Beleaguered Illinois homeowners and businesses deserve true tax relief."
* And for the other side, here's Phil Kadner…
House Speaker Michael Madigan was the latest to join the chorus. Madigan over the weekend said he would agree to a property-tax freeze, if the governor were prepared to spend more state money on the Chicago Public Schools.

Madigan is largely responsible for creating this problem. He has never been a champion of spending on public education outside of Chicago. And his law firm has made a fortune on property-tax appeals cases.

This state is rotten to the core. Instead of addressing the real problem, the state budget and state debt, Rauner and Madigan want to appease taxpayers by freezing their property taxes, which will hurt public schools.

It's a bait-and-switch tactic to make voters feel better about a state that can't pay its bills. With the ship of state taking on water, elected officials want to throw your children overboard.
*** UPDATE ***  From Springfield's budget director William McCarty…
Rich,

Our pension obligation issue is more pronounced than that 80% calculation would lead you to believe. The nonmajor governmental portion of property taxes collected are from SSAs and the increments from TIF districts. Absent SSAs and TIF, most of that money would go to other taxing districts, not Springfield.

It is likely that in the next fiscal year, police and fire pension obligations will exceed the city's General Fund property tax revenue for the first time ever (i.e. 100%+) Even if we were to include the city's true portion of the tax increment monies, I would venture to guess we would still be at or near the 100% level next year. In the past, we paid for the library, debt service and other items from property taxes. Those days are gone.

One other thing, the City of Springfield component rate of total property taxes has not been increased since 1984. Our taxes have increased due to development and increases in valuation, not a change in the rate.
52 Comments



























































































































































Sorry, comments for this post are now closed.