* Tribune…
In an unprecedented ruling, an appellate court declared the city of Harvey so severely neglected its firefighters' pension fund that it was on the verge of insolvency — meaning there might not be any money for retirees or firefighters on the job there today.

The ruling comes as local firefighters complain of equipment in disrepair and manpower cuts. And it follows another embarrassing ruling in which a Cook County judge took away control of Harvey's water finances from leaders of the scandal-plagued and debt-ridden south suburb.

In a scathing opinion filed earlier this month, the 1st District Appellate Court found that for nearly a decade, the city neglected to pay enough money to keep the pension fund solvent, leaving it in danger of running dry in as little as five years. Indeed, the court found that over that period, the city contributed only 17 percent of the amount needed to sustain the pension fund.

"Harvey has set up a collision course over a period of many years where the beneficiaries of their firefighters' Pension Fund are being paid substantially out of the money that the firefighters have themselves contributed to the Pension Fund and the money the Pension Fund earns from investments…" the court wrote. "In essence, Harvey is robbing Peter to pay Paul, but what happens when Peter retires?"

It is the first time a court has declared a pension fund to be "on the verge of default or bankruptcy," the ruling said, meaning that the fund now has the right to be funded under a little-known clause in the state constitution.
The ruling is here.
* From that ruling is this chart showing how little Harvey was paying into its pension fund…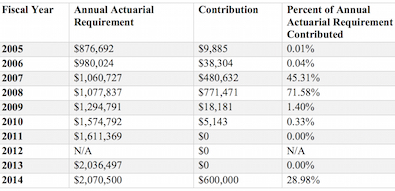 46 Comments









































































































































Sorry, comments for this post are now closed.