* Sun-Times…
Rep. Will Guzzardi, D-Chicago, also voted against the measure — saying it was "unconscionable" to vote in support of the private school program.

"As far as I'm concerned the nose is under the camel's tent now, and I'm very concerned about the prospect of this money only growing, and more and more over the years of our public dollars being diverted away," Guzzardi said, adding he's worried there will be an expansion instead of a sunset in five years.
* Despite that opposition, Guzzardi and Gov. Rauner appeared to have an amiable chat after the vote…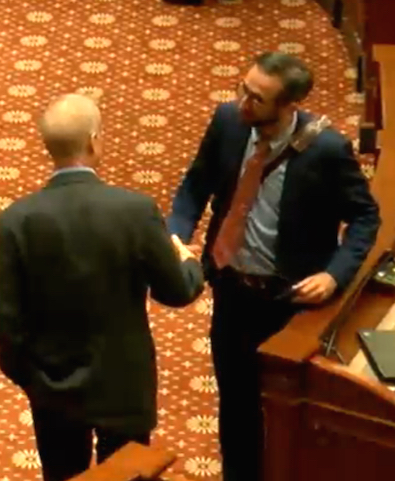 * More…
Saw @GovRauner belly laugh at something @WillGuzzardi said. Kinda curious what he said.

— Mark Maxwell (@WCIA3Mark) August 29, 2017
* Guzzardi's reply…
I said "I hope you sign civil asset forfeiture reform, which passed with bipartisan support!" The laugh got me worried.

— Will Guzzardi 🖇 (@WillGuzzardi) August 29, 2017
That laugh is often a major Rauner "tell," so Guzzardi may not be wrong.
20 Comments



























































Sorry, comments for this post are now closed.