* WIXN Radio…
Saturday at the Annual Stupor Bowl held at Reagan Middle School the best and brightest at the art of answering questions and knowing trivia came to battle it out to see who will be the 2018 Stupor Bowl Champion.

However, everyone at the event received a big surprise when Governor Bruce Rauner made an unexpected visit to the event. The Governor had been in town the night previous for the Lee County Republican event, a Night to Remember Reagan.

At the Stupor Bowl the Governor made a time to give a few remarks, shake some hands and pose with participants for several photos. After the Governor left the Stupor Bowl got down to business.

Moderator Tom Wadsworth said they had 21 teams participate in this year's event. Wadsworth said he and his team work all year on the questions and he felt the quality of questions appealed to a broad spectrum of topics.
* From WIXN's Facebook page…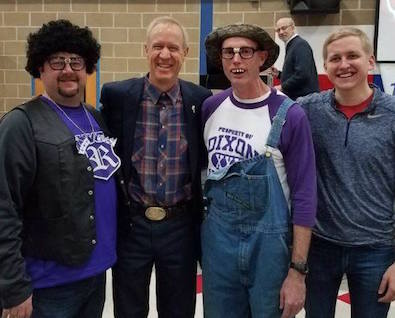 48 Comments















































































































































Sorry, comments for this post are now closed.