* Text from a buddy at about 3 o'clock…
East and west entrance to a library in the 14th Ward. Over 60 signs. Only 45 voters out today!!
More signs than voters…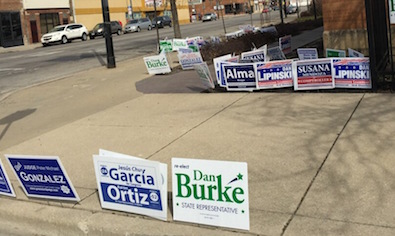 * The fifth GOTV e-mail today from Rauner's campaign, also at 3 o'clock…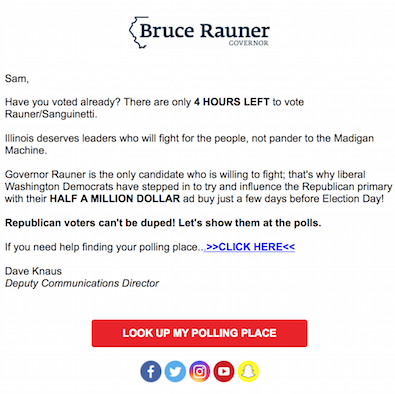 Ah, Madigan reappears. Looks like they rebooted the guy.
*** UPDATE *** Gov. Rauner's latest GOTV robocall features police sirens and a very insistent announcer…
Whew.
* What are you seeing and hearing out there? Tell us, 'cuz we're all dying to know.
- Posted by Rich Miller 67 Comments


…Adding… This has been quite something to watch today…
.@ChicagoElection board's Jim Allen, on the erroneous text message that went out to election judges this morning, instructing them to hand out pamphlets saying Andrea Raila was NOT a candidate for Cook County Assessor: "It was a mistake, and we regret the error." pic.twitter.com/erKwxwdvKi

— Paris Schutz (@paschutz) March 20, 2018
* It took them an hour and a half to correct the problem. From Raila's attorney…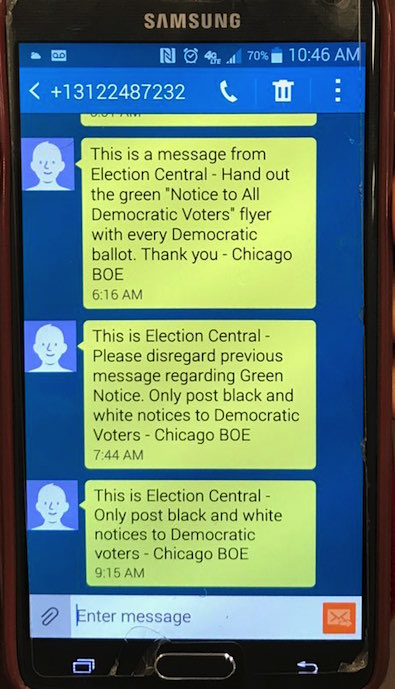 * The green flyer which was mistakenly handed out…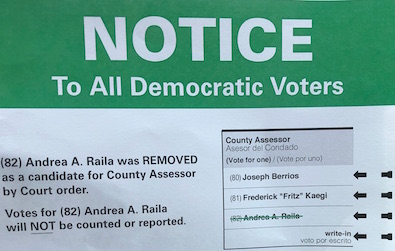 Oops.
* House Democratic primary to replace retiring Rep. Al Riley (D-Olympia Fields)…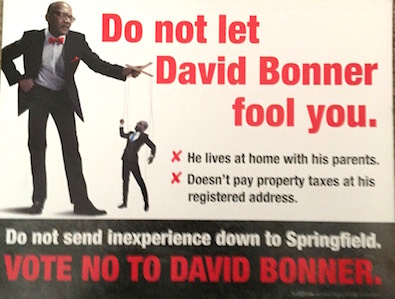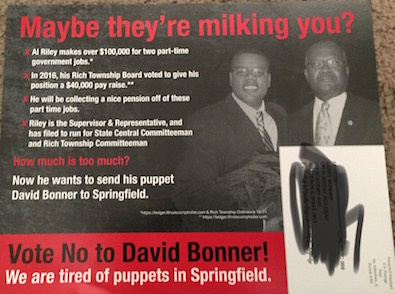 * Response from the other side…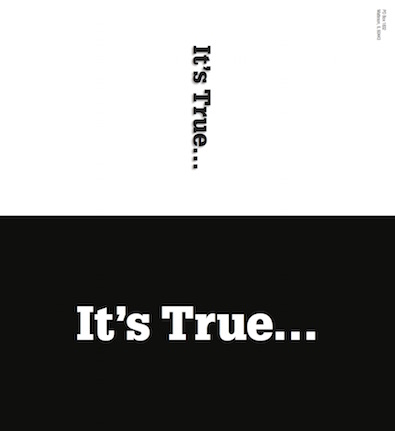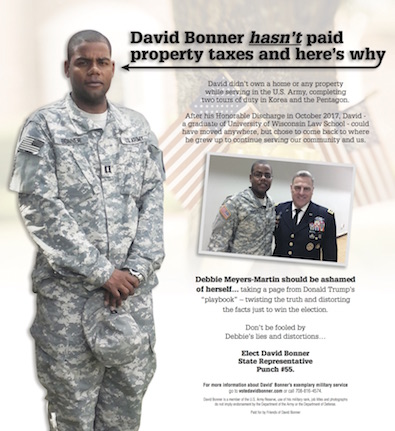 * Meanwhile…
Total pro move: Canvasser casually walking with a grocery bag inside the no electioneering zone & passing palm cards pic.twitter.com/9o6baiwqNr

— Chicago Bars (@chicagobars) March 20, 2018
* From a reader…
I'm not sure this is permitted— it was spotted INSIDE the booths at Ward 27 precincts. Taped inside the wall!
Heh…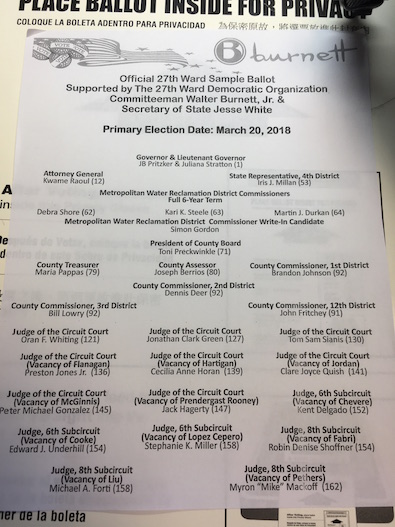 I asked him if he ripped the sample ballot down, but he said it was a text from a friend.
* I don't know if this is a shenanigan, but whatevs. It's Wilmette…
Highcrest School, a public school in Wilmette, just called the police on me because I was being a "distraction to the students" while electioneering for Mary Rita for State Representative (My mother). The election judge incorrectly believes the law is that the 100 feet rule applies only in one direction. The judge told me I was an idiot and that he just took the test on it yesterday when I explained that it's a 100 foot radius I have to be outside of in any direction from the entrance. He refused to measure 100 feet in the direction I was standing. The police ultimately forced me to leave a zone where i could actually talk to voters and forced me to stand in an area where no one passes by. Police, Republican election judges and public school administrators colluding to prevent students from understanding the democratic process. I told them the students should come out and ask questions about the election and our candidates.
- Posted by Rich Miller 17 Comments


* This is actually my live session coverage thingy, but I just decided I'd repurpose it for this as well. Plus, it'll give you something to look at while we wait for the polls to close. Watch it all in real time with ScribbleLive…
- Posted by Rich Miller 5 Comments


Illinois GOP Rep. Randy Hultgren has fired a top aide after the staffer was found in a car last fall with a 17-year-old boy and no shirt on, according to multiple sources and a police report.

Nick Provenzano, 56, was dismissed by Hultgren over the weekend, the sources said. […]

The Hultgren spokesperson said the office learned about the incident "late Wednesday and immediately placed him on leave before his eventual termination." […]

Provenzano served as a McHenry County board member for 13 years. He was also the campaign manager for former Rep. Joe Walsh (R-Ill.) in 2010, according to his LinkedIn biography.
On Oct. 21, a pair of police officers rolled down a dead-end McHenry street and found an SUV with its headlights turned off.

Inside, they found a shirtless man and a teenage boy.

The boy was 17. The driver was 56-year-old Nick Provenzano, a former McHenry County Board member who worked for U.S. Rep. Randy Hultgren.

They had met on Grindr, a popular gay dating app.

McHenry police questioned Provenzano about what happened inside the car. He said they were "hanging out," according to a redacted McHenry police report obtained by the Northwest Herald using the Freedom of Information Act.

Provenzano said he took off his shirt because he was hot. The day had a high of 76 degrees and a low of 61.

The police report includes a detective interview with the 17-year-old boy. He told police the meeting was "sexual" in nature – a late-night encounter that involved Provenzano at one point pulling down his pants and underwear.

The boy told police that the meeting was consensual. The age of consent in Illinois is 17.

Provenzano, who earned a reputation as one of the County Board's most outspoken conservative members, declined to give police a statement, and he has not been charged with a crime.
Provenzano was placed on leave late Wednesday after Hultgren's office learned of the incident, a Hultgren spokesman told Patch. He was fired on Monday. […]

Randy Hultgren, a Republican, is running unopposed in Tuesday's primary election. There are seven Democrats vying for their party's nomination Tuesday with the hopes of unseating Hultgren this fall.
- Posted by Rich Miller 36 Comments


* Oof…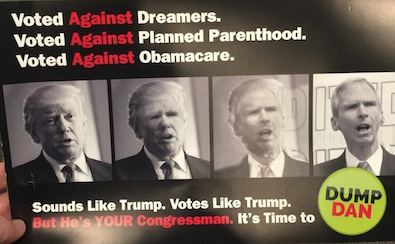 * From Mallory Quigley at the pro-life Susan B. Anthony List…
Hi Rich,

As you know it is Election Day in IL-03. I just got back from the district where for the past 4 days a crew of 70+ college student volunteers and Susan B. Anthony List staff have been visiting the homes of Democratic primary voters urging them to get out and vote for pro-life Rep. Dan Lipinski.

Our team visited more 26,489 homes! Below is a short video of why we got involved and what it was like this weekend
The video is here.
* BuzzFeed asks the wrong question…
Should the Democratic Party accept and support anti-abortion candidates?
The party apparatus is supporting Lipinski at both the national and local levels. Go to the machine's 23rd Ward and these are the kinds of lawns you'll see…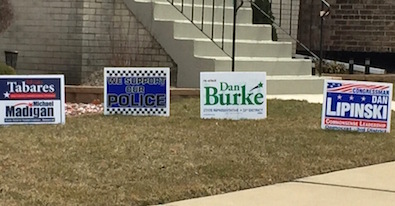 It's not about the party's acceptance and support, it's about the people who actually vote.
* Here are the campaigns' final pitches to the media…
"I'm just a true-blue Democrat, and he's a far-right radical Republican," Newman said in an interview on Monday at her headquarters, citing Lipinski's opposition to abortion, his positions on gay rights, and his 2010 vote against the Democrats' signature Affordable Care Act health law. […]

"Marie Newman is a 'Tea Party of the Left' extremist who … wants to make the Democratic Party smaller and less inclusive," the Lipinski campaign said in a prepared statement
* 538 takes a look at the tea party thing…
If, as this data suggests, the only prerequisite for being called a tea partier is to attack your Republican opponent from the right, then, sure, Newman is waging the mirror image of a tea party challenge. But that's a fairly lazy conclusion; it lumps together all the primary challenges listed above when the data shows there are clear differences between them. […]

If you consider the district's partisanship, then maybe Newman's campaign is more like Richard Mourdock's Republican primary challenge to incumbent Sen. Richard Lugar in Indiana's 2012 U.S. Senate race: According to our partisan lean calculations, Indiana was as Republican then as the Illinois 3rd is Democratic now. Lugar was indeed moderate enough (a .304 DW-Nominate score) that a primary challenge made some sense on its own, but Mourdock infamously ended up losing that general election.

All things considered, it's debatable whether Newman's challenge of Lipinski is within reason, according to these ideological scores, or out of line. Lipinski is indeed a Democratic nonconformist who can't reliably be counted on to vote against the Trump agenda — but he's not wildly out of sync with his district either. The voters will have to decide how much heterodoxy they can tolerate on Tuesday.
The difference between Indiana's election and this one is the Republican candidate is a bona fide Nazi…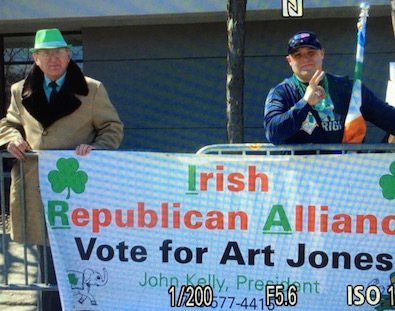 * This is probably right, but the reasoning will be wrong…
Your cable news analysts will be pulling apart the returns from the 3rd to see if they signal a desire from voters for a more centrist Democrat — Lipinski, who has the same sort of appeal as centrist Democrat Conor Lamb, who won last week's special congressional election in Pennsylvania — or a far more left-wing Democrat — Newman, who will excite the party's base voters and donors.

The outcome is likely to have national implications for the sorts of candidates the party recruits in the coming months.
Conor Lamb was appealing because he promised to take a seat away from the Republicans, so the more liberal Dem voters looked the other way on some stuff for partisan reasons. It happens a lot. The 3rd is a solidly Democratic district. Liberals want it. We'll see if they can take it.
* Also…
Back in 2004, a Democrat from a safe district voting with the president as often as Lipinski might have been tolerated. Gallup found that moderate and conservative Democrats made up more than 60% of all Democrats in 2004. Liberals made up less than 35%.

Today, it's an entirely different ball game. Liberal Democrats, at 50%, are a greater force than the combined 48% of moderate and conservative Democrats.

We can see the change in the Democratic electorate on the specific issue of abortion, as well. According to a Quinnipiac University survey in December 2004, 67% of self-identified Democrats said abortion should be legal in all or most cases. Still, a significant minority, 27%, said it should be illegal most or all of the time.
* And…
"It's not about the direction of the party—it's about the direction of the district," Joe Trippi, the strategist who helped lead Jones to victory in Alabama, told Newsweek on Monday. "You often have incumbents who've been standing in the same place for a decade or more and don't realize the electorate and the district are changing. That's creating a lot of vulnerability for incumbents in both parties."
* One more…
And while Pelosi would take heat from outside for backing a losing candidate against a progressive challenger, the inside game is different. Pelosi's loyalty to her own members remains a key reason that she remains in control of her caucus.
*** UPDATE *** NBC National Political Correspondent…
Anti-abortion Democrats in the House:

1978: 125
1996: 70
2007: 32
Now: 3 (will fall to 2 if Dan Lipinski loses tonight)

— Steve Kornacki (@SteveKornacki) March 20, 2018
3 of 193 (1.6%) of House Dems are now anti-abortion, while according to Pew 22% of Democratic voters are: pic.twitter.com/I79b68oMyu

— Steve Kornacki (@SteveKornacki) March 20, 2018
* Related…
* Progressives look to continue gains on Illinois primary day

* In Illinois Primaries, Abortion Is the Big Issue

* 2018 Primary: 6 Congressional Districts to Watch
- Posted by Rich Miller 26 Comments


[The following is a paid advertisement]
90% of prescriptions filled with generic medicines are less than $20 with a co-pay. This bill may generate headlines but it won't generate any savings or relief for patients burdened by the high price of expensive brand drugs. Learn more on the Association for Accessible Medicines website.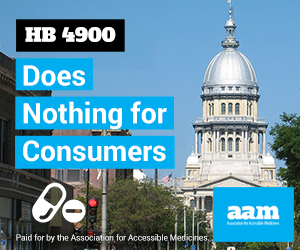 - Posted by Advertising Department Comments Off


* We are going to have live election results tonight from Scott Kennedy's Illinois Election Data website. They'll be constantly updated so you won't have to constantly refresh your screen.
As a precaution, I'm having my fine team at MCS beef up this site even more today. So CapitolFax.com will be offline for just a few minutes around 5 o'clock this afternoon. Don't panic. I just got a case of the last-minute worries and decided to calm myself by boosting our oomph to avoid any crashes (notice how technical I am). But it could still happen, particularly if the governor's race(s) wind(s) up close. So, please: Don't constantly refresh your browsers tonight. Thanks.
* The Sun-Times' Lynn Sweet is doing a live election night broadcast and I plan to embed it on this site. The show starts at 6:30 and will run until at least 10:30. The paper's reporting staff will be featured along with these guests…
* Tom Bevan of Real Clear Politics
* Rep. Robin Kelly D-Ill.
* Political Strategist Lance Trover
* Gov. Rauner Advisor Anne Kavanaugh
* Republican Strategist Eric Elk
* Democratic Strategist Rikeesha Phelon
* Chicago City Clerk Anna Valencia
* Our Revolution Illinois Chair Clem Balanoff
* Joining by phone, US Rep. Peter Roskam R-Ill.
* Sarah Brune, Executive Director, The Illinois Campaign for Political Reform
Looks good.
* What are your primary election night plans?
- Posted by Rich Miller 67 Comments


* What have you seen in the precincts? What've you heard? What do you know?
…Adding… From the Pritzker campaign…
Our statewide, grassroots operation:

· Since May, the Pritzker campaign has built a statewide, grassroots organization from the ground up in order to talk to voters about the upcoming election.
· The campaign has 18 offices statewide, over 100 staffers, and almost 10,000 volunteers across the state.
· The campaign has so far knocked on 591,576 doors and made 3,236,362 phone calls.

From the field today:

· This morning, the campaign launched almost 200 volunteers from 48 locations to knock on the doors of likely primary voters statewide.
· Volunteers educated voters on when, where, and how to vote and walked them through a vote plan to ensure they get out to the polls before they close.
· We've had great volunteer turnout in our morning shift! Many supporters we spoke with told us they have voted already.
· For example, we have a report from Wheatland where volunteers have knocked on every possible packet of doors, so they're now driving to Joliet to finish up packets there.
* Rauner GOTV e-mail with subject line "Do you have lunch plans?"…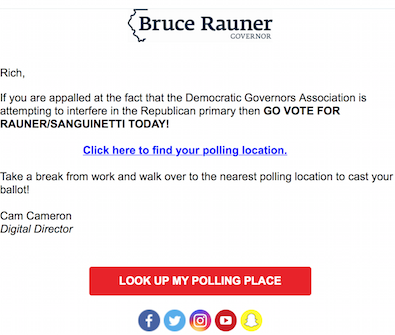 No mention of Madigan? They broke character. Somebody better reboot that guy. /s
* And the same person who runs the Illinois State Fairgrounds Foundation's website must be moonlighting on Chris Kennedy's interwebtubes team…

#FacePalm
- Posted by Rich Miller 59 Comments


* The Rauner campaign seems to be setting the bar high in today's Wall St. Journal article…
Ms. Ives released a poll last week that showed her within striking distance of Mr. Rauner, who is down by 7 percentage points. Mr. Rauner's internal polling shows the governor ahead by 12 percentage points but with his popularity among the state's Republicans slipping.
* The Republican Governors Association also appears to be setting the bar high…
"Governor Rauner is in strong shape, he should win easily tomorrow night," Jon Thompson, the Communications Director for the Republican Governors Association (RGA) said
* As you will recall from yesterday, Gov. Rauner compared his current primary battle to Gov. Jim Edgar's 1994 primary, which Edgar wound up winning by 50 points. Illinois Working together has since been gleefully trolling Rauner…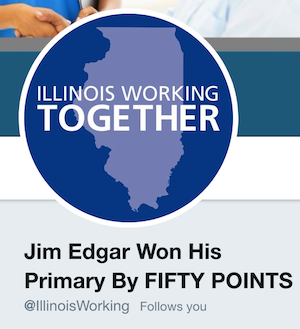 * But with a hat tip to IWT, Rauner said this today on Steve Cochran's WGN Radio show…
We need everybody in the Chicagoland area, your listeners, to know that this election is gonna be closer than anybody thought. This primary is gonna be tough. And Evelyn Sanguinetti and I have to win because we can be victorious. We're the only ones who can be victorious against Pritzker and Madigan.
* And he said this today on Sam Madonia's show…
We need everybody to get out and vote in today's primary. So, your listeners, if you haven't already voted, vote today and take a Republican ballot, please, and on Republican ballot vote for Rauner and Sanguinetti. This primary is gonna be closer than many people originally thought. There's a huge amount at stake here because Rauner and Sanguinetti, we as a team are the only team that can beat a Pritzker and Madigan in the fall in November. We're the only ones that can do it.
Man, he sounded nervous on that show.
…Adding… I forgot about this one…
All of those moves suggest a suddenly nervous candidate. And while strategists in both parties think he'll likely hang on to win on Tuesday, some aren't completely foreclosing the possibility that Ives could pull off a shocker.

"It appears this election is going to be a lot closer than anyone thought it would be — especially the governor," former Rauner adviser Lance Trover told TPM on Monday.
"Especially the governor" is right.
- Posted by Rich Miller 45 Comments


* Selectively edited video…
I'm calling for Mike Madigan to stand down as party chair. @JBPritzker and @KennedyforIL? Not so much… pic.twitter.com/fe81ivsVqF

— Daniel Biss (@DanielBiss) March 20, 2018
It's election eve, and we all thought the mudslinging was behind us. It's a shame to see @DanielBiss misleadingly editing a video at the 11th hour, and from so far behind. #StandWithKennedy #DBLies https://t.co/iM3ga1K8uQ pic.twitter.com/84HV9cDxLF

— Chris Kennedy (@KennedyforIL) March 20, 2018
Not cool.
* But Chris is no angel, either. This is "pants on fire" material…
We need leaders who stand up to politicians when they lie. That's what I did when JB Pritzker attacked my record.

The truth is I am 100% against taxing retirement income and he knows it. This is what happened when I confronted him. #JBLies pic.twitter.com/YL2RdEee9V

— Chris Kennedy (@KennedyforIL) March 17, 2018
* This is so irresponsible…
Seriously? You're going to post this without releasing results?

— Rich Miller (@capitolfax) March 20, 2018
* An e-mail yesterday from PredictIt…
Hi Rich,

Republican Governor Bruce Rauner's bid for re-election kicks-off in a primary that is tightening. While on the Dems side J.B. Pritzker leads the pack of willing and able challengers for what most pundits see as the most likely governor's mansion to change hands in 2018.

Further fascinating races are shaping up in Democratic primaries across the 3rd 13th and 14th districts. Where will you be putting your smart money? […]

PredictIt is a real-money political prediction market, a stock market for politics. It was established to research the way markets can forecast future political events. PredictIt's headquarters is in Washington, D.C.
I asked the company how many people were actually participating in the Illinois markets. This is all the info I could get…
Right now, the most active market amongst the Illinois primaries is the 3rd District with 374 traders. Pretty light volume at the moment.
So, if somebody is sharing this stuff on social media, maybe let them know. I'm not saying PredictIt is a shenanigan, but misusing its "results" could be. There does seem to be a spike in traffic today, so maybe we'll get an update.
* An e-mail from Frank Avila, who is Cook County Assessor candidate Andrea Raila's election attorney…
Dozens and Dozens of reports are being received that Andrea Raila is off the ballot.

Signs are in each individual voting booth.

Signs are on the wall.

Signs are being handed out.

When challenged, the judges are saying they were instructed to do so.

THIS IS FALSE, FRAUDULENT, WIDESPREAD.
ALL VOTING FOR ASSESSOR SHOULD STOP AND A NEW ELECTION IS NECESSARY.

Some examples:

Nancy Todd voted today in Old Town and received the attached notice stating votes for Andrea won't be counted!!

Audrey Avila and her husband Jaime Torres in 2nd ward, 32 precinct

Steve Shavers in the 34th ward.

26th Ward, 34th precinct

Same reports in Skokie, 50th ward, 41st ward, 10th ward, 2nd ward, 26th, ward, 42nd ward, 34 ward.
* Pic…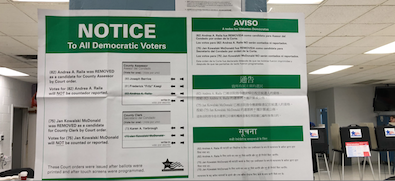 * Yesterday, Democratic Cook County Board Commissioner Richard Boykin held a press conference to complain that his district was being flooded with yard signs like this one…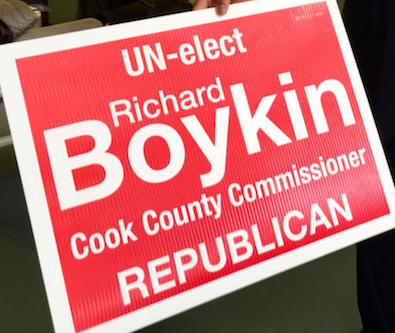 Boykin voted against the pop tax and is getting help from a campaign committee funded by the IMA, among others.
* Democratic commissioner candidate Bridget Degnen is running against John Fritchey, who also opposed the pop tax and is getting the same GOP money. But the tables were turned there when, according to her campaign, about a hundred or so Degnen yard signs got tagged with this sticker…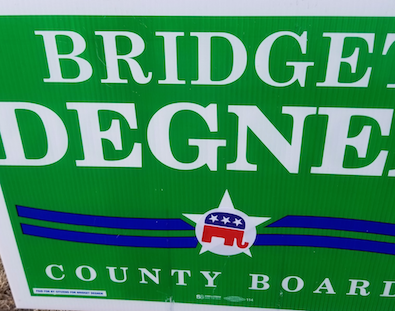 Not the worst thing I've ever seen, but whatevs.
- Posted by Rich Miller 25 Comments


- Posted by Rich Miller 25 Comments


* Chris Kennedy did a fly-around yesterday. Nice jet…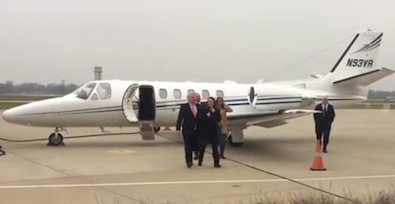 That event was in the Metro East.
* This is from the Bartonville airport near Peoria…
"I think it's incredible to be here in Rockford. This, at the University of Illinois, er, in Peoria. I think it's incredible to be here in Peoria because the University of Illinois has a medical school here. I think education-driven economic development is critical to the future of our state," Chris Kennedy said.
Things happen. What's your favorite story like this?
- Posted by Rich Miller 20 Comments


[Bumped up to Tuesday for visibilty.]
* NBC 5…
In the race for Illinois Attorney General, Pat Quinn's campaign is running a radio ad touting an Obama endorsement as well — the catch being that former president endorsed Quinn in a different election for a different seat, during his failed gubernatorial re-election bid in 2014.

"You know, I've been attacked a lot this week by attack ads," Pat Quinn told NBC 5. "President Obama stood up for me in 2014; he said I was a consumer advocate, a champion of working people."
Quinn is using audio from President Obama's 2014 endorsement in a black radio ad for Quinn's 2018 attorney general race. Not cool at all.
* From Sen. Kwame Raoul's spokesman Ron Holmes…
"Old dog, same tricks. Pat Quinn's willingness to blatantly deceive the public is one of the reasons Bruce Rauner was victorious in 2014. Despite what Pat Quinn may think, black voters won't be bamboozled by him again."
* From the electronic Twitter machine…
Pat Quinn has a history of deceiving the public in the closing weeks of an election. This time he was caught red-handed by @nbcchicago. #twill #ilag https://t.co/WJl0mlhWsM

— Sen. Kwame Raoul (@KwameRaoul) March 20, 2018
@KwameRaoul No lie here. President Obama praised me before for doing what's right. In the Attorney General race, it's not right to rake in cash from utilities, tobacco firms and others directly dealing with the office. My loyalty is to the people and it's not for sale. #ilag

— Pat Quinn for Attorney General (@QuinnForIL) March 20, 2018
Willfully deceiving the electorate ain't "what's right" and I'm sure 44 ain't praising the endless investigations you've been involved in. #twill #ilag https://t.co/cWeCAViAG0

— Ron Holmes (@RonHolmesIL) March 20, 2018
Ouch.
- Posted by Rich Miller 31 Comments


[Bumped up to Tuesday for visibilty.]
* Gov. Rauner has Newt Gingrich making robocalls, and JB Pritzker has Hillary Clinton…
* Script…
Hi. This is Hillary Clinton. I've spent my life fighting for children and families, and so has my good friend JB Pritzker. For decades, JB has worked to expand and improve early childhood education for at-risk youth in Illinois. He's also worked with non-profits to bring school breakfasts to 230,000 children in Illinois so they have a better chance to succeed in school. I know JB personally, I know his values and I know that JB Pritzker will make a great governor for Illinois. Election day is tomorrow. I hope you will join me in supporting JB Pritzker. Please vote. Thank you very much.
- Posted by Rich Miller 28 Comments


* From Gov. Rauner's pep talk to supporters today in DeKalb…
Now, nobody likes a primary. I feel bad about it. We've got some disagreements. Jim Edgar had a primary opponent in his second election just like I got. It happens. I respect the process. I will work hard to unify us afterwards and find policies we can all agree on to bring us back together. We have got to come together. But we've gotta win tomorrow.
OK, but Jim Edgar won his primary race by 50 points: 75-25.
- Posted by Rich Miller 70 Comments