[Comments have been opened on this post.]
* The governor is really focused on those wicked DGA TV ads…
Media Advisory: Governor Rauner to Hold Media Availability Tomorrow Morning in Hanover Park

On Monday, Governor Rauner will visit Round Ground Metals in Hanover Park, IL and hold a media availability to address the Democratic Governors Association's interference in the GOP primary.
* A Kennedy dirty trick? Looks like it. Notice the date of the first tweet…
.@JBPritzker won't disclose if he supports @assessorberrios, who as Cook County Assessor has run "a very regressive system" that causes "a wealth transfer from owners of lower-value homes to those of higher-value homes." https://t.co/1pQoqVWLMW pic.twitter.com/xRbautbkOD

— Chris Kennedy (@KennedyforIL) March 15, 2018
Sign Popping up on Chicago's Westside #ILPrimary pic.twitter.com/2LSHVlkPN7

— Mary Ann Ahern (@MaryAnnAhernNBC) March 18, 2018
* You probably won't be surprised that none of these statewide officials appear on Casten's endorsements web-page. So, this is yet another candidate mailer designed to make it look like someone has endorsements that he doesn't actually have…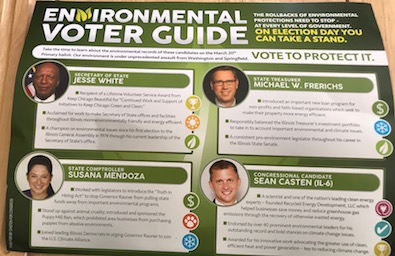 * Press release…
Congressional candidate Chuy Garcia on Sunday called on Iris Millan and her campaign to cease and desist the unlawful use of his name and image in her campaign materials in the race for Illinois' 4th House District. This letter was sent by Garcia's campaign following a mailer misleading voters about Chuy Garcia's endorsement in this race for State Representative.

Jesus "Chuy" Garcia endorsed Delia Ramirez for State Representative on December 17, 2017 because she has deeps roots in this district and is ready to transform Springfield.

Iris Millan, who according to Illinois Sunshine has received over 50% of her campaign donations from 1st Ward Alderman Proco 'Joe' Moreno, has sent misinformation to voters numerous times through an unknown organization called the Social Justice Fund. This is a continuation of the Millan campaign's dishonesty and willingness to deceive voters for political gain. Ramirez called these tactics "shameful and not in the best interest of voters."
* Oh, for crying out loud…
This is the weirdest election ever. State Rep. Kelly Cassidy's opponent is now pulling a Bruce Rauner and calling her a Machine Madigan candidiate. While he runs to her left. That's right I said running to her left. #Twill Make it all stop. pic.twitter.com/bxX3W1Vmeb

— Kyle Hillman (@kylehillman) March 16, 2018
* Running for judge while allegedly breaking the law. Lovely…
Definitely not voting for Judge Robin Shoffner after this past week's relentless barrage of robocalls to my personal cell. Good lord.

— Chicago Bars (@chicagobars) March 18, 2018
* More…
* Security of state voter rolls a concern as primaries begin: "It's not something where you ever feel completely safe," Matt Dietrich, spokesman for the Illinois State Board of Elections. "It's something where you feel like you're doing your best to protect against what could happen in a cyberattack."

* Wheeling Township GOP Chair slams Rauner attempt to subvert Ives endorsement: Rauner has sought to use his prodigious checkbook to boost lagging enthusiasm for him among local GOP organizations. Even his hometown, local New Trier Township GOP refused to endorse him over Ives. Of all 30 suburban Cook County townships, Rauner performed best in New Trier in a hotly-contested 2014 primary, carrying 77 percent of the vote in a four-way race against state senators Bill Brady and Kirk Dillard and then Illinois State Treasurer Dan Rutherford.

* Editorial: Voters should do the vetting in primaries: After her primary opponent Lance Yednock entered the race, Bernal said a Democratic state representative asked her to leave the contest. After the holidays, she received a series of calls with the same request. Her answer stayed the same. On Jan. 15, Bernal said she met with Yednock and a high-ranking state official at a Spring Valley attorney's office. She again was asked to end her campaign. Bernal told The Times on Thursday she would vote against Madigan for speaker.
- Posted by Rich Miller 7 Comments


[Comments have been opened on this post.]
* Tribune…
The frenzied final weekend of in-person campaigning supplements the nearly $65.7 million spent by candidates and interest groups on TV commercials in the governor race so far. The contest could become the most expensive race to be Illinois' chief executive in state history.

That TV spending total — in just the primary — is more than the record $65.3 million Republican Gov. Bruce Rauner spent on his entire 2014 campaign.
* JB Pritzker was on Newsradio WJPF the other day and was asked about this now outdated graphic from the Illinois Campaign for Political Reform…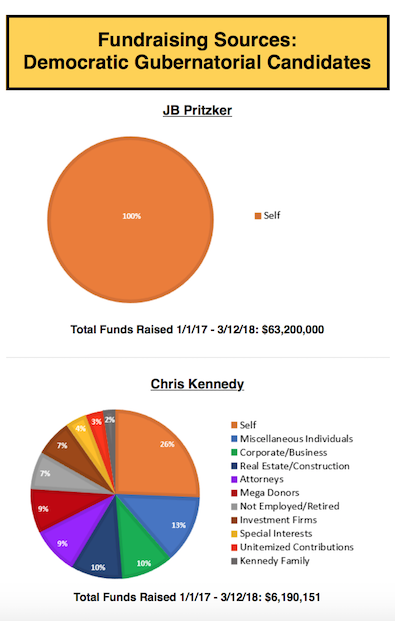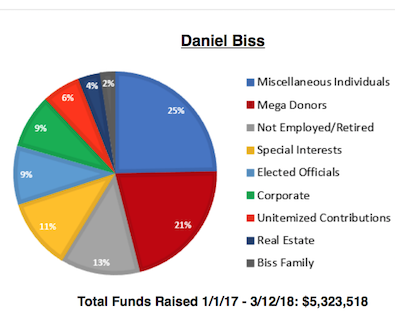 * Starting at about the 30-second mark…
Interviewer: And they had it done in a pie chart and yours was all orange, and orange said 'self.'

Pritzker: [Three-second pause] Hehehehehe. Well, you want me to react to that?

Interviewer: Go big or go home, right?

Pritzker: Hehehehe. Well, remember that this whole campaign began in December of 2016 when Bruce Rauner wrote himself a $50 million check into his own campaign account. And then he accepted tens of millions of dollars from the Koch brothers' right-wing network. And you know, they're aiming at, uh, destroying labor unions and lower wages in the state, lowering workplace safety. So, I knew when I entered this race that we'd have to go fight fire with fire. Sen. Paul Simon, who is I think a hero to many of us who care about public service, once said, you know, that when you're fighting for campaign finance reform, which I am, you can't unilaterally disarm in the middle of it just because you're in favor of campaign finance reform and the Republicans are spending so much money. So, I really believe that what I've tried to do throughout this campaign is to build the infrastructure of the Democratic Party, or at least of my campaign so that going into the general election we can win up and down the ticket for Democrats. So that's what I've been doing and I'm excited about going into this Tuesday primary. I feel good about our chances. And most of all I feel good about our ability to beat Bruce Rauner in the general election.
* That's not a bad (albeit far too-wordy explanation), but he's also had to fend off well-funded attacks by Rauner and attacks by his opponents over stuff like this…
How can @JBPritzker say this now? "I haven't moved any money off shore and I don't invest offshore it's not apart of what I do." #ILGov

— Mary Ann Ahern (@MaryAnnAhernNBC) March 17, 2018
"I haven't moved any money offshore" means "my accountant or brother-in-law did it for me" and "I don't invest offshore" means "Well, my foundation does… and okay, trustees that I assigned also do it for me." Translating JB's non-denial denials is a full-time job these days. https://t.co/EWTmmSxuqG

— Mark Maxwell (@WCIA3Mark) March 17, 2018
* Meanwhile, not long ago, Chris Kennedy was bitterly complaining about all the money JB Pritzker was handing out to ward, township and county party organizations. On Friday, Kennedy's campaign gave $2,500 to the 22nd Ward Independent Political Organization.
* Back to the Trib…
Ives, who once said she needed $10 million to run an effective race against Rauner, has raised nearly $4 million — including $2.5 million from conservative mega-donor Richard Uihlein of Lake Forest. In recent days, Vincent Kolber, a transportation asset manager from Chicago, loaned her $250,000 in addition to $410,000 he already had given.

Ives said Saturday she'll have enough money to keep airing ads through Tuesday despite a fundraising email pitch from her campaign Saturday, seeking money for "our final chance to get on TV."
* By the way, the Teamsters' national DRIVE committee gave Speaker Madigan's 13th Ward Organization a fat $55,400 check yesterday.
* Related…
* Pritzker Now at $70 Million, Rauner Feeling Pressure from Ives: Biss also commented on the matter and said, "JB Pritzker is trying to buy the election because Mike Madigan told him to." … According to Rauner however, "she's weak, weak on Madigan, weak on taxes."

* Illinois governor race more fierce, costly as primary nears

* Recognize these names? Meet the Macon County donors who gave $420,000 to political candidates

* Chicago celebrates St. Patrick's Day: Democrat for governor Chris Kennedy said he is confident ahead of the vote. "All we have to do is reject big money and politics on Tuesday," Kennedy said.
- Posted by Rich Miller Comment


[Comments have been opened on this post.]
* Those texts keep flying in the Lipinski race…
Love the responses people from #IL03 are sending back to these ridiculous texts. "Also, I am catholic and will be voting for Marie Newman." 👊🏻👊🏼👊🏾👊🏿 pic.twitter.com/Tu4f6icEri

— Marie Newman (@Marie4Congress) March 17, 2018
* National Review early this morning…
In a little neighborhood near Midway airport — with "Proud Union Home" signs scattered across tiny front yards — canvassers spread out to talk to voters about Dan Lipinski, a pro-life, Democratic congressman running in a close primary against progressive challenger Marie Newman. […]

Seventy canvassers — nearly all of whom are undergraduate students from the University of Notre Dame, Franciscan University in Steubenville, and Cedarville University — have knocked on about 23,000 doors in the district since Thursday, and they hope to reach another 5,000 before the weekend's over. […]

Working off of SBA List models, the canvassers have reached out to moderate Democrats across the entire district — which spans much of Chicago's southwest suburbs — targeting voters who have turned out in Democratic primaries and who are predicted to oppose taxpayer-funded abortion… But, as SBA List canvassers have discovered this weekend when talking to moderate voters, many Democrats don't share Newman's support for liberal abortion laws.
Notice they wrote "knocked" on the doors. Those out-of-state students didn't reach that many people. And, of course they're going to hear what they want to hear at the doors because they're specifically targeting voters who are on their side. I call shenanigans on that story.
Also, the SBA List folks said they was spending "six figures" on this GOTV effort. Its last FEC filing showed it had $110,222. It's close to election day, paranoia is super high, so some are speculating that Rauner bucks may be involved there to divert support away from Jeanne Ives. But that would be a lot of work for a very small universe - traditional Democrats in one congressional district who vote pro-life.
* Speaking of the governor's race, here's a Rauner campaign e-mail…
Day 2: Has the DGA Filed an In-Kind Contribution for Ives Yet?

NO.

The State Board of Elections has stated that the DGA should report their ad buy on behalf of Ives as either an independent expenditure or an in-kind contribution.

The Hill: "Dems meddle against Illinois governor ahead of GOP primary"

Politico: "Democrats meddle in Illinois GOP Primary"

Chicago Sun-Times: "Ives also got back-door support last week in the form of a TV ad released Thursday by the Democratic Governors Association"

NBC5: "The Democratic Governors are running ads to help [Ives]."
* This Cook County Board race was destined to get nasty. From Friday…
Today residents across Chicago demanded Alma Anya, Cook County Commissioner Candidate in the 7th district immediately end her campaign following the arrest of her campaign staff member [redacted by me]. [Redacted], who is the boyfriend of Alma's campaign [redacted], was arrested by the Chicago Police Department Wednesday morning at 1AM in the West Lawn neighborhood and charged with misdemeanor theft for stealing Cook County Commissioner candidate's Angie Sandoval yard signs. […]

According to the Chicago Police Department report, [redacted] had wire cutters in his hand and his car had more than 50 yard signs for candidate Angie Sandoval inside.
* Same day, same race, different candidate's press release…
The Cook County Board of Ethics has confirmed that Cook County Commissioner candidate Angie Sandoval repeatedly violated campaign finance laws regarding contribution limits from contractors doing business with the County, according to new information the campaign of Alma Anaya campaign has received via a Freedom of Information Act request.
* From today…
Latino Victory Fund today slammed Angie Sandoval, candidate for Cook County Commissioner, for her desperate attempts to mislead voters and smear her opponent, Alma Anaya. Sandoval has led a concerted effort to convince voters that Jesús "Chuy" García, the frontrunner for Illinois' 4th congressional district, supports her campaign even though he has endorsed Anaya. In a shocking display of xenophobia, Sandoval has also aired English-language ads that cast Anaya, who immigrated to the United States as a child, as an outsider, saying "she's not from here."
Also…
Misinformation suggesting support that is nonexistent pic.twitter.com/YI3XxBT9qj

— Mary Ann Ahern (@MaryAnnAhernNBC) March 17, 2018
* Background is here. Press release…
U.S. Congresswoman Jan Schakowsky and Deputy Majority and Niles Township Democratic Committeeman Leader Lou Lang will campaign with 8th District Senate Candidate Ram Villivalam at Ram for Senate HQ. Schakowsky will talk about why she endorsed Progressive Democrat Ram to change Springfield, and replace incumbent Ira Silverstein. Leader Lang is publicly endorsing Ram for Senate following his announcement yesterday. In a statement posted yesterday, Lang wrote:

"Friends, In politics, all that matters is your word. So, let's be clear. A new campaign brochure authored and mailed by Senator Ira Silverstein (D-Chicago) claiming that I have endorsed him in his primary election is: False…Today, I endorse Ram Villivalam for the Illinois State Senate as I believe he possesses the integrity becoming of a legislator."
* Friday press release. Click here for more…
Attorney General Lisa Madigan announced today that 178 teams of assistant attorneys general and investigators from her office will be monitoring primary elections throughout Illinois on Tuesday, March 20, to ensure that voters' rights are protected and polling places are accessible.
* Moving right along, a pro-life Republican legislator asked me if I wanted a "copy of the NARAL flyer showing Jeanne as against HB40 and the governor for it at this hard R household?" Seems a bit odd that NARAL would be mailing to such a person, but, sure, I replied, send it over…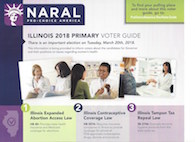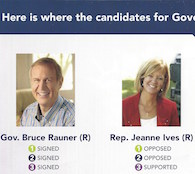 Heh.
* If the field office is supposed to be so busy, why does one of his pics show campaign workers playing Uno? I call shenanigans!…
Our field offices are busy doing everything they can to get out the vote for Bruce this Tuesday. Join the fight for lower taxes and accountable state government: https://t.co/EPPUJURMsI #twill #ILGov pic.twitter.com/YeEMN67JBc

— Bruce Rauner (@BruceRauner) March 17, 2018
Also, good question…
What's the paddle on the shelf for??? pic.twitter.com/Sk5E9lLepC

— John Amdor (@JohnAmdor) March 18, 2018
- Posted by Rich Miller 5 Comments