* Brace yourselves…
The whopping $66 million spent on ads in the Democratic and Republican primaries for Illinois governor made it the most expensive non-presidential primary of all time, according to the ad-tracking firm Advertising Analytics.

And because of the winners last night — incumbent Republican Gov. Bruce Rauner (who spent more than $16 million over the airwaves) and Democrat J.B. Pritzker (who spent more than $33 million on ads) — the general election is likely destined to be the most expensive gubernatorial contest in history.

Advertising Analytics projects total spending could exceed $150 million.
…Adding… The Illinois Chamber's Independent Expenditure PAC has reported spending $183,783.19 on former Rep. Ken Dunkin's primary race. Dunkin came in third out of four with 18 percent, receiving 3,097 votes. That works out to $59.24 per vote.
* Related…
* Tribune Editorial: Rauner, Pritzker and 'whatever it takes'

* Tired of hearing from rich white guys? Get ready for $300 million more, Illinois
- Posted by Rich Miller 37 Comments


* I'm getting a ton of post-election press releases and some of them are good, but not really enough to put into a post of their own, so I figured a Scribble Live thingamabob would do the trick…
- Posted by Rich Miller 6 Comments


* Of all the race results last night, I think this is the one that surprised me the most. Not necessarily that he lost, but that he lost by so much…
State Sen. Ira Silverstein conceded the Democratic nomination for the 8th Senate District to union lobbyist Ram Villivalam on Tuesday night, unable to retain the seat he's held for nearly 20 years after being accused of sexual harassment.

"We ran a good campaign; it wasn't in the cards," Silverstein said after he and his wife, 50th Ward Ald. Debra Silverstein, thanked about two dozen supporters and relatives gathered at Great Chicago Food and Beverage Co. in the West Ridge neighborhood.

Unofficial results showed Villivalam had 52 percent of the vote to Silverstein's 29 percent, with 92 percent of precincts reporting. Caroline McAteer-Fournier, who ran as a political outsider, had 14 percent, and David Zulkey, a lawyer campaigning as a fiscal conservative, had 5 percent.
I also had a feeling that Rep. David Reis was in trouble, but his 14-point defeat was quite something.
* The Question: What was your biggest electoral surprise last night?
- Posted by Rich Miller 54 Comments


* Chicago Federation of Labor President Jorge Ramirez sent out a press release today, but let's just focus on these two touted wins…
Brandon Johnson, an organizer with Chicago Teachers Union, was triumphant over incumbent Richard Boykin in the race for Cook County Commissioner of the 1st District because Johnson is entrenched in the labor movement. A strong labor coalition, made up of public sector unions and building trades, joined forces on the ground through door knocking/canvassing, phone banking and mail. Johnson will be a strong voice for the families in his district.

Bridget Degnen handily defeated incumbent Cook County Commissioner John Fritchey (12th District). It was labor's early support that educated the community on the importance of having a commissioner like Degnen who represents the interests of working families. Degnen is committed to keeping our neighborhoods safe and supporting a compassionate approach to Illinois' health care system.
Those two incumbents were mainly targeted for refusing to go along with the pop tax…
The tax fueled public outcry from shoppers and business owners across the county, ultimately surviving less than two months before being repealed by a vote of 15 to 2, and was phased out in December 2017.

That revolt left Preckwinkle with a $200 million budget shortfall, hundreds of layoffs and sparked a challenge from Fioretti, who announced plans to take her on less than a month after its repeal.
It was repealed, voters moved on, Preckwinkle regained her popularity and then thumped Fioretti but good.
* From the twitters…
Quite a few people were screaming that commissioners would lose their job over the soda tax - they were right - just not the people they thought. Preckwinkle won big last night. pic.twitter.com/DhsjD9RIed

— Kyle Hillman (@kylehillman) March 21, 2018
* This group is funded by the pop companies and their allies. It's an interesting take…
"This election is a victory for Cook County working families and small businesses who overwhelmingly opposed the unfair and harmful beverage tax. Nearly every candidate running for the County Board campaigned in opposition to the beverage tax, underscoring that the tax was both bad policy and unpopular with voters. We hope Cook County's political leadership has gotten the message. Citizens For A More Affordable Cook County looks forward to working with commissioners to ensure they manage a responsible budget and make the County a more affordable place to live and do business."
- Posted by Rich Miller 31 Comments


* Rep. Peter Breen (R-Lombard) last year after Gov. Rauner signed HB40…
In the face of overwhelming evidence of Rauner's inability to competently administer the Illinois government, inability to stand up to Mike Madigan effectively, and inability to keep his word and his commitments, I can no longer support him.
* Peter Breen today…
The people have spoken. They gave Gov. Bruce Rauner the edge. Gov. Rauner stated in the media that he's heard the message, and I believe he has. Gov. Rauner is our party's nominee, and I support him 100%. The Madigan machine would love nothing more than a rubber stamp like J.B. Pritzker in the governor's mansion—Illinois can't afford that
- Posted by Rich Miller 35 Comments


* This was one of Chris Kennedy's proposals…
Pritzker's solution to that, at least in part, has been to change the state's income tax from a flat rate to one that would hit wealthier people more, and lower-income folks less. That would take at least two years, however, because a needed consitutional amendment could not be approved by voters at least until the 2020 election. Pritzker said he has a short-term remedy: raise the overall rate, but then effectively lower it for most taxpayers by adding and expanding deductions for those with low and moderate incomes.

Pritzker offered no details or figures, and on occasion has made vague references to doing something quickly. But he was more definitive today, and said his plan is based on what has occurred in Massachusetts, which also has a flat tax but "unflattens" it through deductions and other devices that can be implemented by lawmakers.

"I don't believe that's a permanent solution," Pritzker told me, referring to such an idea as "an artificial construct." But, he added, "It's something we could do right away" while the process of enacting a constitutional amendment begins.
* Meanwhile, Sun-Times…
But what else is out there? Pritzker was hit with negative headlines throughout his campaign, which began with a Sun-Times investigation which revealed he received a $230,000 property tax break by ripping out toilets in a Gold Coast mansion. Then came Tribune investigations revealing unfavorable FBI wiretaps of Pritzker speaking with Rod Blagojevich, the now-imprisoned former governor. And with just days ahead of the primary, Pritzker was forced to defend himself against a Chicago Tribune report that claimed Pritzker and his brother control several offshore companies created between 2008 and 2011 — suggesting that Pritzker may be avoiding paying taxes. The story contends one of Pritzker's offshore companies is part of a venture that plans to buy land along the Chicago River to launch boat tours downtown.

"I think that they [voters] should anticipate that Bruce Rauner is going to run one of the most negative campaigns in history because he has nothing positive to run on, and I will fight a tough campaign," Pritzker said. "You heard me talk about the fact that everybody needs to be ready for the fight, and we are. And it's clear that Bruce Rauner threw everything he's got at me in the Democratic primary and I overcame that as I will in the general election."
I think the results show that Pritzker ran a much better campaign than he was given credit by the pundit class, including myself.
But Rauner clearly didn't throw "everything he's got" at Pritzker. His ads focused solely on Blagojevich. Now they move on to Madigan, ripping out toilets, offshore companies, Madigan, his investment portfolio, Madigan, toilets, Madigan, etc. and repeat.
* More…
And, Pritzker said, the Madigan card won't work because voters are "sick and tired of Bruce Rauner."

"He has been an utter and complete failure and blames his failures on Madigan every single time. People are just sick and tired of hearing it. It's an old trick on his part, saying he's not in charge. And it's clear that the voters just aren't buying it. Look at the results that he had yesterday in his campaign," Pritzker said.
He may be right about Rauner, but the voters are also sick and tired of Madigan. I had my own interview with Pritzker this afternoon, so I'll be sharing some of that with subscribers tomorrow.
* Back to Greg Hinz…
On Madigan, who drew strong attacks from other gubernatorial candidates in the primary, Pritzker stuck to his usual line, saying that he is "completely independent" and will set his own course while dealing with reality.

"You don't get to choose who the speaker is," Pritkzer said, later using the same language to apply to Madigan's dual role as chairman of the Illinois Democratic Party. Pritzker conceded he [Pritzker] would have "a lot of influence" if elected, in part because Pritzker has built a separate campaign organization in each of the the state's 102 counties. But he would go no farther.
I added that "Pritzker" after consulting with Greg.
- Posted by Rich Miller 39 Comments


* Yes, counties don't vote, people do, but the Tribune has some really good interactive election maps. Click through to scroll over each county for results. It'll definitely suck you in…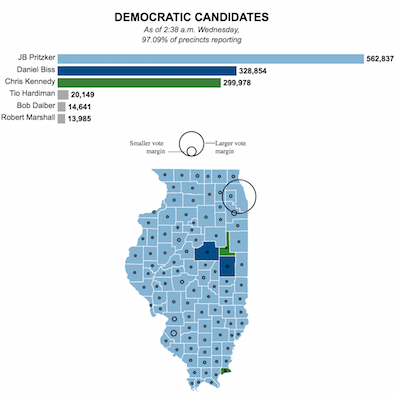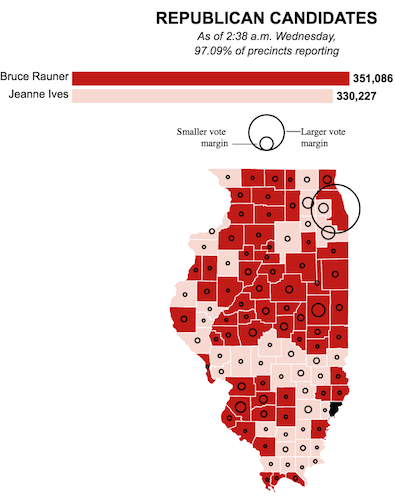 Kennedy's two counties were Ford (which he won 145-143) and Hardin (123-109).
* And remember how Pritzker took all that heat for heading to the Metro East last week? He was apparently running up the score…
Democratic primary winner Pritzker outperformed Biss and Kennedy Downstate — in some counties by more than 50 points — but margins were narrower in northeastern Illinois.
He won St. Clair County by 65.5 points and Madison by 43.
Anyway, click here and go browse through the results and tell us what you think.
* Other stuff…
* Billionaire J.B. Pritzker wins Illinois Democratic governor primary on strength of $70 million campaign: Pritzker did well in Chicago and the suburbs. With nearly 90 percent of the city's precincts counted, Pritzker had 45 percent of the vote to Biss' 27 percent and Kennedy's 24 percent. But Pritzker also was holding at least 40 percent of the vote in the suburbs and racking up 60 percent of the vote or more in several smaller Downstate counties.

* Did you miss the election results? Here are the takeaways from yesterday's Illinois primary: With 94 percent of precincts reporting, 1.2 million Democratic votes had been cast in the governor's race, compared to 655,000 for Republicans — an advantage that feeds Democratic hopes of a national wave election in November.

* Estimates of voter turnout in Chicago, Cook County 'disappointing,' official says
- Posted by Rich Miller 27 Comments


* Rep. Scott Drury's message to his supporters…
On January 11, 2017, I fired the shot heard round Illinois - I didn't vote for Mike Madigan for House Speaker. At the time, I said I wanted to give "hope to the hopeless" and that I anticipated repercussions.

The repercussions were almost immediate. Petty at first, they ultimately transitioned to an all-out blitz to thwart our campaign. Indeed, no campaign had more hurdles thrown in its way than ours. That, more than anything, shows the power of our message.

We came up short yesterday. But we did not lose, and we should not hang our heads. The Berlin Wall did not fall in a day. It ultimately did fall, however. I am confident we have taken chunks out of that wall.

We have changed the conversation in Illinois. For the first time in decades, Democrats in Illinois feel empowered to speak out against wrongs - not just on the right - but within our own party. And that's okay.

Yesterday's final numbers don't tell the whole story. While we have a lot of work to do in the Chicagoland area, everywhere else voters heard our message and voted for change. We must build from there.

I want to thank everyone who made this campaign possible - family, staff, volunteers, supporters and, yes, lawyers. You continually gave (and give) me hope.

I also want to congratulate all of the candidates in this race. Running for office is hard. As someone who passionately believes in the power of competitive elections, I got what I wished for.

While I don't know what tomorrow may bring, I know that our journey has just begun.

With gratitude,

Scott R. Drury
Drury raised $1.9 million, more than anyone else in the second tier, but ended up placing 5th with about 8 percent of the vote.
- Posted by Rich Miller 38 Comments


* Last night…
A technical problem with closing hundreds of electronic voting machines hampered the DuPage County Election Commission's ability to count ballots Tuesday night, officials said.

Despite "rigorous" pre-election testing of the ballot tabulation equipment and the tabulation process, officials said difficulties occurred when they tried to close optical scan machines and get results at some precincts.

As a result, bipartisan teams of judges had to bring about 265 voting machines to the election commission office in Wheaton to tabulate the results.
"Rigorous" pre-election testing?
* Right…
The executive director of the DuPage County Election Commission said that the problem had to do with a piece of paper that was used at the end of the voting process, it was too thick for the machines.
#FacePalm
Rigorous testing didn't discover that the paper wouldn't fit into the machine?
* NBC 5…
"I have been in contact with the DuPage Election Commission and am assured your voting results are secure and forthcoming," DuPage County Board Chairman Dan Cronin said [last night] on Facebook. "However, the commission has failed the voters of DuPage once again with their inability to provide timely election results. This is not acceptable."
- Posted by Rich Miller 12 Comments


* Tribune…
With more than 90 percent of the vote counted, unofficial results showed Lipinski led with 51 percent of the vote to Newman's 49 percent in race seen as a proxy fight between the progressive and more conservative wings of the Democratic Party.
* The Atlantic…a
Newman's defeat was a disappointment for progressive groups and particularly for groups like NARAL Pro-Choice America and EMILY's List, which had hoped to punish one of the last remaining anti-abortion Democrats in Congress and make a statement on the party's commitment to a woman's right to choose.
* CNN…
Newman, who told supporters Tuesday night that she was "not quite ready to make a decision" and that she wanted Lipinski to have a "very painful evening," conceded the race in a statement on Wednesday.
* There's an old saying in Chicago that if you're running against the machine you'd better be up by more than 5 points going into election day. It's not that they steal elections, mind you. They just work harder and know what it takes to get votes come crunch time.
Marie Newman won suburban Cook County by almost four percentage points. She lost the city 57-43.
Most of Lipinski's victory margin came from just four city wards. Speaker Madigan's 13th Ward carried Lipinski 64-36. The congressman won Ald. Ed Burke's 14th Ward 57-43. The vote-rich 19th Ward carried Lip 58-42. And the congressman won his ancestral home ward, the 23rd, 60-40.
The machine will do anything to win. They'll even portray, as they did here, a socially right-wing Democrat as a pro-Obama, pro-immigrant, pro-woman "moderate." I'm not saying the left has to emulate that behavior, I'm just saying they have to be ready to effectively counter it.
But Newman basically got beat in the streets. Shout out to campaign manager Brian Oszakiewski for a remarkable job.
* And it's not like this cannot be done by progressives. Look at Chuy Garcia's victories. Garcia's candidate came within 62 votes of beating Ald. Burke's own brother, Rep. Dan Burke, in the 14th Ward. Aaron Ortiz won the race by 7 points.
Garcia's candidate for county board Alma Anaya not only won big, but she won the 12th Ward by 642 votes, despite its committeeman, Sen. Tony Munoz, spending hundreds of thousands on Angela Sandoval's race. Anaya also won the 13th Ward (with support from Speaker Madigan), and fell 56 votes shy in Burke's 14th.
Then, of course, there's Joe Berrios. There wasn't much anyone could do for him at the doors, though. Frankly, he's lucky he didn't lose by more than 11.5 points, considering all the bad press he's received over the years. A normal human without the party apparatus and with Berrios' history woulda barely hit double digits.
* The lesson is, if you want to go up against these guys you have to pick your fights, make some allies on the side and take it to the other side on all levels. TV ads, press conferences and lit blitzes ain't gonna do it. Chuy Garcia clearly understood this. Marie Newman did not.
- Posted by Rich Miller 42 Comments


* I'm tired (my e-mail service was down at 3 this morning when I finished writing the subscriber edition and I finally gave up and went to bed at 3:30), and I'm trying to finish a post and it's taking me way too long. So, have at it. Your thoughts on yesterday?
- Posted by Rich Miller 63 Comments


* Tribune…
"To those around the state of Illinois who wanted to send me a message, let me be clear," Rauner said. "I have heard you. I have traveled the state and I have listened to you. While we disagree on some things, let's commit to working together on what unites us - the reforms we need to save our state."
* DGA…
While most politicians would seek to repair the damage of a close primary, Bruce Rauner admitted this morning on WGN that he still hasn't talked with Jeanne Ives. Rauner – who declared victory before the race was called – never even bothered to call his Republican opponent.

Reporter: "It was a very contentious race. A lot of negative ads on both sides. Have you talked to Jeanne Ives? Did you talk to her before you announced your victory last night?"

Rauner: "We have not spoken yet. You are right. It was very difficult. Primaries are divisive. But now is the time to move past that to come together. I look forward to visiting with the Representative. Visiting with those who are hurt or have their feelings challenged by the difficulties of a primary. And find common ground. And we can do this."

In his "victory" speech last night, Rauner told the hundreds of thousands of Republicans that voted to oust him, "I have heard you," but it looks like he's just dodging their calls.

"Instead of making any attempt to bring his fractured party together, Bruce Rauner continues to ignore Jeanne Ives and the 48 percent of GOP voters who wanted her as their nominee," said DGA Illinois Communications Director Sam Salustro. "Rauner is the most vulnerable incumbent in the country, stumbling into a general election with no allies, underwater approvals, and a record of failure he can't defend."
Those guys know how to troll. Video is here.
* But it doesn't sound like Ives wants a call. Rep. Ives was on Dan Proft's radio show this morning…
Amy Jacobson: So yesterday, Governor Rauner did not give you a phone call before he went up and kinda gave his victory speech, because there was some problems with the ballot boxes in DuPage County, and you fared very well in DuPage County. So, what do you want to say to Governor Rauner this morning?

Jeanne Ives: "Governor Rauner can talk to himself in the mirror and look at himself and decide whether or not he's proud of what he's done all around, from his governorship to the way that he ran his campaign. I really don't care to say anything to the Governor at this point, quite frankly."
When asked if she would vote for him in the fall, she responded by saying, "I've said I will vote for him."
…Adding… As some have said in comments, it is definitely the loser's duty to call the winner. But it's still a fun little troll.
- Posted by Rich Miller 37 Comments


* Press release…
This morning, the Democratic Governors Association launched a new digital video, "Failed Governor," highlighting the disastrous record of Illinois Gov. Bruce Rauner.

Rauner nearly lost his primary to a virtual no-name Republican state representative. He enters the general election as the nation's most vulnerable governor, with low approval ratings due to his mismanagement of the state.

"Last night's results confirmed that Democrats, Independents, and Republicans all agree that Bruce Rauner is a failed governor," said DGA Illinois Communications Director Sam Salustro. "A two-year budget crisis drove up state debt, drove down the state's credit rating, and devastated social services in Illinois. Add in a pinch of mismanagement, and you get the nation's most vulnerable incumbent. Illinois voters of all parties have sent a clear message they're ready for change."
* Here it is…
- Posted by Rich Miller 6 Comments


* The Rauner campaign launched an online ad this morning and JB Pritzker is following suit. We'll see how long this takes to escalate into network broadcast TV…
Following a decisive primary election victory, the Pritzker campaign released its first general election ad, "Four Years of Failure." The new ad highlights Bruce Rauner's four years of damage, crisis, and pain as the worst governor in America failed to take charge of Illinois.

"As we enter the general election, it's important that Illinoisans understand the true damage Bruce Rauner's failed leadership has done across our state. From unleashing a 736-day budget crisis on Illinois, to slashing funding for social services and letting a Legionnaires outbreak spiral out of control, Bruce Rauner is a failure," said JB Pritzker. "For four years, this governor lurched our state from crisis to crisis, doing irrevocable damage to Illinois while claiming he's not in charge. Bruce Rauner caused real pain to children and families across this state and it's time to turn the page. I'm running on a record of bringing people together to get big things done with real plans to put our state back on the side of working families. Together, I know we can defeat Bruce Rauner, bring real change to Springfield, and move Illinois forward."
* The ad…
* Script…
Voiceover: A tumultuous first term for Governor Rauner
[ON SCREEN: 700 DAYS WITHOUT BUDGET] Anchor 1: 700 Days without a budget.
[ON SCREEN: BACK PORCH MEETINGS] Anchor 2: Meetings about private investments at the executive mansion.
[ON SCREEN: SOCIAL SERVICES SLASHED] Anchor 3: Unpaid bills have forced social services for the most vulnerable to be slashed [ON SCREEN: BILLION TAX DOLLARS WASTED] Anchor 4: A billion tax dollars wasted
[ON SCREEN: LEGIONNAIRES' OUTBREAK] Anchor 4: Fatal outbreak of Legionnaires disease.
[ON SCREEN: LOWEST CREDIT RATING] Anchor 5: The lowest credit rating of any state in American history
Bruce Rauner: "I am not in charge, I'm trying to get to be in charge "
Anchor 6: Governor Bruce Rauner has been named the worst governor in America
* Meanwhile…
Today, the JB Pritzker campaign launched "Rauner Failed Me," a multimedia campaign highlighting the real people that have been hurt because of Bruce Rauner's failure as governor.

Five people from across Illinois will introduce the campaign by sharing their personal stories about how Bruce Rauner has hurt children, immigrants, students, veterans and workers in every corner of the state. The Pritzker campaign will highlight their stories and more on a new website, RaunerFailedMe.com, to bring into focus the human impact of Bruce Rauner's gross mismanagement of state government.

"While Bruce Rauner forced a 736-day budget crisis on Illinois and wiped his hands of responsibility, real people across the state suffered the consequences," said Pritzker campaign manager Anne Caprara. "Illinoisans young and old, working families downstate and in Chicago, our middle class and those striving to get there all paid the price because Bruce Rauner failed. The Pritzker campaign is committed to sharing the stories of those who have been hurt by Bruce Rauner and bringing people together to hold him accountable."
The website is here.
…Adding… Yep…
I think we know the campaign theme will will see from @JBPritzker from now till November. pic.twitter.com/kzAlyGWCAl

— Craig Wall ABC 7 (@craigrwall) March 21, 2018
- Posted by Rich Miller 19 Comments


* We'll know the actual spending when the D-2s are filed next month, so this is just money raised by the campaigns. They could very well have money left over. From the Illinois Campaign for Political Reform…
In the Governor's race, victor JB Pritzker (D) raised $124 per vote, and Gov. Bruce Rauner (R) raised an astonishing $215 per vote. In contrast, GOP challenger Jeanne Ives raised just $12 per vote, and received about 48% of the overall vote share in the Republican Primary race.

Amounts raised by winners of the Attorney General race paled in comparison, with Sen. Kwame Raoul (D) raising $8 per vote, and Erika Harold (R) raising just $2 per vote. Democratic Challenger Scott Drury raised the highest ratio in that race with $21 per vote. This was mostly due to a $1 million contribution he received from private funder Steven Miller.

Illinois Legislative Races

A few political newcomers pulled surprising upsets last night, showing that the most monied candidate is not always the victor. Aaron Ortiz, an educator, defeated Dan Burke, a 27-year state legislator and brother of prominent Chicago Alderman Ed Burke, to earn the Democratic nomination in the 1st State House district. Ortiz raised just $35 per vote to Burke's $140. In the 8th State Senate District, Ram Villivalam defeated embattled State Senator Ira Silverstein for the Democratic nomination. While Silverstein had Senate establishment support, Villivalam still raised $25 per vote to Silverstein's $38.

Other surprise upsets included self-funded candidate Fritz Kaegi declaring victory over Cook County Democratic Party Chair Joe Berrios in the race for Cook County Assessor. The two raised similar amounts of money, but Berrios relied heavily on property tax appeals lawyers and local party funds. In the hotly contested Illinois 3rd Congressional District, Democratic challenger Marie Newman was unable to best incumbent Dan Lipinski, even though Newman showed strong fundraising throughout the campaign. The two raised $73 and $68 per vote respectively.
*** UPDATE *** Ouch…
.@DanProft and @ILOpportunity spent $1,330,132 on Mickey Staub - who only garnered 2,499 votes in his blowout loss to Jim Durkin. That's $532.27 per vote. #twill pic.twitter.com/UfhuPsbyDv

— Radical Candor (@RadicalCandorIL) March 21, 2018
- Posted by Rich Miller 7 Comments


* Press release from Democratic congressional nominee Sean Casten, who won a narrow victory last night against six opponents…
From the day I first entered this race, I have been constantly inspired by the many Democrats who are committing their time and their talents to returning this congressional seat to the people of the 6th district. Today, I am deeply honored that the voters have chosen me to serve as their nominee to challenge Peter Roskam. Together, we can help to bring a Democratic majority back to the U.S. House of Representatives and halt Donald Trump's assault on our democracy.

This has been a challenging and well-fought race. I want to thank all of my friends and supporters who have worked so hard on our campaign, every step of the way. I especially want to express my gratitude and my love to my family: My wife, Kara, and our daughters, along with my parents and my sister and brother. This victory would not have been possible without their unfailing support and encouragement.

Primary races are never easy. This race drew an exceptionally strong field of candidates, and I know this may be a tough morning for some of their supporters. But our shared goal remains unchanged: We need to work together tirelessly to reach every voter in the 6th district and let them know that Peter Roskam is a right-wing extremist whose voting record shows that he has turned his back on his constituents and our communities.

We have a long road ahead of us. But together, I know we can defeat Peter Roskam. I look forward to serving the people of the 6th district as your elected member of Congress, and I promise to stand up to the Trump administration and bring fact-based public policy back to Washington.
* NRCC…
"Sean Casten has a nearly impossible battle ahead of him – not only does he need to overcome Peter Roskam's incredible cash advantage, he also needs to explain to voters why he wants to both repeal their tax cuts and also put the government in control of their health care – making Illinoisans foot the bill. We look forward to watching Peter Roskam soundly defeat him in November." – NRCC Spokeswoman Maddie Anderson
…Adding… Press release…
Representative Peter Roskam (IL-06) released the following statement calling on Democrat opponent, Sean Casten, to debate him on the issues that matter to the residents of the Sixth District:

"I am calling on Sean Casten to join me in a series of debates.

"Our country faces great challenges, and I look forward to the opportunity to discuss the issues and offer solutions to solve those challenges.

"I believe it is of the utmost importance that these debates should be broadcast far and wide to ensure every voter in the 6th can analyze the candidates and make an informed decision about who is best prepared to represent them in Congress. I look forward to sharing my views on how to address these challenges, as well as discussing my accomplishments in Congress."

Roskam has agreed to participate in a televised debate hosted by WTTW public television, an editorial board debate with the Chicago Tribune and the Daily Herald, and a debate with WGN AM radio. These forums provide the broadest access for voters to hear about the issues that matter most to the Sixth District.
- Posted by Rich Miller 23 Comments


* That didn't take long…
In Their Own Words: Rauner Campaign Releases New Ad of Kennedy and Biss Criticizing Pritzker

With the general election officially beginning, the Rauner campaign has released a new ad that makes it clear JB Pritzker is a self-dealing insider who will do the bidding of Mike Madigan — according to leading Illinois Democrats. The ad uses direct quotes from Chris Kennedy and Daniel Biss calling out JB Pritzker as an insider who is part of the corrupt system in this state.

Direct quotes featured in the ad:

Democrat Daniel Biss: JB Pritzker is Mike Madigan's candidate. Everyone knows it. It's clear. And if the Democratic Party wants to nominate Mike Madigan's candidate, they should nominate JB Pritzker.

Democrat Chris Kennedy: I think JB Pritzker's emerged as the posterchild for pay-to-play politics in this state.

Democrat Daniel Biss: It took JB Pritzker a week to get permission from Mike Madigan to even name him in talking about the sexual harassment coverup.

Democrat Chris Kennedy: Pritzker's really there to protect the status quo.

Democrat Daniel Biss: JB Pritzker is Mike Madigan's candidate.
* Watch it…
I've asked if this is on TV or if it's online only. I'll let you know what they say.
*** UPDATE *** The Rauner campaign says this online only, but may go on TV in the days ahead.
- Posted by Rich Miller 36 Comments


* From Doug House, President of the Illinois Democratic County Chairs' Association…
"I'm excited to know that Kwame Raoul will be the Democratic Party's candidate for Attorney General. Together with Jesse White, Mike Frerichs and Susana Mendoza, Illinois Democrats have a slate that reflects the incredible diversity of our state.

Now is the time for Illinois Democrats to roll up our shirtsleeves and defeat the divisive Trump-Rauner agenda.

Unlike Bruce Rauner, our agenda seeks to bring neighbors together. Our work is just beginning and we're ready to take our diverse team to meet and motivate working and middle-class families in every corner of Illinois."
* SEIU Healthcare Illinois…
Raoul will fight the good fight for Illinois citizens

CHICAGO–The following statement was released by SEIU Healthcare Illinois President Gregory Kelley regarding the Primary Election Night victory of State Senator Kwame Raoul to represent the Democratic Party in the November race for Illinois Attorney General:

"We are pleased that the Illinois electorate agrees with us, that Sen. Kwame Raoul is the best candidate to represent the Democratic Party in the November election for State's Attorney General.

"We endorsed Sen. Raoul because we know he will fight for us and our core values of economic, racial and immigrant justice for all, not just the powerful few. In this era of Donald Trump, a right-leaning U.S. Supreme Court and Republican control of Congress, Illinois needs a candidate who will stand as a last line of defense for working families and the most vulnerable in our society who are easy targets of the regressive Trump agenda.

"We believe Sen. Raoul will be an attorney general who will fight to protect the rights of women and be their champion in combatting sexual harassment and assault that has been taking place across the workplace and even in Springfield.

"Lastly, Raoul's experiences have shaped his philosophy on life, making him a leading progressive voice in Illinois politics and a leader on healthcare issues. Whether it's fighting wage theft by unscrupulous employers, protecting consumers from fraud or protecting access to affordable healthcare, we know that Sen. Raoul, a cancer survivor, will represent the law that is of, for and by the people to protect the people."
Sen. Raoul's victory speech is here.
* From RAGA…
The Republican Attorneys General Association (RAGA) is thrilled to congratulate Erika Harold on winning the Republican nomination for attorney general of Illinois. RAGA Chairman and Arkansas Attorney General Leslie Rutledge released the following statement in support of Republican nominee, Erika Harold:

"Illinois deserves a champion who will shake things up in Springfield; a leader who will take on the political class, end corruption and stand up for the vulnerable. Erika Harold will be that champion. A Harvard educated lawyer, Erika will take on the big fights – stand up to the Madigan political machine – and finally put the people of Illinois first.

"The corrupt Madigan political machine has made Illinois a punching bag for the rest of the country. No longer does it have to be that way; Erika Harold will fight for every single Illinoisan and be their voice, their champion, in Springfield. I look forward to all the good an Attorney General Erika Harold can do for Illinois."
* Erika Harold fundraising appeal…
Thanks to your continued support, Team Harold brought home a victory tonight! I am so excited to share with you all that our team won the Republican nomination for Illinois' next Attorney General.

Now - the real work begins.

This year is not going to be easy. Entrenched political interests, supported by Mike Madigan and his Machine, will do everything in their power to slow us down.

They know that Team Harold poses an enormous threat to their strength.

Our newest challenge starts right now.

Our team has set up a Victory Fund to start accumulating the resources needed to take on the Madigan Machine through November. Will you chip in tonight to show them that we're ready for whatever they throw our way?

I'll be in touch soon with other ways that you can make a difference through the General Election, but for now - let's send the strongest message we can.

Thank you for your unfailing support. I am so proud to share this victory with you tonight.

Talk soon,

Erika
- Posted by Rich Miller 19 Comments


* RGA…
The Republican Governors Association released the following statement regarding Illinois Democrats selecting Mike Madigan ally J.B. Pritzker as the Democrat nominee for governor:

"From FBI wiretaps with Rod Blagojevich to backroom deals with Mike Madigan, J.B. Pritzker has revealed himself to be yet another self-serving Illinois political insider," said RGA Communications Director Jon Thompson. "Illinoisans know that J.B. Pritzker will never stand up to Mike Madigan, and with Mike Madigan's handpicked candidate for governor on the ballot, this race will be a referendum on the tax-hiking, corrupt political machine that has bankrupted Illinois.
* Rauner campaign…
Governor Rauner released the following statement tonight after winning the Republican nomination to take on JB Pritzker in the general election:

"This primary election was hard fought. I am honored and humbled by this victory because you have given me the chance to win the battle against the corruption that plagues Illinois. I want to congratulate my opponent Jeanne Ives on her campaign. The election in November will be a choice between someone who will stand up to the machine and someone who has long been a part of it. Between someone who will fight for hardworking families and someone who will protect the political insiders. Illinois is home. And home is worth fighting for. No one can do this alone. Let's focus on the issues we agree on – reducing taxes, growing jobs, and ending corruption through term limits. We have to come together, we have to unite, we have to work as a team to get this done."
The governor's victory speech is here.
- Posted by Rich Miller 45 Comments


* From the DGA…
Introduction

In December of 2017, Bruce Rauner brushed off a primary challenge from state Representative Jeanne Ives as a "process" – "You get some fringe elements or whatever coming in." In March of 2018, Rauner beat Ives by a meager 4% margin. A candidate who was once dismissed as "fringe" nearly knocked off a sitting governor. Rauner's near-loss signals serious trouble for November.

Rauner's nail-bitter victory underscores how dramatically he underperformed expectations, just as he has as governor. Greg Hinz of Crain's Chicago wrote that anything less than a 10-point victory would be an "embarrassment for an incumbent governor and raise questions about his ability to unite the party in November." Chris Kaergard of the Peoria Journal Star said that Ives clearing 30% "could mean lights out for Rauner in the fall."

These primary results show that it's not just Democrats and Independents who think Bruce Rauner is a lousy governor - Republicans do too. That will force him to perform a difficult high-wire act of catering to the GOP base, while trying to win over Independents and Democrats who despise him. Ask Ed Gillespie how that high-wire act worked in the Trump era.

Tonight's results make 3 things clear:

* Bruce Rauner is extremely unpopular with Democrats, Independents and even Republicans;
* Democrats are enthusiastic to vote – in both the primary and November
* Rauner's biggest problem is the man in the mirror: He still has no answers for his failed record of making Illinois worse

The Ives revolt laid bare just how vulnerable an incumbent Bruce Rauner really is. And it's only going to get worse for him as he goes up against a strong Democratic candidate in a Democratic-leaning state.

1. Rauner Downer: Rauner's Unpopularity Stretches Across Party Lines

Governor Bruce Rauner managed to bring all Illinoisans together – in disliking Bruce Rauner. Rauner is one of the most unpopular politicians in the nation, and as tonight showed, his unpopularity is spread across all party lines. For the better part a year, Rauner's job approval rating has been stuck in the 30's, and his disapproval ratings are in the 60's with all voters.

Tonight, hundreds of thousands of hardcore Republicans joined the ranks of those who believe Rauner's failed as a leader. And those Republicans may not come home – the Republican primary devolved into a bitter, scorched earth fight. Ives called Rauner a "pathological liar" on the final day of the primary, and conservative commentators have denounced Rauner's untruthful portrayals of Ives.

Rauner professes that only he can defeat Democrats in the fall. But by "meddling" in the Democratic primary, Rauner proved the opposite. He unleashed a constant barrage of attacks against JB Pritzker, but still trails Pritzker by similar, or worse, margins than where he stood against a generic Democrat in 2017.

Voters have simply made up their mind about Rauner – they don't like him. And all Rauner has proven he can do is make their antagonism towards him worse.

2. A Democratic Surge: Democrats Are Motivated To Vote in Illinois

Democrats are motivated to vote. Period.

Already well over 1 million Democrats have voted and estimates put tonight's Democratic turnout at triple the amount of 2014. In fact, tonight's turnout is expected to rival the recent vote record of 2002. In what has to be a worrying sign for Rauner, approximately double the amount of Democrats have voted compared to Republicans, who are estimated to have deflated totals from 2014 despite what turned out to be an extremely competitive primary election.

High Democratic primary turnout already led to electoral success this cycle in New Jersey and Virginia. Democratic primary voters turned out in record numbers, outpacing their Republican counterparts. In Virginia's open primary, more than 542,000 Democrats turned out to vote, compared to just 366,000 Republicans. Meanwhile, in New Jersey, 498,000 Dems voted – more than double the 240,000 Republicans who turned out. Democrats would win both governorships by impressive margins and record turnout.

The momentum continues – Democrat Connor Lamb recently won a congressional seat that went Trump by nearly 20 points. As Rauner put it a few weeks it, Trump "unfortunately" lost Illinois by 17%.

Illinois Democrats are motivated to vote to send a clear message to Bruce Rauner and Donald Trump. That showed up today and will again in November.

3. The Central Problem Hasn't Changed – Rauner's Still (Not) In Charge

The fundamental problem with any Bruce Rauner campaign is that it will always be hampered by Bruce Rauner's failed governance. Incumbents have to run on their records, whether by choice or by force. A two-year budget crisis devastated the state's economy and social service net – state debt soared, the credit rating dropped, and jobs and people are still leaving the state. Rauner refuses to hold himself accountable for the state's condition, like claiming "I'm not in charge" or giving himself an "A" grade "on things that we can control." Bruce Rauner has failed to turn the state around, and Illinois voters have clearly soured on his constant dodging of responsibility for his failures.

Rauner's reluctance to engage President Trump will be just as big of a problem with Democrats as it has been with Ives supporters. Time and again, Rauner refused to protect Illinois families from Trump's policy agenda. While other Republican governors like John Kasich were leading, Rauner sat quietly and enabled Trump to dismantle the Affordable Care Act, strip immigrants of their protections, and roll back environmental protections.

Conclusion

Governor Bruce Rauner's desperate attempt to hold onto the Republican nomination shows just how feeble his failing re-election is. His approval ratings are stuck in the mud. He's fought a draining, months-long battle with his own party that only leaves him weaker than how he started. And he still has to figure out how to run on his record of failed leadership. Rauner pyrrhic victory tonight should be viewed as an embarrassment for an incumbent governor, and a warning sign for the future.

Bruce Rauner started the day as the nation's most vulnerable incumbent, and somehow, he ended it in even worse shape.
* From the Pritzker campaign…
REP

- Republican turnout is 70% of the competitive Republican primary in 2014 — while Democrats had 200% increase over 2014 turnout, Republicans had 30% decrease

DEM

- Record democratic turnout is over 200% higher than it was in 2014 and 30% higher than the last conpetive race in 2010

- Turnout will exceed 1.2 million voters, we're seeing strong enthusiasm amongst the Democratic base particularly with African American voters, downstate Democrats, and women. Bottom line: the Democratic base came out
* More Pritzker campaign…
Following their victory in the Illinois Democratic Primary elections, JB Pritzker and State Representative Juliana Stratton released the following statements:

"Tonight, we've taken the next step of beating Bruce Rauner and putting Illinois back on the side of working families," said JB Pritzker. "When I announced this campaign, I chose to stand with Illinoisans across this state and I chose to fight. We are fighting for unions and the families they have so tirelessly defended for so long, Dreamers and immigrants of all kinds seeking a better life, women who deserve their seat at the table and to have their voices heard, and black and brown communities who deserve fairness in enjoying the wealth this great nation denied them for so long. I will fight today, and tomorrow, and every day of this election and every day after to get our state back on track. I will never forget that you elected me to fight. Together, we have built a campaign in all 102 counties and we are ready to unite this state to defeat Bruce Rauner and move Illinois forward."

"To the thousands and thousands of people across this state who knocked on doors and made phone calls, who shared ideas and shaped our policies, who gave their time, their energy, and their passion to this campaign, from the bottom of my heart, thank you," said State Representative Juliana Stratton. "You've demonstrated something that I've seen proven true over and over again. Here in Illinois and in communities all across this great state, the wisdom is in the room. We have the wisdom. We have the passion. We have the power. We are building a campaign that is bigger and better and more inclusive than anything this state has ever seen. This is a movement that is going to take down Bruce Rauner and get Illinois back on track."
Pritzker's election night speech is here.
- Posted by Rich Miller 18 Comments