[The following is a paid advertisement.]
Gov. J.B. Pritzker's "fair tax" plan hinges on a promise to raise $3.4 billion in new revenue. But a simple, static revenue estimate shows the governor's proposed rate structure falls nearly $1 billion short of that number – even without taking into account the economic effects of a tax hike. And the governor is refusing to show his math.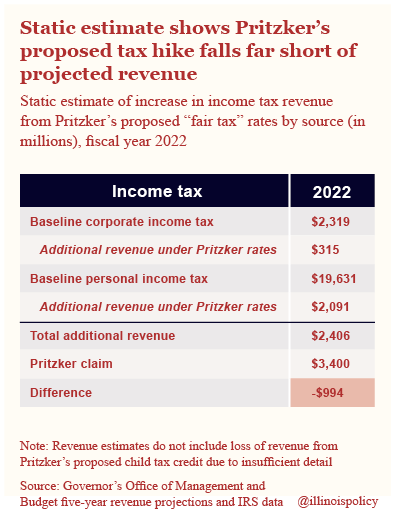 Pritzker's questionable revenue estimate raises a point echoed by Center for Tax and Budget Accountability Executive Director Ralph Martire in the Chicago Tribune – $3.4 billion isn't enough to fund what Pritzker has proposed in new spending:
"It wouldn't be enough to do all that," said Ralph Martire, executive director of the Center for Tax and Budget Accountability, a union-backed bipartisan research group. Martire said the state needs to look for other sources of new revenue, including a possible extension of its sales tax.
In other words, more tax hikes are just around the corner.
It's important to remember that Illinois policymakers are often motivated to reach certain revenue estimates that support their policy preferences. Pritzker should release the full methodology behind his revenue estimate before asking Illinoisans to trust his numbers on a multibillion-dollar tax hike.
- Posted by Advertising Department


No Comments
Be the first to comment.
Sorry, comments for this post are now closed.