* It now moves to the Senate where it's expected to pass…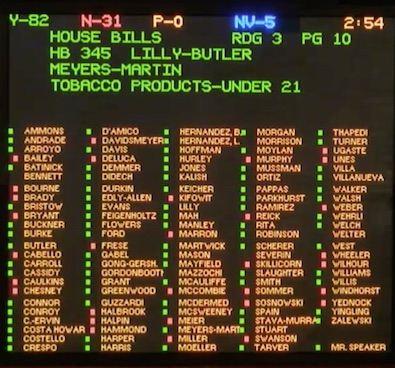 The bill is here…
Raises the age for whom tobacco products, electronic cigarettes, and alternative nicotine products may be sold to and possessed by from at least 18 years of age to at least 21 years of age.
* The legislation received only 61 votes last November…
The failure to override the veto was not unexpected. The bill passed the House in May with only 61 votes, and supporters knew it would be difficult to find an additional 10 votes for an override.

Supporters of the legislation said they will try again next year.

"We are going to come back at this issue until we get it done," said Rep. Camille Lilly, D-Chicago. "We do not, meaning the state of Illinois, think that this is something we should ever stop working towards."
That 2018 roll call is here.
* Obviously, some folks changed their minds, including this prominent Republican…
House Republican Leader Jim Durkin says he's 'changed his mind' and will vote in favor of Tobacco 21. He said he decided to that after doing his own research and hearing from his 17-year-old daughter who told him youth tobacco use is 'out of control'. #twill

— Rachel DrozeTV (@RachelDrozeTV) March 12, 2019
* Context…
Currently, seven states and more than 34 municipalities in Illinois have already passed Tobacco 21 laws, according to the American Lung Association.
53 Comments »






























































































































































Post your comment... And please take a half second to come up with a nickname. It makes following the posts easier for everyone... Thanks