* Effingham County is at it again…
The Effingham County Board Monday voted to pursue a referendum to separate the rest of Illinois from Cook County.

The draft resolution has been modified from the measure approved out of committee earlier this month. This is the wording of what was approved by the Board on Monday: "Shall Effingham County collaborate in discussions with the remaining 101 counties of the State of Illinois, with the exception of Cook County, the possibility of forming a new state and ultimately seeking admission to the Federal Union as the 51st state, pursuant to the provisions of the United States Constitution?"
* From the local paper…
The separation referendum was brought to the table by board member Heather Mumma. Mumma said that the referendum moved to the full board with an addition stating the board will collaborate through discussions about just the possibility of separating from Chicago.

"I'm hearing from my constituents every day through many varieties of communication that this is one thing they'd like to see on the ballot as a referendum. They all seem to have a different reasoning. The main thing I am hearing is we have spoken to Springfield through the Second Amendment resolution and also the resolution for the unborn, and they just don't seem to be listening," Mumma said.
"They just don't seem to be listening"…
Effingham County population: 34,242

Illinois population: 12,734,617
Counties don't vote.
* More…
Matt Pals attended the meeting in support of the referendum and the board's decision to discuss separation with Chicago.

"I think it has to start somewhere," Pals said of the proposed separation. "I think once you get two more counties, four more counties, 10 more counties, then they'll have to listen because right now…it's not always about taxes and having some extra money. It is something about morals and raising your communities so people stay here." […]

Menard County resident and separation movement leader Collin Cliburn was also in support of the county's role in the separation, saying if the state was separated, the downstate portion would have a fair shake at voting in who it wanted and passing bills that would aid it.
* Mr. Cliburn's attire at the meeting says it all about these folks…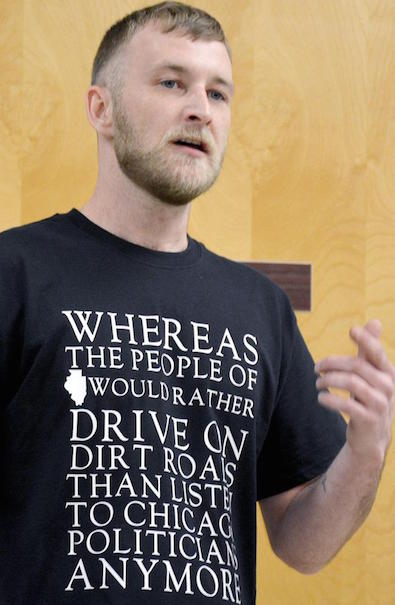 The money argument doesn't work with them.
* Meanwhile…
The Board also voted to approve a resolution declaring the state's Firearms Owner Identification Card unconstitutional.
* Related…
* Sales tax for schools rejected in Effingham County: A 2014 study on the 1 percent sales tax found that, in Effingham County, 54 percent of of the sales tax would be paid for by non-residents passing through, visiting and shopping in the county.

* Effingham County Board resolves to oppose reproductive bill: There is currently no site in Effingham County that performs abortions.
128 Comments































































































































































































































































































































































































Sorry, comments for this post are now closed.