* A member of the Eastern Bloc…
Even the people living there don't like the results of Chicago politics.

— Dan Caulkins (@dan_caulkins) April 17, 2019
The link is to an Illinois News Network article about an AARP poll taken months ago about seniors who want to move out of Chicago.
The freshman GOP Rep. Caulkins lives in Decatur, which lost the Archer Daniels Midland world headquarters to Chicago. The top execs just didn't want to live in Decatur any more. They preferred to live and work in the big city.
* And those execs aren't the only ones leaving town…
Numbers from the U.S. Census Bureau show Decatur's population declined by 3,400 residents from 2010 to 2016, or 4.5 percent. Among Illinois cities with populations over 50,000, Decatur's losses were the worst in the state on a percentage basis.
* Decatur has had this problem for a long time…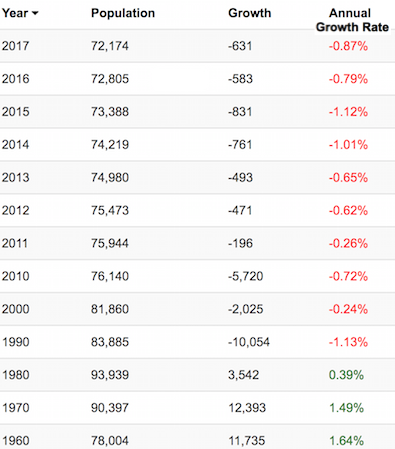 Legislators in this state should be working together to solve a problem that is hurting everyone rather than constantly trying to score cheap political points against other regions.
Putting down Chicago won't help Decatur one bit, Representative. And it might actually make your own town's problems worse.
66 Comments





































































































































































































Sorry, comments for this post are now closed.