* On June 2nd, Sen. Jim Oberweis (R-Sugar Grove) rose to speak on Sen. Martin Sandoval's SB1939, the bill which raised several taxes and fees to fund the horizontal infrastructure bill…
First of all, I would like to thank my good friend Sen. Sandoval. The guy put in incredible amounts of time. I assume that most of you know that. Traveling all over the state to meet with people to discuss needs and lining up support for this, as did our Sen. DeWitte on this side of the aisle.

Having said that, I'm in a position where I believe I need to vote 'Present' because of a potential conflict. But, again, thank you to the two of you, especially Sen. Sandoval, for putting in the time and making that happen. Thanks.
* From Oberweis' congressional campaign Facebook page…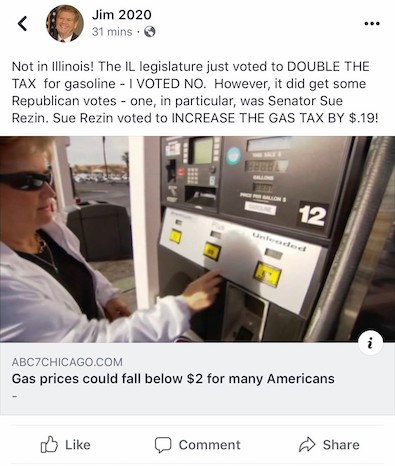 He deleted that post because he voted "Present." Oops.
* Oberweis then posted this…
Not in Illinois! The IL legislature just voted to DOUBLE THE TAX for gasoline which I did not vote for! However, it…

Posted by Jim 2020 on Thursday, June 13, 2019
Sen. Rezin did vote for the bill, as did most of Oberweis' GOP colleagues. And I dunno about you, but it sure sounded to me that night that he would've voted for it, too, had it not been for his unexplained conflict of interest.
Such is life on the campaign trail I guess.
12 Comments



































Sorry, comments for this post are now closed.