* That "boycott" really worked well, didn't it?…
The Du Quoin State Fair may have just ended, but it's clear that the 2019 event was a major success. The 2019 Grandstand sold nearly 15,800 tickets this year, 26% higher than last year's total of just over 12,500. Revenue from the grandstand entertainment also increased over 2018. Between the musical acts, racing and monster trucks $356,795 was generated, generating $97,000 more than last year, a 37% increase.

"The Du Quoin State Fair is an economic engine for Southern Illinois, and I'm happy to see that the fair grew dramatically compared to last year," said Governor JB Pritzker. "MK and I enjoyed spending time at the fairgrounds, and it's wonderful that so many people came to enjoy the vendors and performers, as well as support a time-honored tradition that uplifts the entire region."

"These early numbers show not only the success we had this year, but our potential to grow in the future," said Josh Gross, Du Quoin State Fair Manager. "We've already started working on 2019's lineup and have no doubt it will be bigger and better."

An official wrap-up of the 2019 Du Quoin State Fair is underway. Attendance numbers for this year's Du Quoin State Fair are still being calculated and are expected to be released shortly.
I guess that old adage about all publicity being good publicity worked this time.
…Adding… But of course they don't believe it. From the boycott page which has since been rebranded…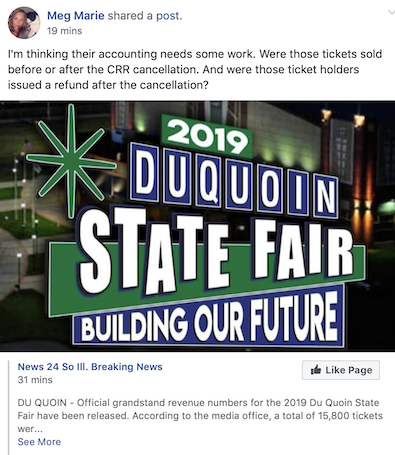 31 Comments »




























































































This is not Facebook, so uncivil comments, profanity of any kind, rumors and anonymous commenters will not be tolerated and will likely result in banishment.