* Good news and mediocre news in Site Selection Magazine's latest rankings…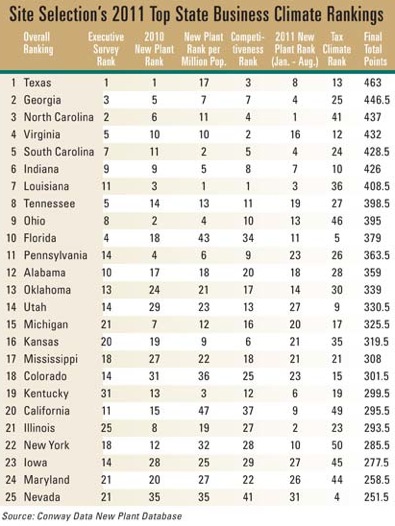 * Look, 21st overall ain't great, but it gives the lie to the "We're all gonna die!" rhetoric from those who claim Illinois is the worst state ever. And 2nd in new plant openings is a plus, even though our high population means our per million rate is also around the middle of the pack. Tax competitiveness is still not horrible, even after the January tax hike.
* And we'll never be able to compete with states like Texas because, for the most part, as survey responses clearly show, Illinois doesn't roll this way…
* "a pro-business, entrepreneurial, right-to-work state"
* "no state income tax, ease of pulling permits, available work force"
* "the government makes it easy to do business"
* "Texas is progressive, fewer regulations"
* "willingness to work with business"
* "the tax climate, regulatory environment, incentive programs and work-force development efforts"
* "the state fights OSHA, EPA and other negative, useless regulations; no state income tax"
* "work-force availability, existing facilities and good economics for labor and facilities"
* "cooperation and flexibility of state and local officials; proactive in growing the economy."
We can make it much eaiser to do business here, no question. But busting unions, killing off the income tax and fighting OSHA and EPA ain't gonna happen. If that's the climate you really want, then China or Mexico would probably be your best bets anyway.

…Adding… Via a commenter, note that 11 of the 20 states that are ahead of us in overall points have worse tax climate rankings.
…Adding More… The Tribune editorial board, which is so sure of itself on so many other issues, goes all wobbly and equivocates on meeting CME Group's demands…
We honor CME's long history in Chicago, where it pioneered the financial futures that became its mainstay, and created the stock-options industry led by CBOE Holdings. We honor Sears, which also has deep ties to this region. We appreciate all our headquarters companies, and we hope they realize their prospects are good in Illinois, despite the frustrating political dysfunction all around them. Their petitions for economic development incentives should be evaluated individually. The state needs to drive a hard bargain on behalf of taxpayers.

But let's face it: Illinois is in trouble. Unemployment is at 10 percent, significantly higher than the state's neighbors. It needs to entice and to retain employers in order to grow its tax base and put its citizens to work. For lack of more taxpayers, the state isn't paying its bills. It isn't addressing its spiraling pension costs. But it creates a fundamental sense of unfairness if it tries to bankroll incentive packages for every employer who whispers about moving. Trying to satisfy Duffy and his peers and avoid that sense of unfairness, the General Assembly proposed a grab-bag of special deals, tax cuts and revenue enhancers.

Incentive packages for individual companies have to rise and fall based on their benefit to the state, and they shouldn't be shoveled through as part of some tax-cut Christmas tree that winds up costing the state hundreds of millions of dollars.

Nobody says being broke is easy. Illinois is finding out just how hard it is.
It's weird that they can't just come out and say what they mean.
* Other stuff…
* Chicago Latinos pay more in taxes than they get from government, study finds: Chicago-area Latinos pay substantially more in local taxes than they collect in education and other government services, according to a study being released on Wednesday by the University of Notre Dame. The report by the university's Institute for Latino Studies says Hispanics pay $4.3 billion in direct sales, property and other taxes, and contribute another $724 million to stores and other businesses they patronize.

* New study shows local Latinos provide vital boost to the economy

* FutureGen-Ameren relationship could be resolved soon
24 Comments







































































Sorry, comments for this post are now closed.