* Greg Hinz has a story which shows some dots that may connect potential Republican gubernatorial candidate Bruce Rauner to admitted felon Stu Levine, who helped bring down Bill Cellini, Ed Vrdolyak and Tony Rezko…
In testimony during the 2008 trial of Blagojevich pal Tony Rezko, Mr. Levine and others said Mr. Levine had had a $25,000-a-month contract "consulting" for CompBenefits Corp., an Atlanta-based dental and vision benefits company once known as CompDent. According to its website, CompBenefits at the time of Mr. Levine's contract principally was owned by four private-equity firms, including GTCR LLC. Mr. Rauner, a founder of GTCR, is the "R" in the acronym.

Mr. Levine said his job was to get work for CompBenefits through whatever means were needed, including payoffs. A 2005 Sun-Times article says the firm then held contracts covering tens of thousands of workers at Chicago Public Schools and with the state.

Mr. Levine testified that he'd paid a bribe to obtain the CPS work, worked with insiders Bill Cellini and Ed Vrdolyak on other deals (both men later were convicted in unrelated federal cases) and plotted with Mr. Rezko to get work with Cook County via Orlando Jones, a key insider who later committed suicide.

Messrs. Levine and Rezko eventually went to prison on other matters, and prosecutors never took any action on CompBenefits. Perhaps that's because they could not corroborate Mr. Levine's testimony, or perhaps it's because some major figures were going to prison anyway. I don't know. Neither do I know whether Mr. Rauner or GTCR knew the details of what the firm was up to prior to the federal probe.

But I do know that Mr. Rauner, GTCR and Stu Levine had another interaction. That came in 2003, when the board of the Illinois Teachers' Retirement System—on which Mr. Levine served—first tabled and then approved GTCR's bid to get a $50 million investment from the giant pension fund.

According to a Sun-Times account, the bid stalled at the board's February 2003 meeting after Mr. Levine objected but then was zipped through in May, when Mr. Rauner attended the board session. Now-retired TRS Executive Director Jon Bauman corroborates the gist of the newspaper report. He adds that he believes the February flop mostly was because of a bad presentation by GTCR but also says he does not know the particulars of Mr. Levine's motives.
* From that 2005 Sun-Times story about the federal subpoenas of CompBenefits-related records…
TRS had already given GTCR at least $70 million to invest when GTCR made a new $50 million pitch in February 2003, said TRS executive director Jon Bauman.

GTCR sent only one representative, "which is usually not a good idea [because] you don't have somebody to help you out if you get in trouble. He got in trouble," Bauman said.

Levine questioned the representative so aggressively that, rather than approving the deal, the board of trustees decided to table it, Bauman said.

Three months later, in May 2003, three GTCR representatives showed up, including partner Bruce Rauner. This time around, Levine was much more low-key. In fact, Bauman said, he couldn't recall Levine asking any questions, and Levine and other board members approved the $50 million deal with GTCR.

Herron wouldn't disclose the timing of Levine's work for CompBenefits, but Bauman said if that work overlapped with Levine's TRS service, TRS board members would have wanted to know about it at the time of Levine's GTCR vote.
The timing is an issue here. If Levine got that CompBenefits gig after the first unsuccessful TRS vote and before the second vote, then there's a very serious problem. If not, then it's not as bad. Neither article has that info, and I wasn't able to find it online.
But stay tuned. There's more oppo coming.
* Illinois Review took a look at Rauner's 2002 campaign contributions…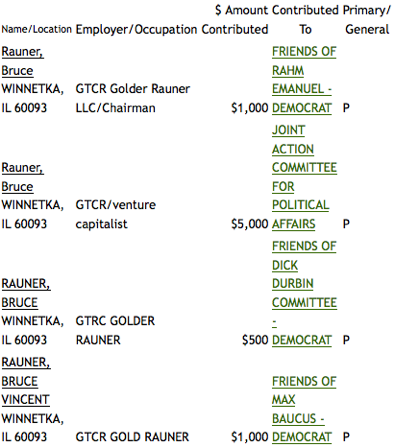 Rauner's state contributions are here.
32 Comments































































































Sorry, comments for this post are now closed.