* Greg Hinz wrote this before the Senate voted on the city's pension reform bill. Only one Senate Republican voted for the measure…
Why are the Senate Rs balking when half of the House Rs voted yes? As answered by Sen. Matt Murphy, who usually speaks for Senate Rs on budget and financial matters, they want to see what else Mr. Emanuel will be asking for when he comes back with deals covering police, firefighters and city teachers. And they want to know if the state will have to pony up then.

"If we're going to be partners in the process, If would make some sense to cut us in on the whole," Mr. Murphy said.

Particularly sticking in the Senate R's craw is Mr. Quinn's budget proposal to send every home owner a $500 property-tax refund. That would help city taxpayers more than suburban ones, Mr. Murphy said, since suburban home values are higher. "So it looks like we're pouring money into Chicago just at the time when Chicago's talking about raising property taxes."
* Murphy does have a point. This graphic produced by the Sun-Times compares city property taxes to some Cook County suburban taxes…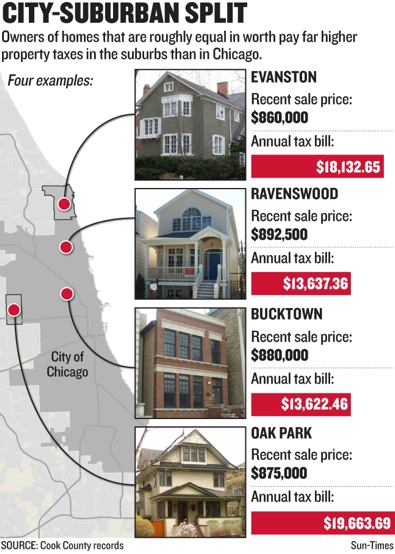 They could've looked at the south suburbs and seen even more of a discrepancy, or even Downstate, where property taxes are almost twice as high.
* To the article…
Emanuel aides say the plan would cost the owner of a $250,000 home an additional $58 a year on top of a $4,000 property tax bill for each of the next five years. That works out to $290 per homeowner, to raise a total of $250 million.

Those numbers may prove dramatically low, as some suggest. But Ameya Pawar, the first-term alderman who represents Emanuel's home 47th Ward, says he's ready to support a tax increase.

"I will take the tough vote," he said Tuesday. "I understood when I ran that this term was going to be about pensions. But at some point Chicago has to think about K-12 education."

Pawar said many homeowners move from his ward to the suburbs when their children are on the cusp of going to high school, unless the kids test into the best public high schools. He says they often tell him, "I'm willing to pay more taxes if you're willing to give us some stability and equity" in the Chicago Public Schools system.

"The taxes where they move to are higher, but let's not forget what they get in the suburbs — a complete K-12 system," Pawar says.
36 Comments











































































































Sorry, comments for this post are now closed.