* Paul Merrion asks, "Why is Illinois unemployment so high?"…
Illinois always has been one of the last states to suffer from a recession and one of the last states to recover, but this is getting ridiculous.

Nearly five years after the recession ended nationwide, the Illinois unemployment rate is 8.4 percent, third worst in the nation… The rate is now almost 2 percentage points above the national average… Since November 2010, when the Illinois unemployment rate was 9.6 percent—just two-tenths of a point above Indiana and the national average—only New Mexico has seen a smaller decline in its unemployment rate, compared with where it was. Indiana's rate is down 3.5 percentage points since then, while Michigan, which started higher, is down 4.1 percentage points. […]

Income taxes went up in January 2011, precisely when Illinois started to diverge from most other states that saw steady improvement in their unemployment rates.
* As Merrion points out, quite a few people believe that the 2011 income tax hike is the main culprit. We've all seen charts like this before…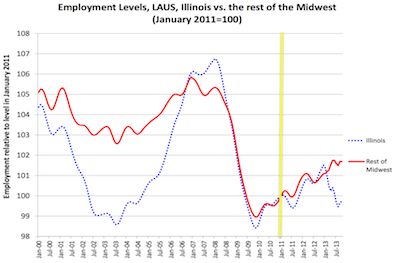 * But there's also this chart which tracks employment levels…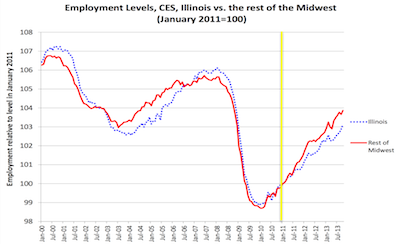 However, as Andrew Crosby and David Merriman of the U of I's Institute of Government and Public Affairs note…
Illinois still tracks below ROM after January 2011; however, this difference is no longer statistically significant. One of several possible explanations for the diverging trends in employment is noted by Illinois' Commission on Government Forecasting and Accountability (COGFA). COGFA notes Illinois has a "growing number of part - time workers that now has reached a record high." If these part - time workers get a second part - time job, they could be double - counted by CES.
Correct. That probably isn't a reliable chart.
* Bill Testa at the Federal Reserve Bank of Chicago read that U of I report and then tested some theories…
Illinois's slow recovery may have more to do with its industrial structure. […]

Illinois's mix of industries, while similar in some respects to those of other Great Lakes states, differs as well. It is possible that the small differences in job growth between Illinois and its neighbors are due to its somewhat different industry mix rather from disinvestment and a reluctance to hire in the state. […]

As an analytic exercise, I further ask how the Illinois economy would have fared 1) if it had the same industry composition as the four other Great Lakes states combined and 2) if its industries had the same job growth rates as those in the other states.
The chart…

* So, we'd have been much better overall with that hypothetical. The big difference between Illinois and the rest of the Great Lakes is the prominence of manufacturing and the type of manufacturing…
What are some of the industry mix differences that are notable between Illinois and other Great Lakes states? The large professional and financial services employment base in the Chicago area has already been noted. Further, in relation to other states, Illinois is now much more services oriented overall rather than goods producing. Manufacturing's share of employment for 2013 clocks in at 11.4 percent of private sector payroll jobs in Illinois, versus 16.4 percent for the other four states. […]

And within manufacturing, Illinois tends to lean more toward food processing and farm, construction, mining machinery relative to the other Great Lakes states. In contrast, while there are important auto assembly operations in the Bloomington–Normal and Rockford areas of Illinois, as well as important links to the automotive supply chain throughout the state, Illinois's ties to the automotive industry are much less prominent than those of Michigan, Indiana, and Ohio.
We simply need to do better.
* But after all that, Testa buries this extremely important fact…
Nonetheless, even payroll employment trends suggest that Illinois is underperforming when examined on an industry-by-industry basis. Accordingly, recent changes in public policies that influence the investment climate, such as tax rate hikes, cannot be ruled out entirely, though such policy effects are unlikely to be exerting such a large and immediate effect. [Emphasis added.]
Economists are loathe to point to local taxes as being to blame for business decisions. But Illinois' tax and budget crises are almost universally known and derided here, particularly among the corporate types (hence Rauner). There are other factors as well, including our notoriously high workers' comp costs.
The underperformance in growth on an industry-by-industry basis is striking. Even if we had the same employment mix here, we'd still be behind.
* Then again, let's go back to Merrion for two other important points to keep in mind…
"In fact, one could argue that the economy would be in worse shape had the tax hike not occurred, since the reduction in public-sector jobs and subsequent ripple effect would have been much larger," says Aaron Smith, a regional economist at Moody's Analytics Inc., an economics consulting firm in West Chester, Pennsylvania. "Of course, consumer spending would also have been stronger due to more discretionary income, but I don't think the tax hike is a valid cause of the hiring slowdown in other industries." […]

Despite claims that Illinois employers are freaked out by higher taxes, public-sector job losses account for a significant portion of the unemployment rate. Six of the nine occupations in Illinois losing the most jobs in 2011 were teachers and other government workers, according to Economic Modeling Specialists International, a labor market data analysis firm based in Moscow, Idaho.
Discuss.
102 Comments

















































































































































































































































































































Sorry, comments for this post are now closed.