* You've probably heard already that Walgreens has decided not to pursue an inversion strategy to avoid paying US taxes. Crain's looks at why…
First, the U.S. Treasury said it is reviewing administrative actions it can take to limit American companies' ability to engage in so-called tax inversions — corporate shorthand for moving a headquarters overseas to reduce their U.S. tax burden. This development significantly increases the possibility that an inversion could create more trouble than it's worth down the road for tax-sidestepping multinationals.

"If you thought the only way to kill an inversion was for Congress to change the tax code, no one was worried because Congress can't get anything accomplished," said an equity analyst who follows Walgreen but declined to be identified because of company restrictions about speaking to the press. "But if you believe that the Treasury can act without Congress, then you have an issue. Inversions are complicated and require a tremendous amount of work, especially if it might then be completely destroyed by changes in regulation."

The second, larger issue is that Walgreen lost control of the tax-dodge narrative and got hammered by politicians ranging from U.S. Sen. Dick Durbin of Illinois to President Barack Obama himself.

"Walgreen seems to have been completely unprepared for the public reaction to inversion and wound up embroiled in a national debate," says pharmaceutical consultant Adam Fein, president of Pembroke Consulting Inc. in Philadelphia.

Mr. Fein points out that several political points used against Walgreen don't make a lot of sense — but the company has done nothing to publicly refute them.
* More…
"In line with our fiduciary duty to the company and our shareholders, we undertook an extensive and rigorous analysis with a team of leading experts to determine the most optimal — and sustainable — course of action. We took into account all factors, including that we could not arrive at a structure that provided the company and our board with the requisite level of confidence that a transaction of this significance would need to withstand extensive IRS review and scrutiny. As a result the company concluded it was not in the best long-term interest of our shareholders to attempt to redomicile outside the U.S."

The company also said:

"As part of this process, the company considered a wide range of issues, including the potential financial benefits (and their sustainability) and the technical viability of a restructured inversion transaction under current U.S. law. The company also was mindful of the ongoing public reaction to a potential inversion and Walgreen's unique role as an iconic American consumer retail company with a major portion of its revenues derived from government-funded reimbursement programs."

The new holding company is to be named Walgreens Boots Alliance Inc. and is to be based "in the Chicago area," Walgreen said in a statement. Walgreen's operations will remain based in north suburban Deerfield, with Boots operations based in its current location in the U.K., the statement said.
* The company's stock price is taking a severe beating because of this. The five day trend…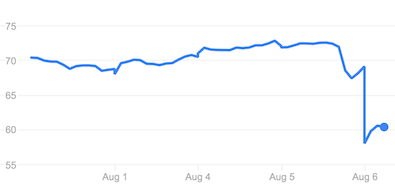 * From Gov. Pat Quinn…
"I commend the Walgreens Corporation for their decision to stay and continue growing in the United States of America, right here in Illinois

"As part of our Illinois family for over a century, Walgreens' decision respects their thousands of workers, managers and customers who also call our state home.

"Walgreens' decision is the right one for the company, our state and our nation."
* From Mayor Rahm Emanuel…
"I applaud and commend Greg Wasson and Walgreens for reaffirming their commitment to the United States, Illinois, and Chicago. Walgreens' presence across Chicago's neighborhoods make them an important member of the Chicagoland family and a critical player in our city's history and our future. Their decision today speaks volumes about their determination to be a strong business, good corporate citizen, and vital community neighbors."
57 Comments










































































































































































Sorry, comments for this post are now closed.