* This flier was posted to union bulletin boards at state offices…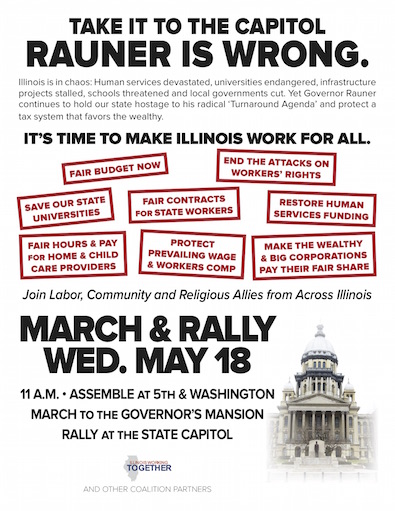 * The fliers were removed, however, after this memo was sent…
To: Agency Ethics Officers
From: Georgia Man, Chief Compliance Officer and Associate General Counsel
Re: Enforcement of State Officials and Employees Ethics Act Political Activity Ban Date: May 6, 2016

The State Officials and Employee Ethics Act (5 ILCS 430) (the "Ethics Act") makes clear that State employees shall not perform prohibited political activity on State time, using State resources, or on State property (5 ILCS 430/5-15). The Ethics Act states that "a person is guilty of a Class A misdemeanor if that person intentionally violates any provision of Section 5-15…." Furthermore, the Ethics Act states that a State employee who intentionally violates Section 5-15 is subject to "discipline or discharge by the appropriate ultimate jurisdictional authority."

Recently, we have received questions and complaints about political flyers and pamphlets being displayed in the workplace. These flyers and pamphlets trigger our obligations under the Ethics Act and Executive Order 2016-04 to promptly notify the Office of the Executive Inspector General (the "OEIG") of alleged misconduct, including potential violations of the Ethics Act's ban on prohibited political activity.

Such behavior is not unexpected as we near the close of the legislative session in an election year. Nevertheless, we must ensure that we continue to comply with the obligations of the Ethics Act, and that public employees continue to channel their enthusiasm for the political process into lawful methods of discourse.

Accordingly, ethics officers must take appropriate steps to ensure that prohibited political activity is not occurring on State-compensated time, using State resources, or on State property. Ethics officers are directed to take the following actions with respect to political flyers and pamphlets in the workplace:

1. Remind employees of their obligations under the Ethics Act with respect to prohibited political activity, and the potential penalties involved for violation of Section 5-15 of the Ethics Act;
2. Promptly report any information concerning potential violations of the Ethics Act to the OEIG; and
3. Remove any flyers or posters that contain political messaging.

If any State employee raises concerns to you about political flyers or pamphlets in the workplace, steps 2 and 3 above should be followed. The State of Illinois does not tolerate retaliation against State employees who raise genuine concerns about unethical, inappropriate, or illegal behavior, including State employees who report unlawful political activity in the workplace to their Ethics Officer and/or the OEIG.

The State appreciates and welcomes the free speech rights of employees and the public. However, the State must ensure that whenever members of the public visit State facilities, there is no appearance of impropriety or partiality on the part of those delivering State services. Moreover, the law permits the State to implement procedures to avoid such appearance.
Um, wow. Seems a bit harsh.
* So, this flier began appearing…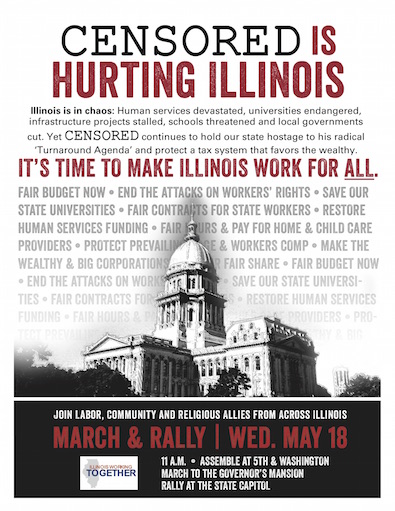 Heh.
* Meanwhile, the Illinois Policy Institute is having its own rally…
Taxpayers have remained silent for far too long.

Join us on May 17 for a Taxpayer Advocacy Day, and make your voice heard in the Statehouse.

DATE AND TIME
Tuesday, May 17
10 a.m. to 2 p.m.

LOCATION
Illinois Statehouse
Howlett Building
501 S. 2nd Street
Springfield, IL 62756

Register online at Eventbrite.

Invite your friends on Facebook.

Our team will provide $40 gift cards to cover travel costs.
$40 gift cards? Interesting. I guess that's easier than arranging bus transportation.
* Related…
* Who's right in Rauner's AFSCME fight? Here's some data to chew on
66 Comments





































































































































































































Sorry, comments for this post are now closed.