* This door-hanger was distributed in the Peoria area over the weekend. Notice anything missing from his priorities? A budget maybe? I mean, it's not like it's mid-June or anything…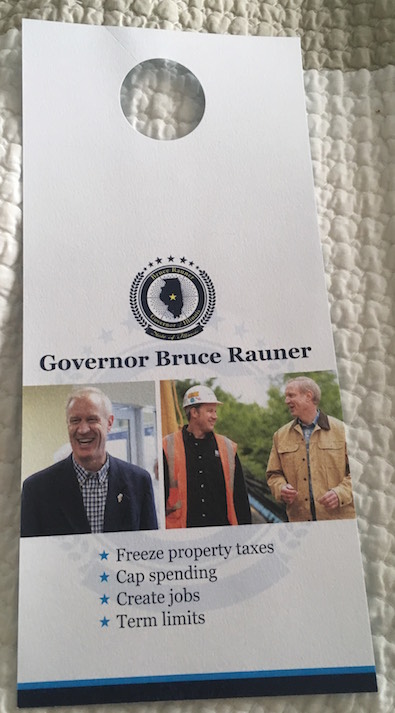 Even so, it is interesting that they have people going door-to-door already - even if it is just a blitz piece.
…Adding… A Peoria-area reader just sent me pics of the same door-hanger, along with this…
Attached is the door hanger given to me by a 20-something walking my very GOP neighborhood Saturday. He asked what the biggest issue facing the state was, suggesting property taxes before I interjected the budget impasse. He said he'd heard that and asked if I thought it was mostly Rauner's fault, Madigan's fault or even. I declined to answer as a state employee. He then offered to put me on a mailing list for future Rauner events in the area, which I declined cuz I already get the local GOP announcements.

This is unusual for so many reasons, earliness being the most obvious. Never remember a statewide canvasser before in my neighborhood either. Just thought I'd share
*** UPDATE ***  Pritzker just posted a little tweet storm on the door-hanger…
Hey @BruceRauner. JB here. Your campaign door hangers said you want to hear from me… so here it goes. pic.twitter.com/aLGsFwwuxw

— JB Pritzker (@JBPritzker) June 19, 2017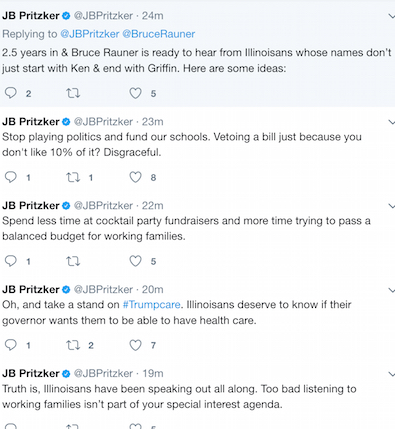 35 Comments








































































































Sorry, comments for this post are now closed.