* Roll call…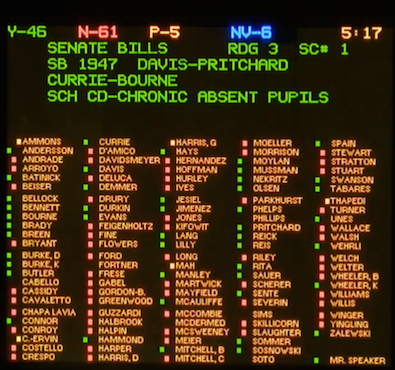 Both parties are now going to caucus.
…Adding… Democrats voting "No"…
Andrade, Arroyo, Beiser, Cassidy, Chapa Lavia, Conroy, Costello, Crespo, D'Amico, Deluca, Drury, Feigenholtz, Fine, Flowers, Ford, Gabel, Gordon-Booth, Greenwood, Guzzardi, Halpin, Harper, Hernandez, Hoffman, Hurley, Jones, Kifowit, Martwick, Mayfield, Mitchell, Moeller, Riley, Scherer, Slaughter, Stratton, Stuart, Turner, Wallace, Walsh, Welch, Williams, Willis, Yingling.
Lots of leaders, "regulars," targets, liberals and Black Caucus members on that list.
* The Democrats only had 18 "Yes" votes…
D Burke, K Burke, Connor, Currie, Davis, Evans, Lang, Lilly, Manley, Moylan, Mussman, Nekritz, Phelps, Rita, Sente, Tabares, Zalewski, Mr. Speaker.
* 28 Republicans voted "Yes," which is two shy of their target…
Andersson, Batinick, Bellock, Bennett, Bourne, Brady, Breen, Butler, Demmer, Durkin, Hammond, Hays, Jesiel, Jimenez, McAuliffe, Mitchell, Olsen, Pritchard, Reick, Reis, Sauer, Sommer, Sosnowski, Spain, Swanson, Unes, Wehrle, K Wheeler.
…Adding… As noted in comments, it is a little "weird" that the bill didn't receive 47 votes, which would have allowed the sponsor to place the bill on the order of Postponed Consideration. It fell just one shy of that mark, which is, of course, raising some eyebrows that *somebody* might not have wanted this to pass right now.
*** UPDATE 1 ***  If you look at the rollcall just before they locked it down, GOP Rep. Randy Frese and Democratic Rep. Art Turner switched their votes from "Yes" to "No" at the last second. Click here.
*** UPDATE 2 *** A new vehicle bill was just moved out of the Rules Committee. Amendment 1 to SB444 is apparently identical to the bill which just went down.
The game plan, I'm told, is to allow an override vote on SB1 to placate Madigan's more liberal members. If that override fails, as expected, they'll take up the new amendment and try again.
*** UPDATE 3 *** As expected the override fails…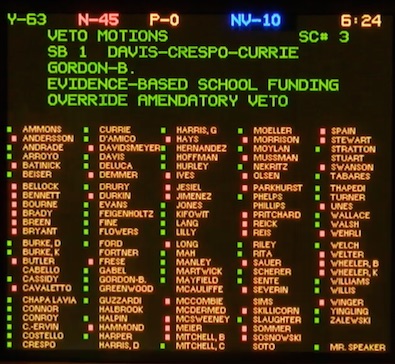 95 Comments




























































































































































































































































































Sorry, comments for this post are now closed.