* From the DGA…
Legislature Bails Rauner Out of His Manufactured School Funding Crisis

Rauner Cannot Help Himself – Takes Potshot at Final Agreement on Eve of Passage

Today, the Illinois legislature passed a compromise education package bringing an end to another Governor Bruce Rauner manufactured crisis. One month ago, rather than finding compromise, Rauner confidently pushed Illinois into crisis with his amendatory veto of the state's new education funding formula. Rauner's veto was a "dud" from the start that had no support from local education leaders. Schools worried they would not be able to stay open come the fall. Even Kristen McQueary, conservative editorial writer for the Chicago Tribune, said Rauner had "botched this one."

Even in the end, Rauner thrashed the legislature's agreement late last week. He just can't help himself.

"Today lawmakers overcame another of Bruce Rauner's manufactured crises," said DGA Illinois Communications Director Sam Salustro. "After the legislature overrode his veto of the state's first budget in two years, Rauner could have refocused his administration towards making progress. Instead he pushed the state right back into crisis by vetoing funding for schools and making demands even Republicans would not support. Illinois families will not forget how Rauner's failed leadership threatened public schools' ability to stay open for political gain."
I'll post more as they come in. Legislator reacts can be found in our live coverage post.
*** UPDATE ***  Comptroller Mendoza…
I thank legislators in both Houses from both parties for coming together to pass this historic bill to put school funding on a long-overdue path to equity in Illinois. Educators and most importantly parents and children everywhere in Illinois can finally exhale and have confidence that their schools will open and stay open. I have prepared my Office to release an estimated $540 million in General State Aid owed to schools for the month of August as soon as the Governor signs the bill and after the State Board of Education transmits these vouchers to my Office. It is anticipated these payments will be issued within the next few days. My best wishes to all Illinois school children for a safe and productive school year.
* CTBA…
The Center for Tax and Budget Accountability Applauds Legislators for Passing an Equitable, Evidence-Based Model for K-12 School Funding

CHICAGO - Today, a bipartisan majority in the Illinois General Assembly has passed a landmark education bill. For the first time, Illinois will move away from its archaic, inequitable school funding system towards an evidence-based approach that ensures every district in the state receives the support it needs to educate the children it serves. This is a victory for children, their parents, and communities all around the state.

The bill is not perfect. CTBA has serious concerns about recently added provisions that set aside $75 million to provide income tax credits to those who donate to private school scholarship funds. These kinds of provisions use public money to undermine public schools, contrary to the purpose of the broader bill. Moreover, a comprehensive study commissioned by President George W. Bush found that students who attend traditional, K-12 public schools outperform students who attend both charter and private religious schools, irrespective of denomination. However, CTBA understands that governing requires compromise, and it took this compromise to get the needed bipartisan support to pass the evidence-based model into law. That said, this provision will require close scrutiny going forward.

Overall, Illinois has taken a major step forward. Our state education funding system will no longer be an embarrassment as the most inequitable in the country, but a model for other states to emulate. The evidence-based model will help school districts build capacity in their schools, and direct resources to our children who need them the most. After decades of failing our children, and particularly those in low-income communities and communities of color, Illinois is on a long-term path to a more equitable and evidence-based school funding system.

CTBA wants to thank all of the legislators who voted in favor of this bill.
* Sen. Daniel Biss…
"Today, Bruce Rauner used a school funding crisis he created to get even more tax breaks for millionaires and fund private schools with taxpayer dollars. Middle class parents like me are fed up with footing the bill for rich people's tax cuts.

"I'm running for governor to end schemes like these, and to make the rich finally pay their fair share in taxes. We'll use that revenue to fully fund schools in every neighborhood, so every child gets the education they need to succeed."
* Senate President Cullerton…
"The state's hated school funding formula is finally on its last legs. We are one signature away from overhauling the worst public school funding system in the nation. It will be replaced by one that recognizes fairness and equity and the individual challenges in each school in each part of our great state.

"This ensures that $350 million in new school funding that we included in our budget is prioritized for the public schools and students who need it the most.

"I support this plan because it ensures our schools stay open and that we will move forward with a fair and equitable system of funding public education.

"Keep in mind, none of this would be possible if not for the revenue plan we passed to stabilize our economy and provide resources for public education."
* Civic Committee…
"We commend the Governor, legislative leaders, and the members of the General Assembly for finding common ground and passing comprehensive legislation providing for more equitable funding for Illinois schoolchildren now and in the future.

In May of this year, the Civic Committee of the Commercial Club released its report, "Bringing Illinois Back: A Framework for our Future." The document outlined a framework for addressing our State's fiscal crisis and made other recommendations to improve Illinois as a place to live, work, and conduct business. Among those recommendations, and closely related to the budget, was the adoption of a revised school funding formula to reduce the significant disparities in funding and increase opportunities for a quality education for all students. We supported the key elements of Governor Rauner's Illinois School Funding Reform Commission as well as pension parity for the Chicago Public Schools. In order for Illinois to prosper, we must ensure all Illinois schoolchildren receive a quality education."
* Gov. Rauner…
"Today, members of the Illinois Senate voted in favor of legislation that will bring historic education reform to Illinois children and their families. First, I would like to thank Senate President John Cullerton and Senate Republican Leader Bill Brady and other members for working together to close the gap on school funding and making sure every child across the state will have access to the best education.

"For far too long, too many low-income students in our state have been trapped in underfunded, failing schools. The system needed to change. We have changed it. We have put aside our differences and put our kids first. It's a historic day for Illinois.

"Our leaders worked together to provide school choice protection for parents who want the best education possible for their children. This is accomplished by ensuring that district-authorized charter schools receive equal funding, and by providing families with limited financial resources the same access to private schools. The Tax Credit Scholarship program encourages individuals and businesses to enable families to choose the school that best meets the needs of their children.

"This compromise also provides much-needed mandate relief for school districts and presents avenues for property tax relief. School districts will be given flexibility in how they schedule physical education curriculum and how they administer driver's education curriculum. In more affluent school districts, this bill provides taxpayers with a chance to lower their property taxes through the referendum process.

"This is just the beginning of transforming education funding. I want Illinois to be the No. 1 state in the nation for education. Nothing is more important than educating our children."
* Mayor Emanuel…
"The Senate's approval of SB 1947 is another win for children and communities throughout the Land of Lincoln. For far too long, Illinois has ranked dead last in the country for funding its highest poverty school districts. Now we are poised to reform that inequitable and insufficient funding formula. I want to thank Speaker Madigan, Senate President Cullerton, Leader Durkin, Leader Brady, Leader Currie, Rep. Davis, Sen. Manar and legislators from both political parties who chose students instead of the status quo. On behalf of hundreds of thousands of school children and their parents, we are hopeful that Governor Rauner will act quickly to sign this legislation so schools receive the resources they deserve."
* Kennedy campaign…
Today's vote puts us a step closer to funding schools at the state level so that all children have access to the quality public education they deserve, but Governor Rauner and the Illinois legislature have shown a complete failure of leadership by slipping in a veiled voucher program. Our state will never meet its full promise and potential until we rid Springfield of the legislative gamesmanship that continues to undermine our public schools, our children and our economic future.
* Sen. Jason Barickman…
"My goal has always been to put together a school funding reform measure that fairly and equitably funds all schools," said Senator Barickman. "The Governor's signature is now the only remaining step to making that happen and replacing our state's antiquated system for funding schools."

The new agreement utilizes an evidence-based model to distribute funding to schools, a requirement of the recently passed budget. If signed into law as anticipated, schools will soon begin receiving their state funding.

Senator Barickman was the first legislator to introduce evidence-based school funding legislation back in the spring of 2015. The legislation was an attempt to fix the state's woefully outdated funding mechanism with a system that sends dollars to where they are needed most, and where the funding has the best chance of ensuring the success of students. Barickman's legislation provided an alternative to competing bills that preserved the status quo of taking funding away from some schools and redistributing it to others.
Senate Bill 1947 contains an agreed-to evidence-based model for determining how much funding each individual school district needs to adequately educate students, and it then distributes the money based on that data.

"The evidence based model is a strategic approach to school funding that links best practices and data to distribute funds," said Senator Barickman. "This will provide a transparency to school funding that Illinois has never had, so that lawmakers and parents can see how dollars being spent, and will allow taxpayers to have confidence that they aren't being asked to contribute more money to a broken system. Plus, this is a scalable and realistic plan that works regardless of budget decisions made by political leaders, and it removes the devastating effect that proration had on so many districts."

The legislation also contains meaningful mandate relief for school districts, helping them to reduce costs and put more dollars into in-classroom-learning. In addition, it also creates a mechanism to provide property tax relief to struggling families as well as a new program to offer parents more choices in determining where to send their children for the best possible education.

"We finally have an agreement that will offer significant help to all schools, all students, and all families in Illinois," said Senator Barickman. "As soon as the Governor signs this into law our schools can focus on educating our children instead of worrying about how long they can stay open."
- Posted by Rich Miller 21 Comments


* Roll call…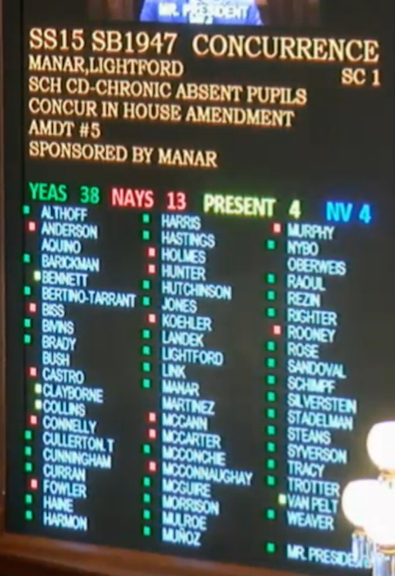 Sen. Hunter rose after the vote to say she meant to vote "Present" instead of "No."
Also, notice how Sen. McCann voted. He's a strong IEA ally as well as a possible GOP candidate for governor.
* Not unexpected…
Gov's office says he'll sign education bill "as soon as possible" but may not be today because of logistics. He wants bill signing event.

— Tina Sfondeles (@TinaSfon) August 29, 2017
Hearing #schoolfunding bill will be signed Wednesday in Chicago, @GovRauner inviting 4 Leaders & others incldg @CardinalBCupich

— Mary Ann Ahern (@MaryAnnAhernNBC) August 29, 2017
* This is a valid point. There's no question that the leaders rushed the bill through and no hearings were held on new stuff, like the income tax credit…
GOP Sen. Rooney, a teacher, says he has a sub in his classroom today. Voting no b/c of process. After months of deliberation, a snap vote

— Amanda Vinicky (@AmandaVinicky) August 29, 2017
Sen. Tom Rooney on school funding reform bill: "We have to stop doing business this way."

— Rachel DrozeTV (@RachelDrozeTV) August 29, 2017
* Every statewide candidate is still in the hunt for a teachers union endorsement…
Biss: What's next? A dangerous precedent, wrong way to govern to use an education crisis to begin state-backed private school scholarships

— Amanda Vinicky (@AmandaVinicky) August 29, 2017
* This is an historic vote and Sen. Andy Manar really deserves a lot of credit for sticking with this issue for well over four years and finally bringing it home…
Manar: includes mandate relief, minimum funding levels in the future, how Chi pensions are handled, scholarship tax credit.

— IL Senate Democrats (@ILSenDems) August 29, 2017
Sen @jasonbarickman on ed funding bill: We remove arbitrary nature of funding schools & watch funding flow to districts that need it most.

— Rachel DrozeTV (@RachelDrozeTV) August 29, 2017
Sen @DanMcConchie highlights property tax relief mechanism in bill. 10% of registered voters can petition to cut taxes in wealthy districts. pic.twitter.com/68oZZ8lg9J

— Mark Maxwell (@WCIA3Mark) August 29, 2017
Sen. Don Harmon says in 10 years, those who vote yes will remember they voted for transformation of school funding, not "warts" in the bill.

— Monique Garcia (@moniquegarcia) August 29, 2017
Leader @SenBillBrady - What we need is in this bill; not necessarily what we want. Schools get more funding. #SB1947

— ILSenateGOP (@ILSenateGOP) August 29, 2017
Manar: Driving by school kids this a.m., asked myself if THIS bill will help them. The answer is absolutely.

— IL Senate Democrats (@ILSenDems) August 29, 2017
* Best chuckle of the day…
Sen Harmon (with a dig to Gov Rauner): "I rise in support of 90 percent of the motion." #schoolfunding

— Mary Ann Ahern (@MaryAnnAhernNBC) August 29, 2017
- Posted by Rich Miller 25 Comments


* SJ-R…
Rep. David Harris, R-Arlington Heights, one of the handful of Republicans who voted for the budget, said he couldn't support the compromise because there is no money budgeted for the tax credit [for private school tuition] and the state is still struggling to catch up on bills accumulated during the budget impasse.

"We don't spend money we don't have," he said. "We don't have excess money. This bill moves us in the wrong direction."
* Harris said that during the budget talks he participated in members repeatedly fought over tiny amounts of money, so he simply couldn't vote for a $75 million unfunded tax credit…
Republican Rep. David Harris "I put my ass" and political future on the line to vote for budget, tax. Rauner recruiting an opponent vs me

— Amanda Vinicky (@AmandaVinicky) August 28, 2017
* More…
"I would prefer that we cut spending to pay for this," said State Rep. David McSweeney, R-Barrington Hills. "I don't know where this money is going to come from."
* And…
"Look, I went to parochial high school. My two sons went to parochial grade school and high school. My wife and I made the choice to do that because the education we wanted for our kids, but we struggled to pay the tuitions and we struggled to pay the property taxes. That was a choice that we voluntarily made. So I understand and value parochial education… but I also have a responsibility to the taxpayers of the state of Illinois," Harris said. "Like it or not, because of our two years of budget impasse and an accumulation of $15 billions of back bills, this state needs a tight fiscal diet for years to come."
- Posted by Rich Miller 38 Comments


*** UPDATE 1 ***  The Senate has unanimously confirmed Sen. Brady as GOP Leader.
*** UPDATE 2 *** Press release…
State Sen. Bill Brady was unanimously selected as Senate Minority Leader by his peers in the Illinois Senate on Tuesday. Brady, who had been serving as the designated Republican Leader since July, thanked his Senate colleagues for their support and pledged to do his best in leading the Senate Republican Caucus.

"I am humbled and honored to receive the support and confidence of my Senate Republican colleagues to serve as their leader," said Brady (R-Bloomington). "I also want to thank the Senate President for his support."

Brady was chosen after the mid-term retirement of Sen. Christine Radogno (R-Lemont.) "She left big shoes to fill," Brady said, "but I am continuing her efforts to reach across the aisle to find common ground."

Brady's election as Senate Minority Leader came after the Illinois Senate approved a bipartisan school-funding reform measure he helped negotiate with the Governor and other legislative leaders, which for the first time treats all Illinois school districts fairly and equitably.

"Today, we proved what we can accomplish when working in a bipartisan manner by passing a school funding reform measure that treats all 852 school districts the same," Brady said. "Let us commit to build upon this foundation of compromise as we move forward on the important issues facing our state and our residents."
During his tenure as a legislator, Leader Brady has worked to increase education accountability and funding, and sponsored reforms of workers' compensation and medical malpractice laws. He has championed pension reform, reforms in the state's insurance and financial industries that became a national model, sponsored laws that promote highway safety through more training for young drivers, and led the way in efforts to restore integrity to state government, ensuring the best use of the taxpayers' dollars.

Brady has served in the State Senate since 2002. He previously served as State Representative from 1993 until 2001. Brady and his wife, Nancy, have three adult children and three grandchildren and live in Bloomington, Illinois.
[ *** End Of Updates *** ]
* From the Senate Republicans…
We anticipate the Senate will convene in Special Session later this afternoon to elect the Senate Minority Leader.

As you know, Senator Bill Brady has been serving as the Senate Republican Leader "Designee" since July, after his election by the Senate Republican Caucus.
The governor filed a proclamation this week calling a special session for today for this very purpose. Formally electing Brady during a special session avoids convening a regular session day, which would trigger the veto clock on several bills and result in several more session days next month - and nobody, but nobody wants to do that.
* Let's do a caption contest in honor of his formal ascension, shall we?…
Leader Brady: "This deal is a win win for everyone." pic.twitter.com/wXpptAHq1X

— BlueRoomStream (@BlueRoomStream) August 27, 2017
- Posted by Rich Miller 48 Comments


* From the Illinois Policy Institute's news service…
A number of Republican Illinois state representatives have announced that they won't run for re-election in 2018 after bucking governor and party to support a tax increase. The people aiming to replace them say that's why they're running. […]

Eastern Illinois University trustee Dan Caulkins, R-Decatur, is one of several considering a run for Rep. Bill Mitchell's, R-Forsyth, seat after he said he wouldn't run for re-election. Caulkins was appalled by the GOP votes in favor of a tax increase without anything in return.

"We got nothing out of it," he said. "The people of Illinois got nothing but higher income taxes."
EIU almost died due to lack of a budget and he's complaining about the tax hike.
That's quite something.
It appears that Caulkins' initial appointment to the EIU board was confirmed back in February. However, his reappointment was recently assigned to the Senate Executive Appointments Committee.
Perhaps the the committee can ask Mr. Caulkins about this matter?
* Also, from the press release announcing his appointment in 2015…
Currently, Caulkins is the Vice President and COO of Patterson House, Inc. The company operates homes for adults with developmental disabilities.
…Adding… Hmm…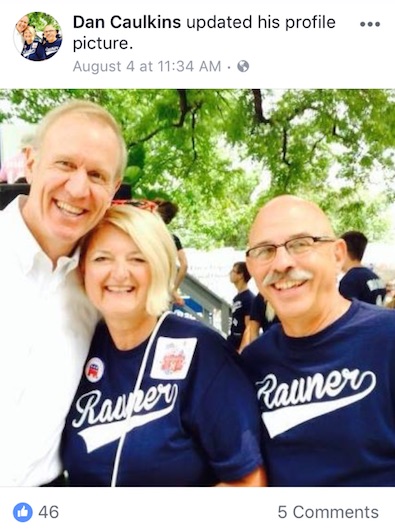 - Posted by Rich Miller 54 Comments


* From the CTU…
"Tonight's vote for a voucher scheme for the state of Illinois is disappointing, and the worst assault on public education since mayoral control of schools was granted in 1995. We are now firmly in line with the President Donald Trump and Betsy DeVos privatization agenda.

"We have a new funding formula and more revenue for our schools. These are substantial achievements, despite Gov. Bruce Rauner's incompetence and Mayor Rahm Emanuel's impotent ability to provide direction from City Hall. Unfortunately, Illinois legislators have voted to 'reform' the worst school funding system in the country with a ticking time bomb of a voucher scheme, and the Illinois Democratic Party has crossed a line which no spin or talk of 'compromise' can ever erase."
* From the Chicago Principals and Administrators Association…
Emails sent to principals across the district have been forwarded to the Chicago Principals and Administrators Association (CPAA). These emails indicate CPS officials are coercing principals into lobbying for Springfield's voucher legislation during work hours. District officials frame their instruction to principals as being motivated by a need for funding in general, but no such lobbying instructions were sent for any of the previous voucher-free versions of school funding legislation. One of the district emails includes a section that states, "there will be a Google Sheet for you to indicate the result of your calls." Such sheets are often used in CPS as accountability measures to ensure principals turn in required documentation. Emails from two different network chiefs contain the coercive sentence, "These calls need to happen today or tomorrow." This indicates that lobbying for the passage of the voucher bill is required rather than optional.

The Chicago Principals and Administrators Association condemns CPS's flagrantly unconstitutional action. CPS's attempt at coerced employee political mobilization makes principals feel pressured to support the pro-voucher positions of CPS officials and the mayor who appointed them.
* While the e-mails do say that, they also say stuff like this…
Every Principal that was in attendance on Friday, August 25th morning heard Chip make the request of them to reach out to their state officials. Principals may also want to reach out to their school families urging them to reach out to their officials
Emphasis added.
* And from the former leader of Raise Your Hand who moved to the suburbs when her kid was high school age…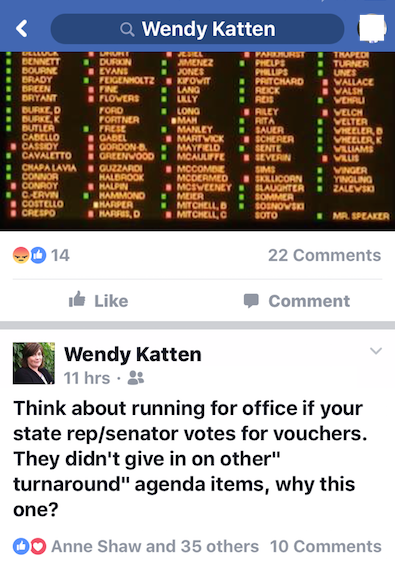 - Posted by Rich Miller 31 Comments


* This Fox News Channel report on Gov. Rauner signing the TRUST Act yesterday has everything for right-wing Rauner haters. It's got the governor speaking Spanish, features the family of a man killed by an undocumented immigrant, shows Gov. Rauner uncomfortably dissembling when asked why he didn't meet with that family and allows John Kass to gab about how the governor has alienated his conservative base. Have a look…
Within an hour of Illinois' Governor Bruce Rauner signing into law a bill making Illinois the "latest sanctuary state," the national watchdog group Judicial Watch filed a FOIA request with the governor's office, looking for information about who the governor did and did not meet with before signing the bill into law Monday.

Illinois Review asked Judicial Watch's Michael Bekesha why the national group was interested in Illinois' new state law.

"For 10 years now, Judicial Watch has been interested in promoting the rule of law when it deals with illegal immigration. Around the country, we have been interested in sanctuary cities and sanctuary states. And Illinois has now become the latest sanctuary state, so we were interested in how that happened," Bekesha said on the phone Monday afternoon.
* And Dan Proft went after the governor today on this topic…
My concern with Bruce Rauner… is not that he is friends with Rahm Emanuel, it's that he is Rahm Emanuel… What I mean by that is he is transactional. There's no foundation, it is just transactional. It is political expediency over principle. It is a willingness to renege and negotiate after the fact. And essentially pander and preen in any fashion that is accessible in order to try and salvage himself politically. That's what Rahm Emanuel does. That's what he does.
- Posted by Rich Miller 47 Comments


* Fran Spielman at the Sun-Times…
Illinois Attorney General Lisa Madigan will file a lawsuit seeking federal court oversight over the Chicago Police Department, pushing Mayor Rahm Emanuel to honor a commitment he made in January, only to retreat from it.

With no other choice, Emanuel is expected to join Madigan at a news conference at the State of Illinois Center.

They will reportedly announce together that they are seeking public input into what a court-enforced consent decree should look like.

But despite months of resistance to the idea of court oversight, a top mayoral aide denied that Emanuel was dragged into a consent decree or that Madigan had somehow forced the mayor's hand. […]

Police Board President Lori Lightfoot called Madigan's lawsuit a "significant development."

"I have a great deal of respect for the attorney general and her team and I will watch with great interest how the process unfolds from here but I am hopeful for a transparent and inclusive process that, in the end, supports our Police Department and is transformative of the way we do policing in Chicago. This is what's been needed for some time," Lightfoot said.
*** UPDATE ***  The Emanuel administration is pushing back hard on the Sun-Times story, saying the reporter jumped the gun and they're working with AG Madigan on this.
Anyway, from Karen Sheley - Director, Police Practices Project, ACLU of Illinois…
"Today's announcement creates an opportunity to address the crisis in the Chicago Police Department. The potential consent decree between the Illinois Attorney General and City of Chicago can be a roadmap for addressing findings by the Obama Administration Department of Justice, including that the Chicago Police Department engaged in a pattern of excessive force, disproportionally targeted at African Americans. The Trump Administration repeatedly made clear its hostility to police reform, and turned the Department of Justice into an obstacle to, rather than proponent of, the fundamental changes the CPD needs.

There is hard work ahead. For reform efforts to succeed, advocates, civil rights organizations, and community groups need a seat at the table, both in crafting the decree and implementing it. The ACLU will monitor the State and City's deal-making closely to ensure the process does not result in half measures."
* And from the AG herself…
Attorney General Lisa Madigan today joined Chicago Mayor Rahm Emanuel and Police Superintendent Eddie Johnson to announce a lawsuit to seek an enforceable consent decree to implement the numerous reforms outlined by the U.S. Department of Justice (DOJ) in its investigation of the Chicago Police Department (CPD). In light of the new DOJ administration's preference not to seek a consent decree in Chicago, Madigan will seek reforms that provide the support police officers need to implement safe and constitutional policing practices and rebuild trust between community residents and police.

Madigan filed the lawsuit earlier today in the U.S. District Court for the Northern District of Illinois based on the findings of the Justice Department's investigation that revealed a pattern of civil rights violations caused by systemic deficiencies within CPD. The DOJ report cited a number of problems, including the unconstitutional use of deadly and excessive force by officers; inadequate training on appropriate tactics, lack of supervision; a failure to adequately investigate officer misconduct and discipline officers and inadequate wellness and counseling programs to support officers. In its report, DOJ recommended reforms needed to address these problems, specifically calling for a court-enforceable consent decree with an independent monitor to assess the progress of reform and the oversight of a federal judge.

Mayor Emanuel and Superintendent Johnson joined Madigan today and expressed the city's commitment to work with Madigan's office to negotiate an enforceable consent decree.

"The only way to achieve real, lasting reform in Chicago and repair the broken trust between the communities and police is through an enforceable consent decree that addresses the problems identified in the Justice Department report," Madigan said. "The city is facing serious problems that have endangered the lives of city residents as well as the police officers who put their lives on the line every day to protect our communities. Together, we will work to provide the people of Chicago with a city and a police department that respects their rights, protects their safety, and provides support and resources to the brave officers who take on these responsibilities."

"The reforms we have made in recent years, and those that lie ahead, will help us ensure Chicago has the most professional, proactive police department possible," said Mayor Emanuel. "I am proud that Illinois' Attorney General is standing up – for our city and our officers – where the Trump Justice Department fell flat."

Madigan's lawsuit is the first step to obtain a consent decree. Madigan will seek input from the community and police officers in negotiating the terms of the consent decree. Madigan's office will be assisted by lead expert Ron Davis and by Robins Kaplan, a national law firm retained on a pro bono basis that has a long history of community work on behalf of a wide range of clients.

Davis has a distinguished career in law enforcement. He most recently served as the director of DOJ's Office of Community Oriented Policing Services (COPS Office) from 2013 to 2017. The COPS Office is responsible for advancing community policing nationwide.

In 2014, Davis was appointed to serve as the Executive Director of the President's Task Force on 21st Century Policing (Task Force). President Obama charged him and the Task Force with developing recommendations to improve community trust in the police while enhancing public safety. The final report of the Task Force now serves as a foundational document in American policing.

Davis has served on two federal monitoring teams with oversight of police reform agreements or consent decrees between the DOJ and the Washington, D.C. and Detroit police departments and as a policing expert on several DOJ pattern and practice investigations. He served over eight years as Chief of Police of East Palo Alto (CA) and 20 years with the Oakland (CA) Police Department. He was recognized for his innovative community policing efforts and for working collaboratively with the community to dramatically reduce crime and violence in a city once named as the murder capital of the United States.
- Posted by Rich Miller 20 Comments


* Tribune…
In the end, House Republicans put up nearly as many votes for the bill as Democrats, even though the GOP has more than a dozen fewer members.

The second vote on the compromise plan drew 37 Democratic votes, up from 19 just hours before. Republicans provided 36 votes, up from 28.
One of the biggest "heroes" in this whole thing is House Republican Leader Jim Durkin. He kept the governor focused, he pushed the Democrats to a compromise and, in the end, he provided way more votes for the bill than was required.
- Posted by Rich Miller 25 Comments


* Sun-Times…
Rep. Will Guzzardi, D-Chicago, also voted against the measure — saying it was "unconscionable" to vote in support of the private school program.

"As far as I'm concerned the nose is under the camel's tent now, and I'm very concerned about the prospect of this money only growing, and more and more over the years of our public dollars being diverted away," Guzzardi said, adding he's worried there will be an expansion instead of a sunset in five years.
* Despite that opposition, Guzzardi and Gov. Rauner appeared to have an amiable chat after the vote…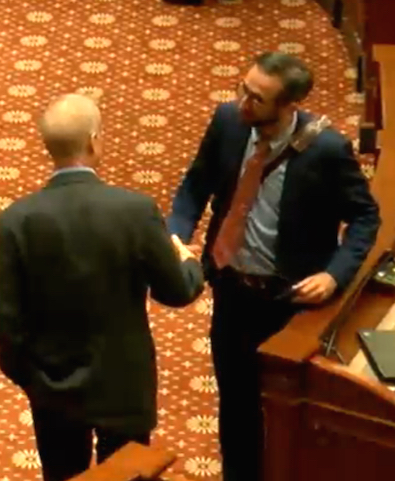 * More…
Saw @GovRauner belly laugh at something @WillGuzzardi said. Kinda curious what he said.

— Mark Maxwell (@WCIA3Mark) August 29, 2017
* Guzzardi's reply…
I said "I hope you sign civil asset forfeiture reform, which passed with bipartisan support!" The laugh got me worried.

— Will Guzzardi 🖇 (@WillGuzzardi) August 29, 2017
That laugh is often a major Rauner "tell," so Guzzardi may not be wrong.
- Posted by Rich Miller 20 Comments


* Last week…
At a hastily arranged news conference at City Hall on Thursday, Emanuel was asked by a reporter if Chicago taxpayers, after seeing record property tax increases in the past couple of years, should prepare for more. "Yes," the mayor said.

Afterward, mayoral spokesman Matt McGrath sought to clarify the mayor's statement, saying that the "yes" response was an acknowledgment of the increased property tax burden already faced by city residents, not that they would face more.

"We are not announcing a tax increase today," McGrath said. "He was not responding to that question."
So, maybe Emanuel was actually responding to a different question and maybe he didn't want to announce a tax hike that day, but a potential property tax hike was in the bill.
* Tribune…
The compromise school funding bill the Illinois House approved Monday contains a provision to let the Chicago Board of Education raise property taxes by what Democrats estimated was an additional $120 million.

Cook County Clerk David Orr's office, however, put that figure at closer to $163 million.

Among many other things, the 550-page bill would allow Chicago's Board of Education to increase its maximum property tax rate for the Chicago Teachers' Pension Fund by about 45 percent. That levy, first approved in late 2016, increased taxes by about $272 million this year.

Orr's office said CPS could have raised property taxes for pensions even higher but did not do so. If the district went for the maximum amount allowed under the state legislation that's expected to pass, CPS could collect $162.7 million in additional taxes in 2018, Orr's office concluded. That would bring the total CPS tax levy for pension contributions to $434.5 million — and even that figure that could go higher if assessed property values go up.
…Adding… However…
Chicago Ald. Pat O'Connor (40th) said the City Council would enact a tax hike only as a last resort, as city homeowners and businesses are "pretty much at critical mass" after being hit with $838 million in property-tax increases to cover city-related pension costs. "Good business would require you to look at all other options before you go further into debt. It's a last-case scenario," O'Connor said.
*** UPDATE ***  Tribune…
Mayor Rahm Emanuel on Tuesday defended the idea of another big boost in Chicago Public Schools property taxes that's part of the compromise agreement on state school funding.

Under legislation that's cleared the General Assembly, the Chicago Board of Education would be given the authority to increase its property tax levy by at least $120 million — and perhaps tens of millions of dollars more — to help cover growing contributions to the Chicago Teachers' Pension Fund.

"I've never, ever said that we were not going to also come up with the resources to make sure our schools were well funded and we were investing in them. teachers," Emanuel said of the tax increase provision he hinted at last week. "And we never wanted to be in a situation where it was a choice between continuing to invest in our children's future or paying our teachers' pensions. So we'll be able to do our pensions and . . . continue to invest in our children."
- Posted by Rich Miller 15 Comments


* The Tribune editorial board always gets too caught up trying to be the legislative process police. The bill passed the House. It's a reasonably good bill. Get over yourselves…
The best we can say:

After lawmakers churned through their theatrics, they eventually got to "yes." Public school and choice advocates alike should be grateful. Disgusted with the process and the jerk-arounds, but grateful.

Senators, over to you. Do what's right, without all the House's preening and posturing through several acts. Pass the compromise bill and send it to the governor.
Disgusted with a process that passed a decent bill? C'mon. Some things just have to be done. Sausage-making ain't pretty, as they say.
- Posted by Rich Miller 21 Comments


* Tribune…
Gov. Bruce Rauner has vetoed a bill that would prohibit employers from asking job candidates about their salary history, but advocates for the measure say they'll try to garner enough support in the state legislature for an override.

Rauner on Friday vetoed Illinois' No Salary History bill, which seeks to narrow the pay gap between men and women by keeping too-low salaries from following women as they move from job to job. A wave of similar laws have been adopted in states and cities across the country, including Massachusetts, Oregon, Delaware, New York City and San Francisco.

Iliana Mora, CEO of the advocacy group Women Employed, said she was "shocked" and "disappointed" that Rauner blocked the bill, and plans to work with Republicans who supported the legislation on an override during the November veto session.
The bill passed the House 91-24, so there could very well be an override. It received 35 votes in the Senate, but four Democrats were absent.
* From the governor's veto message…
The gender wage gap must be eliminated, and I strongly support wage equality. Massachusetts already has established a best-in-the-country approach to the issue of employers inquiring about salary history. Illinois should model its legal regime on Massachusetts' model.

I strongly encourage the sponsors and the General Assembly at large to take up the following legislative language that more closely resembles the Massachusetts approach
* More on Massachusetts…
But the Massachusetts law, which goes into effect next July, allows employers to seek pay history after they have offered a candidate the job and salary — which, on the plus side, could allow employers to increase an offer to make it more appealing, but, on the down side, could reduce an employee's raise or bonus down the road if it is revealed he or she was earning much less before.

Mora said such provisions weaken the law, and that the goal was to have a simple bill.
- Posted by Rich Miller 39 Comments


* Roll call…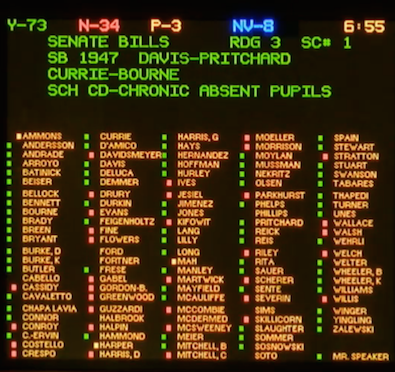 * The House Speaker's "member management" worked. He gave his members a chance to blow off steam by voting against a bill that contained the private school scholarship tax credits, then gave them a shot at overriding SB1 and then, when it was clear there was no other alternative, passed the bill. The only alternative was to either wait until a true crisis built or re-worked the entire bill, which would have been a grueling task that would've likely hurt CPS.
I'll post react as it comes in.
*** UPDATE 1 ***  Speaker Madigan…
House Speaker Michael J. Madigan issued the following statement Monday:

"Today we saw compromise. Instead of pitting children and communities against each other, Democrats and Republicans came to an agreement on much of what's in this bill. And even where we don't fully agree, we're willing to work together in good faith and meet each other half way.

"This bill provides the same promise of permanent funding for our schools as Senate Bill 1, with some additional items included at the request of Republicans. Even if all members did not agree with 100 percent of what is in the final bill, this bill still delivers 100 percent of what schools throughout Illinois need. This bill is a permanent promise of more funding for schools statewide. Every district in Illinois wins under this plan.

"Through compromise, we've included some provisions that many members would not have supported on their own. But a package that permanently provides more money for Illinois schools and puts us closer than ever to fixing Illinois' broken school funding system is too important to let partisan differences get in the way."
*** UPDATE 2 *** Mayor Emanuel…
"The Illinois House took a significant step tonight by passing an education funding plan that provides parity and stability for children across Illinois. I want to thank Speaker Madigan, Leader Durkin, Rep. Will Davis and the bipartisan group of legislators who put politics aside to address decades of inequity. As a new school year begins, students and educators deserve peace of mind. We are hopeful the Senate will take action and Governor Rauner will sign this historic legislation to support the education of children throughout Illinois."
*** UPDATE 3 *** Gov. Rauner thanks… Speaker Madigan? Yep…
"Today, members of the Illinois House of Representatives voted to bring historic education reform to Illinois children and their families. I want to thank Speaker Madigan, Leader Durkin and their staff members for finding common ground that will reverse the inequities of our current school funding system.

"Aligned with the framework provided by the Illinois School Funding Reform Commission – a bipartisan, bicameral working group chaired by the Secretary of Education – this bill has much to celebrate. First, every district in Illinois will have an adequacy target based on 27 elements brought forth through an "evidence-based model" of school funding. Second, new state funds will be distributed to ensure that those districts with the largest gap between current spending and adequacy will be funded first. Third, no district will lose state funding as compared to last year.

"The compromise includes the much-needed flexibility for school districts through mandate relief, while providing avenues for property tax relief. It increases transparency related to how districts are funded through local, state and federal resources.

"It protects the rights of parents to choose the school that best meets the needs of their children – providing more school choice for children from low-income families. By setting yearly minimum funding targets, this bill also ensures that Illinois will continue to invest in our most important resource – our children's education.

"I encourage members of the Senate to also pass this bill, which I will sign quickly in order to ensure that our schools – many of which have already opened for the 2017-2018 school year – receive their much-needed resources."
*** UPDATE 4 *** IFT…
Illinois Federation of Teachers President Dan Montgomery released the following statement after the House passed Senate Bill 1947:

"Tonight, state legislators moved Illinois closer to doing what we have needed to do for decades – treat our poorest students and communities fairly. Unfortunately, it came at a very disappointing cost. Governor Rauner capitalized on the crisis he created when he vetoed the original bill and used it as leverage for private school tax credits that benefit the wealthy while working families continue to struggle. We're on a better path toward equity and adequacy, and we must move forward in our classrooms and communities. But it's clearer than ever that this Governor does not prioritize public schools, and we must fight for one who does in 2018."
* And the CTU…
IL Senate votes tomorrow. We urge them to reject vouchers and keep public funds for public schools, and not a tax break for the wealthy.

— ChicagoTeachersUnion (@CTULocal1) August 29, 2017
*** UPDATE 5 *** Pritzker…
"I am relieved to know that our schools will be funded using an equitable school funding formula, but it is disappointing that Bruce Rauner used our students as pawns in his political games to get a back-door voucher program put in place," said JB Pritzker. "As governor, I will not support school vouchers and will work to do away with this program."
- Posted by Rich Miller 97 Comments


* Roll call…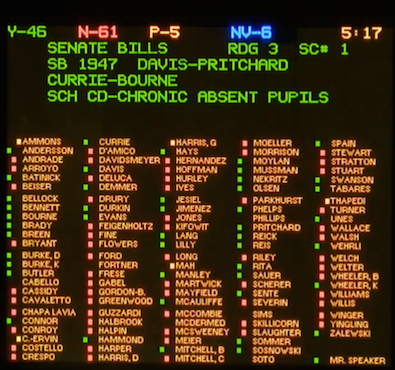 Both parties are now going to caucus.
…Adding… Democrats voting "No"…
Andrade, Arroyo, Beiser, Cassidy, Chapa Lavia, Conroy, Costello, Crespo, D'Amico, Deluca, Drury, Feigenholtz, Fine, Flowers, Ford, Gabel, Gordon-Booth, Greenwood, Guzzardi, Halpin, Harper, Hernandez, Hoffman, Hurley, Jones, Kifowit, Martwick, Mayfield, Mitchell, Moeller, Riley, Scherer, Slaughter, Stratton, Stuart, Turner, Wallace, Walsh, Welch, Williams, Willis, Yingling.
Lots of leaders, "regulars," targets, liberals and Black Caucus members on that list.
* The Democrats only had 18 "Yes" votes…
D Burke, K Burke, Connor, Currie, Davis, Evans, Lang, Lilly, Manley, Moylan, Mussman, Nekritz, Phelps, Rita, Sente, Tabares, Zalewski, Mr. Speaker.
* 28 Republicans voted "Yes," which is two shy of their target…
Andersson, Batinick, Bellock, Bennett, Bourne, Brady, Breen, Butler, Demmer, Durkin, Hammond, Hays, Jesiel, Jimenez, McAuliffe, Mitchell, Olsen, Pritchard, Reick, Reis, Sauer, Sommer, Sosnowski, Spain, Swanson, Unes, Wehrle, K Wheeler.
…Adding… As noted in comments, it is a little "weird" that the bill didn't receive 47 votes, which would have allowed the sponsor to place the bill on the order of Postponed Consideration. It fell just one shy of that mark, which is, of course, raising some eyebrows that *somebody* might not have wanted this to pass right now.
*** UPDATE 1 ***  If you look at the rollcall just before they locked it down, GOP Rep. Randy Frese and Democratic Rep. Art Turner switched their votes from "Yes" to "No" at the last second. Click here.
*** UPDATE 2 *** A new vehicle bill was just moved out of the Rules Committee. Amendment 1 to SB444 is apparently identical to the bill which just went down.
The game plan, I'm told, is to allow an override vote on SB1 to placate Madigan's more liberal members. If that override fails, as expected, they'll take up the new amendment and try again.
*** UPDATE 3 *** As expected the override fails…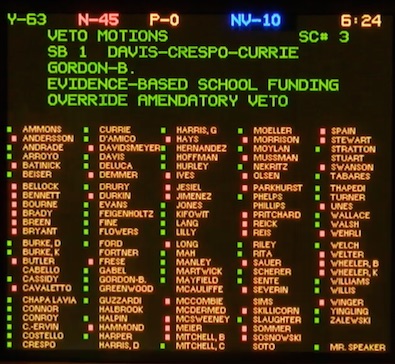 - Posted by Rich Miller 95 Comments


* Hmm…
.@GovRauner's office confirms the hire of Brian Hummel as new Director of External Affairs. Another transplant from Scott Walker admin.

— Mark Maxwell (@WCIA3Mark) August 28, 2017
* One of the few stories on the Google where Hummel's name appears with Gov. Walker…
When Gov. Scott Walker came to Lodi on Thursday, attorney Jeffrey Mayer was one of the chosen ones.

It was, by Walker's count, the 11th listening session that he has held in communities around Wisconsin to seek ideas on Wisconsin's direction in the next 20 years. It's called 2020 Vision, and it was announced during Walker's State of the State address Jan. 19.

But the 90-minute event was by invitation only; the general public and media were not allowed to attend. […]

Four Walker staff members were stationed outside the Lodi Common Council chambers during the session, and they did not allow a reporter to enter, or get closer to the doors than about 10 feet.

"This is the standard format," said Brian Hummel, director of external operations for the governor. "Individuals coming to these meetings might not be comfortable speaking in front of the press." […]

If someone wants to be invited to a session, he said, he or she may request an invitation by calling Press Secretary Laurel Patrick at 608-267-7303 — who also provides, on request, lists of invitees to all the sessions.
* Meanwhile, remember this?…
CORRECTION: "Jim Clarke has not, willnot and was never going to be fired." From @GovRauner spksm

— Mary Ann Ahern (@MaryAnnAhernNBC) July 12, 2017
* Well…
Six weeks later, former Intergovernmental Affairs boss Jim Clark has now been shuffled over to IL Housing Development Authority. https://t.co/KQpXis1Fn6

— Mark Maxwell (@WCIA3Mark) August 28, 2017
From what I understand, however, Clark went on his own accord. He wasn't moved.
- Posted by Rich Miller 9 Comments


* And, yet, the Chicago Teachers Union and some Chicago Democrats want to kill this deal…
School board President Frank Clark said on Monday that Chicago Public Schools may see as much as $450 million from a pending state accord on education funding, about $150 million more than the district had anticipated.

Clark used the figure to address criticism from the Chicago Teachers Union over a possible tax credit program for private school scholarships. His comments came as the school board was set to vote on a proposed $5.7 billion operating budget. […]

"I cannot, in my own mind, balance $75 million [for the private school scholarship tax credit program] against $450 million that CPS would benefit from," Clark said to [CTU Vice-President Jesse Sharkey]. "Whether I agree or disagree on the vouchers, you guys are doing an excellent job of lobbying against that component. But frankly, it puts the whole deal in jeopardy. That's your right, you may feel in fact it's your obligation. But when I balance $450 million versus $75 million … I land on the side of the $450 million that goes to the Chicago Public Schools."

A district spokeswoman did not directly respond to the $450 million figure touted by Clark and said CPS would need to wait for a final analysis from the Illinois State Board of Education to make a calculation on the amount it might get from the state.
* Meanwhile, some Chicago House Democrats remained in the room after their party caucus ended to talk with Speaker Madigan about the deal. Madigan is expected to address the media, so keep an eye on our live coverage post.
*** UPDATE ***  And away we go…
Speaker Madigan leaves caucus saying he'll call the school funding bill for vote this afternoon. Doesn't answer whether he has enough votes pic.twitter.com/ZeprRngo4r

— Tina Sfondeles (@TinaSfon) August 28, 2017
Madigan pretty quiet after caucus. Education bill on floor soon. "It's a good bill," says he'll vote for it. pic.twitter.com/DV2KnPwswl

— Amanda Vinicky (@AmandaVinicky) August 28, 2017
Chicago Dems: Hearing 10 yes, 9 no, 11 undecided #schoolfunding

— Mary Ann Ahern (@MaryAnnAhernNBC) August 28, 2017
This might take another day. Then again, they might not be running this if they didn't have the votes. We'll see soon enough.
- Posted by Rich Miller 38 Comments


* The Fox News Channel covers the governor's signing of the TRUST Act today…
The governor's office pointed to a decision made by an Illinois-based federal court that immigration detainer orders from U.S. Immigration and Customs Enforcement are illegal.

A spokesperson from Rauner's office told Fox News that the law "coincides" with that ruling.
They may have meant "codifies," which is standard procedure in cases like these. You generally want your statutes to conform to judicial rulings.
* More…
But fellow Republicans are calling the bill another "sanctuary" measure — the kind the Trump administration has been fighting in cities across the country.

Asked for comment about the new Illinois law on Monday, a Justice Department official was critical.

"As the Attorney General has said, when cities and states refuse to help enforce immigration laws, our nation is less safe," DOJ spokesman Devin O'Malley told Fox News. "Failure to deport aliens who are convicted for criminal offenses puts whole communities at risk – especially immigrant communities in the very sanctuary jurisdictions that seek to protect the perpetrators."
- Posted by Rich Miller 19 Comments


* Tribune…
A Cook County judge on Monday criticized the way former Republican state Treasurer Dan Rutherford ran his office, but ruled in his favor in a lawsuit filed by three former employees who alleged they were fired after cooperating in a sexual harassment investigation.

The three men, logistics manager Patrick Carlson, community affairs and marketing director George Daglas and investment director Ashvin Lad, didn't prove at trial that they were fired in retaliation for corroborating another employee's claims that he faced sexual harassment and political pressure at the hands of Rutherford, Judge James Synder ruled.

Attorneys for the ex-state treasurer have denied the allegations , saying the trio was let go after an inspector general's report recommended they be fired over allegations of falsifying timekeeping records.

In his ruling Monday, the judge said he believed that's why they were fired.
The three have vowed to appeal.
- Posted by Rich Miller 11 Comments


* From the Chicago Teachers Union…
The CTU is also condemning a legislative deal that Emanuel has embraced—and the Board of Education has done nothing to oppose—which opens the door to school vouchers, a move that is expected to put roughly $75 million in public dollars into the coffers of private schools and provide hefty tax breaks for the wealthy. The union argues that the voucher "compromise" in SB1—modeled on the extremist privatization policies of U.S. Secretary of Education Betsy DeVos—is tantamount to planting a ticking time bomb on a bus and driving through school districts throughout the state, creating even greater debt and fiscal distress.

"The mayor's failure to responsibly budget for our schools has set the stage for him to cut a deal with the governor to implement some kind of state-run 'school finance authority'," CTU Vice President Jesse Sharkey said. "This allows him to wash his hands of our schools while avoiding taxing his wealthy friends—many of whom are among his biggest campaign donors."

"This false choice of a voucher 'compromise' for SB1, without public debate, will undermine the core promise of quality public education for all students—low income students, in particular—and give more hefty tax breaks to the rich, Sharkey added. "Legislators should reject this scheme and vote for a straight override of the governor's veto of SB1."
* Rep. Kelly Cassidy (D-Chicago)…
This scheme is a major legislative priority of ALEC (American Legislative Exchange Council, an ultra-conservative legislative think tank) and US Education Secretary Betsy DeVos. In some cases, like Georgia, it allows donors to profit from their "donations" by getting multiple tax breaks at the state and federal levels.

We must pass a school funding reform bill to ensure that schools statewide receive the money they need to successfully educate our children. I can't, however, compromise on my long-held opposition to vouchers and other mechanisms to strip support from our neighborhood schools.

I want a clean school-funding bill, one that doesn't compromise the well-being of the students in the most vulnerable schools that have seen the greatest cuts at both the local and state level. And once again, they are being used as hostages. We are being asked to rubber stamp this last-minute, unreviewed scheme because it is those students at the highest need schools that require state aid the soonest.
OK, first of all, ALEC is also heavily involved in criminal justice reform, so not everything they do is horrific to liberals. And this plan isn't like Georgia's in that it doesn't allow for a federal tax break.
Second, these aren't vouchers. And they're not stripping support from anybody. The tax credits are being paid out of GRF. Now, I have no idea where they're going to find the money, but the school budget is already set in stone. Also, the hold-harmless provision in the new bill is not based on per pupil, so schools that lose students to private schools won't be penalized.
And, finally, what happens when SB1 isn't overridden? Do we all just wait for yet another meltdown crisis? And does the CTU or any of the Chicago legislators opposing this deal really believe that Chicago will get the same deal that it's getting now if the CTU and Chicago legislators manage to kill this deal over a $75 million pilot project?
…Adding… The deal doesn't just magically get better for CPS if Chicagoans kill it. Also, lots of liberals applauded Republicans last month for swallowing hard and voting for a tax hike and a budget that would almost assuredly cause them electoral grief…
"Vouchers" aren't just a bad idea, they are also a gift to anyone seeking to run for office against Democratic incumbents #Twill #SB1

— Kyle Hillman (@kylehillman) August 28, 2017
I have spoken to two candidiates so far who privately hope their incumbent votes for this so they can run on it. #Twill #SB1

— Kyle Hillman (@kylehillman) August 28, 2017
So instead of putting in a predatory funding mechanism - vote the compromise down and get a better deal. #SB1 #Twill

— Kyle Hillman (@kylehillman) August 28, 2017
- Posted by Rich Miller 79 Comments


* Press release…
The Illinois Opportunity Project announced today that Matthew Besler will resume his work with the Illinois Opportunity Project and Illinois Liberty PAC, leaving his role as Chief Strategic Advisor with Citizens for Rauner, Inc. Besler said the following about his decision:

"With Governor Rauner's re-election team now in place and the teams for the House and Senate GOP caucuses in place, I am returning to my role as President of Illinois Opportunity Project (IOP) and Chairman of Illinois Liberty PAC, a direct expenditure PAC, as these organizations represent critical policy and political infrastructure for advancing economic liberty in Illinois.

I wish Mark Harris, Governor Rauner's general consultant, Betsy Ankney, Rauner's campaign manager, Nick Klitzing and Kayleen Carlson at the ILGOP, David Walsh and Joe Woodward at the House Republican Organization (HRO) and Brian Burian at the Senate Republican Organization (SRO) great success in the 2018 election cycle.

The organizations I lead will be there to provide support where our interests intersect."
* From Dan Proft, one of the IOP co-founders…
"For the sake of clarity amid recent personnel changes and much rumor-mongering and grievance-prosecuting from former Rauner staff, my position hasn't changed. I will continue to head the independent-expenditure Liberty Principles PAC.

"Our goals remain as they were prior to Governor Rauner's election and since: (1) improve the quality of the GOP legislative caucuses in terms of legislators committed to the economic liberty policy agenda; and, (2) grow the numbers of those caucuses to majority control of both chambers.

"We are warriors for actual justice and we will support candidates who are similarly disposed–those who will fight for policies that promote free minds, free markets and a free society. And we will oppose those who do not, regardless of their party affiliation or official title."

- Dan Proft, Chairman, Liberty Principles PAC
- Posted by Rich Miller 29 Comments


* Back in what I believe was the late 1990s, I wrote a story about how several people along a parade route screamed a perjorative term for "homosexual" that begins with an "f" at then-state Rep. Kurt Granberg. As I recall, it was a tongue in cheek story about how the screamers were not only out of bounds, but they were also wrong about the legislator's sexual orientation.
So, I didn't really get too awful fired up about this incident…
It is disturbing, but all too easy in today's political climate, to picture the reality state Rep. Sara Wojcicki Jimenez recently found herself in.

A spectator yelled "We hate you" at Jimenez, her husband, 4-year-old twins and mother as they walked in the Illinois State Fair parade. One of her sons asked his grandmother if the man hated him; she downplayed the incident, and the boy theorized perhaps the man was upset because he didn't get any candy.

That may pacify the child now, but as he hears more insults hurled at his mother, how do his parents explain that a growing number of Americans have enthusiastically embraced the misplaced notion that incivility toward an elected official is a duty?
Not cool at all, but at least the person didn't scream profanities at her.
* The SJ-R followed up with a story entitled "For some lawmakers, frustration a factor in leaving legislature." But some of these problems have been with us for generations…
He also said citizens have changed, "and I think social media is a part of that, where it's just so easy for people to be very visceral and not gather the facts – just spout off. It's not as much fun as what it once was."
Yes, social media does concentrate the kooks because they can more easily find each other and commiserate about their miserable lives. It's made even worse when groups deliberately cultivate that anger and weaponize it against legislators. But the citizenry has been spouting off since even before they dumped tea into the Boston Harbor.
I will agree that times aren't as fun as they used to be. But maybe that's because I'm getting older.
* More…
Mitchell and other departing legislators point at issues like the expansion of the campaign cycle, gerrymandering of districts and the lack of term limits for legislative leaders as contributing causes for the impasse. […]

Mitchell agreed that said House members on two-year campaign cycles have really always been in the constant-campaign mode – starting a term in January and starting to circulate petitions the following September for the next year's election.
Those petition deadlines have been in place for eons, as has gerrymandering, as has no term limits for leaders.
* This, however, is a very real change…
"I'm a moderate Republican, yet I still got elected. That doesn't happen a lot."
Judy Baar Topinka was pro-choice on about 90 percent of all issues when she ran for governor in 2006, but she was labeled pro-life by the ardent pro-choicers and pro-abortion by the pro-lifers. That trend had already started, but you won't find any pro-choice Republicans in the General Assembly these days. They've dropped out, lost primaries or lost general elections to Democrats.
And I get the feeling that there won't be very many House Republicans who are open to tax hikes elected to the 101st General Assembly.
At the same time, conservative, Downstate, rural Democrats have become an endangered species. That trend began with the Civil Rights era, kicked up hard in 1994 and has recently accelerated again.
- Posted by Rich Miller 42 Comments


* From Senate President John Cullerton…
Illinois offered newfound security to immigrants on Monday, spelling out in a new law that state and local police shouldn't double as immigration agents and encouraging immigrants to report crimes without fear of reprisals for their immigrant status.

The Trust Act (SB31) was sponsored by Illinois Senate President John Cullerton and ultimately won legislative approval and the support of law enforcement groups this spring session. Gov. Bruce Rauner signed his name to it on Monday, making it the law in Illinois. Cullerton applauded everyone involved in seeing this new law through.

"An immigrant woman who's been victimized shouldn't have to think twice about reporting that crime. She deserves justice as much as anyone else in our society. At the same time, police need her report to effectively track down violent criminals and protect all of us. This law reminds us that we're all in this together and we need to be able to work together and trust one another," said Cullerton.

Specifically, under the new law, state and local police cannot arrest or detain someone on the basis of immigration status alone. This prohibition does not apply if there is a valid judicial warrant. Similarly, state and local police are prohibited from arresting or detaining someone based on what's known as an "immigration detainer," which is a civil document issued by an immigration agent, not a criminal warrant issued by a judge and supported by probable cause.

Across the country, there have been news accounts of crimes going unreported in immigrant communities because victims fear they will end up arrested for lacking immigration documents if they report the crimes. The proposal Cullerton sponsored and the governor signed is designed to foster trust between police and immigrant communities and refocus resources on fighting priority crimes.

"The immigrant community has always been a vibrant part of our state's story and a vital part of our economy today. Everyone deserves safety and security," said Cullerton.

"If someone is going to be detained in Illinois it should be because an actual crime has occurred, not because of how they look, what they believe or what paperwork they may or may not have. The Trust Act reinforces the message that our immigrant neighbors are part of our community. It is my hope that this new law will enhance interaction between the immigrant community and state and local police to improve safety and the quality of life for all Illinoisans," Cullerton said.
* Cullerton was a bit snarkier at the bill signing today…
Senator Cullerton "Signing events are a lot more fun than veto events. We should do this more often @GovRauner " #TRUSTact pic.twitter.com/6yYwiPoUkh

— Shannon Downey (@ShannonDowney) August 28, 2017
For a raging opinion in dissent that doesn't actually address the contents of the legislation, click here. For raw audio of today's bill signing event, click here.
More press release will be posted on our live coverage post.
- Posted by Rich Miller 27 Comments


* Bernie's latest column focuses on a quote from Gov. Bruce Rauner about how Speaker Madigan was successful at "breaking the General Assembly to force a tax hike with no reforms whatsoever"…
I have wondered about Rauner's repeated claim, in absolute terms, about the lack of reforms, as he has made his way across the state signing bills that sure seem like they contain some of what he wanted.

Take for example his announcement in Urbana on Aug. 9, when he signed Senate Bill 8, described in his news release as "a bipartisan bill that makes the state procurement process more efficient and transparent, thus saving money for Illinois taxpayers."

"Reforming the procurement process allows more flexibility for vendors," Rauner was quoted in the release. "Removing red tape will make it easier for small and midsize businesses to bid on state contracts. This is a win for our government agencies, for universities, for businesses and, most importantly, for taxpayers."

In the budget package itself, there is some pension reform, with elements of a 401(k) style defined contribution program included. The legislation he praised Thursday in Naperville would keep retired police officers from re-entering the pension system a second time if they return as chief or join another force. And in Oak Brook on Aug. 14, he signed Senate Bill 3 and House Bill 607, both of which help enable local officials to consolidate governments. But the headline of that day's news release also showed he thinks "more action is needed." […]

"It seems inconvenient for the governor to admit that we enacted significant reform, largely at his direction and request," [Sen. Don Harmon] said. "He seems to like playing the victim. He seems to like saying he didn't get his way, when in fact he got his way on a significant number of bills."
- Posted by Rich Miller 20 Comments


* AP…
Republican Gov. Bruce Rauner signed a measure Monday allowing automatic voter registration in Illinois, a move that comes a year after he rejected a similar measure over concerns about voter fraud.

Illinois joins more than half a dozen other states with some form of automatic voter registration, which proponents say boosts civic participation.

"This is good bipartisan legislation and it addresses the fundamental fact that the right to vote is foundational for the rights of Americans in our Democracy," Rauner said at a Chicago bill signing ceremony attended by supporters. "We as a people need to do everything we can to knock down barriers, remove hurdles for all those who are eligible to vote, to be able to vote."
* From a press release…
SB 1933 reforms current registration laws so that whenever an eligible Illinois citizen applies for, updates, or renews a driver's license or state ID, he or she will be automatically registered to vote at their new address, unless they choose to opt out. AVR creates a similar program for other state agencies, which will make it the farthest reaching automatic voter registration law in the country. In May, the legislation passed both the House and the Senate in unanimous, bipartisan fashion: 115-0 and 55-0, respectively.

"With the Governor's signing of automatic voter registration, Illinois has solidified its status as a national leader in expanding voting rights and ballot access," said Andy Kang, Legal Director at Asian Americans Advancing Justice Chicago. "Over two years, the Just Democracy Illinois coalition has worked across the aisle to gain support for AVR, a model that can now be duplicated in other states fighting to modernizing their voter registration system." […]

The bill passed in 2017 after two amendments were adopted into the language, including changes to align automatic voter registration with the implementation of REAL ID at the office of the Secretary of State, and adding two agencies to the program: the Department of Natural Resources and the Department of Financial and Professional Regulation. REAL ID is a federal program that tightens standards for state identification documents, expected to be implemented in Illinois in 2018.
* The bill was sponsored by Sen. Andy Manar, who has had his share of go-arounds with Gov. Rauner on education funding reform. Both were at today's bill signing ceremony…
"This effort by grassroots organizations like @justdemocracyIL is democracy in motion" @AndyManar #AVRinIL #twill pic.twitter.com/2rSy8BNKge

— Common Cause IL (@CommonCauseIL) August 28, 2017
- Posted by Rich Miller 10 Comments


* Tribune…
In an effort to unseat Gov. Bruce Rauner and other Republican politicians in the Midwest, the union behind the Fight for $15 campaign is launching a voter engagement drive to mobilize its members to get people to the polls.

The Service Employees International Union and its Fight for $15 campaign plan to launch the initiative at a Labor Day rally in Chicago. The rally, one of several across the country, will include a march on the American Hospital Association to highlight hospital workers, who are new to the movement to raise the minimum wage to $15 an hour and are expected to play a key role in the voter drive.

Over the 14 months leading up to the fall 2018 election, SEIU members and workers participating in the wage campaign will pledge to volunteer 40 hours of their time to reach out to disengaged voters and encourage them to turn out for candidates who support union priorities such as a $15 minimum wage and universal health care. […]

SEIU plans to roll out the voter initiative across a dozen battleground states mostly in the Midwest, including Illinois and Michigan, as well as Florida, Colorado and Nevada. Paid canvassers as well as "tens of thousands" of SEIU and Fight for $15 members are expected to participate. There are 150,000 SEIU members in Illinois.
The governor, of course, vetoed the $15 minimum wage hike on Friday.
- Posted by Rich Miller 24 Comments


* Team Rauner fundraising e-mail…
Speaker Madigan and his political machine have done nothing but attack Team Rauner's reform agenda since Day One.

From forcing a massive, 32% income tax increase on Illinois families, to protecting his special interests at our expense, Madigan continues to play politics with our state's future - and we won't let him win.

We need to push back against Speaker Madigan and send him a clear message. That's why Bruce is willing to double your support heading into our end-of-month deadline.

Chip in today. For every dollar you donate to help us fight back against Speaker Madigan and his machine, Bruce will match it.

Chip in $20 = $40 >>
Chip in $50 = $100 >>
Chip in $100 = $200 >>

When Bruce was first elected, he promised to fight each and every day to stop politicians in Springfield from making our lives harder and more expensive.

But while Bruce has been fighting for lower taxes and a balanced budget, Speaker Madigan forced a massive tax hike on all of us that will hurt businesses and families in our state.

Bruce is committed now more than ever to continuing his fight against the political machine, and he's going to match your support this month.

Donate and tell Speaker Madigan we've had enough of him playing politics in Illinois; Bruce will match you dollar for dollar.

Thank you,

Team Rauner
- Posted by Rich Miller 30 Comments


* Sneed on the relationship between Mrs. Madigan and Mrs. Rauner…
"Diana and Shirley are like night and day personality wise, but they have a wonderful relationship and talk and text all the time," said a top Sneed source.

"They may be acquaintances by association, but they are good friends. I'm told Shirley sends Diana friendly emojis all the time.

"They were excited about taking a trip to Rome together to see the investiture of Cardinal Blase Cupich, but I'm told Mike Madigan canceled because he didn't want to go with Bruce Rauner," added the source.

"Shirley is a role model," Diana told Sneed in an exclusive and rare interview Friday, shortly after the historic school-funding deal was reached after months of tug of war.
Mrs. Madigan almost always uses tons of emojis when she texts people. Also, I don't think Speaker Madigan canceled that trip because of the governor. Anyone close to Mrs. Madigan would probably know why.
I asked Speaker Madigan's press secretary if he'd care to comment on the story, but he declined, saying "I have no idea that it has any basis in fact."
* Anyway, there's more from Mrs. Rauner, so go read the whole thing…
"I consider my husband and I warriors for social justice, and we don't always agree on the methods to get there.

"But we wouldn't be married if we did not share the same motivations and values. But I will say this: He is driven to do the right thing, not just the easy thing, and he wants nothing but to do a good job and help the people of Illinois."
- Posted by Rich Miller 39 Comments


* Tribune…
With legislative leaders still working on the finer points of a plan to send money to public schools, their efforts risked being derailed amid ongoing rancor between Gov. Bruce Rauner and Mayor Rahm Emanuel as well as pressure from unions. […]

Even before the accord was announced, Emanuel poked Rauner over his decision to shed his new press staff just weeks after bringing them on amid a massive staff shakeup in the governor's office.

"I kind of think some guy that's talked about running on a 'turnaround agenda,' it's becoming quite apparent that it's a 'turnover agenda,'" Emanuel said, mocking the tagline Rauner had given to his pro-business wish list.
* Press release…
Today, as the Illinois House of Representatives considers revisions to Senate Bill 1, Illinois Federation of Teachers President Dan Montgomery released the following statement:

"We were happy to support Senate Bill 1 as originally passed. For the first time in a generation, it creates an opportunity to fund schools more equitably and adequately by considering regional circumstances and ensuring that no district loses a dollar. But as he did with the bipartisan budget, Governor Rauner vetoed the legislation and is holding our kids' education hostage to his political demands.

The Governor's priority is not fair and equitable funding for all of Illinois' students. This was clear in the 120 changes he made when he vetoed SB1, and it's clear now in his last-ditch effort to use our students as leverage for private school tax credits.

Taxpayer dollars should be invested in our public school classrooms, plain and simple. The Governor's proposal gives the wealthy another break while robbing our public schools of students and dollars.

We encourage lawmakers to reject this. Override Governor Rauner's veto and pass Senate Bill 1 as written. Vouchers should not be the price of progress."
I've asked the IFT if it is willing to allow schools to shut down over this beef with the tax credit proposal. I'll let you know what they say.
…Adding… From the IFT…
Of course we do not want schools to shut down. That was the Governor's desire when he completely rewrote SB1 in his AV. Legislators can simply override the veto. (And aside from what private school tax credits do to undermine public school funding, is now really the right budgetary time to do this?)
They can't "simply override the veto," but whatever.
* Meanwhile, the CEO of the state's second largest school district (Elgin) was bad-mouthing the compromise plan and demanding an override of SB1 on Twitter yesterday, so I asked him some questions…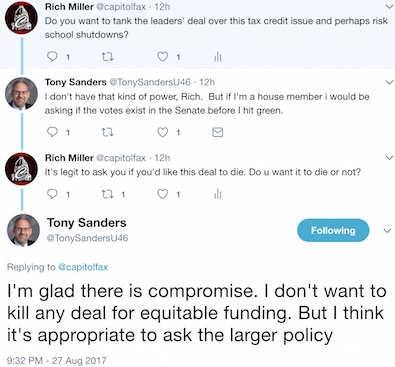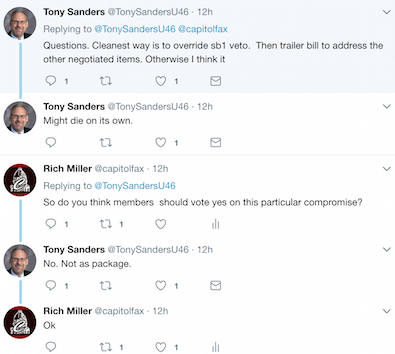 That's a lot of dancing.
…Adding… Never bet against the leaders when they're all pulling in the same direction. If that is truly the case here, then everyone should probably calm down a bit…
After 30 min meeting with Spkr Madigan, GOP leaders say #schoolfunding bill is a go #twill pic.twitter.com/PSSolvD8GU

— Mary Ann Ahern (@MaryAnnAhernNBC) August 28, 2017
…Adding More… This is the standard partisan split on structured roll calls. It's based on the percentage each party has in the chamber. The object is to meet these minimum targets…
One Insider Prediction: 41 Dem votes, 30 GOP votes … if so then historic school funding will pass #twill pic.twitter.com/Caf7kLlBd5

— Mary Ann Ahern (@MaryAnnAhernNBC) August 28, 2017
* Related…
* What's going on with Illinois school funding? Here's a Q and A: What's with the $75 million in school vouchers? First, they're not vouchers, which would be public money or tax credits provided directly to families paying tuition. What's been proposed are tax credits for anyone who donates to organizations that would create scholarship funds for low- and mid-income students attending private schools. At least for the next five years — when the measure will sunset — donors will get a credit for 75 cents on every dollar they give. Though it's not yet clear how any of that will happen.

* Legislative Leaders Inch Toward School Funding Deal: "It's time for everyone, if they have minor objections, look at the goal. Who gets hurt? No one gets hurt, everyone succeeds under this. Every student in Illinois is going to be a beneficiary of what we have to come to a conclusion in," Durkin said.

* GOP leaders: School funding reform plan still on track

* IL Lawmakers Working To Hammer Out Details On School Funding

* Rep. David McSweeney Says The New School Funding Plan May Cause More Harm Than Good
- Posted by Rich Miller 68 Comments


* My weekly syndicated newspaper column now appears in the Decatur Herald & Review…
After years of harshly bad-mouthing the state's economy, Gov. Bruce Rauner has pivoted in the past couple of weeks as the campaign season has heated up.

"I'm proud since I became governor," he said recently, "we have recruited and added around 120,000 new jobs to the state of Illinois."

"But," Rauner said, "we should be growing at four or five times that rate. But we have red tape and restrictions, regulations on our businesses. I have advocated change that, so far, Speaker Madigan has resisted."

The governor has repeated the 120,000 new jobs figure at least a couple of times since then and has tossed in the reference to House Speaker Michael Madigan as well.

And, indeed, using nonfarm jobs data from the Illinois Department of Employment Security, over 120,000 net jobs have been added in Illinois since February 2015, the first full month of Rauner's term in office.

But most of those jobs were gained in 2015, when 83,400 jobs were added. In the 19 months starting in January 2016 through July 2017, just 41,900 jobs were created in Illinois, according to IDES data. Of those, a mere 19,600 jobs were added in Illinois during the first seven months of this year.

The situation is much bleaker if you look at the federal government's Bureau of Labor Statistics' numbers.

According to BLS, Illinois added just 40,002 jobs from February 2015 through July 2017.

But, according to BLS, Illinois has lost a whopping 29,877 net jobs from January 2016 through July of this year. Take out July's horrible preliminary report (which are often revised), and Illinois only added a paltry 530 jobs between January 2016 and June 2017.

It almost goes without saying that Rauner's political opponents will be sorely tempted to blame those lagging indicators on the two-year state budget impasse. The impasse's negative impacts really kicked into gear starting in the second half of Fiscal Year 2016, which would be January, when the slide began.

Rauner inherited an economy that, according to the same Illinois Department of Employment Security data he uses, added 61,500 jobs in 2013 and 84,600 in 2014, before Rauner was inaugurated, only to slow to a crawl in the past 19 months, despite a tax cut that took effect at the beginning of 2015. So far this year, the "Trade, Transportation and Utilities" sector has lost 9,300 jobs.

Illinois' gross domestic product was almost $792 billion in 2016, according to the federal government's Bureau of Economic Analysis. Could a state government's budget troubles really have an impact on an economy that size?

Well, S&P Global Ratings Managing Director Gabriel Petek said in a statement back in February that Illinois' "distressed fiscal condition and dysfunctional budget politics now threaten to erode the state's long-term economic growth prospects."

In January of this year, another credit rating agency, Moody's, published a report which claimed Illinois' "political gridlock is imposing significant economic costs."

The uncertainty created by the budgetary chaos almost certainly took a toll on the economy. And then there were all the layoffs at Illinois' public universities due to lack of state funding which were amply documented in the media - 1,500 or so by the end of May.

Gov. Rauner's opponents will have a point if they pounce on him for damaging the economy. He didn't create the crisis on his own, but he's the governor and governors wear the jacket.

And that's a big reason why he needs to get his own house in order as soon as he possibly can.

As you probably already know, the governor fired his most loyal staff members over a month ago and replaced many of them with staff from the far-right Illinois Policy Institute. Those folks haven't worked out very well. Rauner has lurched from one self-created public relations crisis to another ever since he purged his staff. A controversy over an Illinois Policy Institute cartoon, of all things, lasted more than a week.

The governor pushed out four of those PR folks last week, but he'll need to replace them some competent, experienced professionals if he wants to get back on track. I'm not sure if he can ever explain why he's not at fault for these lousy job numbers, but he surely won't be able to do that with his current team.

And maybe a new team could help him figure out what to do about these problems. So far, things are not getting better on his watch.
- Posted by Rich Miller 46 Comments


* Press release…
Criminal defendants who kill LGBTQ people can no longer be acquitted by claiming a panic defense–that they were provoked by a fear of the victim's sexual orientation or gender identity–under a new law signed by Gov. Bruce Rauner that was part of the 2017 legislative agenda of Equality Illinois, the state's civil rights organization for LGBTQ Illinoisans.

"This new law ensures​ LGBTQ people are not blamed for the violence perpetrated against them simply because of who they are," Brian C. Johnson, CEO of Equality Illinois, said Monday. "We thank Gov. Rauner for supporting the panic defense ban. With the unanimous support of the legislature and the governor's action, Illinois continues its proud bipartisan tradition of advancing justice for LGBTQ Illinoisans."

The measure, SB 1761, which the governor signed on Friday after unanimously passing both chambers of the General Assembly, is part of the 2017 legislative agenda of Equality Illinois. The agenda also included two other bipartisan bills signed into law in recent days. The LGBTQ Public Service Law (SB 1670), which enhances LGBTQ representation and visibility on state boards and commissions, was approved by Gov. Rauner on Aug. 18. The third bill, HB 1785, modernizes state law so transgender individuals won't have to undergo unnecessary surgical procedures at great expense in order to correct the gender marker on their birth certificates. It was signed last Friday.

"This is a huge achievement. With the approval of these three bills by the legislature and the governor, Illinois is moving forward on LGBTQ rights while the federal government reverses course and Donald Trump is going against the tide of history," Johnson said. "These bills improve the lives of LGBTQ Illinoisans, and having them signed into law also improves the social and political fabric for everyone in the state. It could have only happened through the collaboration of Illinois Democrats and Republicans. Working together, we can achieve great things."

An initiative of Equality Illinois, Senate Bill 1761 was sponsored by state Sen. Daniel Biss of Evanston and state Rep. Litesa Wallace of Rockford. The legislation unanimously passed both chambers of the Illinois General Assembly in May. SB 1761 is, we believe, the first bill in the country supporting LGBTQ (lesbian, gay, bisexual, transgender, and queer) rights to pass with unanimous support from a state legislature.
* From Friday…
[Gov. Rauner] also signed legislation that would make it easier for transgender people to change the sex designation on their birth certificates.

Formerly, state law said transgender people could only change their birth certificates if a doctor said they had transition surgery. The new law would allow for a change if a medical or mental health provider confirms someone has received "clinically appropriate" treatment. A range of practices including hormone therapy would be covered, using a similar standard that applies to U.S. passports.

Supporters said people were often denied coverage for preventive care like pap smears and prostate exams if their birth certificates and identities don't match, saying the previous surgery requirement was an unnecessary burden.

"It's basic common sense that a person's gender should be recognized and respected, whether or not that person has had any particular kind of surgery," John Knight, director of the LGBT and HIV Project for the ACLU of Illinois. "I'm extremely proud of our state for taking this important step to modernize a law that has been a significant barrier in transgender people's lives for many, many years."
- Posted by Rich Miller 17 Comments