* Tribune editorial…
If you ask Illinois public university leaders why so many top high schoolers bolt for out-of-state colleges, you'll hear a chorus of excuses … er, reasons. Many boil down to: We want more money. Few of those leaders acknowledge reality: Illinois' public colleges are selling a product that progressively fewer students want to buy.
* But…
Between 2000 and 2015, Illinois cut nearly $1.4 billion from General Fund appropriations to Higher Education—even before the ongoing budget crisis, which has cost Illinois colleges and universities over a billion addition dollars.
That CTBA analysis was published in January of 2017, months before the budget and tax hike overrides.
It's not that the rest of the Trib's editorial has bad ideas. Some are good. But sweeping aside the harsh reality of all too real funding cuts and not even mentioning the devastation done to higher ed budgets by the impasse is just willfull ignorance, particularly since that editorial board repeatedly cheered on the impasse. In other words, they pushed hard to squeeze the higher ed beast and now mock the battered shell for pleading poverty.
* Check out the U of I's funding, for instance...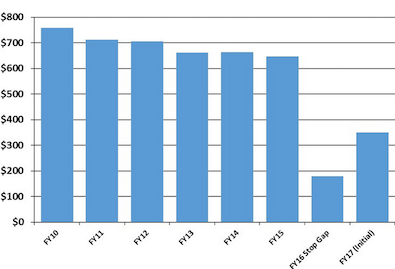 Notice anything?
* In other higher education news…
After Thursday's vote against a plan to shift more money from SIUC to SIUE, a state lawmaker with ties to Edwardsville wants to split the two campuses.

State Rep. Jay Hoffman (D-Belleville) has suggested the idea several times over the past couple decades, but he still feels the effort could win approval, especially in light of this week's events.

Hoffman said he feels like SIUE doesn't benefit much from being in the SIU system. He also feels like the two universities have different missions, and having different governing boards for each one will allow both to thrive. […]

"I would provide money to adequately fund the university systems, which would, I believe, not end up with SIU Carbondale losing money but both the universities would actually see an increase in the money," Hoffman said.
* More…
Hoffman introduced similar bills to split the SIU system in 2003 and 2013, and Rep. Thomas Holbrook, D-Belleville, pushed such legislation in 2005.

Hoffman said he filed the bill this week because he believes SIUC and SIUE have two different missions.

"It seems that if you were simply to have separate boards that could focus on the needs and the strengths of each individual campus, it would make more sense and they would both flourish," Hoffman said.
* Related…
* Why Would the Government Stop States From Helping Student Borrowers?
40 Comments























































































































Sorry, comments for this post are now closed.