* Hmm…
Here's the forecasted vote share @FiveThirtyEight is predicting in IL's four most competitive U.S. House races:

—#IL06 (@PeterRoskam)
—#IL12 (@RepBost)
—#IL13 (@RodneyDavis)
—#IL14 (@RepHultgren) pic.twitter.com/IhBEiBji1p

— Crain's Chicago (@CrainsChicago) August 29, 2018
* Meanwhile…
By the time of November's election, Democratic candidates and liberal groups will have raised an astounding $1.5 billion in online contributions alone. And nearly every cent of it will arrive first in a mostly empty basement, where a printer the size of a carry-on suitcase processes checks next to a solitary cardboard cutout of former President Bill Clinton.

This is ActBlue, the not-for-profit group that has become a ubiquitous presence in Democratic politics, providing an online fundraising platform for just about every entity inside the party. If you've ever donated to one of the party's candidates, or one of the recently formed grassroots progressive "pop-up" groups, you probably used ActBlue.

Few groups, then, have a better view of how a surge of relatively small, online contributions is reshaping the party's priorities and campaigns — or how they are poised to upend the upcoming Democratic presidential primary.
There's also an interesting new startup out there called GroundUp that allows Dems to link their credit cards to its system. They select the candidates they want to support and then every time participants make purchases, Ground Up rounds up to the next whole dollar amount and sends the "spare change" to the campaigns.
- Posted by Rich Miller 52 Comments


* Jon Seidel at the Sun-Times…
A month after acknowledging an impasse over whether Chicago police should make a record each time they point a gun at a person, it appears state and city lawyers will put the question to a federal judge.

Attorney General Lisa Madigan's office filed a motion Wednesday to partially lift a stay of her lawsuit seeking a consent decree to govern reforms at the Chicago Police Department. That stay has given her office a chance to negotiate with City Hall.

Now, partially lifting the stay over just the handgun issue would likely put that matter in the hands of U.S. District Judge Robert Dow.

"Focused litigation on a single, limited issue" could play out at the same time as the consent decree approval process, Assistant Attorney General Cara Hendrickson wrote in Wednesday's motion.
* The Question: Should police be required to fill out a form when they point their gun at someone? Take the poll and then explain your answer in comments, please.
bike tracks
- Posted by Rich Miller 55 Comments


* Background is here if you need it. Greg Hinz…
A high-stakes veto battle over how to regulate the car-sharing business is shaping up in Springfield.

Yesterday Gov. Bruce Rauner rejected a measure approved by the General Assembly this spring that would require companies that connect individuals who want to lease their cars to others via a phone app to generally follow the same regulations and pay the same taxes as traditional companies.

The action likely sets off round two of a high-stakes lobbying battle, pitting new-economy firms such as Turo against long-time rentals companies like Enterprise. With a gubernatorial election set to occur before any votes are taken, the outcome is uncertain. […]

Bill advocates have not yet commented on the governor's veto, which the Legislature can now accept or vote to override. If nothing happens, the bill dies. But given that some Republicans voted for the original bill, including Senate GOP Leader Bill Brady and House Republican Leader Jim Durkin, those override votes may be within reach.
Good point on Brady and Durkin.
* From the company which helped push the bill to Rauner's desk…
"Why the Governor would veto bipartisan legislation that exempts peer-to-peer car rental providers from basic requirements is beyond comprehension," [Enterprise Rent-A-Car] told Ars. "Ensuring vehicle safety, offering transparent pricing, and collecting essential state and municipal fees is just common sense. If peer-to-peer doesn't pay taxes or fees, cities/municipalities will have to find ways to make up for lost revenue. That will only hurt local businesses and citizens while peer-to-peer companies get a free pass. We are confident the Legislature will right this wrong."
* Allstate…
"Gov. Rauner's amendatory veto will enable car sharing to significantly lower the cost of personal transportation in Illinois. Every household will have the opportunity to redirect thousands of dollars per year from idle cars to education, paying off debts or saving for retirement," said Allstate Chairman, President and CEO Tom Wilson. "The governor's proposed changes will foster the innovation necessary to make car sharing a reality and should be supported by the legislature as a vote for family economic wellbeing."
* General Motors is in the car-sharing business and sent this release…
General Motors supports Governor Rauner's decision to veto SB 2641 and seek a reasonable legislative compromise that protects consumers and allows innovative mobility platforms to operate in the State of Illinois. His actions today recognize that peer-to-peer car sharing can provide mobility solutions and economic opportunities for both vehicle owners and program users.
* From the governor's economist…
"It's a telling symbol of Illinois' unique reputation for politics that a one-sided and rushed effort to shut down new competition failed everywhere else but succeeded here," said Mischa Fisher, chief economist and advisor to Governor Rauner. In the statement released along with the veto, Governor Rauner returned the bill to the Illinois Senate with a list of changes that would protect the operations of the car-sharing companies.

"It's easy for even an active follower of tech and startups to think that the constant marginal progress we see is automatic," Fisher told Ars. "But what nearly happened in Illinois is a reminder that the legal rules matter, and if we want to have competitive marketplaces that produce new goods and services in any state, we don't want incumbent players authoring their competitors' rules without any oversight or feedback."
- Posted by Rich Miller 9 Comments


* DGA…
Over the last few days, Governor Bruce Rauner's unleashed a "series of controversial" vetoes on bipartisan legislation that left one analyst suggesting they "probably didn't help him" in his tough reelection battle. In fact, Rauner made abundantly clear to Illinois teachers, veterans, families, and immigrants that he has turned his back on them.

"This week, Bruce Rauner once again abandoned Illinois teachers, veterans, and families in pursuit of his fleeting reelection bid," said DGA Illinois Communications Director Sam Salustro. "Already badly trailing in the polls after a two-year budget impasse, Rauner is adding insult to injury by vetoing critical legislation that would help working families across the state."
* The governor has signed and vetoed so many bills the past couple of weeks that it's all become a blur. So, I was wondering when I read that release earlier today if anyone was going to put some of his more controversial vetoes together into one list. The Pritzker campaign did that this afternoon…
Governor Veto is on a roll, nullifying bill after bill that would benefit working families. With so much critical legislation tossed aside by this failed governor, the Rauner campaign is left with no choice but to orchestrate a Veto Distraction Tour to provide cover from Rauner's failures.

Here are 10 bills Bruce Rauner vetoed this session that he doesn't want to talk about:

SB 2481: Rauner vetoed increasing the amount Veteran families can seek in a lawsuit against the state following his fatal mismanagement in Quincy.

SB 2892: Rauner vetoed raising teachers' wages from the current minimum of $9,000 to $11,000 a year that hasn't been updated in decades.

HB 4572: Rauner vetoed protecting Illinoisans from workplace discrimination if they work at a small business.

HB 4469: Rauner vetoed making it easier for people in jail to exercise their voting rights.

SB 2273: Rauner vetoed removing Illinois from the controversial Crosscheck voter registration system.

SB 3103: Rauner vetoed protecting immigrant tenants from being evicted or retaliated against.

SB 34: Rauner vetoed protecting immigrant survivors of domestic violence, sexual assault, trafficking and other crimes when they report those crimes to law enforcement.

SB 35: Rauner vetoed making public schools, health care facilities, or courthouses safer for immigrant families.

HB 2624: Rauner vetoed protecting Illinoisans with pre-existing conditions from losing their healthcare coverage.

HB 4165: Rauner vetoed allowing the legislature and public from holding the governor accountable for restricting access to healthcare.

"Illinoisans aren't interested in a desperate distraction tour from Bruce Rauner as he casts aside bill after bill that would help working families thrive," said Pritzker campaign spokesman Jason Rubin. "Governor Veto can try and run from his own record but this failed leader's damage to communities across this state and resistance to progress is plain for all to see."
There's a ton more nuance to those vetoes than the Pritzker people are admitting to, but as I've said a kabillion times before, voters don't do nuance.
- Posted by Rich Miller 15 Comments


* Not all that many years ago, the Democrats dominated Chicago and southern Illinois. The Republicans dominated the suburbs (including much of suburban Cook County) and the non-urbanized Downstate areas. Nowadays, the Democrats (particularly at the presidential top of the ticket) are doing much better in suburbia and not so well in southern Illinois. Some of this, particularly in southern Cook and eastern DuPage, can be explained by black and Latino migration out of the city. But that's not all of it. Here's Ted McClelland…
In 2016, Hillary Clinton won Illinois by an even larger margin than her husband, but she won only 12 counties, most of them in the Chicago area. She won DuPage County 53%-38%, and lost Williamson County 67%-28%.

Since 2000… the Democrats have become the party of urbanized, well-educated voters, which has made them much more appealing to suburbanites. Today's suburbanites are more likely than the previous generation to be pro-choice, pro-gay rights, pro-environment, pro-gun control, and pro-government, willing to tax themselves for schools and libraries — all values associated with the Democratic Party. When the Republican Party was dominated by moderates in the Midwest and Northeast, it won the suburbs comfortably. But as the party is increasingly led by conservative partisans, suburbanites are shying away. Even the Chicago Tribune, once the voice of Midwestern Republicanism, has not endorsed a Republican presidential nominee since 2004.

The same qualities that have made the Democrats so popular in the suburbs have repelled rural voters. In May, I visited Williamson County for the Old King Festival in West Frankfort, which celebrates the area's biggest industry. The local state representative, Dave Severin, who took office after defeating a Democratic incumbent in 2016, began his speech by shouting "Gods, Guns and Coal!" Then he cracked, "In Chicago, they don't even know how to spell 'coal.' " In socially conservative Williamson County, the Democrats are seen as hostile to Christian teachings on abortion and homosexuality, and to the coal industry, which Donald Trump promised to revive and protect. […]

In this reordering of political allegiances, the Illinois Republican Party traded the Chicago suburbs for Southern Illinois, the Democratic Party vice versa. The Democrats got the better end of that deal, because the suburbs are far more populous.
The Democrats did get the better end of that deal, but most of it was at the very top of the ticket in presidential years. There are still a lot of suburban Republican state legislators, for example. And some urbanized Downstate areas did see a spike for President Trump in 2016. We'll see if that holds, but the suburban trend is certainly not all that friendly to the GOP.
- Posted by Rich Miller 38 Comments


* Daily Egyptian, October 4, 2017…
While a crowd of 9,112 fans removed their hats and stood at attention for the National Anthem prior to last Saturday's SIU vs. UNI showdown in Saluki Stadium, three Saluki cheerleaders used the public stage to take a knee in protest.

Sophomore cheerleaders Czarina Tinker, Ariahn Hunt and Alaysia Brandy were unsure of how the rest of the squad would react to their intent to kneel during the anthem, so they decided not to share their plans. […]

"It's not a protest against the flag. It's not a protest against Donald Trump," the Chicago native said. "It was a protest for our civil rights that we are still fighting for, that we have been fighting for, for hundreds of years and we're not getting any justice."
Thereafter, the university did whatever it could to prevent the DE photographers from taking pictures of the cheerleaders, who were stationed in a tunnel during the anthem. All three cheerleaders are African-Americans.
* The cheerleaders were physically threatened…
Brandy, who is studying biological sciences and is also from Chicago, agreed that while some people have expressed support, many of the responses have been unsettling.

"These people know our faces and names now. And we're getting death threats and sexual assault threats, and being called the N-word so many times," Brandy said.
* This January…
The National Association for the Advancement of Colored People in Carbondale honored three SIU cheerleaders at the 36th Annual MLK Breakfast.

At the breakfast three sophomore cheerleaders Ariahn Hunt, Alaysia Brandy and Czarina Tinker were recognized for kneeling during the national anthem at the athletic events in order to protest against racial oppression. […]

Dr. Linda Flowers, NAACP Carbondale Branch president, said "They are college students whose courage transcends cheerleading. They have risked their safety, dare I say their cheerleading careers, to protest violence and injustices to African Americans." […]

"The three young ladies were recognized for their courage in standing up for what they believe in," [Vice Chancellor Lori Stettler] said. "That is foundational to everything we believe in as a society and as an institution."
Stettler apparently wasn't on the same page as campus leadership, however.
* The campus has a new policy…
SIU Athletics administration has also added new language to the Code of Conduct policy that states any displays of activism will not be tolerated and could lead to the individual's removal from their respective program.

"It is a privilege and not a right to be a student-athlete, cheerleader or spirit member at Southern Illinois University," according to the addition provided by Liz Jarnigan, SIU Athletics senior woman administrator.

"Members of the department including student athletes cheerleaders and spirit members must remain neutral on any issue political in nature when wearing SIU official uniforms and when competing/performing in official department of athletics events and activities," according to the addition provided to the Daily Egyptian. "Any display (verbal or non-verbal) of activism (either for or against) a political issue will not be tolerated and may result in dismissal from the program." […]

"We have this policy because we're wanting to put forward a message of unity and by taking sides or offending one side or the other… that's not what we believe [is our] purpose," Jarnigan said.

Brandy said she will no longer be taking a knee during the anthem and her decision to do so was made before the changes from the administration.
Two of the three women are not returning to SIUC this fall.
Thoughts?
*** UPDATE *** Ed Yohnka, Director of Communications and Public Policy, ACLU of Illinois…
Southern Illinois University's new policy suggesting that players or cheerleaders could be removed from their respective program for peaceful 'displays of activism' falls short of the critical responsibility of a public university to honor and protect free speech rights for their students. It is more troubling that the policy specifically suggests that such displays will not be tolerated on 'a political issue.'

A central purpose for any public university is to engage students and the community in the issues of our time. Schools should not threaten students – or hide them away – because they engage in protests that some in the community may not agree with. SIU administrators should act immediately to reverse these new restrictive policies and welcome a full, vocal debate on all issues on the campus.
- Posted by Rich Miller 121 Comments


* Press release…
Gov. Bruce Rauner and Illinois EPA Director Alec Messina launched the "Driving a Cleaner Illinois" program today, aimed at improving air quality in the state by primarily removing old diesel engines from service.

This program makes way for cities, schools, transit agencies, and private businesses to submit project ideas to the Illinois EPA detailing how they will replace the old engines with newer, more environmentally friendly options.

"Taking old diesel engines off our streets and out of our rail yards will lead to better air-quality for all of us," Gov. Rauner said. "The projects that will be funded in this first round will provide benefits to the most sensitive populations, including school children and residents in areas that do not meet federal air quality standards."

The "Driving a Cleaner Illinois" program is funded through a recent $108 million allocation to the state of Illinois from the Volkswagen (VW) Settlement.

The Illinois EPA is opening the first round of funding with $20 million for government-owned commuter rail and government-owned public transit bus projects in the Chicago Metropolitan area, which has the highest population and most robust public transportation networks in the state.

Subsequent funding rounds will include other areas of the state that were affected by the VW vehicles, including the Metro-East St. Louis area along with Champaign, DeKalb, LaSalle, McLean, Peoria, Sangamon and Winnebago Counties.

"Commuter rail projects will remove some of the oldest, dirtiest diesel engines in Illinois from service," said Illinois EPA Director Alec Messina. "Funding replacement of transit buses will promote all-electric and alternate fuel technology and funding for electric school buses will protect the public health of some of our most vulnerable Illinoisans."

"The Illinois Environmental Protection Agency is striking the right balance in its implementation of the VW plan," said Todd Maisch, President and CEO of the Illinois Chamber of Commerce. "Leveraging investments in new transportation infrastructure and heavy industry while maximizing emissions reductions will drive much needed investments in Illinois communities and goes a long way in making our environment even cleaner. The Illinois Chamber of Commerce applauds the IEPA for their efforts."

Mark Denzler, Vice-President & COO of the Illinois Manufacturers' Association, stated, "The IMA is pleased that Governor Rauner and the Illinois EPA have devised a thoughtful strategy to utilize the VW Settlement funds to get the best bang for the buck through future emission reductions."

The Illinois EPA is also proposing to fund an electric school bus pilot project in Cook County. Electric school buses are a relatively new technology and a pilot project will provide school districts with information on the potential for future use. The Illinois EPA is proposing to spend more than any other state on electric school buses, an additional $9 million in future funding rounds.

Jen Walling, Executive Director of the Illinois Environmental Council (IEC), voiced support for the program stating, "The proposed VW final settlement plan set out by IEPA will kick start electrification of the transportation sector. Electrifying the transportation sector leverages our increasingly clean energy-powered grid to clean our air, lower carbon emissions, and improve health conditions for the most vulnerable. The Illinois Environmental Council is especially excited about the plan's carve-out for electric school buses, which will protect young children from air pollution. IEC thanks Governor Rauner and the Illinois Environmental Protection Agency for working with environmental advocates and environmental justice communities on this final VW settlement plan."
* ELPC…
The Illinois Environmental Protection Agency today released its final plan for spending the state's $107 million share of the $2.7 billion Volkswagen Mitigation Trust funds. The Environmental Law & Policy Center has been active in discussions about the plan. Al Grosboll, ELPC's Legislative Director and Senior Policy Advocate, said in response to the final plan:

"The Environmental Law & Policy Center is supportive of specific components in the Illinois EPA plan," Grosboll said. "While ELPC will continue to raise some questions about the Agency's plan, we are pleased the IEPA included funding for electric school buses and electric charging stations for light-duty vehicles. The inclusion of these programs reflects the Agency's responsiveness to citizen requests and environmental concerns."
* ICJC…
The Illinois Environmental Protection Agency (IEPA) released its final plan today to invest the $108 million settlement the state received from Volkswagen. The plan was revised after advocates called for more public input in the process.

The revised plan includes a significant increase in investments toward electric vehicle charging infrastructure, a reduction in administrative costs, and prioritizes public transit, including electric school buses.

Statement from the Illinois Clean Jobs Coalition (ICJC):

"The plan the IEPA released today gives Illinois the opportunity invest VW settlement money to accelerate the adoption of electric vehicles and the electrification of mass transit systems, resulting in jobs, consumer savings, and cleaner, healthier air.

"This investment in electric vehicles will further develop the state's clean energy economy and add to the economic and health benefits the state is already experiencing from the Future Energy Jobs Act (FEJA). The Volkswagen settlement provides Illinois with a unique opportunity to shift the focus of our state's transportation economy toward cleaner, cheaper and more reliable technology. As the clean transportation sector continues to boom across the country, Illinois must position itself as a leader in this new sector that has the potential to transform our state's economy."
* Excerpt from the Pritzker campaign press release…
"Bruce Rauner has consistently failed to protect the environment, gutting environmental protections and showing complete disregard for the Illinois communities he is hurting," said Pritzker campaign spokeswoman Jordan Abudayyeh. "This is insult to injury from a failed governor who has been absent in the national fight to resist Donald Trump's devastating policies and has unleashed his own attacks on the environment in Illinois."
- Posted by Rich Miller 19 Comments


* That Paul Simon Public Policy Institute study on how Downstate counties get more back from the state than the taxpayers send to Springfield has gotten some traction. I wrote about it earlier this month, but here's Jake Griffin at the Daily Herald with the latest report…
For every dollar DuPage County taxpayers send to Springfield, the state returns 31 cents.

That's the lowest rate of return among all 102 counties in Illinois, according to a recently released study conducted by researchers at the Paul Simon Public Policy Institute at Southern Illinois University in Carbondale.

That puts DuPage County in a tie for the state's biggest "giver." Taxpayers in the other five counties in the Chicago area also put in more than what comes back from the state, according to the report. […]

Tiny Putnam County southwest of the Chicago area tied with DuPage, getting back 31 cents for every dollar sent to Springfield. That's likely linked to a Cook County-based oil company that moved its sales offices to Putnam County to save on sales taxes.
The Daily Herald created a cool interactive county map, so click here and have a look.
* Chuck Sweeny at the Rockford Register Star…
When some politicians around here need a convenient excuse for the fiscal problem of the day, they go to their default position: Blame Chicago.

The party faithful are sure to believe anything and everything negative about the Windy City, which was given that name by New York newspapers' editorial writers in the early 1890s to mock over-the-top boasts of Chicagoans touting their 1893 World's Fair.

Blaming Chicago and Cook County — saying the city and the state's most populous county take in more than their share of precious state money — is especially popular in the Rockford area.

The problem is, it's not true. The Paul Simon Public Policy Institute at Southern Illinois University in Carbondale ran the numbers.
* Doug Finke at the SJ-R…
The Paul Simon Public Policy Institute has some bad news for all those people who think Chicago gets all of the benefits of state spending.

In short, it doesn't.

A paper titled "The Politics of Public Budgeting in Illinois" looked at how various regions of the state fared under state budgets. In other words, how much did a region pay in taxes vs. how much did the region get in return of state spending?

In Cook County, home of Chicago, where downstaters believe all of their tax money ends up, residents paid about $2 billion more in taxes than they got back from the state, the paper found. In the suburbs, people paid more than $4.2 billion more in taxes than they got back.

And downstate? They paid about $8 billion in taxes and got $12 billion worth of spending. The paper further separated areas of downstate and determined the central part of the region got back nearly twice as much as it paid in.
* Chris Kaergard at the Peoria Journal Star…
But the raw data is still fascinating — especially if you saw those original, condensed reports about our region taking more than it gives.

It's true, regionally. But at the county-by-county level it seems that most of the Peoria region still actually gives more than it takes. (Fulton County is an exception, having both a high poverty concentration and a state prison. Knox and Stark counties also receive more than they give.)

Using the same controls researchers did regionally to account for the missing data on payments and revenue, we found that for every dollar Peoria County sends out in tax revenue it receives back about 93 cents. In Tazewell County it's about 82 cents. Woodford County gets about 91 cents and it's 88 cents in Marshall County.
* Kevin Schwaller at Peoria's WMBD…
The study also showed that approximately 19.9 percent of the state's disbursement revenue went towards southern Illinois, 12.4 percent went to central Illinois, 11.1 percent to northern Illinois, 8.7 percent went to southwest Illinois, 6.2 percent went to Cook County and 3.5 percent went towards the Chicago suburbs.
* Andrew Feather at WSIL TV…
"We get told that over and over again by people in office and people running for office that we'd be great as a state if just weren't for us having to support Chicago," [John Jackson of the Simon Institute] said.

Some have even proposed splitting Illinois into several states. In fact, Robert Marshall made separating the state the counterpoint of his failed Democratic Primary campaign earlier this year.

Jackson says such a change could have drastic effects.

"If it weren't for the support from northeast Illinois we would be north Mississippi basically," he said.

Union and Johnson Counties are the biggest beneficiaries of state funding, with each getting back more than six dollars for each dollar they send to Springfield.
* Greg Hinz at Crain's Chicago Business…
As the report concludes in boldfaced type: "It is quite clear that downstate taxes are not being disproportionately siphoned off and spent in the city of Chicago. . . .The lower income regions of Illinois as a whole are receiving significantly more in state expenditures than they contribute in taxes. Indeed, in the southernmost region, there would be very little activity at all without the state." […]

Why the sharp disparities? Part of it is that income levels tend to be lower the farther south you get. Another part is that state government and all of the state's major public universities, except the University of Illinois at Chicago, are downstate. And the major state pension funds all are headquartered in central Illinois. […]

The study does have some flaws. For instance, it uses data that don't yet incorporate changes in the state's elementary and secondary school aid formula, which delivered a pile of new money to Chicago and other poorer school districts around the state. Also of interest is the conclusion that the current tax system "certainly is not progressive," something that works to the advantage of higher-income areas.

But there should be no debate over its main finding: "Facts should count for something, indeed for a lot, and are essential to any form or rational decision-making." Amen.
* Cole Lauterbach at the Illinois News Network…
Shelbyville state Rep. Brad Halbrook was a chief co-sponsor of a resolution urging Congress to recognize Chicago as the 51st state. He doesn't dispute any of the report's findings on state spending but said that it only tells half of the story in terms of regional antipathy for the power that Chicago politicians wield over the rest of Illinois.

"We continually see unfunded mandate after unfunded mandate," he said. "Whether it's on schools, local governments, or even individuals, we continue to see regulation that drives costs up."

Illinois lawmakers often write laws that exclude or pertain to only Chicago by saying they're only applicable or don't apply to counties or municipalities with a population of more than two or three million people. Reasons for these exceptions vary and can be logical, but Halbrook said the laws tend to give Chicago more autonomy, send specific funds or services, or require things from other towns that are not required from the state's largest city.

"Some of this legislation is for everybody but Chicago or Cook County," he said. "They exempt themselves out and I think it's really improper to do that." […]

Jackson said those mandates and orders are small when compared to the amount the state spends on the regions, typically for higher education. Plus, it takes more than just Chicago lawmakers to pass state mandates. Many urban areas have legislators who often vote with Chicago on issues that Halbrook criticized.
- Posted by Rich Miller 57 Comments


* Press release…
State Representative Helene Miller Walsh (R-Mundelein) was sworn into serve the 51st legislative district of Illinois on August 18th, 2018.

Helene is currently the Chief Operating Officer of Leenie Productions, LLC, a multi-media production company. In addition to her business, Rep. Miller Walsh is involved in various philanthropic endeavors, and she has held leadership positions on several campaigns for Northwestern's Prentice Women's Hospital. Having experience working as a business leader while contributing to various philanthropies in the community, Miller Walsh brings a valued perspective and unique skill set to the General Assembly.

Rep. Miller Walsh was appointed to serve on the following committees in the House of Representatives:

Economic Opportunity
Elections & Campaign Finance
Human Services
Labor and Commerce
International Trade and Commerce
Unemployment Insurance Subcommittee
* She does have some unique skills, and her Facebook page proves it. Or at least it did before she scrubbed it. Here's some stuff you haven't seen unless you followed her. Opining on Roy Moore…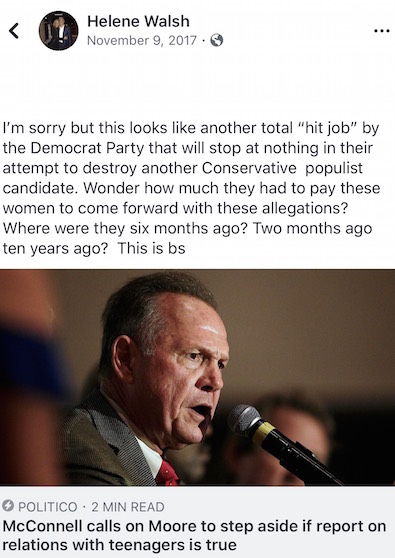 * As it turns out, this video was deceptively edited…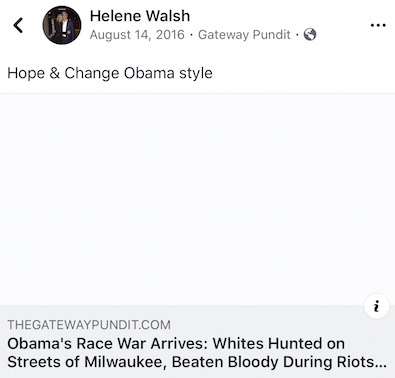 They really like them some Gateway Pundit up there in Lake County.
* Classy…
By the way, House Republican Leader Jim Durkin was McCain's state campaign chairman in 2000 and remained a friend.
* Rep. Miller Walsh is on the right. The guy on the left is Paul Nehlen…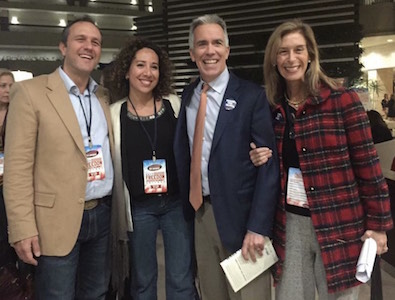 From the Atlantic…
After BuzzFeed published an article documenting Nehlen's mobilization of online followers against the "Jewish media," he tweeted out pictures of top media executives at CNN, NBC, and The New York Times with little stars of David superimposed on their faces. "Do the people pictured seem to have anything in common?" he wrote, before apparently deleting the tweet. […]

"Poop, incest, and pedophilia. Why are those common themes repeated so often with Jews?" he tweeted.
- Posted by Rich Miller 63 Comments


* Mike Riopell at the Tribune…
At a meeting before the Chicago Tribune Editorial Board, Republican candidate and Grundy County State's Attorney Jason Helland countered by calling White "the term-limit king."

"He didn't want to run in 2014. He didn't want to run in 2018. I think it's time to retire Jesse White," Helland, of Mazon, said.

Asked if he had an issue with White's age, Helland replied: "Absolutely," adding White's "not capable" of continuing serving until his term would end in January 2023.

White, well-known for the Chicago tumbling team that bears his name, later replied: "By the way, I think I'm in better shape than this gentleman."

Libertarian candidate Steve Dutner, of, Elgin called Helland's comments a "form of ageism."
It's not a "form of ageism," it's outright ageism. And it's not the first time he's done this, either. Click here if you need a reminder.
- Posted by Rich Miller 27 Comments


* Rauner veto message…
SB 904, as approved by the General Assembly, proposes changes to the Workers' Compensation Act to: 1) provide to medical providers a mechanism for collection of the 1% per month interest penalty provided by Section 8.2 of the Act; and 2) provide penalties for the Department of Insurance enforcement of the electronic claims transaction requirements under the Act.

This Administration has advocated since taking office the need for reform of our workers' compensation system to provide relief to employers from the high costs of our system. Unfortunately, the majorities in the General Assembly have sent to me legislation that does not provide the changes needed to bring our workers' compensation costs in line with other states. Failure to work with our business community, legislators supporting reform, and my office to enact meaningful reform has resulted in the maintaining of our high costs, which are driving high wage jobs with good benefits out of our state.

SB 904 is not reform, does nothing to assist injured workers and dramatically tips the balance in favor of medical providers in a system where Illinois has the second highest medical fee schedule in the country for overall professional services and the highest in the country for major surgery services. Furthermore, SB 904 diminishes an employer's ability to determine causation and whether an injury is work-related.

A much more balanced approach is necessary to meet the bill's purpose and to reduce the friction in the billing and payment of medical bills in our workers' compensation system. Rather than creating lengthy disputes in our court system, I propose a procedure through the Illinois Workers' Compensation Commission which would result in more timely determinations of interest payments for all concerned. Furthermore, this administration is dedicated to the proper enforcement of the Insurance Code, and the Department of Insurance will be issuing guidance on compliance with the relevant law.
* That line about how the bill "dramatically tips the balance in favor of medical providers" didn't go over well with the docs…
Illinois physicians are deeply disappointed by Governor Rauner's amendatory veto of Senate Bill 904, which included important bipartisan protections within the workers' compensation system. The Governor's action gives workers' comp insurance companies continuing latitude to skirt current law on payment of workers' compensation claims. Quality medical care is key to reducing workplace injuries and getting injured workers back to work. This is an important benefit to both the injured worker and the employer.

We consider Governor Rauner's amendatory veto of SB 904 a huge setback for the medical community, employers and injured workers. The important care provided by doctors, hospitals, and other providers is threatened because of a loophole being exploited by workers' compensation insurance companies that allows them to authorize treatment and then not pay a medical provider, which can stretch as long as three years.

This loophole is so egregious that even the Illinois Appellate Court sent a notice to the Illinois Department of Insurance about the questionable practices of Illinois workers compensation insurance companies.

Right now, doctors in Illinois are owed millions of dollars for approved workers' compensation medical care. We know of one medical practice that is currently owed $24 million in pre-authorized claims. Senate Bill 904 would avoid the bureaucracy of the Illinois Workers' Compensation Commission and allow for a right of action in Circuit Court to collect those amounts receivable with an interest penalty, a right that was written into the law in 2005 and agreed to by the business community.

By rejecting SB 904, Governor Rauner also allows insurers to continue ignoring mandatory electronic billing requirements enacted in 2011. These insurers are clinging to an all-paper based billing system that delays care and payments.

ISMS thanks the members of the General Assembly for passing SB 904 by an overwhelming margin. On behalf of Illinois physicians and the injured workers we serve, ISMS will seek an override of this amendatory veto.
* When it comes to workers' comp, there are three competing interest groups: business, unions and medical providers. Sometimes, biz and labor team up to whack the docs, sometimes labor and the docs turn on business. Sometimes, when everybody works together, all three agree to a haircut. They didn't all work together this time. Here's the Illinois Manufacturers' Association…
"The IMA applauds Governor Rauner for stopping an attempt to significantly increase the cost of workers' compensation for Illinois employers that already face the 8th highest costs in the nation," said Mark Denzler, Vice President and COO of the Illinois Manufacturers' Association. "This legislation sought to impose draconian new penalties on job creators while also limiting information that could be used to determine whether an injury was caused by the workplace. Lawmakers need to address the structural inequities in the system, including creation of a primary cause standard, creation of a drug formulary, use of American Medical Association standards, and reigning in medical costs. It makes absolutely no sense that a doctor can charge 350 percent more for performing the exact same surgery under workers' compensation that they would receive under private insurance
- Posted by Rich Miller 17 Comments


* Press release…
Today, the Rauner campaign is launching a new digital ad titled "Yep," as Illinois students are starting the new school year.

The ad centers around the tax credit scholarship program signed into law by Governor Rauner designed to help low-income students. But JB Pritzker has made it clear that he will immediately get rid of this program if elected, denying these students the opportunity for a better future. This is in spite of the fact that Pritzker paid zero state income tax in 2014 due in part to him claiming tax credits for educational expenses.

The ad features footage of a press conference in April in which Pritzker was asked about the program.

"We're going to get rid of them," Pritzker said of the tax credits.

"Immediately?" a reporter asked.

"Yep."
* The ad…
* Transcript…
This is JB Pritzker. He took tax credits to protect his wealth. In fact, he paid no state income tax in 2014 after taking tax credits. But as Governor, JB Pritzker would end tax credits that helps low-income students. The hypocrisy is clear. Tax credits for Pritzker, but not for low-income students.
…Adding… From WBEZ…
The scholarships aren't just for poor kids.

Early figures show 28 percent of the scholarships are going to kids who don't qualify for free or reduced-price lunch. A family of four can make up to $73,800 and get one or more scholarships; once they're selected they can make up to $98,400 without losing their tuition help. While poor kids are supposed to get priority under the law, that doesn't necessarily happen. Kids who live in a low-performing school district also get priority. And donors can designate funds to specific schools. If scholarship groups can't find enough free-lunch kids at that particular school, they can give the designated funds to non-poor applicants (more on this below).

Some school choice advocates are fine with this; they're pushing for the middle class to be included in tax credit scholarship programs. Enrollment of middle-income students in private schools has been falling.

It looks like many scholarship winners were already attending private school.

This has also happened in other states. Many Illinois private schools made sure to get the word about the scholarships out to their families; some held application events so their students would have a better shot at the new first-come, first-served scholarships. At St. Mary Star of the Sea School on the Southwest Side, 30 kids are getting tax credit scholarships. According to Principal Candice Usauskas, two-thirds were already students there. All seven kids who will attend Frances Xavier Warde with taxpayer help were already students at the school, according to the group that awarded their scholarships.

We may never know how many scholarship winners were already attending private schools because scholarship groups aren't required to report that information.
- Posted by Rich Miller 37 Comments


* This press release from Turo arrived in my in-box minutes after Gov. Rauner's veto statement, which claimed he had drafted his amendatory veto "in close coordination with the broader stakeholder community"…
Efforts by car rental giants to slap new taxes on thousands of Illinois residents were dealt a major setback on Tuesday as Gov. Bruce Rauner vetoed a bill that was backdoored to legislative approval in the waning days of this year's spring session.

A bill developed by Enterprise Rent-A-Car would have triple taxed anyone using peer-to-peer networks to share their car. Illinois residents using those networks had no opportunity to provide input before it was quickly passed. Tuesday's veto will allow them, as well as the companies hosting those services, to lend their voices to the discussion.

"We support strong safety standards and regulations in every state where we operate," said Michelle Peacock, Turo VP of Government Relations. "Illinois was the only state where we were never given a chance to substantively discuss those regulations before they were rammed through to approval. We appreciate the opportunity to have a seat at the table, just as we've had everywhere else."

In May, just days before the end of the Legislative session, language in an existing bill was gutted and replaced with language that would have created a new 5 percent state tax and upwards of 15 percent in local taxes on anyone sharing their car through a service like Turo – identical to the tax paid by anyone renting a car. However, those sharing their car on Turo already paid a sales tax when they purchased their vehicle – something companies like Enterprise are exempt from, costing the state $199.3 million each year. Additionally, Turo hosts pay taxes on any income generated by sharing their car.

That gut-and-replace amendment came as Turo has rapidly grown in Illinois, with nearly 264,000 residents using the service and more than 7,300 residents sharing their vehicle. The legislation would have stifled that growth, limiting choice for consumers and financially harming those earning an average of $625 per month by sharing their car.
The governor's AV is here.
- Posted by Rich Miller 4 Comments


* WBEZ…
Tensions are likely to play out at a northwest suburban township board meeting Tuesday night, as trustees consider how to move forward after a messy investigation into sexual harassment allegations.

Maine Township Trustee Kim Jones made her allegations against Trustee David Carrabotta public a few months ago. Jones alleges the fellow Republican intentionally touched her inappropriately on three separate occasions in the past year during group photos taken of the township trustees. […]

And in December, local governments got word they'd need to update their sexual harassment policies by mid-January to explicitly outlaw harassment and direct employees where to report it. But some say the problem is that there's no statewide inspector general for local governments, and there's no standard, or office, for investigating ethics complaints.

"It shouldn't be so difficult for someone to file a sexual harassment claim," state Democratic Sen. Laura Murphy said. "It's difficult enough for them to come forward with it."

Murphy is the chief sponsor on a bill that would create an inspector general's office for local governments. She says the allegations within the Maine Township board highlight exactly why such an office is necessary.
Thoughts?
* More bills…
* ICOY Calls on the General Assembly to Override Rauner's SB2662 Veto: This task force is needed to examine and develop recommendations on how to improve the contracting relationship and partnership between the state and private nonprofit human service providers so they work effectively and efficiently to improve the well-being of all Illinoisans.

* Legislation aims to make grant process more transparent: Among new requirements introduced in the legislation is grant dollars must be spent or distributed during the fiscal year for which they are appropriated. … [and creates] a blackout period before elections when state officials are not allowed to make grant announcements.

* New law requires Illinois insurers to cover hearing aids for children

* Rauner signs bill tightening notification requirements after gas leaks: That provision is aimed at preventing a repeat of a 2016 incident in which there was a leak at Peoples Gas' Manlove Field — an underground natural gas storage facility in Champaign County — which wasn't quickly reported to residents and authorities. The leak is said to have contaminated private water wells.

* Chicago Considers Banning Horse-Drawn Carriages
- Posted by Rich Miller 5 Comments


* At today's bill signing to expand the use of our state's medical marijuana "pilot program" we have Rep. Kelly Cassidy, the mother of marijuana legalization, and Gov. Bruce Rauner, who staunchly opposes legalizing recreational use…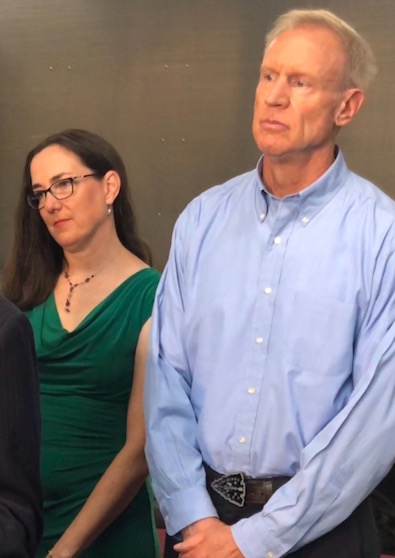 No body language there.
* The Question: Caption?
- Posted by Rich Miller 65 Comments


* Tina…
Gov. Rauner to sign SB 336 soon, which creates the Opioid Alternative Pilot Program. It will allow patients to have access to medical cannabis as an alternative to opioids. pic.twitter.com/6ZIDArgAF7

— Tina Sfondeles (@TinaSfon) August 28, 2018
* Earlier today in the Tribune…
A measure that could dramatically expand access to medical marijuana in Illinois — making it available as an opioid painkiller replacement and easing the application process for all who qualify — is expected to become law on Tuesday.

The measure is a response to the epidemic of overdose deaths from narcotics, which killed almost 2,000 people in the state in 2016 and an estimated 72,000 people nationwide last year. It would allow doctors to authorize medical marijuana for any patient who has or would qualify for a prescription for opioids like OxyContin, Percocet or Vicodin.

But the measure is also noteworthy for removing some of the major restrictions on the medical marijuana program in Illinois.

No longer will any applicants have to be fingerprinted and undergo criminal background checks. And those who complete an online application with a doctor's authorization will get a provisional registration to buy medical cannabis while they wait for state officials to make a final review of their request.
Kudos. This is an important bill.
* The Pritzker campaign, however, takes us through some Rauner history…
Mid 2018: Rauner refused to take a position on SB 336 and let it sit on his desk for almost two months despite its immediate effective date.

Early 2018: Rauner's IDPH fought a court ruling requiring Illinois to include chronic pain in medical marijuana, even though a judge called their argument "clearly erroneous."

Late 2017: One week after unveiling his opioid task force, Rauner announced he would slash funding to a critical behavioral health and substance abuse facility.

Early 2017: Rauner reportedly disbanded the state's Medical Cannabis Advisory Board in exchange for adding two new conditions to the list of qualifying conditions.

Mid 2016: After a judge ordered the state to add PTSD to the medical marijuana program, Rauner signed legislation to comply after holding out for a year.

Early 2016: Rauner again refused to add eight conditions to the state's medical marijuana program for the second time in five months. A military veteran told AP, "I'm flabbergasted…I think (Rauner) is intentionally stalling the program. … He's putting politics before people."

Late 2015: Rauner vetoed a bill to add a dozen conditions to and extend the state's medical marijuana program.

Late 2015: Rauner vetoed the Heroin Crisis Act, calling funding for opioid treatment "a very costly mandate." The legislature overrode Rauner's veto, allowing police to have access to Narcan, a lifesaving drug that resulted in more than 11,000 overdose reversals since 2010.

"From vetoing the Heroin Crisis Act to stalling the state's medical marijuana program, Bruce Rauner has been a repeated obstacle to solving our state's opioid epidemic," said Pritzker campaign spokeswoman Jordan Abudayyeh. "Lives have been on the line while this failed governor has ignored this epidemic for years, and no last-minute photo-op can change that."
There's an old saying that goes something like: When a politician changes positions away from you, he's a flip-flopper. When he changes positions toward you, he's a statesman.
Today, Rauner's a statesman.
…Adding… He's evolving slowly…
Rauner on why he's backing medical marijuana as opioid alternative, a switch from his previous stance; says he has and still is studying the issue. https://t.co/RkLjZhG6bz

— Amanda Vinicky (@AmandaVinicky) August 28, 2018
- Posted by Rich Miller 28 Comments


* Over the transom…
New Pritzker ad

Thought you might be interested since they never publicize their own ads…

It's attached.

According to the same group that Pritzker uses to criticize access to mental health care, the overall ranking from Illinois has steadily improved since 2011. In 2011, Illinois ranked 16th. In 2014, Illinois ranked 15th. Right now, Illinois is ranked 11th in overall mental health care.

The stat they cherry picked is listed in the 2017 health care rankings, but is actually from 2014, and represents a slight improvement from 2011.
http://www.mentalhealthamerica.net/sites/default/files/CompareAccessRankings.png

Current "Access to Care" data: #22
http://www.mentalhealthamerica.net/issues/mental-health-america-access-care-data

Pritzker is saying it's #30
Hmm. The push-back checks out.
* The ad…
There is one thing they left out, though. Pritzker's new ad accurately references this July, 2017 CNN story…
About 80,000 people in Illinois have lost access to mental health care because of the budget crisis, according to a recent survey by the Community Behavioral Healthcare Association of Illinois, which represents mental health, substance abuse and youth service providers.
- Posted by Rich Miller 11 Comments


* As you know, Speaker Madigan's attorneys want to depose Blair Hull as part of their defense against a federal lawsuit filed by Jason Gonzales, Madigan's 2016 Democratic primary opponent. Hull wants to limit the scope and length of his deposition. Madigan's lawyers have agreed to some limits (seven hours instead of the two demanded by Hull), but not others. Their argument…
As discussed in Defendants' Response to Plaintiff's Motion to Quash, Blair Hull's involvement in the facts of this case is not minimal: 1) Mr. Hull established and funded a Super PAC "exclusively dedicated to defeating Illinois Speaker of the House Michael Madigan," which subsequently raised and spent significant sums of money (nearly $1,000,000) to defeat Mr. Madigan in the 2016 primary; 2) Mr. Hull and Illinois United for Change produced campaign materials to support Plaintiff's 2016 primary campaign; 3) in the weeks prior the primary election, Mr. Hull was in communication about Plaintiff's campaign with Governor Bruce Rauner through his executive assistant, Holly Griff; 4) Mr. Hull has paid for Plaintiff's legal bills in this lawsuit ; and 5) Plaintiff has continued to keep Mr. Hull apprised of the status of this lawsuit and has characterized it as an opportunity to find "dirt" on Mr. Madigan.
Wait. Hull was in contact with Rauner?
* I've redacted the contact information. Click on the third pic if you have trouble reading it, but the first one is the most important…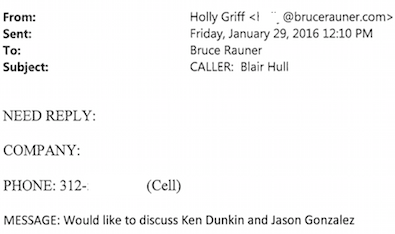 —–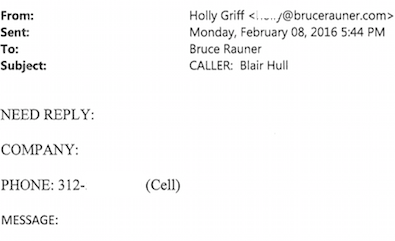 —–

So, Hull reached out to Rauner about Gonzales and Ken Dunkin, eh?
I asked the governor's campaign for a response a couple of hours ago. I'll let you know if they say anything.
- Posted by Rich Miller 24 Comments


* From today…
Senate President Cullerton personally lobbied to raise the age to buy tobacco to 21.
He says he called Rauner urging him to sign the bill but he vetoed it.
Cullerton says he'll know it'll be difficult but he will try to rally votes for an override. "This is about saving lives." pic.twitter.com/mdTHcVBsIa

— Raquel Martin (@WCIA3Raquel) August 28, 2018
He said more than that.
* Cullerton told reporters that he'd never called the governor about a bill before, but he did so "for the first time ever" on Tobacco 21…
I told him that the real effect of his bill is to stop an 18-year-old from buying cigarettes so that he or she could give it to the 14, 15 and 16-year-olds and that's why the tobacco lobbyists are so much against the bill. I mentioned that there's issues with borders like there is with a lot of other bills. What really happens is when we pass a good bill and other states don't have this law they try to pass it themselves and we help them lead the way. I told him that you have an argument about 18, 19 and 20 year-olds being able to vote and serve in the military but not buy cigarettes, but then I reminded him the real problem is the 18-year-olds buying for the young kids.
* Cullerton went on for a bit, then said this…
He didn't engage in the conversation with me. He thanked me for calling. I told him if he signed the bill I'd say nice things about him. He kinda laughed at that. Then, he vetoed the bill.
The governor's office says the two men have a "philosophical difference" on the legislation and Cullerton himself said he's probably hated by the tobacco industry more than anyone else.
OK, but if the Senate President calls you about a pet issue of his, then you should probably take a minute to engage with him and maybe try to find something else to agree on. Even if Rauner isn't reelected, a veto session is happening in a few months. Just sayin…
The advocates' press release is here.
- Posted by Rich Miller 21 Comments


* Press release…
Brendan Kelly's campaign for Illinois's 12th Congressional District today released its third television advertisement for broadcast, titled "Jennifer," in the Paducah media market. The campaign also introduced its first ad, "Faith," to the St. Louis media market.

Today marks the first time that the campaign is broadcasting ads throughout the 12th Congressional District.

In the St. Louis market, voters seeing "Faith" are learning who Brendan is and his reasons for running. Brendan affirms his commitment to overcoming divisions by rebuilding his home district and restoring faith in Southern Illinois. He also restates his pledge to push for new leadership in BOTH parties.

Further south, "Jennifer" tells the story of Jennifer Herling, who became addicted to prescription opioids after a freak accident at a young age. Through the voice of Jennifer's mother, Chris, we see the fatal consequences Big Pharma's choice to be part of problem by putting profits over people, compounded by Congress's inability to fix the opioid crisis. Voters also learn about Brendan's record as a prosecutor, and his aggressive action to force Big Pharma companies to take responsibility for their deadly actions.
We've already discussed the "Faith" ad.
* Here's the new 60-second spot…
* Transcript…
Chris: Jennifer, she was a straight A student until she got to middle school. I have this angel statue and Jennifer fell back up against it and it put a gash in her back. They prescribed her the Vicodin. I mean she took them the way she was supposed to, but somehow it still grabbed ahold of her. The day that she died, my mom was like, St. Clair County just pulled up. I just remember seeing my oldest daughter come running out on the porch 'cause I'm telling my mom that she's gone.

Brendan: It's the huge flood of money into our politics. Big pharmaceutical companies give money to members of Congress, and Congress lets them continue the cycle of addiction. I was the first Prosecutor in Illinois to fight Big Pharma. We've got to hold them accountable.

Chris: Brendan has stepped up to the plate.

Brendan: I'm Brendan Kelly, and I approve this message.
- Posted by Rich Miller 20 Comments


* We've discussed much of this stuff before (click here and here for background), but Kristen McQueary's new column is about the appointment of Helene Miller-Walsh to replace disgraced former Rep. Nick Sauer on the ballot…
Mark Shaw, Lake County GOP chairman and co-chair of the Illinois Republican Party, and Chris Geissler, Barrington Township GOP committeeman, interviewed nine candidates to replace Sauer, according to Shaw. They selected Helene Miller Walsh. She is now the representative of the 51st District and faces Democrat Mary Edly-Allen on the ballot. […]

So when Lake County Republicans announced that his wife secured the seat appointment, it took Democrats about five minutes on her Facebook page to find a series of strongly worded posts too — not the N-word but charged posts on Muslims, immigration and Chicago violence, to name a few. […]

For its part, the Illinois Republican Party shifted questions about her appointment to the "local committee" that made the decision to choose her. That committee was made up of two people. One of them is Shaw, co-chairman of the state party.

No, this is not a hands-off moment for Illinois GOP leadership. This belongs to them. It's going to be a fiasco.
* So, why would Illinois Republican Party Co-Chairman and Lake County GOP Chairman Mark Shaw appoint Miller-Walsh? There are a lot of reasons, but one is that he may also be a fan of conspiracy theories. Check out this Lake County Republican Party Facebook post…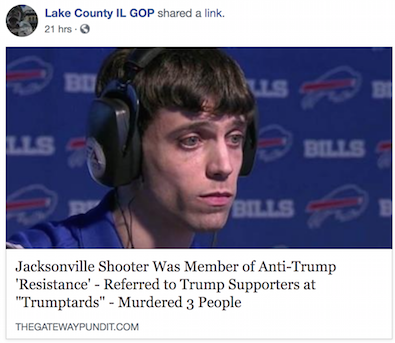 Um, no…
A day after a competitive video gamer shot and killed two people, wounding 10 others, at a Madden video game tournament in Jacksonville, Florida, a group of far-right news outlets announced that they had found the Reddit account used by the shooter, who they said used the pseudonym "Ravenchamps."

But the groups were wrong.

"Ravenchamps" did not belong to the shooter, who the police say was a Baltimore resident named David Katz and who killed himself in the shooting. And the announcement caused considerable trouble for the real person who owned the account. […]

This is not the first time Gateway Pundit has misidentified someone who committed an attack or mass shooting. The site said the Charlottesville car attack was conducted by an "anti-Trump protester" who in reality was hundreds of miles away at the time of the attack. The site also named the wrong person in the Las Vegas mass shooting, and spun an elaborate conspiracy based on an anonymous Twitter post which identified the wrong person in a mass shooting at the airport in Ft. Lauderdale, Florida, in January 2017.
* And the original GP story's headline has finally been changed to reflect reality with this little notation at the bottom…
UPDATE: An anonymous Reddit user was mis-identified in an earlier post.
…Adding… The Lake County GOP has removed the Facebook post.
- Posted by Rich Miller 27 Comments


* Daily Herald…
Gov. Bruce Rauner has issued an amendatory veto effectively killing legislation that would have let Lake County voters decide how their chief assessment officer is hired.

The job is an appointed post and has been held by Marty Paulson since 2003. Paulson's office coordinates property tax assessment activity in Lake County, oversees the work of township assessors and mails annual assessment notices to property owners, among other duties.

Paulson has feuded with some township assessors who say he ignored their reassessments. Paulson and the county have been sued twice by those assessors, but both cases were dismissed.

This spring, the General Assembly passed legislation that would have put a question on the Nov. 6 ballot asking if it should be an elected position.
* The county board chairman has been a staunch foe of the legislation and engineered a board resolution calling on Gov. Rauner to AV the bill to make it apply to all counties with appointed assessors. Rauner complied…
While this legislation promotes the accountability of property tax officials to the taxpayers they serve, it furthers a concerning practice of local carve-outs in state law. What is beneficial to Lake County taxpayers and voters may also be beneficial to citizens across the state, who should get the same opportunity to determine whether an elected county assessor would better serve their communities.
The referendum would've been held this November had he signed it into law.
* Rep. Sam Yingling is the bill's sponsor…
Today, Governor Rauner issued an amendatory veto of SB2544, killing the bill and ignoring thousands of Lake County taxpayers who called him and signed petitions urging him to sign it.

If signed, the bill would have put a question on the ballot in November to let the people decide whether the position of Lake County Chief Assessment Officer, the Lake County Assessor, should be popularly elected by the people. That position is currently appointed by the Chairman of the County Board.

"Lake County homeowners pay some of the highest property taxes in the country, but today Governor Rauner denied voters the power to hold the Lake County Assessor accountable for decisions that impact how much they pay," continued Yingling. "Appointments can be the ultimate prize in political gamesmanship, and with the Lake County property tax system in crisis, it's important that the person whose decisions impact how much my constituents pay is accountable to my constituents —not the politically connected. With his Amendatory Veto, Governer Rauner denied the taxpayers of Lake County their right to vote this November on whether to elect the Lake County Assessor."

"It was wrong when Lake County Board Chairman Aaron Lawlor led efforts to get the Lake County Board to thwart our grassroots campaign to increase accountability by opposing this bill in July, and it's wrong now for Governor Rauner to side with him over us," said Denise Neufeldt, a homeowner in Carillon North in Grayslake. "All we want is the right to vote to elect the assessor in November. Why is Governor Rauner against increasing accountability in our property tax system?"

Yingling's measure had bi-partisan super-majorities in both chambers of the General Assembly and was supported by good government advocates, Illinois REALTORS, republicans and democrats on the Lake County Board, the Lake County Township Assessors, and thousands of Lake County residents who made phone calls, signed petitions, and testified at local hearings on the bill.

"The people of Lake County are sick and tired of Governor Rauner ignoring our local concerns," concluded Yingling. "He ignored our historic flooding last summer, he vetoed additional education funding for our schools, and now he's denying our right to vote to make our property tax system accountable to us in November. This is just the latest example of Bruce Rauner being an out-of-touch, failed governor who cares more about politics than the people of Lake County."
- Posted by Rich Miller 20 Comments


* This is smart politics if it can lead to some news coverage and maybe a TV ad or mailer…
FOLLOWING METRA DELAYS, SEAN CASTEN & REP. CHERI BUSTOS MEET TO TALK INFRASTRUCTURE

Sean Casten & Rep. Cheri Bustos Host a Roundtable Discussion with Industry Experts on Infrastructure Needs in Illinois and the 6th Congressional District

TODAY, August 28, 2018 - 6th District Congressional Candidate Sean Casten and Congresswoman Cheri Bustos will lead a discussion on investing in Illinois and the 6th District's infrastructure. They will be joined by leaders from the public transit, labor, and other transportation industry experts.

Following delays and overcrowding that plagued Metra's commuter network Monday, today's discussion takes on a sense of urgency.

Cheri Bustos serves on the House Transportation and Infrastructure Committee, Subcommittee on Highways and Transit, Subcommittee on Aviation, and as the Democratic Policy and Communications Committee Co-Chair.

WHO: Sean Casten; 6th District Congressional Candidate; Cheri Bustos, Congresswoman 17th District; Jack Franks, McHenry County Chairman; Steve Schlickman, Former Exec. Director of the Regional Transportation Authority; Kristi Lafleur, Former Exec. Director of the IL Tollway; Bob Guy, Legislative Director SMART Transportation Division; Debbie Halvorson, Owner American Eagle Logistics & Former Member of Congress.

WHAT: Roundtable discussion on investing in infrastructure in Illinois and the 6th Congressional District.

WHEN: TODAY, Tuesday, August 28, 2018
12:45 to 1:45pm CT

WHERE: SMART Headquarters
205 Alexandra Way, Carol Stream, IL 60188
This may have been planned in advance and they just got "lucky" with the timing, but it's something that directly impacts the daily lives of thousands of Illinoisans. More officeholders and candidates ought to be weighing in about this stuff.
* Coverage…
* Tribune: Metra trains snarled at Union Station after signal problems: Signal problems during the height of evening rush hour have halted and canceled multiple Metra trains, according to agency alerts on the website and Twitter.

* NBC 5: Service Disruption Reported on Metra BNSF Line: A night of commuter chaos for thousands of Metra riders. Train problems caused major delays for the second Monday night in a row.

* CBS 2: Commuter Gridlock At Union Station As Signal Problems Hit Metra Trains

* Daily Herald: Metra expected to be back to normal Tuesday after Monday meltdown: "The conditions were a madhouse, to put it extremly lightly," BNSF rider David Keating of Aurora said. "I enter Union Station in the evenings through the Madison Street entrance, and once I got into the actual station, it was a mob scene right away.
* E-mail from a longtime reader…
Was on the train that started the problem tonight.

We were told we went through a red signal (the train was still in Union enough that we had three cars on the platform).

They said they needed to get a replacement crew, and a bunch of better dressed folks showed up including one with a measuring wheel.

At various times they said it would be 10-15 minutes and we would be rolling. They also tweeted that we would be departing shortly, one hour after departure they canceled the train.

I eventually got off and am taking an uber home. […]

Yeah Metra has funding issues but to be blunt it seems like they have internalized it and it is now their excuse for everything.

Also for what it is worth, that would have been an Amtrak switch, not a Metra or BNSF switch.
- Posted by Rich Miller 34 Comments


* WTTW's Amanda Vinicky…
If it hasn't already, a flier will soon be arriving in the mailboxes of many of Illinois' approximately 400,000 public school teachers, state employees and municipal workers (including police officers and firefighters) informing them that their "legal rights as a government employee have changed." […]

The flier was sent by the Illinois Policy Institute, a self-described free-market think tank with links to billionaires like Dick Uihlein, who are bankrolling campaigns for conservative candidates in Illinois and elsewhere.

"We want to be a resource," IPI spokesman Eric Kohn said. "About what Janus means, what was decided in the case. What their rights are – their constitutional rights were withheld from them for 40-some years. Now that they've been restored, we want to make sure they have all of the information that they need to make the best choice for themselves about whether or not they want to be a part of the union, whether they want to pay money to a union and support a union." […]

"When you look at who funds IPI, it's definitely about politics. Gov. Bruce Rauner gives them money. You can see that Dick Uihlein, who is a big conservative billionaire investor, gives them money as well. This is about privatizing public education and our members know that," said Illinois Education Association spokeswoman Bridget Shanahan. "If they can take away our members voices, our teachers, our education support staff – if they can silence them and the voice they use to advocate for their students, then they are one step closer to privatizing education."

Shanahan said the IPI flier is "misinformation" because of a section headlined "member money spent on politics" when in fact legally member dues cannot be spent on political activities.
The flier is here.
* The IEA has also produced a video about the Illinois Policy Institute…
*** UPDATE *** From Mailee Smith, staff attorney and labor expert for the Illinois Policy Institute…
"What we've seen since the Supreme Court ruled that forced union fees are unconstitutional is that workers are being bombarded with information. We are a resource to break down what the ruling truly means.

"Hundreds of workers across Illinois have already chosen to leave the unions at their workplace. We hear from folks all over the state who are grateful to be able to choose their own path. Meanwhile, dozens are reaching out to us for clarity about the ruling and how it affects them. Downstate, a 'fair share' payer was told by her union president that she was not allowed to opt out; in another instance, a union told their members they needed to opt out together as a group. Both of these are violations of the Supreme Court's ruling.

"We support our state and local workers — including teachers, police officers and government employees — and believe they deserve to have all of the information on the choices they have now, as well as how to exercise those options, available to them."
- Posted by Rich Miller 50 Comments


* Press release…
Today, the Rauner campaign is launching a new TV ad titled "Moby Dick."

The ad features Ron Wilson, a Vietnam veteran and proud Illinoisan, talking about the Madigan-Pritzker tax hike agenda. In the ad, Ron says, "Madigan's been in since Moby Dick was a minnow. 47 years, he hasn't fixed it."

Ron, like many other Illinoisans, knows that giving Madigan total control by electing JB Pritzker means higher taxes and more corruption.
A friend suggested to me this morning that the "Moby Dick" thing kinda works in this case. Bruce Rauner is Captain Ahab and Madigan is his great white whale. But the book didn't end too well for the Captain, she reminded me.
* The spot…
* Transcript…
Truth is, Illinois is in trouble. It didn't get here in just a decade. It didn't get here in two decades. Madigan's been in since Moby Dick was a minnow. 47 years, he hasn't fixed it. And he's got JB Pritzker in there. What makes you think one of his lackeys is going to change it. They want to tax and then spend more. He's not going to hit you with just one tax. He's going to hit you with two or three. It's just not going to work. It will not work.

JB Pritzker and Mike Madigan. Higher Taxes. More Corruption.
…Adding… Four years ago, the Rauner campaign billed Ron Wilson as a former AFSCME local president who said in the spot of Gov. Pat Quinn: "Don't attack Bruce, tell me what you got done"…
Bruce Rauner's campaign just released an ad featuring Ron Wilson, who also appeared in a commercial for Rauner's 2014 campaign.

Here's the 2014 spot 👇#twill #ilgov pic.twitter.com/SjaccLh4bY

— Illinois Working Together (@IllinoisWorking) August 28, 2018
…Adding… DGA…
Today, Governor Bruce Rauner launched a new ad that only served to remind voters of how little he's accomplished in four years as Governor. The newest ad features Ron Wilson, who four years ago called out Rauner's opponent for his negative ads and challenged him to "tell me what you got done. I see zero."

Four years later, Rauner is using Wilson to attack his opponent instead of telling voters what he's gotten done.

"Bruce Rauner has zero positive things to say about his failed record in office," said DGA Illinois Communications Director Sam Salustro. "If anything, Rauner's failed leadership negatively affected Illinois families as his two-year budget crisis added billions of dollars of debt and slowed job creation in the state."
- Posted by Rich Miller 34 Comments


* Ouch!…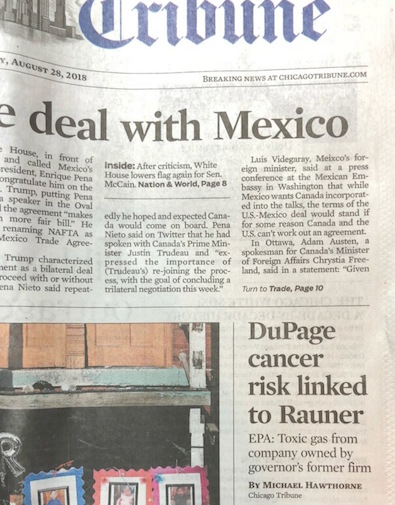 "DuPage cancer risk linked to Rauner" has to rank right up there as one of the worst headlines the guy has ever received.
* The online story's hed is less harsh, but still not great: "High cancer risk in southeast DuPage County linked to company co-owned by Rauner's former firm." From the piece…
Two low-slung industrial buildings, tucked behind a Target store in west suburban Willowbrook, are about as nondescript as they come. For years, they have been home to Sterigenics International, a company that has quietly gone about its business of fumigating medical instruments, pharmaceutical drugs and food to kill bacteria and pests.

But a new federal study is putting a bright spotlight on the company, finding that people living nearby face some the nation's highest cancer risks from toxic air pollution.

A gas used by the company, ethylene oxide, is far more dangerous than previously thought, according to the U.S. Environmental Protection Agency. In one census tract near the plant, the EPA estimates the risk of cancer is more than nine times the national average.

Another federal agency concluded the cancer risks could be significantly higher.

Federal officials began investigating Sterigenics last year after surrounding communities popped out on a national map of health hazards from breathing toxic chemicals.
You have to scroll six paragraphs down to find the first mention of the governor's former firm.
* However, this is from the Willowbrook Village website…
The emissions of ethylene oxide from the Sterigenics International, Inc. facility in Willowbrook, IL are not an immediate threat to public health and are not considered to be an emergency situation. ATSDR recommended to U.S. EPA that actions be taken to reduce emissions of ethylene oxide from this facility to protect the public from long-term exposures that could harm their health. […]

The highest measured levels of ethylene oxide in those areas were about 1,000 times lower than levels associated with cancer risks in scientific studies of workers with industrial exposure to EtO.
Emphasis was in the original.
…Adding… Sen. John Curran (R-Downers Grove)…
"The residents of Willowbrook and I have deep concerns, and many questions, about the recently released toxicity report from the Agency for Toxic Substances and Disease Registry (ATSDR) regarding the air quality in our community. The health and well-being of our residents is my number one concern and priority. Therefore, I have demanded that Sterigenics and government agencies involved in this matter attend the public forum being held Wednesday night so we can have all our questions answered. I am pleased all parties have agreed to attend, and I would encourage residents with questions to attend as well. It is vital that we have all the information available so we can best mitigate this issue in order to reduce any long-term impact on our community. We cannot delay, we must act now."
*** UPDATE *** The governor was asked about the story today…
.@govrauner on @scribeguy story of chemical used by a suburban company posing heighted risk: the federal government created a scare, cautions "this is not a public health crisis," we will work to monitor and manage risk https://t.co/u9GoqYpj7T

— Amanda Vinicky (@AmandaVinicky) August 28, 2018
- Posted by Rich Miller 29 Comments