* Jake Griffin…
More than 71,000 people collecting public pensions from six statewide retirement plans have moved out of Illinois, taking more than $2.4 billion annually with them.

That's roughly 18% of all the pensioners in those systems, according to a Daily Herald analysis of financial data obtained through public records requests with the six pension programs.

Florida leads all migration destinations with 14,030 Illinois pensioners, followed by Arizona and Wisconsin with more than 5,600 Illinois public pension recipients now living in each of those states. […]

All states experience some migration of pensioners to other areas. Although there are no national comparisons, a check of several other states shows Illinois' departure rate among pension recipients is higher. About 16% of Iowa's pension recipients have migrated to other states, according to officials at the Iowa Public Employees' Retirement System. In 2015, California pension officials reported roughly 15% of their public pension recipients relocated to another state. […]

Illinois public pension recipients who leave the state average pensions of $34,053 a year, compared to an average pension of $35,573 for those who stay put.
There's more, so go check it out.
* Cal Skinner used the same data to see where General Assembly Retirement System beneficiaries are currently living. Here's some of what he found…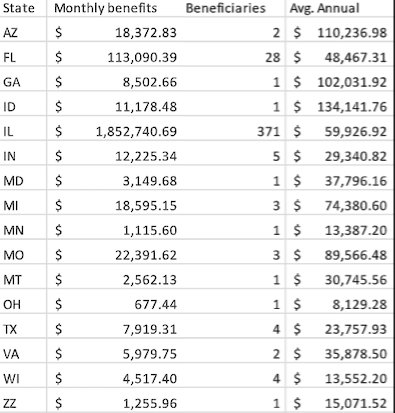 So, about 88 percent remain in Illinois. I thought the Arizona and Florida numbers would be higher, by the way.
74 Comments





























































































































































































































Sorry, comments for this post are now closed.