* Center Square editor Brett Rowland…
For the past 40 years, we've seen more of the same tax-and-spend policies that have left the state's pension systems dangerously underfunded and the state's credit just a notch above junk status.
The state's fiscal problems are mainly about "borrow and spend." The state essentially borrowed money that should've gone to the pension funds in order to spend that cash on operations and programs. That practice kept state taxes artificially low for decades. If they had either raised taxes enough to make the full pension payments (particularly after increasing pension benefits) or cut spending (or both), we wouldn't be in this mess today. But, no. Raising taxes and making cuts were just too hard for them. When you see or hear the phrase "unfunded liability," it's really just massive debt that was allowed to accumulate.
Gov. Pat Quinn literally borrowed billions of dollars to make the state's pension payments for two years before the state finally raised taxes in 2011. And then the tax hike partially rolled back in 2015. The state made all of its pension payments during the resulting budget impasse, which meant it had to essentially borrow money from its vendors to stay afloat. And then the state borrowed more money to pay off many of those vendors. As of today, the state's bill backlog is $6.6 billion, so that debt is still not paid off.
* While we're on this topic, this chart of Chicago's pension funding ramp is from Forbes contributor Elizabeth Bauer…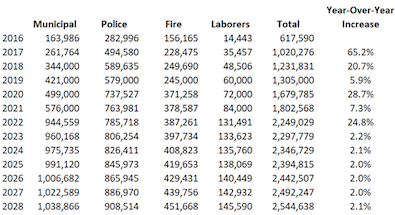 They have two big bumps ahead, and then the payment increases become far more manageable.
* However…
The world's collapsing interest rates have just made survival that much harder for Illinois' pension funds, most of which are built on the assumption that they can earn around 7 percent on their investments. Interest rates have fallen below zero percent in Europe, while US 30-year interest rates fell below 2 percent for the first time in history. Ten-year rates here are now at 1.5 percent, also near their lowest level ever.

Low rates are particularly hard on the most underfunded pensions because those funds are forced to keep more of their money in short-term, low-yield bonds so they can cover near-term pension payouts. Low rates also hammer the smaller police and firefighter pensions around the state because they, by law, are forced to keep large parts of their investments in bonds.

Expect funding levels to continue their descent across the state.
* Related…
* Illinois ranks 3rd worst on pension plan funding
46 Comments »









































































































































This is not Facebook, so uncivil comments, profanity of any kind, rumors and anonymous commenters will not be tolerated and will likely result in banishment.