* Gov. Rauner's administration responded to calls by 7 Republican legislators to re-start contract talks with AFSCME…
After 67 days of bargaining sessions, the Administration asked the Illinois Labor Relations Board – according to the terms agreed to by AFSCME in the tolling agreement - to determine if the parties are at an impasse. Until the Labor Board rules, all formal negotiations have been suspended. AFSCME has repeatedly rejected all of the Administration's core proposals that the Illinois Federation of Teachers and 17 other unions have agreed to despite our good-faith efforts to address the union's concerns. Nothing about the Labor Board proceedings prevents AFSCME from proposing a framework similar to those offered by these 18 other unions. AFSCME's unwillingness to move off their last, best and final offer of more than $3 billion in financial demands is what is causing the impasse.
*** UPDATE ***  From AFSCME Council 31…
Since Governor Rauner has now reiterated his refusal to negotiate, and the legislators wrote that "the stalemate will continue to hurt all interested parties", then the lawmakers in question should join the Illinois labor movement and the strong majorities of their constituents in supporting a renewed motion to override the governor's veto of HB 580, the fair arbitration bill, before the General Assembly adjourns. This well-established and impartial procedure appears to be the only way to ensure that the governor can no longer hold hostage the people of Illinois, the public services they rely on, and the men and women who provide those services every day.

Like so much else emanating from the Governor's office these days, its latest statement is rife with falsehoods:

· AFSCME has never made a "last, best and final" offer. In fact, we stated clearly at the bargaining table when the Rauner Administration broke off negotiations back in January that our current proposal is NOT our last, best and final offer—and we repeated in subsequent conversations and correspondence that we were prepared to continue to negotiate.

· Contrary to the administration's wildly exaggerated claims, AFSCME's current proposal does not equal anything close to $3 billion dollars in "financial demands". And as stated, if the governor would join us at the table, AFSCME is prepared to continue to negotiate.

· It is not true that 17 other unions have agreed to the "core proposals" in the Administration's offer to AFSCME. Members of those unions will have the opportunity to receive pay raises or improved health care benefits, while the governor is seeking to force AFSCME members to accept both a pay freeze and doubled health care costs.
- Posted by Rich Miller 28 Comments


* This is good news…
Illinois Deputy House Majority Leader Lou Lang (D-Skokie) today announced an agreement with Governor Bruce Rauner over a Medical Marijuana pilot project expansion.

Lang issued the following statement on Senate Bill 10:

"Governor Rauner and House Minority Leader Jim Durkin deserve credit for their willingness and commitment to reform and extend Illinois' medical marijuana program. I want to thank them for their cooperation to find a bi-partisan legislative compromise on improving a program designed to ease the pain and suffering of seriously ill individuals, including children."

The chief provisions of the legislation are:

1. Pilot Program extended to July 1, 2020.

2. Post Traumatic Stress Syndrome (PTSD) and terminal illness added as qualifying medical conditions.

3. Patient and caregiver cards valid for three years, instead of one.

4. Upon renewal of patient and caregiver cards, no fingerprinting is required.

5. Doctors will no longer have to RECOMMEND cannabis, but will simply certify that there is a bona fide Doctor-Patient relationship and that the patient has a qualifying condition.

6. Minors who are patients may have two caregivers.

7. The Medical Cannabis Advisory Board will be reconstituted, and a new procedure created for accepting patient petitions for the addition of new conditions to the program.
Glad to see the governor working cooperatively on this.
- Posted by Rich Miller 15 Comments


* I told you yesterday that the House Republicans had launched robocalls slamming several Democrats for voting for the omnibus appropriation bill, among other things.
From a longtime reader…
Robocalls coming in today from both sides. [Rep. Brandon] Phelps says that they are spending less and that the [approp] bill would help Southern Illinois by reopening the Hardin County Work Camp and more money for schools. He gives his phone number in Harrisburg and asks you to call if you have any questions.
A call from the incumbent himself will likely be more effective than a stranger's voice. But many of these robocalls are tuned out. And they can't go to mobile phones without a human dialer, which adds expense.
Rep. Phelps said he is doing 20,000 calls. He also said that he wasn't going to allow the GOP attack to go unanswered. Phelps said he believes Rep. Dan Beiser also recorded a call last night.
*** UPDATE ***  The HGOPs are running online ads now…
A Republican political committee has released a stream of online attack ads focused on Illinois House Democrats running for re-election who voted in favor of House Speaker Michael Madigan's recent budget proposal.

"Over the past two days, House Democrats have decided to put their allegiance to Mike Madigan over the financial health of Illinois, voting twice for a disastrous budget that would create a $7 billion deficit and necessitate a $1,000 tax hike on Illinois families," an Illinois Republican Party press release reads. "This is a clear signal that they would rather jump off the fiscal cliff than stand up to Mike Madigan."

The campaign, launched by the House Republican Organization, consists of robocalls in seven districts and digital ads specifically targeting candidates seeking reelection in November.
- Posted by Rich Miller 13 Comments


* A post about Gov. Rauner vetoing a couple of bills has been deleted. While doing ten things at once I somehow misread the darned e-mail. He signed the bills. Sheesh. Sorry about that! Bad me!!! I think I need more coffee or something.
Let's make this an open thread.
*** UPDATE ***  This post is also going to have to serve as today's question since I forgot to post one. Man, what a week. I need a nap.
- Posted by Rich Miller 36 Comments


* The impasse has made a whole lot of people realize that their charitable donations are just a drop in the bucket of what those vital organizations need…
As of May, the state owed Catholic Charities of the Archdiocese of Chicago over $25 million. That money pays for state-contracted services the agency provides mostly to seniors. The agency floats the state $2 million each month.

Catholic Charities in the archdiocese is the largest social-service provider in Illinois, caring for 1 million people annually. While the agency raises about $25 million privately each year, a large portion of its annual $200 million budget comes from government contracts. […]

Every 30 seconds, someone in Cook or Lake counties contacts Catholic Charities for help at one of its 160 locations. If the agency were to cut 20 percent of its programs, 200,000 people would be affected — a population about the size of Aurora, Illinois. While Catholic Charities relies on a staff of 3,000, they also have 15,000 volunteers — many from local parishes — to administer services. […]

"As of this month, we have heard that more than 40 food pantries have closed. The safety net continues to crumble around us," [Msgr. Michael Boland, president and CEO of Catholic Charities] said.

Catholic Charities often refers clients to their nearest food pantry or other providers for services they qualify for that the agency may not provide.

"We never give up and always try to find resources, but our clients are having to travel further distances to receive help," he said. "All of our emergency assistance sites have seen an increase in people coming to them for help for basic services like food, rent and utilities as the agencies around them are closing."
- Posted by Rich Miller 19 Comments


* Cook County Sheriff Tom Dart has a new op-ed in the Sun-Times about people who deserve arrest record expungements, but can't afford them…
In Illinois, however, restoring your good name comes with a hefty price tag –$120. That's the cost to apply for an arrest expungement in Cook County. In several downstate counties, the expungement application fees are as high as $300 or $400, with no guarantee of success.

These cases are more common than most people realize. Nineteen percent of Cook County Jail inmates end up leaving the jail because their charges get dropped entirely, meaning more than 13,000 Cook County arrestees in 2015 alone were told they could not expunge those arrests without paying the piper.

One hundred twenty dollars is a lot of money to a lot of people. Consider the 200 people in Cook County Jail who could walk out the door right now if they had $500 to post bond. Do we really think that someone who can't come up with $500 to restore his or her freedom will have $120 sitting around to wade through the tangled legal web of arrest expungements? And even if they do, does that make it right?
* Sheriff Dart is backing legislation to deal with the problem…
With the support of state Rep. Art Turner (D-Chicago) and Sen. Jacqueline Collins (D-Chicago), I have introduced and advocated for state legislation that would end this insidious practice of funding government on the backs of the poor and desperate. This sweeping reform bill would do away with the expungement fee entirely for those who have had their case dropped, found not guilty, or acquitted. […]

My legislation passed the House with strong bi-partisan support, but has now been held up in the State Senate following pushback from the Illinois State Police, who claim that they count on the hundreds of thousands of dollars brought in by these expungement fees. I dare say that if government must generate revenue by picking the pockets of poor people, perhaps we never deserved that money in the first place. This is simply an unconscionable case of government actively working against the people it is supposed to serve.
* Meanwhile, the wrongfully convicted are getting shut out…
Now in its 11th month, the Illinois budget crisis continues to cause irreparable harm to organizations and individuals across our state. Some funding has been restored quickly; when lottery payments were frozen last year, for instance, massive public outcry led to their reinstatement within just a few months. Other funding, however, has not been so lucky. Compensation payments to exonerees have remained frozen with little public notice since the budget crisis began.

Wrongful convictions are black marks on our legal system. Far too often, innocent men and women lose decades of their lives to prison due to errors made by the state. Even after exonerating evidence comes to light, these victims of our imperfect justice system can remain imprisoned for years more as they fight through the Illinois and federal court systems. Their uphill battle only continues after exoneration.

The time that these men and women spend in prison leaves a permanent gap in their vocational, educational and personal history. Despite their factual innocence, they face difficulty finding employment, housing and community support. Making matters worse is the fact that many of them leave prison essentially penniless.

Recognizing the need to support these exonerees as they transition back to society, Illinois did the honorable thing: We created a law to provide them with financial compensation for the time that they were wrongfully imprisoned. The compensation levels aren't high; they are capped at about $220,000 total for those who served over 14 years—well below the federal government's recommendation of $63,000 per year. Even so, this compensation can provide critical support that these men and women need to restart their lives.
- Posted by Rich Miller 13 Comments


* Finke…
"There was a dramatic change in tone today," said Senate Republican Leader Christine Radogno following a short meeting between Rauner and the four leaders Friday morning. "The Democrat leaders essentially pulled the plug on negotiations. They want to push the balanced budget reforms off until the fall, after the election."
* WGN finished the above Radogno quote…
"It's clear their priority is political and not for the good of the state."
* Leader Durkin agreed…
After today's meeting, House Republican Leader Jim Durkin told reporters that Democrats are motivated more by politics than reaching a deal.

"It's clear that they want to push things off until after the election," Durkin said.
* Sfondeles…
"Today, the Senate president characterized this oh, not as waving the white flag, not as giving up but rather a time out," Radogno said. "Well we should have had a time out in April. There's nothing that's changed. I believe they've purposely slow walked this to create a crisis."

Prior to Friday's meeting, Madigan had always been characterized as the leader most unwilling to compromise in leader meetings with the governor.

But Radogno dubbed that behavior "good cop, bad cop."
* Team Tribune…
Republicans insist the working groups have been making progress and that the lawmakers involved are becoming frustrated with Madigan and Cullerton.

"What I think is happening is that the rank-and-file Democrats are getting ahead of the entrenched leadership that they have, and the leaders now want to pull that back," Radogno said.
- Posted by Rich Miller 34 Comments


* Senate President John Cullerton didn't talk to reporters after this morning's leaders meeting, but he has released a statement…
We remain fully committed to the working groups, but the reality is that we need revenue with reforms to have a balanced budget, and it is the end of May.

If we run out of time, we have no backup plan to keep our state operating.

Today, I suggested a short-term compromise to keep the schools open, our universities open and our human service providers open while we continue to negotiate a broader, balanced budget solution.

I think that's a practical way forward given reality.
- Posted by Rich Miller 30 Comments


* Press release…
Late yesterday AFSCME Council 31 executive director Roberta Lynch received a letter also addressed to Governor Bruce Rauner from seven Republican state representatives (Avery Bourne, Adam Brown, Terri Bryant, CD Davidsmeyer, Norine Hammond, Don Moffitt and Sara Wojcicki Jimenez) urging both parties to resume negotiations for a new collective bargaining agreement for state employees.

In a response to the lawmakers sent this morning, AFSCME agrees with the legislators' call for renewed negotiations, reiterating the union's oft-stated willingness to return to the bargaining table ever since the Rauner Administration broke off talks on January 8.

In addition, Lynch points out that HB 580—the fair arbitration bill, which the legislators did not support—could actually serve to foster such a renewed bargaining process. If the governor refuses to heed the lawmakers' call to return to the bargaining table, she calls on the seven legislators to commit to vote for a new motion to override the governor's veto of the fair arbitration bill before the General Assembly's scheduled adjournment on Tuesday.
Interesting retort to those seven by AFSCME.
* The letter sent by the legislators…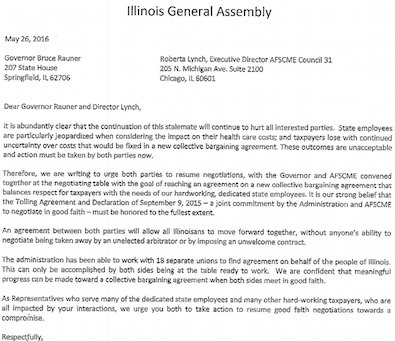 Both letters are here.
- Posted by Rich Miller 96 Comments


* I don't think I've ever seen anybody make a big deal about such a common practice before…
The head of the agency managing state construction solicited help from private builders to lobby for state funding in an email ethics experts say was inappropriate.

The email obtained by The Associated Press was sent Tuesday by Jodi Golden, executive director of Gov. Bruce Rauner's Capital Development Board. Rauner spokeswoman Catherine Kelly said it's "outrageous" to suggest the email created a conflict of interest.

"This is about schools and important construction projects around the state that communities are waiting for," Kelly said in an email. "They are all being held up by the majority party in Springfield. The people of Illinois have a right to know what's going on and why."

Golden's email from a government account was addressed to "Construction Industry Partners," urging them to contact lawmakers in favor of legislation providing $2.1 billion for this year and more for next year. […]

"Is this about good government and trying to get the state to improve the infrastructure?" Redfield asked. "Or are you using leverage - because there's a financial relationship - to get someone to do something they wouldn't otherwise do?"
Um, why wouldn't they want to urge legislators to pass the funding bill?
Seriously. This is supremely goofy. Elected officials ask interested parties to help pass or kill bills all the freaking time. The Democrats have asked human service providers to help pass various bills that directly impact them, so would that be a scandal too? I don't get it.
You can see the "scandalous" e-mail in question by clicking here.
* And the Illinois Policy Institute's radio network apparently couldn't even find a goo-goo to comment on this piece..
A former state Senate staff attorney turned lobbyist is being paid $10,000 a month to work on state pension reform.

Eric Madiar is Illinois Senate President John Cullerton's former chief legal counsel. Madiar is now under contract to deal with pension reform.

Cullerton Spokesman John Patterson said Madiar is "just researching the pension clause and really becoming the state's leading authority on that."

Patterson also said Madiar has been combing over recent rulings from the state Supreme Court and "analyzing those opinions, interpreting what they mean, understanding how we can learn from what the court has ruled and incorporate it into a model that we think is constitutional moving forward."
Oh, no! A lobbyist!!! Horrible.
Wait. Doesn't that network's parent company lobby? And isn't that why the House and Senate refuse to allow the network access to the press boxes?
* Look, Madiar is an acknowledged pension expert. He's perhaps the best pension expert this state has. Eric was right when he predicted the Supreme Court would strike down the last pension reform law. So, I suppose the Senate Dems could just rely on free advice from the Tribune editorial board and Ty Fahner's Civic Committee, but they were dead wrong on that last pension law. And I'm betting their error cost this state a whole lot more in legal bills than Madiar's total take.
Madiar's also a lawyer in private practice now, so those services don't come cheap. Could the amount be debatable? Maybe, but we don't know how many hours he puts in. And if he comes up with a way to save us big bucks, it'll be worth it.
* As we've already discussed, however, this is potentially troubling…
A bill that would legalize and regulate online fantasy sports betting in Illinois has hit a major snag amid an apparent ethics scandal involving a lobbyist.

State Rep. Rita Mayfield, D-Waukegan, said in a House Judiciary-Criminal Committee meeting on Thursday she had become privy to an email from a FanDuel lobbyist to the Black Caucus that offered donations in exchange for a guarantee of votes. […]

"The email basically alleged that in exchange for considerations, donations, that he could guarantee votes. That's illegal. We have a former governor in jail right now for doing that, so it is an issue," Mayfield said, adding she wasn't comfortable voting on the bill.

Mayfield said she learned from the head lobbyist that the lobbyist in question is still employed. […]

"We categorically reject the implication that DraftKings or FanDuel would partake in such behavior," [Jeremy Kudon, the national lobbying point person for DraftKings and FanDuel] said in a statement. "We do not condone this type of activity. It's simply not how we do business, here or anywhere in the country."
There's only one way to clear this up: Release the e-mail exchange. If you're gonna tell us that no wrongs were committed, then release the e-mails and the problem immediately goes away.
The cover-up will get you every time. Come clean.
*** UPDATE ***  A rumor? You've got the chair of the House Black Caucus saying she saw the e-mail. Release the e-mail chain already…
@MarcEdelman There is no truth to the rumor. The truth is that our opponents will do whatever is necessary to kill this bill.

— Jeremy Kudon (@JKudon) May 27, 2016
- Posted by Rich Miller 22 Comments


* I'll post a special ScribbleLive feed just before this starts…
SPRINGFIELD – GOMB Director Tim Nuding will hold a conference call to discuss the consequences of the General Assembly adjourning without passing a balanced budget with reforms.

Time: 12:00 p.m.

Date: Friday, May 27, 2016
…Adding… As promised, here's the new
ScribbleLive feed
- Posted by Rich Miller 41 Comments


* Remember this bill?…
After 10 months of playing cat-and-mouse, Mayor Rahm Emanuel's closest ally in Springfield has sent to Gov. Bruce Rauner legislation giving Chicago 15 more years to ramp up to a 90 percent funding level for police and fire pensions.

Illinois Senate President John Cullerton (D-Chicago) has been holding the bill — approved by the Illinois House and Senate last spring — amid concern that Rauner would veto the legislation to squeeze cash-strapped Chicago and strengthen his own hand in the budget stalemate over the governor's demand for pro-business, anti-union reforms.

The delay has already been costly to Chicago taxpayers.

Two weeks ago, Emanuel used $220 million in "short-term bridge" financing to make a state-mandated payment to police and fire pension funds that's higher than his tax-laden 2016 budget anticipated because the police and fire pension reform bill has not been signed into law.
The deadline for Gov. Rauner to sign that bill is Memorial Day.
* From a reader, with a few typos fixed…
Jason Barclay of Governor Rauner's Office called. The Governor wants someone at the SOS's Index Division to accommodate him in filing a vetoed bill on Monday (a state holiday). Jason said that the SOS has helped him with this before. When asked why he could not file the veto today, the Governor's Office stated that his schedule would not accommodate it today.
The SOS reportedly agreed to accommodate the governor.
*** UPDATE 1 ***  He apparently decided to give that poor SOS employee a break and vetoed it today…
Today I veto Senate Bill 777. This bill continues the irresponsible practice of deferring funding decisions necessary to ensure pension fund solvency well into the future. The bill effectively makes Chicago taxpayers borrow from the pension funds at an additional cost of $18.6 billion. It's a game politicians like to play with taxpayers' dollars by delaying payments today and forcing future elected officials to deal with pension funding issues tomorrow. As all know by now, that practice led to our current pension woes across state and local pension systems. Chicago police retirees are rightfully opposed to the bill. Instead of doubling-down on our past mistakes, we must learn from them. In vetoing this bill, I stand with all Chicago taxpayers who will be saddled with higher future pension contributions if the bill were to become law.

The cost to Chicago's taxpayers of kicking this can down the road is truly staggering. Actuaries estimate that between now and 2055, when the law would require these funds to achieve the 90% funded ratio, the total contributions to the Policemen's Annuity and Benefit Fund of Chicago would increase by approximately $13 billion—an increase of 47.4% over contributions required under the current law. For the Firemen's Annuity and Benefit Fund of Chicago, the total contributions would increase by approximately $5.6 billion, or 47.1% over the amounts under the current law. In other words, by deferring responsible funding decisions until 2021 and then extending the timeline for reaching responsible funding levels from 2040 to 2055, Chicago is borrowing against its taxpayers to the tune of $18.6 billion. This practice has to stop. If we continue, we've learned nothing from our past mistakes.

Irresponsible funding decisions have left us with state pension funds that are collectively underfunded to the tune of $111 billion. The poor fiscal health of these pension funds means we have to spend nearly 25 cents out of every dollar of the state budget on pensions, which significantly impairs our ability to provide vital services to those in need.

Irresponsible funding decisions have left teachers in Chicago with a drop in pension reserves from 100% funded as recently as 2001 to 51.8% funded today. On that trajectory, teachers can count on receiving only slightly more than 50 cents of every dollar owed to them in retirement – all because of a decade of pension holidays in which Chicago skipped the necessary contributions to the teachers' pension fund.

Irresponsible funding decisions have left two of Chicago's main employee pension funds near insolvency. The Municipal Employees' Annuity and Benefit Fund of Chicago and the Laborers' Annuity and Benefit Fund of Chicago, covering some 79,000 current and former Chicago workers, are projected to have zero balances as early as 2026 and 2029, respectively.

This is what happens when you fail to responsibly fund pension obligations.

And now, against this historic backdrop, Chicago wants to do it again, this time gambling with the pensions of its police officers and firefighters. SB 777 would permit Chicago to contribute to the two pension funds for its public safety workers far less than is actuarially required during fiscal years 2016 through 2020. Even worse, the bill would allow Chicago an additional 15 years to bring the funds to a responsible funding level of 90%, with the target year shifting from 2040 to 2055. Current and retired police officers and firefighters would have to wait until 2055 to know their pensions are secure. This is bad policy regardless of any fiscal impact, but doubly so when it comes with a price tag of $18.6 billion.

Therefore, pursuant to Section 9(b) of Article IV of the Illinois Constitution of 1970, I hereby return Senate Bill 777, entitled "AN ACT concerning public employee benefits", with the foregoing objections, vetoed in its entirety.

Sincerely,

Bruce Rauner

GOVERNOR
*** UPDATE 2 *** The mayor's response…
Statement from Mayor Rahm Emanuel on the Rauner Tax

"With a stroke of his pen, Bruce Rauner just told every Chicago taxpayer to take a hike. Bruce Rauner ran for office promising to shake up Springfield, but all he's doing is shaking down Chicago residents, forcing an unnecessary $300 million property tax increase on them and using them as pawns in his failed political agenda. And it is an unspeakable act of disrespect toward our men and women in uniform — and toward Chicago taxpayers — that the governor would veto a bill to protect taxpayers and police and fire pensions as we head into Memorial Day weekend. Decades from now, the Rauner Tax will be this governor's legacy in Chicago. His veto is harmful to taxpayers, and like everything he does, it is contradictory to his own supposed policy positions. It's no wonder no one can trust him."
*** UPDATE 3 *** Supplemental Rauner response…
"This legislation forces Chicago to borrow against police and fire fighters' pensions to the tune of $18.6 billion. Absent reforms, this will simply balloon liabilities and ultimately crush taxpayers, which even the Retired Chicago Police Association opposes. This is the same reckless policy that led the city of Chicago and the state of Illinois to financial crisis. Chicago needs wholesale structural reform to solve its problems — borrowing billions against taxpayers is not the solution."
- Posted by Rich Miller 32 Comments


* Superintendent Russell said this yesterday, so he was quite prescient…
Illinois lawmakers are still deciding on how to pay for the state's public schools in September.

It's a central part of an overall state budget, and last year, despite never passing a full budget, legislators did manage to release money to schools. It's not clear if the same will happen this year, and that's causing a lot of angst for many school superintendents.

"District improvement doesn't happen overnight. It takes a great deal of planning where you're going to allocate your resources and an investment in staff," said Mary Havis, Superintendent of Berwyn South District 100. […]

"I have zero confidence that Springfield will get its act together," said Kevin Russell, Superintendent of Chicago Ridge District 127.5. "I think the last couple of years have proved that. So we will be budgeting for the worst-case scenario."
- Posted by Rich Miller 10 Comments


* This ought to be interesting…
Gov. Rauner will give statement after his 10 am veterans memorial event. No questions.

— Monique Garcia (@moniquegarcia) May 27, 2016
BlueRoomStream.com will broadcast it live. Click here. And keep an eye on our live coverage post.
*** UPDATE 1 ***  Not surprising…
Rauner: We are never going to give up on my ideas for change, there should be no short term fixes.

— Monique Garcia (@moniquegarcia) May 27, 2016
It appears that we crashed the BlueRoomStream feed. It turns out that the Statehouse lost its Internet service. So, I'm waiting for audio. Hold tight.
*** UPDATE 2 *** Here's the raw audio…
Rauner said working groups met late into the night last night. He asked working group members to stay in town over the weekend.
He also asked that Democratic rank and file stand up to their leaders.
- Posted by Rich Miller 56 Comments


* Tom Corfman…
Who does the Journal think is winning, anyway?

"Gov. Bruce Rauner has the most thankless job in politics: trying to rescue Illinois from its economic and fiscal morass," according to an editorial by the Wall Street Journal, which celebrates his defeat of an override of his veto of a bill mandating arbitration of a long-running union contract dispute.

"Rauner won in 2014 on a reform platform, but the political lifers in Springfield are fighting him like they're defending Stalingrad," the newspaper said.

Wait, didn't the Russians win the Battle of Stalingrad?
The editorial is here.
* Meanwhile, Greg Hinz asks if Speaker Madigan is losing his mojo…
But it appears this time that Madigan's odds of winning are less, maybe substantially less, than they usually have been. The sauce has lost some of its zing. Signs are growing that the era in which the speaker's tail wagged Springfield's dog is seeing its limits.

My specific reference is to the proposed fiscal 2017 budget that the speaker absolutely shoved through his chamber last night, ignoring good rules of comity, proper parliamentary procedure and, perhaps, smart politics. It created such a stink that Madigan today agreed to reconsider and pass the budget again. […]

The bill passed 63 to 53, with seven of Madigan's Democrats either voting no or abstaining. That kind of thing never happens in Springfield. On today's rerun, the margin was even narrower, 61-53—just two votes more than a majority, and 10 short of what would be needed to overturn a gubernatorial veto. […]

Even if Senate Democrats decide to suck it up and pass the budget—and that's likely, not certain—Rauner aides are promising a veto, and I believe them. The rookie governor finally has learned some of the tricks of his new trade, one well-connected lobbyist tells me. "They (now) understand the need for realistic management of the budget, instead of the stopgap" approach the state has been dealing with over the past year, that source says. […]

It's still far too early to say how this all is going to turn out in Springfield. It could be a long, hot summer. But it's fair to say that least a wisp of change is in the air.
I dunno. A half dozen HDems didn't vote for the approp bills last year. And the total went down between Wednesday and Thursday because of absences, not some increasing member revolt.
And I don't know how the administration is gonna manage a budget without a budget.
As far as the Senate goes… well, you'll have to subscribe.
* What I do believe is that Madigan has lost his sense of proportion. As the clock ticks down, he should try to forge a compromise as he's done many, many times in the past (remember how the CTA's unions were whacked hard by Madigan to obtain a $500 million tax hike for the RTA?). The closer it gets to May 31st, the more eager everybody's gonna be for a deal.
What was the saying on that old poster? "War is Not Healthy for Children and Other Living Things."
- Posted by Rich Miller 44 Comments


* For the first time in a while, House Speaker Michael Madigan will likely talk to reporters after today's leaders meeting, which has already begun. Keep an eye on our live coverage post for updates. BlueRoomStream may also have a live video feed, which you will find here if they set it up in time.
*** UPDATE 1 ***  I'm told Senate President John Cullerton said at the meeting today that the two sides were too far apart to produce results by Tuesday and asked for a short-term budget to get the state through the election. Speaker Madigan concurred.
Republicans maintained that they're very close to a bipartisan deal and repeatedly pled with the Democrats to reconsider, but eventually the governor ended the meeting.
Speaker emerged offering no sign of breakthrough in budget talks, faulted gov for injecting new demands, incl action on employee health care

— Dave McKinney (@davemckinney) May 27, 2016
Speaker Madigan after today's budget mtg: The gov fails to persuade… pic.twitter.com/Udc3Kvp7TL

— ILHouseGOP (@ilhousegop) May 27, 2016
Republican leaders say Democrat leaders say they're unwilling to engage in any more negotiations. "They're pulling the plug," Radogno says.

— Tina Sfondeles (@TinaSfon) May 27, 2016
…Adding… SJ-R…
"There was a dramatic change in tone today," said Senate Republican Leader Christine Radogno following a short meeting between Rauner and the four leaders Friday morning. "The Democrat leaders essentially pulled the plug on negotiations. They want to push the balanced budget reforms off until the fall, after the election."
…Adding More… As subscribers know, Democrats on the collective bargaining working group proposed a way to work around the governor's previous demand that health care be taken out of collective bargaining rights. It found favor with the governor. So, I'm not sure what Speaker Madigan is talking about.
*** UPDATE 2 *** The rhetoric is really heating up. Tribune…
Emerging from Friday's private meeting, Senate Republican Leader Christine Radogno said Democratic House Speaker Michael Madigan and Senate President John Cullerton had asked for a "timeout" until after the November election and had walked away from negotiations for a grand compromise that Rauner remains publicly optimistic about despite the odds against it. […]

Madigan, for his part, defended the spending plan that he pushed through his chamber, saying it was "a bill that will provide no hostage-taking."

"We're not going to hold hostage people that need education, like elementary and secondary education, or higher education. We're not going to hold hostage people that need health care. We're not going to hold hostage people that need social services," Madigan said. "There will be a complaint that the state does not have sufficient money to pay for that budget, and I have said for the last year and a half, I'm prepared to negotiate with the governor to find the money to pay for those services. My first choice in finding money would be taxing the wealthy."
- Posted by Rich Miller 45 Comments


* With just five days left in the scheduled spring session, the House Republicans are blasting out robocalls this evening targeting 7 House Democratic incumbents, including Reps. Michelle Mussman, Sam Yingling, Andrew Skoog, Kate Cloonen, Dan Beiser, John Bradley and Brandon Phelps. I'm told they're contacting 12-20,000 households in each district. The ads feature sound bites of House Speaker Michael Madigan talking about raising taxes and refusing to work with Gov. Rauner.
* Press release…
Last night and this afternoon, House Democrats decided to put their allegiance to Mike Madigan over the financial health of Illinois, voting twice for a disastrous budget that would create a $7 billion deficit and necessitate a $1,000 tax hike on Illinois families. This is a clear signal that they would rather jump off the fiscal cliff than stand up to Mike Madigan.
* The calls are all basically the same, so here's the one against Rep. Skoog…
* Script…
Yesterday, State Rep Andrew Skoog voted for Speaker Mike Madigan's job-crushing, $1,000 tax hike on Illinois families.

That's right, Skoog sided with Madigan to increase Illinois' debt by $7 billion and force record high income tax rates.

It's been the Madigan-Skoog plan all along.

Last year, Madigan said taking the income tax back up 5% was

MADIGAN: "a good place to begin, good place to begin would be the level we were at before the income tax expired"

Then this month, Madigan said his only goal for the session was to say no to job-creating economic reforms alongside a balanced budget.

He told ABC News:

MADIGAN: "My further goal is not to agree with the governor."

The Madigan-Skoog plan is clear: record high taxes and no job-creating economic reforms."

Paid for by the House Republican Organization.
Discuss.
- Posted by Rich Miller 61 Comments


* Crain's has an update on the fantasy sports betting legalization bill…
The House Criminal Judiciary Committee today discussed the bill without voting on it. But the hearing brought to light significant wariness among lawmakers over the allegations of illegal lobbying.

Rep. Rita Mayfield (R-Waukegan), who was originally a co-sponsor of Rep. Zalewski's bill, elaborated on yesterday's Capitol Fax report that she was shown an email sent by a DraftKings lobbyist to a superior allegedly stating that they could get votes supporting the bill in exchange for charitable contributions.

"We have a former governor in jail for doing that," Mayfield said during today's hearing, calling the email "unethical and, in my opinion, illegal."

"I am no longer comfortable voting on this bill. I have several members that are uncomfortable voting on this bill simply because of the implications of illegality," she said.

DraftKings has denied any implication of impropriety by its lobbyists.
The bill wasn't called for a vote today, but it could resurface in a few days.
Subscribers, of course, know more.
- Posted by Rich Miller 9 Comments


[The following is a paid advertisement.]

Last year, Exelon claimed they needed a $300 million bailout spread across six plants. This year, their new bailout plan calls for…wait for it…$250 million for only two plants (Crain's: Ratepayers could be on hook for $250 Million for Exelon's nukes).

Wait. What?

As Crain's said this morning: "That's total revenue of $250 million, not far from the $290 million last year's bill would have generated for all of Exelon's nukes."

Last year they said Clinton and Quad Cities' share of the bailout (about $70 million), would keep those plants running for at least five years. Now, instead of $70 million, those two plants need $250 million. Are you kidding me?

So let's review. In just three weeks, Exelon is caught deceiving lawmakers - pleading poverty as they bragged to Wall Street. Then they're caught again – zeroing out RPS funding even as they claimed to be fixing RPS funding. And now, their ask for just these two plants has more than quadrupled.

But wait, there's more. This bill guarantees that ratepayers will pay Exelon – a company that made more than $2 billion last year - huge profits (estimated at $110 million by Crain's).

The company defended this by saying "Exelon is a business, and like any business, it must sufficiently cover its costs and provide a return on capital investment that fully reflects business risks,"

ENOUGH IS ENOUGH.
JUST SAY NO TO THE EXELON BAILOUT.

BEST Coalition is a 501C4 nonprofit group of dozens of business, consumer and government groups, as well as large and small businesses. Visit www.noexelonbailout.com.
- Posted by Advertising Department Comments Off


Senate Democratic candidates began tying their Republican rivals to the policies of Donald J. Trump in March, when they began their "Party of Trump" campaign. Now, the Democratic Congressional Campaign Committee is joining in on the action.

As part of a "five-figure" digital purchase, the group is releasing a targeted ad campaign on 15 House races, tying Republican House leadership to the policy proposals of Mr. Trump.

The ad features mainly the Republican leadership, but the D.C.C.C. isn't targeting any of the bold-Republican names like Speaker Paul D. Ryan with their digital buy. Rather, they have identified what they claim to be 15 important congressional districts where Mr. Trump is viewed particularly negatively, and targeting female independent and female Republican voters in those districts.
* Rep. Bob Dold is being targeted…
…Adding… Transcript…
VO: Donald Trump and Republicans in Congress… are built from the same reckless policies.
Chris Matthews: Do you believe in punishment for abortion?
Donald Trump: There has to be some form of punishment…
Luke Russert: Republicans muscled broadened abortion restrictions through the House yesterday.
Donald Trump: We're not going to fund, as long as you have the abortion going on at Planned Parenthood.

Paul Ryan: I don't think Planned Parenthood should get a red cent from the taxpayer.

Donald Trump: When Mexico sends its people … they're bringing drugs, they're bringing crime, they're rapists.
Steve King: For everyone who's a valedictorian there's another hundred out there - they weigh 130 pounds and they've got calves the size of cantaloupes because they've been hauling 75 pounds of marijuana across the desert.
Donald Trump: Donald J Trump is calling for a total and complete shutdown of Muslims entering the United States.
Peter King: Unfortunately we have too many Mosques in this country … we should be looking at them more carefully, we should be finding out how we can infiltrate.
Donald Trump: I am just, Jake, I'm for traditional marriage.
MSNBC: The Republican-led House … voted to ban same-sex marriages …
VO: Donald Trump and House Republicans … Built from the same reckless policies.
* But…
Rep. Bob Dold, an Illinois lawmaker in a competitive reelection battle, was one of the first GOP lawmakers to say he wouldn't support Trump, way back in the summer when Trump questioned John McCain's status as a war hero.

When a Politico reporter asked him about it in March, as Trump closed in on the nomination, Dold said: "Honestly, I'm focused on one race. I'm focused on one race alone."

As an update, Dold's office pointed out that he has been quoted at least nine time since then — and before — he is no fan of Donald Trump and will not be supporting him. Here's his interview May 16 with WGN Radio: "I've been clear about my stance on that, and it's a personal thing. "When it comes to that, for me whether it be his comments about women, his comments about Muslims, his comments about Latinos, but for me the kicker was his comments about veterans…and so for me, that was obviously one step too far."
Discuss.
- Posted by Rich Miller 14 Comments


[The following is a paid advertisement.]
The BEST Coalition has been in Springfield for nearly two years, spreading misinformation and hiding their own self-interests, in an attempt to stop legislation that would preserve and create thousands of jobs and prevent the economic destruction of communities across Illinois. Their ongoing efforts raise a number of questions that warrant answers. Why does the BEST Coalition want our communities to lose so many jobs, the state to lose billions of dollars in economic activity, and our air to be dirtier? Who is funding the BEST Coalition and how much do they stand to gain by killing legislation that is so important to our State and its communities?
The bipartisan effort to enact comprehensive energy legislation in the form of the Next Generation Energy Plan is not about Exelon, it is about securing Illinois' economy and clean energy future. The livelihoods, the social programs, and the overall well-being of communities where nuclear power plants have been a good neighbor, are secured for the future by this legislation and its Zero Emission Standard.
Signed,
Jim Homa, Village President of Braceville
Chris Millard, Mayor of Byron
Missey Moorman Schumacher, Mayor of Channahon
Roger Cyrulik, Mayor of Clinton
Dean Moyer, Mayor of Cordova
Mike Jenkins, Mayor of Farmer City
James Trager, Mayor of Marseilles
Pat Brennan, Mayor of Minooka
Dick Kopczick, Mayor of Morris
David Spicer, Mayor of Seneca
Jim Lansford, Mayor of Streator
Marty Orr, Mayor of Wilmington
- Posted by Advertising Department Comments Off


* Rep. Lou Lang just announced that the House will take a new vote on the appropriations bill that they passed last night.
Lang said the reason was that the Republicans had legitimately asked for a verification of the roll call and it was improperly ignored.
Watch the roll call, but Rep. Kate Cloonen usually votes "Present" on any bill containing capital programs because she owns a construction company. She voted "Yes" last night.
* 1:39 pm - Rep. Cloonen stayed "Yes," so she'll be consistent. There are 60 "Yes" votes on the board right now and a verification has begun.
Chapa LaVia, Thapedi, Monique Davis are all absent from the roll call. That explains the drop from 63 to 60. Thapedi was here, but he said his button didn't work.
* 1:41 pm - The verification request has been withdrawn. It passed.
* 1:45 pm - GOP Rep. Cabello apologized for the behavior of some members in the chamber after the debate last night. He said no one should "feel threatened" in the chamber.
Rep. Mike Zalewski added that two members of his party's staff were "accosted" last night after the debate ended. "They didn't deserve to be treated that way," he said. "Staff should never, ever, ever be touched or screamed at."
It really did go over the top last night. Click here to see part of it. Click here to see more of it.
…Adding… Related and worth a read…
* Why these Illinois House Democrats voted against Madigan's budget bill
…Adding More… One of the many nearly identical press releases sent this afternoon by the ILGOP…
Last night, Rep. Michelle Mussman voted for Mike Madigan's reckless, $7 billion out-of-balance budget. Today, Mussman doubled down by voting for a second time to force a $1,000 tax hike on all Illinois families.

"Not once, but twice did Michelle Mussman show she supports Mike Madigan's plan to force a massive, $1,000 tax hike on Illinois families. The people of Illinois want state government to live within its means - not have a $7 billion budget hole and unaccountable spending. Until Rep. Mussman works across the aisle to pass a balanced budget with reforms, we know her loyalties lie with Madigan and not the people of Illinois." – Illinois Republican Party Spokesman Aaron DeGroot
- Posted by Rich Miller 45 Comments


* From the twitters…
Gov. Rauner refuses to answer directly if he will veto House dem budget, including k-12.

— Monique Garcia (@moniquegarcia) May 26, 2016
.@GovRauner this morning very careful NOT to say whether he'd kill the state school aid in the "Cheshire Cat" spending plan. @wlsam890

— Bill Cameron (@billjcameron) May 26, 2016
Rauner instead sticking by optimistic talking points. Leaders meeting this afternoon.

— Monique Garcia (@moniquegarcia) May 26, 2016
You can watch the whole event by clicking here.
* But don't kid yourself. He was apparently just trying to avoid overly incendiary rhetoric. From an administration official…
There's a veto threat on the bill. That is not in question. The governor wants to focus on balanced budget and reform.
- Posted by Rich Miller 17 Comments


* Sen. Kwame Raoul (D-Chicago) talked to Bernie…
Raoul said he led the effort to reform workers' compensation law in 2011, and is again working on that issue, which has "been made a critical piece in this overall discussion."

"I've chosen to try to work with the current governor," Raoul said. "We are not aligned in our philosophy, but I think it's irresponsible for me to do anything but to focus on trying to solve this crisis because the people of Illinois are hurting."
There's a real split between the Senate Democrats and the House Democratic leadership over these economic issues. It's happened before, of course. But the stakes are far higher these days.
* And for all you lockstep people out there who'd like to burn Raoul at the stake simply because he's trying to find a way to (Gasp!) compromise, he also said this…
Raoul also said that while all should work to make Illinois more business-friendly, "I don't think we should hold the budget process hostage" toward that end.
- Posted by Rich Miller 33 Comments


* From a top GOP source…
We've seen recent polls of 24 legislative districts where competitive elections are taking place this fall.

"Reducing state government spending" was cited as the top concern for voters in 23 of the 24 districts. "Creating jobs" was cited as either the top concern or second highest concern for voters in 20 of the 24 districts.

So the biggest unbalanced budget in history with no reforms to create jobs would be a disaster for Democrats in the fall.
That's quite a convergence.
* And this quote by Sen. Steans will likely prove useful…
House Republican Leader Jim Durkin countered, complaining that the 500-page document was unveiled just two hours before lawmakers were asked to vote on it. "Oh for crying out loud, this is absolutely the biggest joke that I have witnessed in my 18 years in Springfield," said Durkin, of Western Springs. "We don't know what's in it; all we know is it's a lot of spending."

That didn't stop the House from approving the spending plan on a largely 63-53 partisan vote. It now heads to the Senate, where Democrats could order changes over the next six days.

"I am not a fan of the budget. I think it's a fantasy budget but the reality is that it really hurt people," said Sen. Heather Steans, D-Chicago. "There's not the revenue to support it, and it delays us to getting to a real solution."
- Posted by Rich Miller 103 Comments


[The following is a paid advertisement.]
Illinoisans who enjoy fantasy sports deserve to know what's transpiring behind the scenes in Springfield, and where the single largest threat to the passage of fantasy sports regulation is coming from: it's Rivers Casino in Des Plaines.
Rivers says it's all about protecting their turf, but there is no evidence that players spend less time or money at casinos because they participate in fantasy sports contests. The Rivers political strategy is to attach internet gambling to a fantasy sports bill. They have not been successful, so they are working back-room politics to kill the fantasy sports bill, unless they get what they want.
My career and my colleagues' careers rely on the fantasy sports industry. We need legal clarity and certainty to grow and expand our business – that's exactly what this bill offers. It reflects thoughtful and appropriate regulation, and the level of consumer protections are among the safest in the country. Rivers Casino needs to drop its unsavory political tactics and allow the bill to have a clean vote.
(Read the entire commentary in Reboot Illinois)
Jay Correia
CEO, DreamCo Design
Author of book Daily Fantasy Sports
- Posted by Advertising Department Comments Off


* AP…
The head of Chicago Public Schools say the district has "reached the point of no return" and faces severe cuts without "equal" funding from the state.

Schools CEO Forrest Claypool said Wednesday that with only one week left in the state's Legislature's session, the district must "make a statement the governor cannot ignore."

Claypool on Thursday will lead a rally in Springfield seeking more state funds for Chicago's schools. The district faces a $1 billion deficit next school year.
* The Tribsters ask a good question…
To what end? The only legislation the district has endorsed is a complex but Senate-approved overhaul of the state's school funding formula that would provide CPS with hundreds of millions of yet-to-be-budgeted dollars.

But there's also a budget proposal from House Speaker Michael Madigan that would cut CPS some extra dough as the system threatens massive budget cuts for next school year. Mayor Rahm Emanuel and CPS CEO Forrest Claypool issued non-committal statements about it on Wednesday night. […]

"With one voice, these districts across the state will express the outrage that we feel toward a funding system that so blatantly discriminates against poor and minority children throughout the state of Illinois," Claypool said.
* Claypool's statement last night…
"On behalf of the administrators, teachers, parents and students of Chicago Public Schools, we stand strongly behind the efforts of the Illinois General Assembly — particularly the Chicago delegation — to bring additional resources to public schools. We applaud them for being champions of public education by taking these important steps to move toward greater stability for CPS and working to ensure a brighter future for our children."
Emanuel called the vote "an important first step." Subscribers know more about the Chicago angle.
* CPS needs some state help. No doubt. But they also need to put more of their own revenue skin in the game…
Even Raise Your Hand, a parent group frequently among CPS' critics, said members were flooding the offices of the governor and other lawmakers with phone calls, member Joy Clendenning said.

"We need you to join with us in demanding that our public servants serve the public. Of course, Gov. Rauner, of course, our legislators in Springfield, but even though the mayor appointed you, you're here to serve the children of Chicago, and we need you to talk to the mayor," about local solutions," she said. "We believe it will be even more convincing for Springfield if we show what we're doing up here in Chicago as well."

Critics say Springfield can't fix the entire problem. Even if all current school funding bills were to pass, they wouldn't plug CPS' entire projected budget shortfall.

The Board of Education also has a responsibility to advocate for more money for CPS by raiding the city's tax-increment financing accounts, and to spend what they have more wisely, said Sabah Hussain, a student at Lane Tech High School, which that could lose more than $8 million from its operating budget.
* Press release…
Over 2,000 school superintendents, education advocates, parents, students, and legislators will rally in the rotunda of the Illinois State Capitol on Thursday, May 26 to urge Illinois' Governor and House lawmakers to pass statewide education funding reform this legislative session. They will advocate for a comprehensive fix for Illinois' broken public school funding system, which has penalized students for decades by shortchanging cash-strapped districts throughout in rural, urban, suburban, and downstate areas and cheating them of the high quality education they deserve.

Many attendees and participants are members of Funding Illinois' Future, a broad coalition of more than 230 members that include school superintendents, principals, faith leaders, parents, teachers, education reform groups, and others from throughout Illinois. They have worked together for the past three years advocating a fix to the state's education funding system like Senate Bill 231 so that dollars are distributed more fairly to districts with the greatest needs and lack local resources to properly invest in their schools. (www.fundingILfuture.org)

WHO: Speakers include –

∙ Pastor T. Ray McJunkins, Union Baptist Church, Springfield
∙ Kris Reichmann, Illinois for Educational Equity (ILEE)
∙ Dr. David Lett, Superintendent, Pana School District
∙ Dr. Gregg Fuerstenau, Superintendent, Taylorville School District
∙ State Senator Andy Manar
∙ State Representative Avery Bourne
∙ Dr. Sharon Desmoulin-Kherat, Superintendent, Peoria Public Schools
∙ State Representative Jehan Gordon-Booth
∙ Caroline Crozier, LULAC of Illinois
∙ Forrest Claypool, CEO, Chicago Public Schools
∙ Jennifer Garrison, Superintendent, Sandoval School District
∙ Kristin Humphries, Superintendent, East Moline School District
* Also, too, people who write any education-related advocacy materials should meticulously check for typos before hitting "send."
- Posted by Rich Miller 21 Comments


[The following is a paid advertisement.]
The daily fantasy sports gambling industry is pressuring officials to pass a bailout that actually costs taxpayers. According to COGFA these Internet gaming giants would each pay just $900,000 in state taxes, but they could afford $500 million in television ads last year.
Taxpayers may actually have to subsidize regulating online sports wagering. The Illinois Gaming Board doesn't know how much it will cost to oversee this new form of online gaming.
The state is facing an unprecedented budget crisis, but two out-of-state companies, which the Attorney General said broke law, want you to give them valuable Internet gaming licenses.
Everyone but paid fantasy sports operators agree, it's gambling:
Proponents are telling elected officials a fantasy, but the budget crisis is real. Don't make it worse and pass a fantasy sports bailout that actually costs the state money.
- Posted by Advertising Department Comments Off


* Mark Brown…
"Both sides think the other is going to blink first, and in the meantime, people are dying," said Emily Miller, policy director at Voices for Illinois Children.

Dying may strike you as hyperbole, unless you are suicidal and seek help, only to find a six-month waiting list for treatment — just one of the many service gaps created by the state's inability to agree on a budget.
- Posted by Rich Miller 29 Comments


* AP…
After meeting Rauner in his office Wednesday, House Democratic Speaker Michael Madigan said he would proceed with his own plan. Madigan said the governor's suggestion to have groups of lawmakers negotiate a [non-budget] agreement is going nowhere.

"My advice to the governor today is that he and his agents are not being persuasive in the working groups," Madigan said.

The groups have been discussing possible changes to collective bargaining policies and how injured workers are compensated by employers, among other things. Rauner has said those changes are needed to improve Illinois' economy and that he would support a tax increase to close a $5 billion deficit if he gets some of his demands. […]

Democrats have repeatedly said that Rauner's proposals on unions and workers' compensation would be devastating to the middle class and have shown little interest in debating those issues at the state Capitol.
They're not debating them openly, but they have been working with the Republicans behind closed doors. So, the GOP understandably sees yesterday's budget vote as an attempt to knock the negotiations off the rails.
* More…
A group of Republican legislators who are members of the working groups decried the Madigan budget plan, and his comments about the groups.

"In each and every instance we have had meaningful, substantive discussions, professional, collegiate, and progress has been made," Sandack said. "It is not a show trial. It is not something that's a façade."

Sandack said the longtime speaker is "categorically misinformed" about the progress the working groups have made.

"In each instance, they have been productive and in each instance they have been persuasive," Sandack said, calling Madigan's budget a "very coordinated effort to derail the bipartisan rank and file process."
Some of y'all are not fans of the man and may not want to hear it, but Sandack is right about steady progress at the working group level. Period.
* Leader Currie made the end game pretty clear last night…
"I don't think we can afford to count on compromise. It didn't work in the current fiscal year, and there's no guarantee that it will in the next," said Rep. Barbara Flynn Currie, D-Chicago. "And for us to turn our backs on our responsibilities and fail to leave an insurance policy in place in the event there is no further compromise would be a significant disservice to the people of the state of Illinois, particularly to those who are vulnerable, who are fragile, who have no place but to us to turn."
- Posted by Rich Miller 25 Comments


[The following is a paid advertisement.]
When your car breaks down or the air conditioner stops cooling your home, paying for a repair can cause a serious strain on the family's finances, in addition to causing emotional stress. You need a trusted ally who will help guide you through your financial options when times get tough. The credit union difference is based upon a strong relationship between credit unions and their members. Credit union staff go out of their way to assist members in times of need. For credit unions, members are their top priority, not profits. Be it offering monetary assistance or advice, credit unions stand by their members when they need it most.
Credit Unions are member based, not-for-profit financial organizations that believe in the philosophy of "People Helping People". For more information on the credit union difference, go to ASmarterChoice.org.
- Posted by Advertising Department Comments Off


* We're gonna skip over some of the stuff we discussed yesterday. Let's start with Finke…
Illinois House Democrats Wednesday night rammed through a spending plan for the next state fiscal year, even though there's no agreement on any of Gov. Bruce Rauner's "turnaround agenda."

The House voted 63-53 to send the spending plan to the Senate, which is also controlled by the Democrats. Rauner's office said the budget in Senate Bill 2048 is $7 billion out of balance, and that the Republican governor will veto it if it gets to his desk.

"This is a very sad and dark day in Illinois democracy," said House Republican Leader Jim Durkin of Western Springs.
* The Sun-Times has a bit on why the Republicans were so upset about the procedure…
After the vote — in which seven Democrats targeted in November elections voted no — many House Republicans began yelling for a vote verification. Rep. Ron Sandack, R-Downers Grove, got in a shouting match with Rep. Lou Lang, D-Skokie, shouting "This is b——-."

Many Republicans were also upset that the debate was cut short.
Most of the "No" votes are not targets. But, yeah, the Republicans definitely had a right to be upset with the way this was jammed through. Our good friends at BlueRoomStream.com have provided us a video clip of the end of the debate and the aftermath. Click here to watch it.
* Mark Brown…
Illinois House Speaker Mike Madigan took his latest turn Wednesday at adding to state government dysfunction by ramming through a budget plan that has one major problem — it proposes to spend at least $7 billion more than the state expects to take in this year. […]

If there is a method to Madigan's madness, it is not always evident to us mere mortals.

Was he trying to tell us that this is the size of a budget that House Democrats would find acceptable and that now it's a matter of agreeing on how to raise the revenue to pay for it?

Or was this just another big F you to Rauner and the ever-evolving legislative demands that the governor has laid out as pre-conditions to a budget deal?

Well, it was definitely the latter, with maybe a little bit of the former.

With his ploy, Madigan erased all doubt that he is prepared to push beyond the May 31 scheduled adjournment of the Legislature, and possibly all the way past the November elections, without a state budget for the second straight year.
And maybe well beyond that mark, too.
* AP…
The Democrats' budget proposal would fund everything except what's already covered under court orders. The state would be spending $13.5 billion from its general fund, which is comprised of taxes. With federal funds and other money included, the total budget would be $47.5 billion.

A huge chunk of the funding would go to public schools, which would receive a total of $11.2 billion. Rauner has repeatedly said school funding should be a top priority to ensure schools open in the fall, and what Democrats are proposing one-ups his suggested funding increase of $55 million.

Democrats want to add $700 million, targeting most of the money for poorer districts.

The governor's office blasted the Democrats' overall budget idea, saying an analysis shows their plan is $7 billion out of balance. A full veto would throw schools into chaos this summer and force some to use reserves to open.
* Politico…
Where to begin. Let's start with what happened Wednesday morning: "Illinois Gov. Bruce Rauner told Dan Proft and Amy Jacobson on AM 560 'The Answer', in an exclusive interview for Upstream Ideas, he is optimistic Democrats will band together to get a state budget passed by the end of the legislative session on May 31 because unlike House Speaker Michael Madigan, they are privately 'sick of the status quo' and are gathering up the courage to 'do the right thing.'"

SURPRISE! House Democrats banded together and they passed a budget before May 31, all right. They rammed through a Dem-only $39 billion spending plan about three hours after the 500-page bill was introduced in committee. […]

NOT VETO-PROOF — This plan would still have to get through the Illinois Senate, which holds a true Democratic supermajority. If it does, the House roll call of 63-53 almost assures it could not mount a successful override, which would need 71.
* Team Tribune…
But if history is any guide, something close to what the powerful speaker put forward will end up being sent to the governor. And so began in earnest the long-awaited endgame of the legislative session that's supposed to conclude Tuesday.

All of it made for a weird day under the Capital dome, where Radogno labeled Madigan a "Cheshire cat," Illinois first lady Diana Rauner's nonprofit group joined a lawsuit against her husband's administration, and lawmakers sporting seersucker suits spent the evening hours debating the wisdom of regulating yoga schools. […]

"I don't think we can afford to count on compromise. It didn't work in the current fiscal year, and there's no guarantee that it will in the next," said Rep. Barbara Flynn Currie, D-Chicago. "And for us to turn our backs on our responsibilities and fail to leave an insurance policy in place in the event there is no further compromise would be a significant disservice to the people of the state of Illinois, particularly to those who are vulnerable, who are fragile, who have no place but to us to turn."

House Republican Leader Jim Durkin countered, complaining that the 500-page document was unveiled just two hours before lawmakers were asked to vote on it. "Oh for crying out loud, this is absolutely the biggest joke that I have witnessed in my 18 years in Springfield," said Durkin, of Western Springs. "We don't know what's in it; all we know is it's a lot of spending."
We're still waiting to hear from Senate President Cullerton, by the way.
- Posted by Rich Miller 50 Comments


* It'll take some time to compile and process all the stories, so in the meantime what are your initial thoughts on yesterday's weirdness?
- Posted by Rich Miller 83 Comments


* From a senior administration official…
While GOMB will need time to comb through a 500 page bill no one has ever seen before, if indeed this is as it seems to be — the biggest unbalanced budget in Illinois history — the Governor will veto the bill.
- Posted by Rich Miller 84 Comments


* From Comptroller Leslie Munger…
"The only thing more irresponsible than allowing our state to operate without a budget would be to pass a spending plan that digs us deeper into debt. Yet, legislation being circulated in the House does just that.

"The consequences of implementing this proposed budget would be catastrophic to those who are already suffering from the state's continued fiscal mismanagement. Today, Illinois has more than $7 billion in unpaid bills and payment delays are running more than 6 weeks behind at best. If the proposed budget is passed, our unpaid bills would surge past $15 billion, with payments delayed an unprecedented 8-9 months. That means everyone – small businesses, nonprofits, schools, hospitals, elected leaders and others – will wait even longer for what they are owed by the state.

"When you're in a hole, the best thing you can do is stop digging. For Illinois, that means members of both parties coming together in good faith to pass a budget that is truly balanced."
Subscribers already know about the likely delay in issuing legislator paychecks. You will recall that Munger tossed those checks into a pile with the rest of the state's past-due bills in April. Their April 30th checks were delayed. Some thought they'd get those checks on May 31st. Nope.
- Posted by Rich Miller 54 Comments


* Mayor Rahm Emanuel was asked yesterday whether he planned to travel to Springfield to lobby legislators for help with his schools system's budget…
For the mayor, deciding whether to insert himself into the delicate situation at a stalemated Capitol carries some risk. Though he could claim some measure of credit if a funding bill that helps CPS passes following an eleventh-hour visit, Emanuel could get stuck with an even bigger share of the political blame if he goes there and the legislature then doesn't act on education funding, or passes a bill that doesn't help Chicago the way he wants.

The mayor's record on in-person appeals to lawmakers is mixed. In May 2012 he made a much-ballyhooed speech to a House pension panel, calling for an overhaul of city government worker pensions and saying the "day of reckoning has arrived."

The General Assembly did not act on the plan Emanuel proposed at the time, and it would be another two years before they passed a different pension reform bill, which the Illinois Supreme Court ultimately threw out in March.

The mayor didn't rule out heading down there in the next few days, however. "I didn't say — leaving that open," he said. "What I said to you is, don't assume it's just the last 24 hours or the last 48 hours. I've been at this for over a year."
* The Question: Should Mayor Emanuel travel to Springfield and lobby legislators? Take the poll and then explain your answer in comments, please.
find bike trails
- Posted by Rich Miller 28 Comments


* From the House Democratic budget proposal analysis…
Items mandated for payment under a court order are not appropriated in these bills. As a result, in some instances, entire agencies are absent from this legislation.
That means things like Medicaid expenses aren't being appropriated, which is what I've been warning subscribers about for a while now. Also, no personal service lines are appropriated because employees are being paid via court order. What they intend to do if the courts rule that the employees can't be paid without an appropriation is another story.
* And speaking of which, the bill also appropriates over $63 million for back pay for state workers as a result of a recent Supreme Court ruling that employees can't be paid without an appropriation.
* And then there's this under the heading "capital projects"…

Yep. $3 billion in new capital spending.
* Watch for updates on this story on our live session coverage post.
*** UPDATE 1 ***  Greg Hinz…
But the latest word is, after a top Rauner aide called [Madigan's budget] plan "the phoniest phony budget in recent Illinois history," the speaker decided to put it all together in one big bill and dare the GOP governor to veto it, potentially keeping schools from opening this fall.

The original version of the plan, circulated to House members last night, called for a hike in state school aid of $575 million, with $500 million targeted toward high poverty districts.

But in the latest version, I'm told, Madigan raised the ante, boosting the $500 million for high poverty districts to $700 million. And while $700 million is the "number under discussion now," it could go up further, Madigan spokesman Steve Brown tells me.

While every school district in the state would get more money, CPS would be a particular winner. Sources say it would get 41 percent of the $700 million—about $300 million. Beyond that, it no longer would get the $75 million cut because of lower enrollment that Rauner had proposed. It also may get some additional money for teachers pensions now, up to $50 million.
So, maybe a $400+ million benefit for CPS when compared to Rauner's proposal.
*** UPDATE 2 *** ILGOP…
House Speaker Mike Madigan is pushing a budget proposal today that creates a $7 billion deficit and requires revenues of nearly $39 billion. Balancing the phoniest of all phony budgets would require the highest tax rate in Illinois history.

"Now we know why Mike Madigan said in December that taking the income tax back to 5% was a 'good place to begin.' Apparently, Madigan has long been planning to pass the highest tax rate in Illinois history," said Illinois Republican Party spokesman Steven Yaffe. "Every single Democrat who votes for this proposal is voting for an unprecedented tax hike on Illinois families, workers and small businesses. The Madigan tax hike would crush Illinois families and lead to more people and businesses leaving the state."
*** UPDATE 3 *** From a senior administration official…
According to GOMB, this level of spending would force an income tax rate of 5.5% to balance the budget. In essence, a vote for this budget is a vote to force a $1,000 tax hike on the average Illinois family.
- Posted by Rich Miller 77 Comments


* Here we go…
Madigan left leaders' meeting, says he advised Governor working groups aren't productive. He plans to continue. House to call $ bill today

— Amanda Vinicky (@AmandaVinicky) May 25, 2016
…Adding… From Amanda in comments…
To be clear: Productive was my word/summation; Speaker used "persuasive."
*** UPDATE 1 ***   The statement is getting out there on Twitter, so here's the full governor's office response to the Speaker's proposed budget which I told subscribers about earlier…
According to GOMB, the House Democrats are proposing a budget that is as much as $7 billion out of balance, proposing to spend as much as $39 billion with only $32 billion available. It is by far the phoniest phony budget in recent Illinois history - and that's saying something.
…Adding… Actually, some of the working groups are making progress. So this statement by MJM is a bit, um, off. But the governor told Madigan today that he wants the groups to continue meeting.
…Adding More… From Voices for Illinois Children…
Without new revenue the analysis from Voices' Fiscal Policy Center shows, as does GOMB's analysis, that a spending plan with previous spending levels comes up least $7 billion short.

It's important to remember the reason the numbers don't add up. It's because there is no new revenue to make up for the huge tax cut that occurred when lawmakers failed to make the temporary 5% income tax rate permanent.

It's not enough to decry an unbalanced budget. To balance the budget, lawmakers and the governor either need to make $7.1 billion in cuts (something Voices does not suggest, and something no policy maker has suggested) or generate $7.1 billion in new revenue.
*** UPDATE 2 *** Tribune…
Democratic House Speaker Michael Madigan is planning to present a budget that would pour $500 million more into school funding for districts with low-income students under a spending plan that Republican Gov. Bruce Rauner's administration suggests is $7 billion short.

The broad points of the proposal surfaced Wednesday as the governor and legislative leaders met again behind closed doors with a spring session deadline looming Tuesday. The House Democratic budget blueprint largely envisions state government running on autopilot — an indication that despite Rauner's vague suggestion of optimism, there is unlikely to be a resolution to the historic budget stalemate.

According to an analysis of the legislation distributed to lawmakers and the administration, the plan calls for spending just $13.7 billion out of the state's general revenue fund, the primary checkbook of state government. Much of state government instead would be funded under a patchwork of court orders and decent decrees that kept more than 90 percent of funding flowing as Illinois operates without a complete budget. […]

Madigan spokesman Steve Brown said the proposal may morph over the next few days, but is "based on what we believe Illinois law requires to be spent."
It's actually more than $500 million. Click here to see the analysis. Weird stuff in there, man, as subscribers have known for many days.
- Posted by Rich Miller 59 Comments


* From an e-mail…
Hello Rich,

On behalf of by Pay Now Illinois, the coalition of 82 – newly increased from 64 – human and social service agencies suing Gov. Rauner and seven state agency heads, I want to make sure you are aware of two new important court filings today, following the initial lawsuit filed May 4. The two filings and release are attached and additional information can be found at: paynowillinois.org.

Highlights:

· Today the plaintiffs filed a motion seeking emergency relief that would require the state to begin immediate payment on contracts that are more than 60 days in arrears, an amount estimated to be $100 million. The total owed to the plaintiffs for 11 months of unpaid work exceeds $130 million. The motion argues that the case represents a "public emergency," human and social service agencies are facing a cascade of damages – laying off staff, reducing or eliminating essential programs, or shutting down entirely.

· Also today, Pay Now Illinois filed an amended complaint adding 18 new human and social service agencies plaintiffs to the original suit, and two new defendants: Illinois Comptroller Leslie Munger and Audra Hamernick, Director of the Illinois Housing Development Authority.

We are happy to set up interviews with two members of the Pay Now Coalition, who are plaintiffs in the suit: Andrea Durbin, CEO of Illinois Collaboration on Youth, and Nancy Ronquillo, President & CEO of Children's Home + Aid.

Many thanks,
Rick
The new motion is here. The full press release is here.
…Adding… Ounce of Protection, run by Mrs. Rauner, is one of the groups that jumped aboard the lawsuit. Ounce is owed millions. Interesting.
* Related…
* Voice of The Southern: Gov. Rauner, sign SB2038: A $700 million human services "stopgap" appropriations bill – Senate Bill 2038 – passed both houses of the legislature last week with broad bi-partisan support. Our Republican senator, Dave Luechtefeld, and our Democratic senator, Gary Forby, were sponsors of the bill. It passed in the House by a 111-0 vote and passed the Senate by a 56-0 vote. It was sent to the governor's desk on Wednesday, where it continues to sit. We urge the governor to sign SB2038 bright and early tomorrow morning.
- Posted by Rich Miller 30 Comments


* Subscribers know much more about the latest plan and the reaction from the governor. I'm expecting to see it pop sometime today. In the meantime, here's the Tribune…
Madigan and Senate President John Cullerton didn't flinch when they passed a budget far out of balance in 2014 — heavy on the spending and without the revenue to pay for it. They didn't flinch when they passed an out-of-balance budget in 2015. And now, all signs point to a repeat performance for 2016.

If Democrats again send Rauner an unbalanced budget, it will be time for the governor to end the standoff himself. Time to use his veto pen to strip spending line by line, something he avoided last year, instead vetoing the entire spending plan, except for education. If Rauner doesn't act, Illinoisans could go another year with no budget — another year of spending at unsustainable levels, another year of debt piling up, another year of the state's most vulnerable citizens harmed.

A truly balanced budget in this debt-ridden, spend-happy state will be ugly and far worse than what social service providers have experienced so far. But if Democrats insist on riding the Tilt-A-Whirl at fantasy land instead of actually governing, Rauner will have to do what he promised as a candidate: make the tough, painful decisions himself.
* The budget office has repeatedly explained that the governor can't balance the budget with line-item vetoes alone because lots of spending is mandated in state law or by federal courts. Even so, Gov. Rauner could reduce at least some spending that way. I just don't think he will because then he'd have to own all those individual cuts and he ain't much of an owner. Maybe he'll prove me wrong.
They don't want to do reduction vetoes, either, by the way, because those can be overridden with simple majorities.
So, I'm not sure what the outcome is gonna be. We're pretty well stuck if the leaders can't come to a bipartisan agreement.
* Related…
* ADDED: State's lost year about to become two as budget cliff nears

* Some charter schools won't survive proposed CPS budget cuts
- Posted by Rich Miller 42 Comments


* Press release…
State Sen. Kyle McCarter is leading the way with a balanced budget compromise combining true budget reforms and no new taxes.

Sen. McCarter (R-Lebanon) said his plan is a balanced approach that incorporates ideas and proposals from legislators and the Governor's office.
The "plan" is here. Almost half his savings come from pushing $1.4 billion in pension costs down the food chain to local schools and universities, which would jack up property taxes and tuition. He claims a $924 million savings by moving new hires into 401(k) plans. $700 million comes from cutting state worker pay and benefits. And $300 million would come from some apparently super drastic workers comp cuts.
Um, OK.
* Not to mention that the hole is larger than that. From Voices for Illinois Children…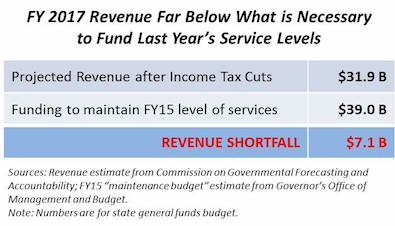 That's a pretty darned big hole.
* More…
Cutting $7.1 billion from the budget wouldn't be easy, even if it were desirable (which it isn't). For one thing, it couldn't be done in an across-the-board manner. That's because roughly $27 billion (70%) of the budget can broadly be categorized as "mandatory" spending. This includes: debt service, pension contributions, transfers made according to existing state law (largely to local governments and transit systems), Medicaid costs, and spending relating to consent decrees and court orders. It's difficult (or impossible) to cut these areas.

The remaining $11.6 billion of the general funds budget can broadly be considered "discretionary" — it doesn't have to be spent under law. (For more details on how we calculated what is "discretionary," click here.) This is not to say that these parts of the budget are unimportant. Far from it. This is spending on PreK-12 education, higher education, and a significant portion of human services, including areas such as homeless prevention, substance abuse and mental health treatment, and domestic violence.
* Another chart…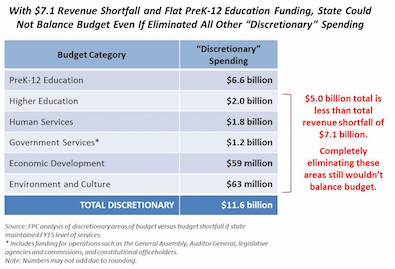 * And…
If lawmakers and Governor Rauner maintain (or even increase) funding for PreK-12 education, the total amount of remaining discretionary areas of the budget is less than the total revenue gap. In other words, even if the state eliminated entire sections of the state budget, it would still not balance the next state budget. Without billions of dollars in new revenue, it will be nearly impossible for the state to stop digging itself an ever-deeper financial hole. There is no getting around this.
- Posted by Rich Miller 33 Comments


* The four legislative leaders and the governor will meet today at 11 o'clock. It's just the third time they will have met this calendar year, but the second time this month. Speaker Madigan's spokesman confirmed that his boss will also attend.
Discussion topics?
…Adding… Legendary White Sox player Frank "The Big Hurt" Thomas will be at the Statehouse today around noon. Thomas supports the fantasy sports legalization bill.
So, that's some good news outta Springfield for a change.
- Posted by Rich Miller 16 Comments


*** UPDATE 1 *** The veto override failed by two votes. Rep. Ken Dunkin was recorded as voting "Yes" to override, but he was apparently in the Senate when the vote was taken, so expect possible fireworks.
*** UPDATE 2 *** From the governor's office…
The Office of Governor Bruce Rauner issued the following statement after the House of Representatives failed to override the Governor's veto of HB 580. This is attributable to Catherine Kelly, Press Secretary for the Governor:

"HB 580 was unprecedented and unaffordable, and simply another attempt by the Majority Party in the legislature to insert themselves into the contract process and put hard working families in Illinois on the hook for a $3 billion tax hike. The Governor thanks those members who took the pro-taxpayer position today, and believes it is now time to move forward and find compromise on a balanced budget with structural reforms that will put our state on the path to prosperity."

*** UPDATE 3 *** AFSCME…
AFSCME Council 31 Executive Director Roberta Lynch issued this statement:

"We are deeply disappointed in the 48 legislators in the House today who failed to override Gov. Rauner's veto of the fair arbitration bill, House Bill 580. They sided with the governor against the people of Illinois and against the public service workers who protect kids, care for veterans and the disabled, respond to emergencies and keep us safe.

"In January the Rauner Administration walked away from the bargaining table and has since refused to even meet with our union. Instead the governor is seeking the power to unilaterally impose his extreme demands, including forcing workers to pay double their current costs for health care, a four-year wage freeze, and doing away with protections against unfettered privatization.

"If he imposes those demands, public service workers will be forced to work under his terms or go out on strike. While as a candidate Rauner vowed to force a strike, the union supported the arbitration bill as a fair alternative path to keep Illinois working.

"Contrary to the governor's wild exaggerations designed to defeat HB 580, the bill would have merely provided to all state employees the same fair arbitration procedures already available to public safety workers throughout Illinois. According to state records, those procedures in the past 10 years have resulted in 48 percent of all arbitration decisions favoring the employer, 43 percent favoring the union, and 9 percent split.

"The fair arbitration bill was meant to protect public services and ensure fairness for the men and women who work to provide them. That's why large majorities of voters even in Republican districts consistently supported the bill and urged their legislators to enact it. It's unfortunate that too many lawmakers sided today with Governor Rauner rather than representing their constituents."
[ *** End Of Updates *** ]
* Vinicky…
Unionized state employees worried about stalled contract talks could learn Wednesday whether there's hope for a work-around.

Last week, thousands of union members rallied in Springfield. They asked legislators to override Gov. Bruce Rauner's veto of a bill that would change how the state negotiates with labor. Wednesday they may see if it worked.

Democratic Rep. Emanuel Chris Welch says he plans to call the measure for a vote.

"I think the rally in Springfield last week was very impressive," he said Tuesday. "And people are hearing that. So we're going to put it on the board and see if the votes are there." […]

The governor has called it the "worst" bill he's seen, but unions say Rauner is trying to force a strike or walk-out.
- Posted by Rich Miller 125 Comments


* As we've discussed before, Gov. Rauner gave lawmakers a detailed road map last year when he used his amendatory veto powers on the marijuana decriminalization bill. Legislators followed his directions and yet he still won't embrace the legislation…
"I've been a little distracted with economic issues, and frankly more important issues," Rauner said last week. "We in Illinois tend to get — we get caught up in what our state pie's going to be and how much marijuana is going to get sold. You know, it's lovely topics. We got a budget crisis. We need more jobs. We need higher wages. We need more money for our schools. Let's focus on what matters."

That was not a unique comment. Rauner said much the same thing Monday afternoon in his Statehouse news conference: "You're going to see a lot of votes and a lot of bills pop out this week. I hope they relate to what matters. We don't need band aids. We don't need to declare another state pie. We don't need to declare another state vegetable. We don't need to declare another illegal substance that we should expand. We need to focus on what matters."

There you have it: The governor is comparing a bipartisan change in criminal justice policy to naming the state pie — pumpkin, by the way, sponsored by a Republican and signed into law by … Gov. Rauner.

It's a striking comment from a politician who's been widely praised for saying he's willing to take on the inefficiencies and inequities of our criminal justice system. Rauner has called for significantly reducing the number of people sent to prison in Illinois. Now, it's true that decriminalizing possession of small amounts of marijuana will not make much of a dent in that — very few people are sent to prison for small time pot busts, especially for a first offense. And yet, advocates say it's a worthwhile step in the right direction.
Not only that, but he could expand job opportunities in this state by expanding the medical marijuana program or even legalizing it. If jobs were solely based on workers' comp costs and property tax costs, we wouldn't have any jobs here. There are other ways to do things that don't involve his Turnaround Agenda. Innovation is a big one, and strangling our research universities certainly isn't helping.
* Also, too, the pumpkin pie bill is an easy target, but Illinois is the national center of pumpkin production…
Prairie State farmers grow more ornamental and canning-type pumpkins than any other state. In fact, Illinois produced more than twice as many pumpkins in 2012 as second-ranked to California. […]

The state's farms harvested a record 16,200 acres of pumpkins in 2012, according to the Illinois Agricultural Statistics Service (IASS). Most of those were processing pumpkins, the best type for canning and cooking. More than 90 percent of the nation's canning pumpkins grow in Illinois, says Mohammad Babadoost, a plant pathologist and professor at the University of Illinois.
We also process those pumpkins here.
So, stop dumping on a vital home-grown industry already.
* Meanwhile…
The U.S. Census Bureau reports that Champaign is among the nation's faster-growing cities.

The (Champaign) News-Gazette reports that the city is the only one in Illinois to reach that distinction. Of the others, 74 are in California, 47 are in Texas, and 17 are in the Carolinas.

From July 2014 to July 2015, the Census found Champaign grew by 1.5 percent, to just over 86,900. It's now the 380th-largest city nationally and No. 10 in Illinois.
Champaign is rapidly becoming my favorite small city. So, learn some lessons from that town and help others do some of the same sorts of things. Not everything can be duplicated, of course, but this ain't rocket science.
- Posted by Rich Miller 43 Comments


* Corfman…
Many Senate Republicans downplay the impact of Donald Trump's divisive candidacy on their chances in November, stressing the importance of local issues. But ask those same Republicans about Hillary Clinton, and suddenly who's on the top of that ticket becomes very important, Politico reports.

Except to one.

"Asked whether Clinton will hurt Democratic Senate candidate Tammy Duckworth in Illinois, Sen. Mark Kirk, R-Ill., replied: 'No,' before an aide interrupted him and swept him away," the website reports.
The full story is here.
- Posted by Rich Miller 9 Comments


* I think it's just too early for this. It's akin to all the chatter about a Cubs vs. White Sox World Series. But, whatevs. Democrats cannot stand this governor and therefore the speculation will intensify as the days progress.
Here's Mark Brown on what happens if US Sen. Dick Durbin doesn't run for governor against Bruce Rauner two and a half years from now…
After Lisa Madigan, the list is less obvious.

State Treasurer Michael Frerichs was elected in 2014 with Rauner and appears to covet the governor's job, but may not have the stature at this point.

Frerichs moved into the treasurer's post from the Illinois Senate, where several of his former colleagues — Daniel Biss, Andy Manar, Kwame Raoul and Heather Steans — also are believed to be positioning themselves for higher office.

All four are among the more cerebral members of the Legislature, but going up against Rauner would be a major step up in weight class for any of them. […]

Former Illinois Gov. Pat Quinn is said to want a rematch with Rauner and never shies from the competition, but at some point, he's going to have to recognize that his electoral career is finished.

Businessman Christopher Kennedy has flirted with runs for political office on several previous occasions, but some believe he is serious about jumping into the race against Rauner.
Quinn lives in Quinnland, so I'm not sure he got the memo about his electoral career, or ever will. Brown also mentioned Cook County Sheriff Tom Dart, who could be the strongest candidate in the bunch, but getting him to run is a different matter. Sen. Steans has been traveling the state for a while now, and she'd have access to significant resources, but she'd be starting from scratch.
* Korecki…
Whoever runs against Rauner must be prepared to go up against the former private equity investor's bottomless pit of money and the monsoon of opposition research and negative attacks that Rauner is capable of financing. Some insiders are estimating Republicans may spend $100 million in the next gubernatorial campaign. Dems wouldn't have to match that dollar for dollar, but they'd have to raise $60 million to stay competitive. That's why party insiders are looking to persuade big guns like Durbin, and to a lesser degree, Arne Duncan. Lisa Madigan would be a formidable opponent if her father agreed to step down as speaker if she were elected. While Brown notes other rising stars, they'd have a tough road ahead building name recognition and creating a strong organization while battling the Rauner jabs.

Brown's kicker seems appropriate here: "Add it all up and what do you get? A lot more speculation about Durbin being the candidate."
I really doubt that Speaker Madigan will step aside, mainly because doing so would seem like an admission that Rauner had forced him off the battlefield. Duncan does appear to be positioning himself for something. And I speculated in comments a few days back about Rauner potentially spending $100 million. The word's definitely going around.
Your thoughts?
- Posted by Rich Miller 65 Comments


* From the Illinois ACLU…
A young couple's dream day turned into a nightmare after the owner of an Inn offering wedding services would not allow them to hold the non-religious wedding ceremony the couple desired. Jonathan Webber and Alexandra Katzman paid a deposit to Bernadine's Stillman Inn in Galena in February of 2015 to secure the wedding date their chosen wedding date – May 14, 2016. Only when they visited the Inn on November 1, 2015 did the Inn's owner, Dave Anderson, tell them that he would only permit a Christian wedding service in the facility. When Mr. Webber and Ms. Katzman noted that Ms. Katzman was Jewish and that her family members would be uncomfortable with such a service, Mr. Anderson said that the wedding was "not a good fit" for the Inn.

The charge filed last month with the Illinois Department of Human Rights alleges that the Inn, a public accommodation, denied the couple service on the basis of their religion. The couple is represented in the matter by the American Civil Liberties Union of Illinois.

"The entire experience was maddening and humiliating," said Ms. Katzman, who was married to Mr. Webber earlier this month at another location. "After months of thinking that we'd found the perfect location for our wedding, we learned that the only way we could move forward was to have a service that might well offend my Jewish guests and my religious heritage."

"I was stunned when this happened," added Mr. Webber. "The Inn had cashed our deposit check and had the form with our wedding needs – including a non-religious ceremony – for months. It was shocking to be turned away."

Ms. Katzman and Mr. Webber determined that Bernadine's Stillman Inn was the perfect location for their wedding because they stayed there the weekend they became engaged. In February 2015, after learning that their desired date was available, the couple sent the Inn a form outlining their wishes for the big day, including that they wanted a "non-religious" wedding ceremony. The Inn's website provided instructions for securing the services a local judge for performing a wedding service, so they assumed that everything would be fine.

The couple's hopes were dashed when they returned to Galena on November 1, 2015 to finalize details for their wedding. For the first time, Mr. Anderson told them that he could only perform a Christian wedding. Ms. Katzman explained that her family was Jewish, and thinking that Mr. Anderson misunderstood their plans, she volunteered that a friend's mother was a judge and would be happy to perform the ceremony. Mr. Anderson said that he was not comfortable with anyone else performing a ceremony in his chapel.

Still hoping to salvage their plans, Mr. Webber and Ms. Katzman (after excusing themselves to speak privately) asked Mr. Anderson if they could hear what he would say, hoping that some compromise might be possible. Mr. Anderson complied, reading a long script that specifically and repeatedly referenced Jesus Christ. When Ms. Katzman again noted that her family was Jewish, Mr. Anderson replied that the couple was "not a good fit" for him, and refunded their deposit.

"This type of discrimination is exactly what the Illinois law was designed to prevent," said Rebecca Glenberg, senior staff attorney at the ACLU of Illinois. "As a public business, open to all, the Inn cannot impose religious requirements on my clients or others, especially not at their own wedding."

"Through the intervention of some good friends, we were able to keep our date and had a lovely wedding," said Ms. Katzman. "But we don't want anyone to go through this humiliation in the future – that is why we filed this complaint."
* WGN TV covered this story last night…
The owner of the Stillmam Inn says he is shocked by the charge but blames his decision on a rule by the City of Galena. WGN contacted Galena officials and they gave us this statement, "As far as the city, we regulate land use. We don't get involved with religious matters."
- Posted by Rich Miller 53 Comments